'An absolute disgrace:' GOP tax plan approved on party lines
WASHINGTON, D.C. (Dec. 20, 2017) — The Republican-controlled Congress gave final approval this week to major legislation that rewrites the U.S. tax code in ways that permanently benefit corporations and the wealthy, while raising taxes on most Americans starting in 2027. The non-partisan Congressional Budget Office has estimated that the bill will add $1.4 trillion to the national debt, which tees up major spending battles in 2018, including Republican plans to cut Medicaid, Medicare and Social Security.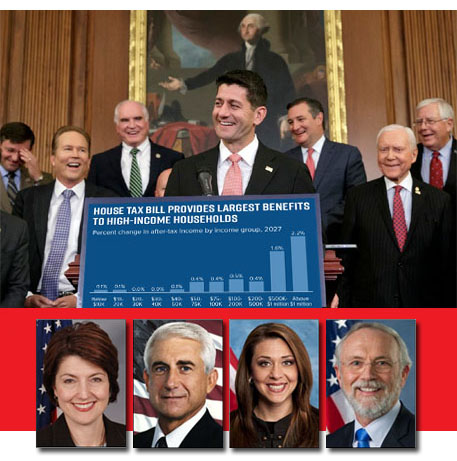 Like the process for the bill's writing and negotiation, the final House and Senate votes were strictly partisan. It passed the House 227-203 with all of Washington state's Republican representatives — Dave Reichert, Cathy McMorris Rodgers, Dan Newhouse, and Jaime Herrera Beutler — voting "yes."
No House Democrats voted for the bill, including all six from Washington. Both of Washington's Democratic Sens. Patty Murray and Maria Cantwell voted "no," but the bill passed 51-48 Tuesday night with not a single senator crossing party lines.
"This bill is about further redistributing wealth in America away from the working class," said Jeff Johnson, President of the Washington State Labor Council, AFL-CIO. "It shovels more money into the pockets of the wealthy — the people who need it the least — at the expense of workers' earned benefits and our children's future. Given an economy that's already way out of balance, the tax bill further rigs the rules on behalf of powerful corporations and billionaires. It is an absolute disgrace and will not be forgotten."
In addition the bill undermines the Affordable Care Act by repealing the health coverage mandate, which will further destabilize insurance markets. Reps. Reichert and Herrera Beutler had previously voted against legislation to repeal the ACA, citing concerns about the number of Americans who would lose coverage, but supported it this time.
Here is the AFL-CIO's summary of the main reasons why the republican tax bill is bad for working families:
Rigging the rules. Big banks, hedge funds and other Wall Street firms are the biggest winners from this tax bill. The richest 1% of households would receive 83% of tax cuts, and the richest 0.1% would get an average tax cut of more than $148,000. The tax bill is full of complex tax gimmicks that would encourage tax dodging while enriching lawyers and accountants.
Job-killing tax breaks for outsourcing. The Republican tax plan would lower the U.S. tax rate on offshore profits to zero, giving corporations an incentive to move American jobs offshore.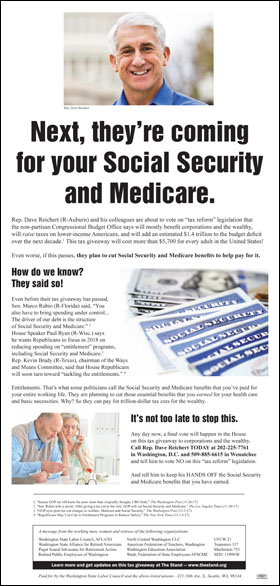 Medicaid and Medicare benefit cuts. Republican leaders in Congress already have signaled that once they're done increasing the deficit with their wasteful tax boondoggle, they plan to use the deficit as an excuse to cut Medicaid, Medicare and Social Security. The Republican budget already would cut Medicaid and Medicare by $1.5 trillion — the same price tag as the tax bill.
Tax increases for millions of working people. The average household making less than $75,000 would pay more in taxes by the year 2027. In all, 70 million households making less than $100,000 eventually would pay more.
Partial repeal of the Affordable Care Act. By partially repealing the Affordable Care Act (Obamacare), the tax bill would mean health care premiums in the individual market would rise by 10%, 13 million people would lose health insurance, and as many as 15,000 or more people would die every year.
Cuts to public education. By limiting the state and local tax (SALT) deduction, the Republican tax bill would reduce state and local funding for education, infrastructure and other essential public services we all depend on. A new backdoor school voucher program would give tax breaks for tuition at private K–12 schools. Republican leaders in Congress also plan to use the deficit they created as an excuse to cut federal funding for education and other essential services.
Taking sides. While corporations still could deduct their payments to lawyers to fight unions, working people no longer could deduct union dues or such work-related expenses as travel, work clothes, work-related education, work tools or work supplies.
WASHINGTON IS A UNION STATE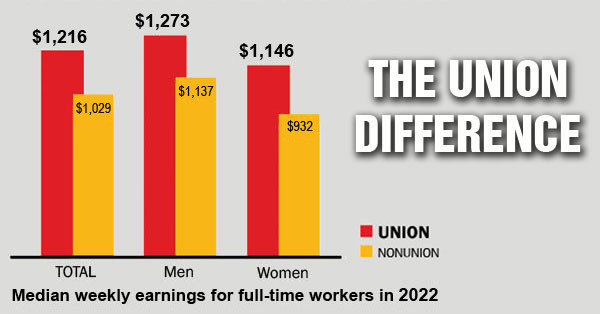 CHECK OUT THE UNION DIFFERENCE in Washington state: higher wages, affordable health and dental care, job and retirement security.
FIND OUT HOW TO JOIN TOGETHER with your co-workers to negotiate for better working conditions and respect on the job. Or go ahead and contact a union organizer today!