The following from SEIU Healthcare 1199NW: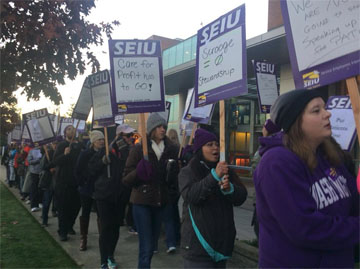 EVERETT (Dec. 8, 2017) — Some 230 home health and hospice nurses, social workers, and other caregivers stood strong through day two of their unfair labor practice strike on Thursday with large, energetic picket lines and growing support from the community for their campaign to hold Providence Home Health Care & Hospice of Snohomish County to the needs of their patients.
The strike, scheduled to end at 5 p.m. today (Friday, Dec. 8), continues with picket lines 8 a.m. to 5 p.m. today. Community supporters are encouraged to join the line throughout the day but particularly at 4:30 p.m. to witness the return to work at 5 p.m. at the Hospice Care Center, 13th & Colby in Everett.
"The care we provide to patients and our connections with them suffer when don't have enough staff," said Cynthia Robson, a Social Worker from Hospice.  "That's why we're standing up today."
The caregivers began their strike on Wednesday after more than 16 months of bargaining with management to give them more time with patients and market-rate pay to reduce caregiver turnover. Hundreds of community supporters gathered Wednesday night to stand together with the caregivers and call on Providence Home Health Care & Hospice to do the right thing.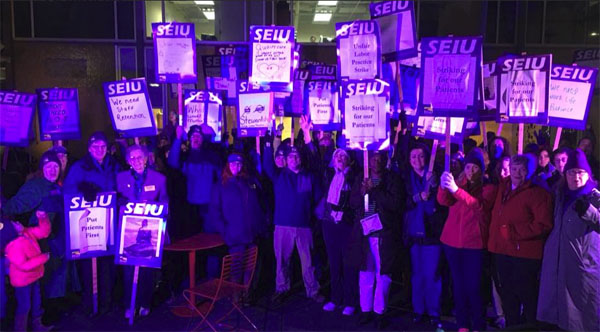 "I used to see 5-6 patients a day and really have time to talk to them and then still get home to my family," said Lee Thompson, a nurse in Home Health. "Now I see 7-8 patients a day and still get admits, too. I have to tell my patients that we are rushed and I'll have to move fast. That's not right, we really should be able to be there a listen. We need help when we need it so patients get better care."
PREVIOUSLY at The Stand:
Providence Health & Hospice set to strike; rally Dec. 6 in Everett