Welcome to 2018 | Choose WA for 797 | Logjam in Congress
Tuesday, January 2, 2018
The Entire Staff of The Stand has been on leave for a bit, so the following daily news links include some from the past couple of weeks.

---
HAPPY NEW YEAR!
► In the Columbian —  Sick leave rule among new laws for 2018 — Employers in the state will now be required to provide paid sick leave for most employees thanks to Initiative 1433. Employees — including part-time and seasonal workers — will accrue a minimum of one hour of sick leave per 40 hours worked. Any unused leave can also be carried over from year to year, up to 40 hours. I-1433 also instituted state minimum wage increases. The hourly rate increases from $11 to $11.50 on Jan. 1.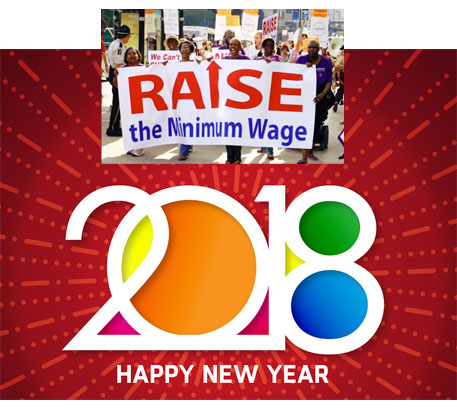 ALSO at The Stand — Washington state gets raise, paid sick leave
► In the News Tribune — Minimum wage workers will get a pay raise in 2018 — Minimum wage will rise next year statewide. Workers in Seattle, Tacoma and SeaTac will see steeper increases. Find out what minimum wage will be in 2018.
► In today's Washington Post — The U.S. has one of the stingiest minimum wage policies of any wealthy nation — Minimum wage workers in 18 states will see larger paychecks starting Jan. 1, according to the Economic Policy Institute, thanks primarily to minimum wage increases approved by either voters or state legislatures. At the federal level, the minimum wage hasn't been raised since 2009, when it was set to $7.25. In inflation-adjusted terms, the federal minimum wage was highest in 1968, when it was equal to $11.18 in today's dollars.
► From NPR — On New Year's Day, many low-wage workers will celebrate with a raise — Damon Silvers, policy director for the AFL-CIO, a union organization, says wage hikes help the economy by giving low-wage workers more cash to spend. "It puts money in motion," Silvers says. "We've seen the distribution of income and wealth skew very much to the top of the income scale.
---
THIS WASHINGTON

► In the Seattle Times — Government, labor, industry groups join to lobby Boeing on building next plane in Washington state — Gov. Jay Inslee convened a committee including Boeing labor unions and local government economic-development officials to launch a campaign to try to persuade Boeing to build in Washington state its next all-new airplane, unofficially dubbed the 797.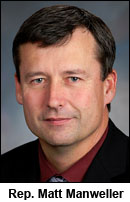 ► In the News Tribune — Latest investigation of state Rep. Matt Manweller is over sexual harassment allegations at CWU — Public records released by Central Washington University this week show professor and state Rep. Matt Manweller (R-Ellensburg) is barred from contacting past or present students while the school investigates allegations of sexual harassment against him. University officials previously said they were looking into accusations of "inappropriate conduct" against Manweller but did not offer further details of why they placed the tenured political science professor on paid administrative leave in early December.
► In the Olympian — Tribes, environmental groups likely to unite behind carbon tax initiative for 2018 — Representatives from the Quinault Indian Nation and the Tulalip Tribes of Washington said Thursday their tribes expect to join the efforts of the Alliance for Jobs and Clean Energy after the group tweaked its original plan for a 2018 initiative combating climate change.
► From KNKX — Police shooting accountability campaign turns in initiative qualifying signatures — Washington state voters will likely get to weigh in on police use of deadly force. A ballot measure on that subject turned in around 360,000 voter signatures, which should be more than enough to qualify for consideration by the Legislature and then probably go to the statewide ballot in 2018.

EDITOR'S NOTE — Delegates representing the affiliated unions of the Washington State Labor Council, AFL-CIO voted at the 2017 WSLC Convention to support the signature gathering campaign for I-940.
► In the Olympian — State law on police use-of-force is dead wrong (editorial) — Washington's law on the use of force by police officers needs to be changed in 2018. It is wrong that a commissioned police officer in our state can negligently and recklessly shoot and kill a civilian but never be convicted of a crime. The law — the only one of its kind in the U.S. — requires evidence that an officer acted in malice. Malice or "evil intent" is so hard to prove it's never been done since the state's law was adopted a few decades ago — even in cases where an officer's actions were negligent, egregious and resulted in the officer's firing.
► In the (Everett) Herald — Eyman gets too few signatures for another $30 car-tab vote — A Tim Eyman-backed initiative to once again reduce car tab fees has failed to get enough signatures to qualify for the ballot.
---
LOCAL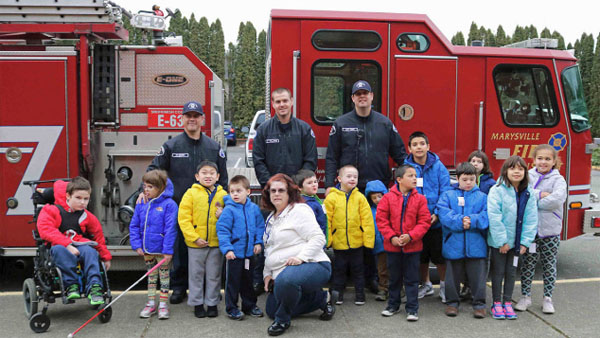 ► In the (Everett) Herald — Firefighters deliver warmth — Marysville Professional Firefighters IAFF Local 3219 gave out nearly 40 new union- and USA-made coats to children at Marshall Elementary School before the winter holiday break. The gift was made possible through a partnership with national nonprofit Operation Warm. In October, firefighters provided more than 80 coats to first-graders at Liberty Elementary School.
► In the Kitsap Sun — Norm Hall: More than just a mailman in Manette — Along his daily, 11-mile-long walking route for the USPS, Norm Hall has helped prune trees, performed CPR on someone suffering a heart attack, and, even on the last day of a 35-year career Friday, sang happy birthday to a bubbly 6-year-old on the doorstep of her home.
► In the Seattle Times — Dedicated Lacey firefighter, dead at 40, was passionate role model for girls — Crystal Murphy, a Lacey firefighter who mentored hundreds of girls interested in the fire service, died on Christmas Day. She was 40.
---
TRUMP'S TAX SCAM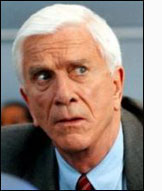 ► From The Stranger — The GOP tax bill will hit parts of Central Washington hard — In Washington's 8th congressional district, which runs from Auburn in the west to Wenatchee in the east, Democrats hope to explain to people that the tax bill Trump just signed — the GOP's sole achievement after a year in charge of every branch of government — will make their lives worse. Four-time loser Dino Rossi, the only Republican vying for retiring Rep. Dave Reichert's seat, must hope the extra cash in some peoples' wallets this year will blind them to the present and future impacts of this bill.
► In the Washington Post — Trump stands to save millions under new tax bill, experts say — They say the measure will ensure a financial windfall for the president and his family in a way that is virtually unprecedented in American political history.
► From AP — Boeing, Washington Federal among firms to share some of tax windfall with workers — Hours after landing a massive tax windfall, AT&T, Comcast, Wells Fargo and Boeing — among other major companies — announced plans Wednesday to share a fraction of their bounty with workers.
► From HuffPost — Corporations are trying to sell the GOP's narrative on tax cuts (by Dean Baker) — Bonuses for workers are smart PR, but they don't mean Republicans' trickle-down fantasies are coming true.
► From HuffPost — Rubio: Tax bill 'probably went too far' on corporate handouts — Over a week after he delivered a crucial vote in its favor and helped send it to Trump's desk, Sen. Mark Rubio (R-Fla.) expressed reservations, noting he thinks Republicans probably gave corporations too much of a handout.
---
THAT WASHINGTON
► In today's Washington Post — Congress will return to a full slate of difficult issues — Congress faces a jam-packed to-do list this month with deadlines looming on difficult issues — including how to fund the government and avoid a shutdown, stabilizing the nation's health insurance program for poor children, and whether to shield young undocumented immigrants from deportation.
► From The Hill — Congress faces January logjam — Lawmakers are returning to Washington without a clear strategy to tackle a massive pile-up of unresolved issues that are threatening a government shutdown in just three weeks.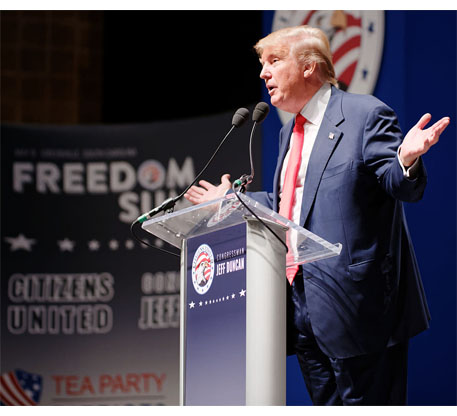 ► From HuffPost — In less than a year, Trump has stripped back workers' ability to unionize — Candidate Donald Trump pitched himself as the right choice for union workers. He bragged that he'd had good relations with labor unions during his real estate career. He argued that he deserved the AFL-CIO labor federation's electoral endorsement, which ultimately went to his opponent, Hillary Clinton. But in less than a year as president, Trump has wiped away several of the modest policy gains that organized labor made during the Obama years. The nominees he's chosen to fill crucial regulatory roles are already making it more difficult for some workers to join unions and bargain collectively.
► From Reuters — AFL-CIO, affiliates set to challenge recent NLRB rulings — The largest U.S. labor federation is vowing to fight back after the NLRB's new Republican majority handed employers and business groups a quick series of victories on some of the most important issues that arose during the Obama administration.
► From EHS Today — U.S. Court of Appeals rejects 'all of industry's challenges' to silica rule — OSHA's silica rule has weathered its court challenge and remains in effect, with a three-judge panel for the U.S. Court of Appeals for the District of Columbia on Dec. 22 rejecting all five objections raised by industry groups.
► In today's Washington Post — Iowa went big for Trump, but there are signs its voters are souring on the president
---
NATIONAL
► In the NY Daily News — U.S. Supreme Court ruling in Janus v. AFSCME could cripple labor unions — As the New Year brings us closer to a decision in the Janus case, some labor professionals are wringing their hands at what could be the biggest anti-union judicial pronouncement in 40 years. A ruling in favor of Janus would mean public sector employees could quit their unions and not pay dues, while the unions would still be legally-bound to represent them — a financially draining scenario for the labor movement.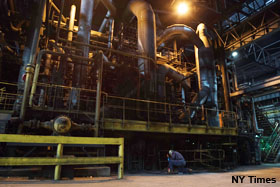 ► In the NY Times — Trump promised to protect steel. Layoffs are coming, instead. — In September, ArcelorMittal announced that it would lay off 150 of the 207 workers at its plant outside Philadelphia in 2018. The layoffs have stunned these steelworkers who, just a year ago, greeted Trump's election as a new dawn for their industry. Trump pledged to build roads and bridges, strengthen "Buy America" provisions, protect factories from unfair imports and revive industry, especially steel. But after a year in office, Trump has not enacted these policies. And when it comes to steel, his failure to follow through on a promise has had unintended consequences.
► In the Washington Post — 'I hope I can quit working in a few years': A preview of the U.S. without pensions — The first full generation to retire since employers largely did away with the benefit offers a sobering preview of a labor force more and more dependent on their own savings. Many former workers at a now-closed McDonnell-Douglas plant in Oklahoma see that actual retirement is elusive, even as they reach beyond age 70.
---
TODAY'S MUST-READ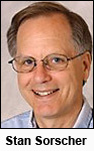 ► From HuffPost — Why physicists don't rule the world (by SPEEA's Stan Sorscher) — My approach to the world has been shaped as a physicist. I believe in an objective reality, which I observe and test. Nothing I say can change that objective reality… My approach to the world is well-suited to roughly 6 percent of human experience, which includes microwave ovens, the thermodynamics of the internal combustion engine, and the motion of roller coasters at Universal Studios. For the other 94% of human experience, what we say does affect our lives. Most people don't make decisions based on a number. They need a story. When I studied physics in college, I had no idea what happened in the Communications Department. I do now. They're running my world.
---
The Stand posts links to Washington state and national news of interest every weekday morning by 10 a.m.
Short URL: https://www.thestand.org/?p=62632
Posted by
David Groves
on Jan 2 2018. Filed under
DAILY LINKS
. You can follow any responses to this entry through the
RSS 2.0
. Both comments and pings are currently closed.