SEATTLE (Jan. 2, 2018) — What did Mother Mary Harris Jones do to earn the title of The Most Dangerous Woman in America?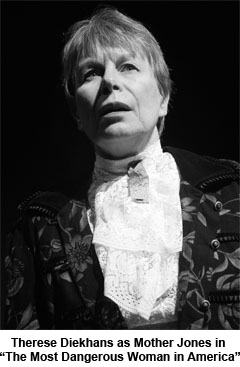 Find out when Therese Diekhans performs as John D. Rockefeller, Louis Tikas, Maria Baumgartner, Maggie, Dennis, politicians, prosecutors, hired thugs, mine and mill workers, and of course, Mother Jones in the one-woman show, "The Most Dangerous Woman in America." The show runs Jan. 11-14 at 18th & Union in Seattle. Click here for tickets.
You'll learn that she began life innocently enough in Ireland as Mary Jones, was brought to America as a young child, taught school for a time and eventually married George Jones, a worker and union activist. They had four children. In one week, her entire family was taken from her in a yellow fever epidemic. She moved to Chicago and opened a dressmaking shop, but tragedy soon struck in the form of Chicago's Great Fire and her livelihood was wiped out.
She had seen the effects of poverty, ignorance and greed; the company owners and politicians working to divide and set worker against worker in order to amass more wealth and power for themselves, and she decided to do something about it. Mary Harris Jones joined the Wobblies, beginning her work as an organizer for the United Mine Workers and her new life as Mother Jones.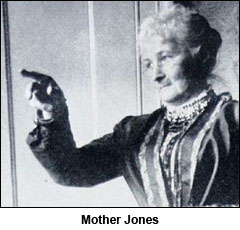 So what made Mother Jones so dangerous? Her unflinching fearlessness in facing down governors, presidents and machine guns; her relentless exhortations on solidarity to the workers and their families; her compassion and love for the powerless and her calling out of the greed and hypocrisy of the powerful?
She had already lost everything twice over, what else was there to lose but the truth?  The truth was not something she was willing to part with.
Speaking truth to power made her The Most Dangerous Woman in America. The powerful feared her for it and called her "dangerous." The powerless cheered her for it and called her "mother."
Therese Diekhans has had the pleasure of performing snippets of her one-woman show for two conventions of the Washington State Labor Council, AFL-CIO. She won the La Solo Fringe Award at the inaugural Hollywood Fringe Festival in 2010. Joe Adcock, writing for the Union Record, had this to say about the show:
"What jumps out at me now…is a sense of historical continuity. …the issues- whether articulated by Mary Harris "Mother" Jones or by an editorial in the Union Record- remain constant: respect and self-respect.  If you could use a hit of solidarity with progressives of the past, along with a sense of the common purpose shared by contemporary strugglers, see this show."
THE MOST DANGEROUS WOMAN IN AMERICA
By David Christie
Directed by Carol Roscoe
Starring Therese Diekhans as: John D. Rockefeller, Louis Tikas, Maria Baumgartner, Maggie, Dennis, Politicians, Prosecutors, Hired Thugs, Mine and Mill Workers and of course, MOTHER JONES
18th & Union
Jan. 11-13 at 7:30 p.m.
Jan. 14 at 3 p.m.
Get tickets now at: 18thandunion.org