First Student school bus drivers in Seattle will strike on Feb. 1
Teamsters 174 says First Student continues to ignore drivers' needs, refuses to resolve ULPs
The following is from Teamsters Local 174: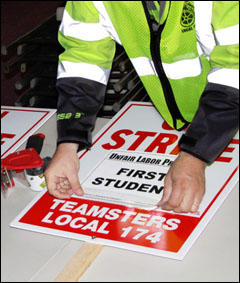 SEATTLE (Jan. 31, 2018) — Beginning Thursday morning, Feb. 1, Teamsters Local 174 school bus drivers at First Student in Seattle will be on Unfair Labor Practice strike. The strike by the group of 400 First Student school bus drivers will likely impact all yellow bus service to the Seattle School District, and will last until a deal is reached with First Student. Teamsters Local 174 does not typically announce strikes in advance; however, the Union and its members wished to give Seattle parents adequate notice to make arrangements for their children.
The drivers have been in ongoing negotiations with First Student over healthcare and retirement benefits since last summer. They participated in a one-day Unfair Labor Practice strike on Nov. 29 after their employer unilaterally implemented an inferior healthcare plan that had not been negotiated with the Teamsters. This strike received a great deal of support from the Seattle community. Since then, First Student has not resolved any of the Unfair Labor Practices they had previously committed, including the unilateral implementation of the substandard healthcare plan.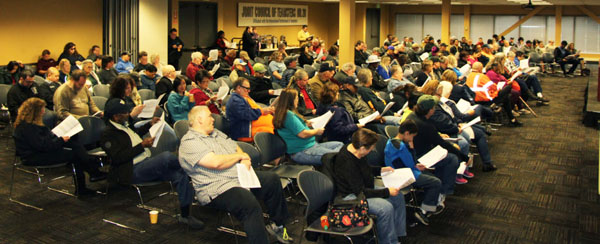 On Jan. 6, the drivers gathered at the Local 174 Union hall to vote on the latest proposal from their employer, which included some healthcare coverage for individuals but was outrageously unaffordable for anyone with a spouse or children to insure, and included nothing in the way of retirement benefits. The proposal did not come with a recommendation from the drivers' elected Bargaining Committee, and was rejected by a margin of 85%.
"85% is not a fluke. It's not a statistical error. It's a strong statement to First Student that their proposal wasn't good enough and they would need to bring more," said First Student driver Star Lucas. "We are not going to vote for a proposal that only takes care of us while our own children are left without decent healthcare. We were really hopeful that the company would get the point and come back to the table with something better, but that just didn't happen. So now we're taking this fight to the street."
First Student's most recent proposal was essentially a reimagining of the same proposal the drivers had already rejected, with the addition of one piece that would benefit a mere 22 out of the over 400 bus drivers in the group.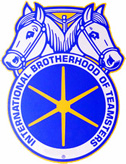 "This company has had every opportunity to do right by these drivers, and yet over and over again they have chosen the opposite approach," said Teamsters Local 174 Secretary-Treasurer Rick Hicks. "They have chosen to demonize their hardworking employees in the press in an attempt to turn the community against their fight, while at the same time coming back to the bargaining table with nothing of substance. We aren't going to stand for that. These drivers are fighting a righteous battle for things many of us in Seattle take for granted: the right to get medical care for their families, and the right to retire with dignity. This is a fight they deserve to win."
Parents of children in the Seattle School District who ride the bus to school are encouraged to make alternate transportation arrangements, as bus service throughout the School District is likely to be impacted. For anyone who would like to show support to the striking drivers, there will be active picket lines outside of First Student bus yards in Lake City and South Park.
Founded in 1909, Teamsters Local 174 represents 7,200 working men and women in the Seattle area. "Like" us on Facebook at www.facebook.com/TeamstersLocal174.
Short URL: https://www.thestand.org/?p=63555
Posted by
David Groves
on Jan 31 2018. Filed under
LOCAL
. You can follow any responses to this entry through the
RSS 2.0
. Both comments and pings are currently closed.