#MeToo bills | Lyfting wages | What $1.3 trillion will buy | Three Frances of trash
Thursday, March 22, 2018
---
THIS WASHINGTON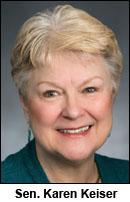 ► From AP — Inslee signs package of bills sparked by #MeToo — In the wake of a national conversation about sexual harassment sparked by the #MeToo movement, Washington Gov. Jay Inslee on Wednesday signed a package of bills meant to address sexual misconduct at the workplace. Sen. Karen Keiser (D-Kent), who sponsored three of the bills, said that the national conversation surrounding sexual harassment has given people "permission to say, 'Hey, I know what that's about, that's happened to me.'"
► In today's Spokesman-Review — Washington takes lead in #MeToo campaign against on-the-job harassment
► From AP — Governor signs law aimed at lowering wage gap
ALSO at The Stand — Again, Washington leads nation on equal pay
► In today's Seattle Times — Opportunity scholarships expanded to include technical and community colleges — A generous state scholarship program that helps pay college tuition at four-year schools will soon expand to help students earn professional technical degrees at community and technical colleges.
---
LOCAL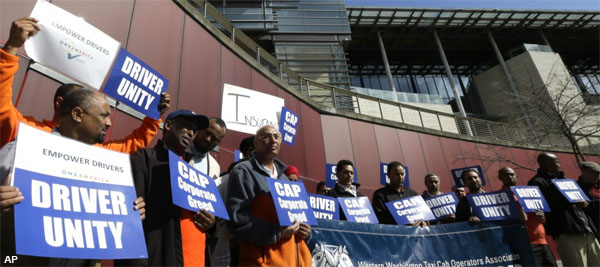 ► From KUOW — Seattle poised to boost pay for Uber, Lyft drivers — Fasil Teka of Renton said he drives for Uber and Lyft seven days a week, 12 hours a day, to get by. Teka said Seattle's rising cost of living, combined with falling pay rates from the app-based ride-booking firms, sometimes called transportation network companies, forced him out. "The TNC companies are controlling the price," he said. "We got called partners, but we are treated like an employee, and the city has to do something about it." The Seattle City Council appears poised to try to intervene. Council President Bruce Harrell said at the committee hearing that legislation is on the way in coming weeks to help boost drivers' pay.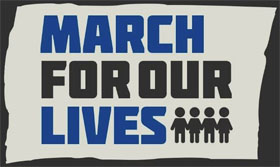 ► In today's Olympian — 'We can do something about this,' says student organizer of Olympia's march against gun violence — Madelyn Olson is among the student organizers behind Saturday's March For Our Lives Olympia, which starts at 11 a.m. on the steps of the Legislative Building and ends in downtown's Sylvester Park. The march in Olympia is one of hundreds of demonstrations planned across the country to coincide with a larger student-led march in Washington, D.C. against gun violence in schools.
Find a 'March for Our Lives' near you.
MORE local coverage of Saturday's student protests in today's Bellingham Herald, News Tribune, Seattle Times,
► From KNKX — Amid heightened tensions after Florida school shooting, local districts address safety — Thursday evening, Highline Public Schools in South King County is holding the first in a series of community meetings about school safety. Other districts say they're taking threats very seriously, as well.
► In today's Columbian — Clark County outpaces Multnomah County for new residents — As a suburb, Clark County is typically inferior to that big city across the Columbia River — at least numerically. But last year, Clark County gained more people than Multnomah County, Ore.
---
TRADE
► In today's NY Times — Trump plans stiff trade tariffs and other penalties on China — President Trump on Thursday plans to announce at least $50 billion worth of annual tariffs and other penalties on China for its theft of technology and trade secrets, which administration officials say has robbed American companies of billions of dollars in revenue and killed thousands of jobs.

► From Reuters — China blames U.S. for staggering trade surplus as tariffs loom — China blamed U.S. export restrictions for its record trade surplus with the United States, but expressed hope that a solution can be found to settle trade issues between the world's two biggest economies as U.S. tariffs loom. Chinese Foreign Ministry spokeswoman Hua Chunying said it was unfair to throw around criticism about unfair trade if the United States won't sell to China what it wants to buy, referring to U.S. export controls on some high-tech products: "How many soybeans should China buy that are equal to one Boeing aircraft? Or, if China buys a certain number of Boeing aircraft should the U.S. buy an equal number of C919s?"
► From The Hill — Countries scramble to win exemptions from steel tariffs — Major U.S. allies are scrambling to gain an exemption from President Trump's sweeping steel and aluminum tariffs that are set to take effect on Friday.
---
THAT WASHINGTON
► In today's NY Times — Lawmakers agree to spend $1.3 trillion as deadline looms — Congressional leaders must approve the bill by midnight Friday to avoid a government shutdown, which would be the third closure this year.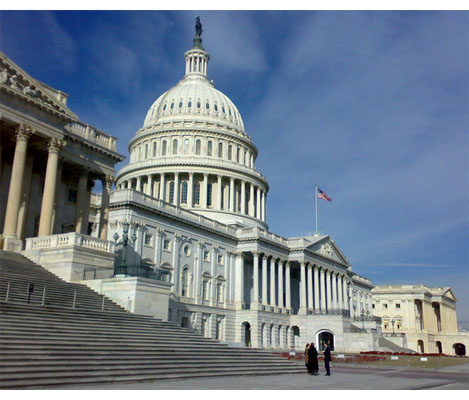 ► In today's Washington Post — Here's what Congress is stuffing into its $1.3 trillion spending bill — Defense spending generally favored by Republicans is set to jump $80 billion over previously authorized spending levels, while domestic spending favored by Democrats rises by $63 billion. The domestic spending is scattered across the rest of the federal government, but lawmakers are highlighting increases in funding for infrastructure, medical research, veterans programs and efforts to combat the opioid epidemic. Civilian federal employees get a 1.9 percent pay raise, breaking parity with the military (who get 2.4%) for the first time in several years. The bill provides $1.6 billion for barriers along the U.S.-Mexico border, but with some serious strings attached.
► In today's Seattle Times — Congress rejects much of Education Secretary DeVos' agenda in spending bill — Congress dealt a blow to Education Secretary Betsy DeVos' school choice agenda in a tentative spending bill released late Wednesday, rejecting her attempt to spend more than $1 billion promoting choice-friendly policies and private school vouchers.
► From The Hill — GOP pushes to change Senate rules for Trump — A group of Republican senators wants to press the button on a new "nuclear option" that would limit debate time on President Trump's nominees. The controversial move would hasten the pace of the president's nominees getting confirmed and curtail Democratic power in the upper chamber.
► In today's Washington Post — Trump rails against sanctuary cities amid immigration talks — President Donald Trump convened some of the nation's top law enforcement officials Tuesday to rail against so-called sanctuary cities as he continues his crackdown on jurisdictions that flout federal immigration laws. He accused cities that fail to cooperate with immigration authorities of putting the nation at risk by releasing "thousands of criminal aliens" who should be deported.
► From The Hill — Dems offering bill aimed at curbing stock buybacks — "Senator Baldwin's legislation will give workers a seat at the table to ensure that our economy once again rewards work instead of just wealth," said Heather Slavkin Corzo of the AFL-CIO.
► In today's Washington Post — Trump jolts aides with offer to meet Putin — Briefings before Trump's call to Moscow included no mention of a possible meeting with the Russian president, and aides have not been instructed to prepare for one.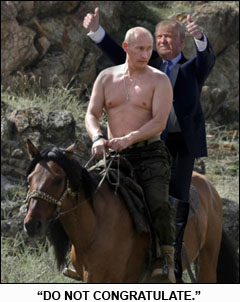 ► In today's NY Times — Why is Trump so afraid of Russia? (editorial) — The possibility that Putin could have some hold on the American president has lurked in the background over the past year as Trump displayed a mystifying affection for the Russian leader and ignored or excused his aggressive behavior and nefarious activities, most important, his interference in the 2016 campaign, a subject of the special counsel Robert Mueller's investigation.
EDITOR'S NOTE — We'll give you one hint. OK, two.
► From TPM — CBS confirms Stormy Daniels interview will air Sunday on '60 Minutes'
► From Politico —Poll: Trump's disapproval lowest in more than a year
---
NATIONAL
► In today's Seattle Times — Upward mobility is especially tough for black boys in U.S. Here's why. (by Jerry Large) — A new study, Race and Economic Opportunity in the United States, is more powerful than some previous work because it examines what hinders or helps mobility not just in the moment, but across generations.
ALSO at The Stand — WSLC is hosting Racial Justice Train-the-Trainer in Spokane on April 9-10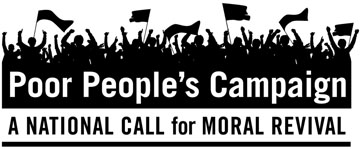 ► From Truth-Out — The Poor People's Campaign: Building power beyond the Fight for $15 (by Jonathan Rosenblum) — What's needed is a much more radical and visionary movement. Yes, the movement must embrace campaigns like Fight for $15, but it also must go far beyond it to challenge the 1 percent's dominant vision. We need a movement that offers a fundamentally different vision of society based on the needs of working people, students and seniors; a movement that makes demands rooted in radical change. The emergence last year of the Poor People's Campaign: A National Call for Moral Revival offers real hope to drive this needed change.
► From Reuters — U.S. miners' union to endorse two more Democrats in coal country — The United Mine Workers union is set to endorse two Democrats running for Congress in West Virginia, a boost for Democrats trying to win over a constituency that voted heavily for Republican Donald Trump in 2016.
► From The Onion — Adorable 23-year-old yelling about economic injustice must have just read Howard Zinn for first time
---
HUH.

► In today's Washington Post — This giant garbage dump that's floating in the Pacific Ocean is now three times the size of France — Seventy-nine thousand tons of plastic debris, in the form of 1.8 trillion pieces, now occupy an area three times the size of France in the Pacific Ocean between California and Hawaii, a scientific team reported on Thursday. The amount of plastic found in this area, known as the Great Pacific Garbage Patch, is "increasing exponentially," according to the surveyors, who used two planes and 18 boats to assess the ocean pollution.
---
The Stand posts links to Washington state and national news of interest every weekday morning by 10 a.m.
WASHINGTON IS A UNION STATE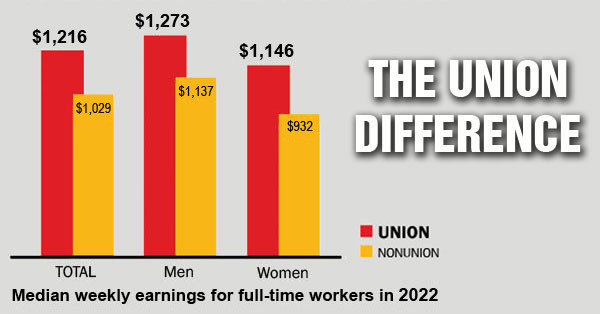 CHECK OUT THE UNION DIFFERENCE in Washington state: higher wages, affordable health and dental care, job and retirement security.
FIND OUT HOW TO JOIN TOGETHER with your co-workers to negotiate for better working conditions and respect on the job. Or go ahead and contact a union organizer today!