Shot across Boeing's bow | KUOW cuts | Strike teachings | Slavery in Tacoma
Thursday, April 5, 2018
---
LOCAL

► From Bloomberg — China tariffs target mostly old 737s, but message is clear — After reading the fine print on China's proposed aircraft tariffs, Boeing Co. investors on Wednesday grew less alarmed about the prospect of a trade war. The threatened 25 percent levy, which is based on an aircraft's weight, targets a generation of Boeing's 737 jetliners that are nearing the end of their production run. All but one model of Boeing's newer 737 Max family would be exempt, according to a company document.
► From The Stranger — KUOW eliminates seven staff positions — KUOW eliminated seven employees' positions Wednesday. The news prompted shock and tears in the newsroom, according to an employee. The change comes as station leadership restructures KUOW's morning and afternoon "drive time" shows. It also comes less than two months after the KUOW newsroom elected to unionize, but before employees bargained a new contract agreement with management.
► From KUOW — Closing UW psychiatric unit would be 'devastating,' says nurse — UW Medicine is considering closing all or part of its psychiatric unit. Anita Stull, a nurse in the unit who is represented by the WSNA: "Although 10 beds seems like a very small amount, we always get calls for people who need beds. We fill beds from the entire state of Washington. I get calls from Bellingham to Olympia routinely."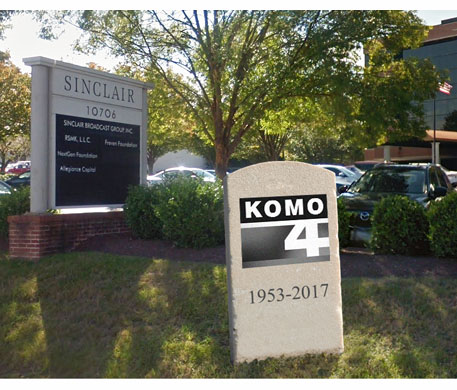 ► From HuffPost — How to hit Sinclair where it hurts, according to an anonymous Sinclair anchor — "If you want to stop watching us, I don't care. If you want to boycott our advertisers, go for it. I greatly encourage people to do all of those things. But those things don't hurt Sinclair. If you want to make a difference, lobby your lawmakers to have them stop the Tribune deal from going through, because that is what is dangerous about this. It's dangerous for any company to own as many stations as Sinclair does. Healthy competition is a good thing. Talk to your lawmaker about it. That is what will actually make a difference. Hate-tweeting me? That doesn't make a difference."
EDITOR'S NOTE — Sinclair is awaiting federal permission to buy out Tribune Media, which would add more than 40 TV stations to its stable, including KCPQ (Q-13) in the Seattle market in which they already own KOMO.
PREVIOUSLY at The Stand — Did Sinclair buy KOMO to shut it down?
► In today's Skagit Valley Herald — Environmental groups appeal Skagit County permit for refinery project — A coalition of environmental groups is appealing a permit issued by Skagit County for a project proposed at the Andeavor Anacortes Refinery, which was formerly Tesoro. The appeal marks the coalition's second attempt to get the permit withdrawn and require the county to take a deeper look at potential environmental impacts of what is called the Clean Products Upgrade Project.
► In the Portland Mercury — Burgerville's union will no longer be ignored by management — When members of the Burgerville Workers Union showed up to the fast food chain's corporate headquarters in Vancouver last week, management wouldn't let them inside. It wasn't because they were holding a raucous protest or waving intimidating signs or throwing rocks at the windows. The small group of employees was there to deliver a single letter with a simple ask: Recognize our existence.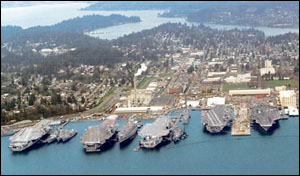 ► In today's Kitsap Sun — Puget Sound Naval Shipyard has another busy work schedule to tackle this year — The PSNS has a busy year ahead, with a work schedule packed full of submarines to be decommissioned and aircraft carriers to be maintained. The amount of work shipyard crews have to get through this year will be challenging, but is on par with the past few years, said the shipyard's commanding officer.
► In today's Spokesman-Review — Major renovation, expansion planned for Spokane International Airport — Spokane International Airport officials are moving forward with a $130 million reconstruction project to meet passenger growth by expanding terminals, remodeling security checkpoints and adding a central baggage claim hall.
---
ELECTION 2018

► In today's Columbian — Long raises $275,000 for challenge in 3rd District — Democratic challenger Carolyn Long has already amassed more than $275,000 since launching her bid for the 3rd Congressional District in November. Long is one of three Democrats hoping to unseat Rep. Jaime Herrera Beutler, R-Battle Ground, who is seeking a fourth term.
► From AP — 8 unknown Dems target historically red Washington congressional seat — Eight unknown Democrats are fighting for a spot to challenge a high-profile Republican in Washington state's reliably red 8th District. It's a familiar battle in the 8th, where voters have chosen the Republican for almost four decades since the U.S. House district's creation in 1980. But with the national GOP bracing for big midterm losses, the Democrats hope to finally prevail.
---
TEACHER STRIKES
► In today's Washington Post — What striking teachers teach us (by E.J. Dionne) — The new teacher activism — born in West Virginia and spreading to Oklahoma, Kentucky and Arizona — is not a flash in the pan. And it's about more than the demand for higher wages and benefits. It is a revolt against decades of policies that gutted public institutions.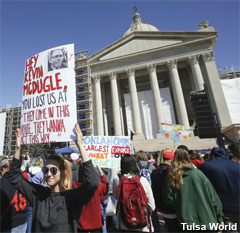 ► In today's Tulsa World — Teachers crowd Capitol for a third day to tell lawmakers 'much more is needed' — To chants of "We aren't leaving" and "This is our house," teachers from across the state and their supporters were back on Wednesday for a third day at the Capitol, continuing their call for legislators to increase education funding. Not only had they not lost any steam, they seemed to be gaining it.
EDITOR'S NOTE — Meanwhile, Oklahoma Gov. Mary Fallin (R) says striking teachers are like "a teenage kid that wants a better car."
► In today's (Louisville) Courier-Journal — After massive rally, Kentucky teachers watching for Bevin vetoes on education funding — If Gov. Matt Bevin exercises his veto power to strike down tax or budget measures favorable to public education, a massive showing of teachers could overtake the state Capitol again.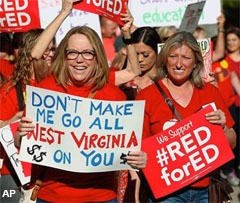 ► From KTAR — Arizona teachers mulling protest options, including April strike — A group demanding raises for Arizona teachers was considering its protest options this week that could include a strike in the coming weeks. "We have a walk-in next Wednesday and then, from there, we don't have anything essentially planned," Red for Ed organizer Noah Karvelis said. "All options are on the table."
► From Governing — Do weak labor laws actually spur more teacher strikes? — All four states where teacher strikes have happened, or may soon, are "right to work" states. Many labor experts believe weak labor laws — such as the right to work and the lack of collective bargaining rights — lead to lower salaries, eventually generating enough unrest for strikes to happen. In the states currently striking, strikes are technically illegal and can cost a teacher his or her job. But, as one labor expert says, "teachers know that will never happen. They can't fire every teacher in the state."
EDITOR'S NOTE — This part of the Freedom Foundation's Janus v. AFSCME amicus brief aged well. (via Shaun Richman @Ess_Dog)

---
THAT WASHINGTON
► In today's Seattle Times — As Trump orders judges to hurry up, look inside immigration court's 'alternate legal universe' — The Trump administration is putting pressure on immigration courts to work faster. Judges, alarmed about the consequences for due process, want independence. The stakes are high, yet this "alternate legal universe" is largely out of public view.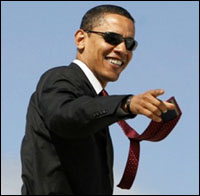 ► From Vox — After one year of Trump, Obamacare is actually doing fine — Obamacare didn't fail. It didn't get repealed. It didn't collapse. After one year of President Trump, Obamacare doesn't really look all that different than it did under President Obama. After a year of headlines about "sabotage" and a year in which Trump officials dramatically cut advertising for the law and pulled payments to insurers that risked driving them out of the market, the Affordable Care Act seems to be doing more or less fine.
► From The Hill — Poll: Trump approval drops to record low — His approval rating hit a record low in March, a new poll finds. Morning Consult's 50 state approval tracker finds 41 percent of registered voters approved of Trump's job performance during March while a majority, 54 percent, disapproved.
► In today's Washington Post — Ohio workers love Trump's tariffs, and that's making trouble for the GOP — President Trump's recent spate of tariffs are popular among his working-class supporters here. But his aggressive trade moves could help put a key Senate seat out of reach for his fellow Republicans, undermining the GOP's fight to keep control of Congress in November.
► From Reuters — U.S. trade deficit rises to near nine-and-a-half-year high; jobs market tightens — The U.S. trade deficit increased to a near 9-1/2-year high in February, with both exports and imports rising to record highs, but the shortfall with China narrowed sharply.
---
NATIONAL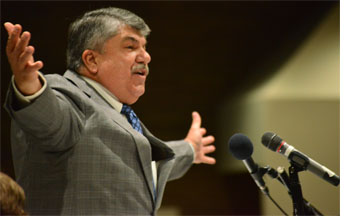 ► From AFL-CIO Now — Trumka in Memphis: We're reaching for that mountaintop — "So on this day… we are pledging to finish what the sanitation workers started. We are making a promise to our nation and each other to win the dream Dr. King died for. To the labor-hater and the race-baiter, the union-buster and corporate hustler, we say this: We are men. We are women. We are teachers and steelworkers. We are nurses and coal miners. We are firefighters and sanitation workers. WE are the American labor movement, the people who built this country into the most prosperous nation the world has ever known. And, we ain't done yet.
► From Bloomberg — Unions squeeze companies to divulge plans for tax windfall — Unions are pressing companies they bargain with to disclose details of what they're doing with savings from the Trump tax cuts, the latest move by organized labor to pressure corporations to pass along their windfall from the overhaul.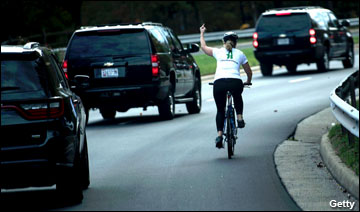 ► From HuffPost — Woman fired after flipping off Trump's motorcade sues former employer — Juli Briskman made headlines last fall after a photo of her flipping off President Donald Trump's motorcade while riding her bicycle went viral ― and got her fired. Now Briskman is suing her former employer, government contractor Akima LLC, for potentially breaking state law.
► In today's NY Times — Is Amazon bad for the Postal Service? Or its savior? — Five times in the last week, President Trump has pointed his Twitter arrows at Amazon over what he insists is a bad deal for the United States Postal Service. The details about the deal are not public — they are considered commercially sensitive information — but some of the available evidence suggests the opposite: that Amazon has been a boon to the Postal Service.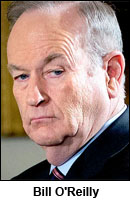 ► In today's NY Times — How Bill O'Reilly silenced his accusers — Settlement agreements between Bill O'Reilly and two of his accusers — made public for the first time on Wednesday — filled in previously unknown details about tactics employed by the former Fox News host to silence women who came forward with sexual harassment allegations against him. The documents show that two women who reached settlements were required to turn over all evidence, including audio recordings and diaries, to O'Reilly. In addition, one was required to disclaim the materials "as counterfeit and forgeries" if they ever became public.
---
TODAY'S MUST-READ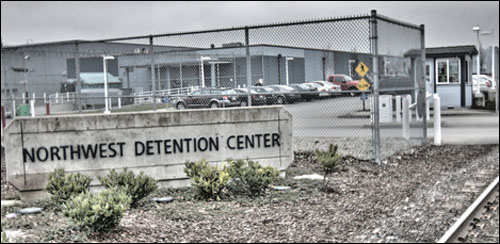 ► In today's NY Times — When migrants are treated like slaves (by Jacqueline Stevens) — We're familiar with grim stories about black-shirted federal agents barging into apartment complexes, convenience stores and school pickup sites to round up and deport immigrants. We've heard far less about the forced labor — some call it slavery — inside detention facilities. But new legal challenges to these practices are succeeding and may stymie the government's deportation agenda by taking profits out of the detention business.
Yes, detention is a business. In 2010, private prisons and their lenders and investors lobbied Congress to pass a law ordering Immigration and Customs Enforcement to maintain contracts for no fewer than 34,000 beds per night. This means that when detention counts are low, people who would otherwise be released because they pose no danger or flight risk and are likely to win their cases in immigration court remain locked up, at a cost to the government of about $125 a day.
The people detained at these facilities do almost all of the work that keeps them running, outside of guard duty. That includes cooking, serving and cleaning up food, janitorial services, laundry, haircutting, painting, floor buffing and even vehicle maintenance. Most jobs pay $1 a day; some work they are required to do pays nothing.
---
The Stand posts links to Washington state and national news of interest every weekday morning by 10 a.m.
Short URL: https://www.thestand.org/?p=65502
Posted by
David Groves
on Apr 5 2018. Filed under
DAILY LINKS
. You can follow any responses to this entry through the
RSS 2.0
. Both comments and pings are currently closed.