Fix the tax code | Trump's TPP 180 | The mother of Evangeline
Friday, April 13, 2018
---
LOCAL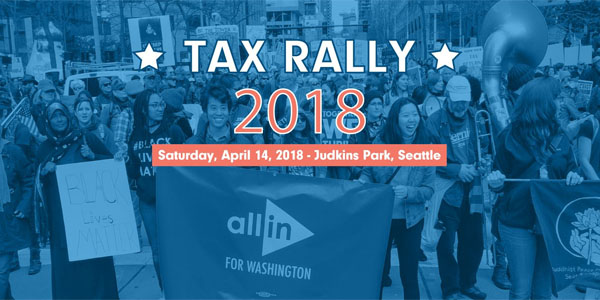 ► From the Public News Service — Marchers rally Saturday to fix WA's 'upside down' tax system — Washingtonians are rallying ahead of tax day to call for a fairer tax system in the state. On Saturday, people will gather in Seattle to highlight the disparity between working families, who pay up to 17 percent of their income in state and local taxes, and high-income families, who pay less than 3 percent of their earnings.  Tim Welch, WFSE public affairs director, says everyone uses public services such as roads and schools, and so it's only fair to make the tax structure more equal.
ALSO at The Stand — Rally April 14 for tax system that works for all of us
► In today's Seattle Times — Seattle taxes ranked most unfair in Washington — a state among the harshest on the poor nationwide — A household earning $25,000 in Seattle pays about $4,200, or 17 percent of its income, in state and local taxes, according to a report from the liberal-leaning Equal Opportunities Institute. But a $250,000-income household pays $11,000, which pencils out to just 4.4 percent of income. Here's why.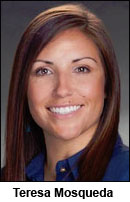 ► From The Stranger — Fix the tax code (by Teresa Mosqueda) — We pay our taxes this week, knowing that more folks will get health care, early learning and education, clean air and water, and basic infrastructure improvements, but we also know we must do more to fix our tax system to get the resources needed. On Saturday, April 14, I'll be joining many of you – community, neighbors, small businesses, and education advocates – at Judkins Park for Tax Rally 2018 to demand change. Together we will fight for a more just state and local tax code and budgets that don't come up short. The investments we make with our taxes are the cornerstones of thriving communities, they create the backbone for a healthy economy and healthy communities.
► In today's Tri-City Herald — As his mom was dying, he stole $40,000 from his union to see his future wife — The secretary-treasurer for a Wallula labor union was reeling from his mother's terminal cancer diagnosis when he reconnected with a childhood friend. But Jason A. Richard struggled to afford the frequent trips between Walla Walla and her home in Phoenix. That's when he said he started tapping into the accounts he managed for USW Local 12-990… On Thursday, Richard and his lawyer asked for mercy from a federal judge.
► In today's Spokesman-Review — Conceptual plans filed with Spokane County for Amazon-like warehouse near the airport — A gigantic, Amazon-like warehouse could be headed to vacant fields around the Spokane International Airport. Details were tantalizing, but scarce Thursday. A company has submitted conceptual plans for a four-story warehouse to the county that would contain a whopping 2.5 million square feet of space. The company is not identified in documents.
---
THIS WASHINGTON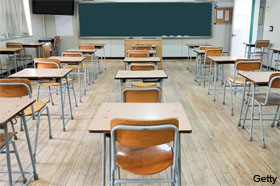 ► From The Stranger — There is now a homeless student for nearly every Washington classroom — Among K-12 students in Washington State, one in 25 is currently experiencing homelessness. That works out to "nearly one in every classroom," the Washington State Office of the Superintendent of Public Instruction said in a statement. In total, 40,934 Washington students were homeless during the 2016-2017 school year, according to data released by OSPI. That represents the latest in a steady increase over the last decade. OSPI reported last year that the number of homeless students nearly doubled between 2008 and 2016.
► In today's (Everett) Herald — In danger: State workers endure risks along our highways — State DOT workers are sharing their stories of brain injuries suffered on the job to help raise awareness. The goal is to get folks to think about workers like them and take extra caution through the areas where people are working. It's not just about Incident Response Team drivers. It's state patrol troopers, sheriff's deputies, police officers, firefighters, ambulance technicians. It's also tow truck drivers, surveyors, construction crews, and those in PUD hard hats.
---
OBSTRUCTION OF JUSTICE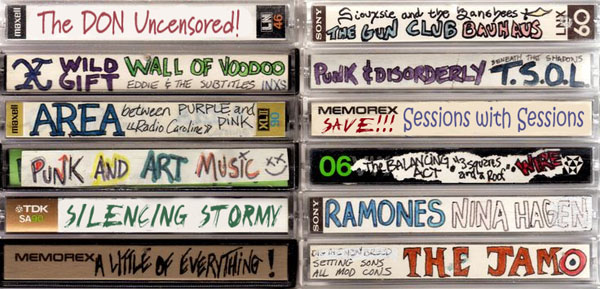 ► In today's Washington Post — Trump's allies worry that federal investigators may have seized recordings made by his attorney — President Trump's personal attorney Michael D. Cohen sometimes taped conversations with associates, according to three people familiar with his practice, and allies of the president are worried that the recordings were seized by federal investigators in a raid of Cohen's office and residences this week. It is unknown whether Cohen taped conversations between himself and Trump. But people familiar with Cohen's practices said he recorded both business and political conversations.
► In today's Washington Post — Majority of Americans support Mueller's probe of Russia, Trump campaign — Nearly 7 in 10 adults say they support Mueller's focus on possible collusion with Russia. Sixty-four percent say they want the special counsel investigating Trump's business activities. And a 58 percent majority supports investigating alleged payments by Trump associates to silence women who say they had affairs with him.
---
BOEING
► In today's Seattle Times — Russia takes aim at Boeing titanium, U.S. workers in sanctions plan — Russia outlined a broad range of potential retaliatory moves against new U.S. sanctions, including curbs on imports of American farm products and cooperation in nuclear energy and space launches, as well as a possible ban on titanium sales to Boeing.
► From Reuters — Rolls-Royce and airlines grapple with further Dreamliner engine issues — Rolls-Royce requires more money and more inspections to fix problems with Trent 1000 engines on Boeing 787 Dreamliner planes, leading to further disruption for airlines and testing relations between Rolls and its customers.
---
THAT WASHINGTON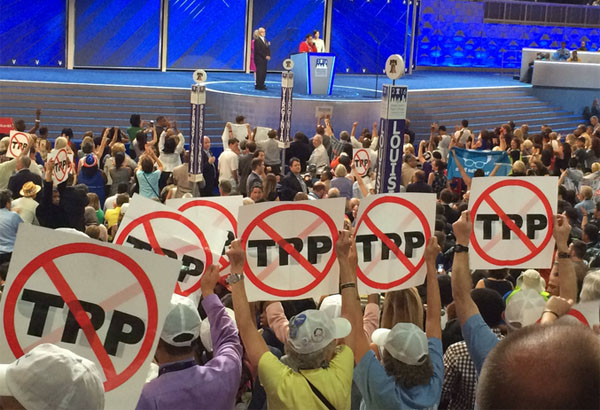 ► In today's NY Times — Trump proposes rejoining the TPP — President Trump, in a sharp reversal, told a gathering of farm-state lawmakers and governors on Thursday morning that the United States was looking into rejoining a multicountry trade agreement known as the Trans-Pacific Partnership, a deal he pulled out of days after assuming the presidency. Trump's reconsideration of an agreement he once denounced as a "rape of our country" caught even his closest advisers by surprise.
► In today's NY Times — Trump wants back into the TPP. Not so fast, say members. — The pact's members — including some of America's most stalwart allies — might not make it so easy to come back.
► In today's NY Times — Justice Dept. can't tie police funding to help on immigration, judge rules — The Justice Department cannot require that local police departments help immigration agents in order to receive federal funding, a federal judge has ruled. The ruling is a significant victory for local governments that have opposed the Trump administration's stance on immigration and vowed to stay out of enforcement efforts.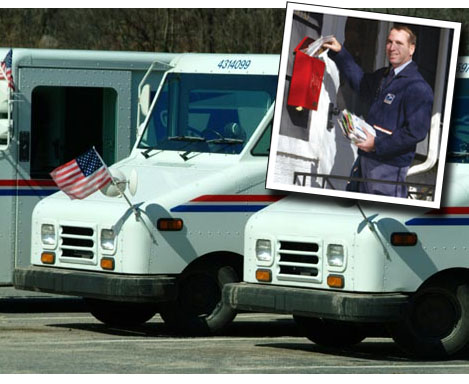 ► In today's Washington Post — Trump orders review of Postal Service's business model — President Trump, who has assailed Amazon.com and falsely accused the online retail giant of cheating the U.S. Postal Service by taking advantage of bulk delivery rates, on Thursday night ordered a sweeping overhaul of the Postal Service's business model. Trump issued an executive order forming an administration task force, to be chaired by Treasury Secretary Steven Mnuchin, and directed it to evaluate the Postal Service's finances and operations. The order also directs the task force to issue a report outlining proposed changes within 120 days.
► From Politico — Trump may try to claw back as much as $60 billion from spending bill — The White House is ignoring warnings from worried Hill Republicans and moving ahead with plans to cut billions of dollars from the spending bill that Congress passed in late March.
► From Reuters — Unions brace for big changes under Republican-led U.S. labor board — As Republicans take control of the U.S. agency that enforces federal labor law, unions are bracing for decisions that could make it harder for them to solicit support and boost their ranks by limiting their ability to contact workers.
---
NATIONAL
► In today's NY Times — Oklahoma teachers end walkout after winning raises, additional funding — Saying it had achieved all that it could with a walkout, Oklahoma's largest teachers' union on Thursday called for educators to return to the classroom and to shift their efforts to supporting candidates in the fall elections who favor increased education spending. At a news conference, Alicia Priest, president of the Oklahoma Education Association, characterized the nine-day walkout as "a victory for teachers."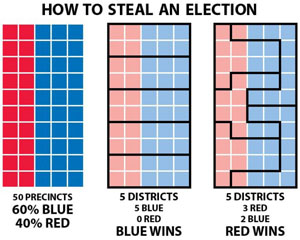 ► From TPM — Voters take the wheel on fixing gerrymandering — Across the country, voters are engaging in mobilizations at the state level to take the wheel on the seemingly unsexy issue of redistricting reform. Efforts to get reform measures on the ballot are underway in Michigan, Missouri, Oklahoma, Colorado and Utah, and Ohio will vote May 8 on a legislative-backed proposal that was spurred by grassroots activism.
► From the AFL-CIO — Texas AFL-CIO takes next step to expand union participation in citizenship drives — In January, delegates to the Texas AFL-CIO COPE Convention unanimously approved a far-reaching resolution calling for the state federation and affiliates to conduct citizenship drives across the state, with the long-term intent of registering new voters and changing the political environment. On April 10, in a strategy meeting attended by union affiliates from across the state, the Texas AFL-CIO took the next step to fulfill the goals of that resolution.
► MUST-READ from The Guardian — How the American economy conspires to keep wages down (by Gabriel Winant) — When unemployment goes down, wages are supposed to go up. That's just supply and demand. Quite puzzlingly, though, this mechanism seems not to be working today. Unemployment stands at a modest 4%, but paychecks aren't growing. Although today's is the best-educated workforce in history, employers just insist that workers need more training. In other words, they're gaslighting us. Meanwhile, over decades, employers have built and maintained a massive collective political apparatus to hold down wages.
---
T.G.I.F.
► A couple weeks ago, The Entire Staff of The Stand was fortunate enough to go see Brandi Carlile, the Pride of Ravensdale, at Seattle's Moore Theater. Fortunate, not only because it was (yet again) a wonderful performance, but also because the next night's show had to be cancelled because her daughter, Evangeline, was hospitalized with a high fever. By all accounts, her daughter is doing better now. To celebrate the ability of parents to take a day off work to care for sick kiddos, here is a beautiful video of Brandi serenading Evangeline with a song about her from Brandi's new album. Enjoy!
---
The Stand posts links to Washington state and national news of interest every weekday morning by 10 a.m.
Short URL: https://www.thestand.org/?p=65769
Posted by
David Groves
on Apr 13 2018. Filed under
DAILY LINKS
. You can follow any responses to this entry through the
RSS 2.0
. Both comments and pings are currently closed.