Child care crisis impacts every community in Washington state
By SEN. PATTY MURRAY
---
(April 11, 2018) — "No one is exempt from the child care crisis."
That was the urgent message I heard all across Washington state last week as I visited child care and early learning centers to meet with parents, workers, and administrators to learn more about how the lack of high-quality, affordable child care has impacted their families and communities.
As former preschool teacher and a parent, I know how important the early years of a child's life are, and how their development during those years can set them up for future success. And yet, as we work to build an economy that works for all — not just those at the top — too many in Congress and our state legislatures are still not focused on one of the most critical and challenging pieces of the puzzle: how to improve our outdated child care system to meet the needs of working families and an evolving 21st century economy.
That's the message I heard from Dustin, a dad I met in Richland during a visit to the YMCA Early Learning Center. Dustin and his wife both have professional jobs with decent salaries, he told me, but rising child care costs for their three daughters have become almost unsustainable for their bottom line. He and his wife even briefly considered if Dustin should quit his job to become a stay-at-home dad in an effort to save more money — "a decision no family should have to make," he told me.
Alexis, a parent I met shortly after during my visit to Lower Columbia College's Early Learning Center in Longview, shared a similar story: an LCC employee and part-time college student, initially Alexis was able to afford child care for her 4-year-old daughter with the help of a state subsidy. However, when she transitioned from a part-time job at the college to a full-time position, her child care costs rose significantly. Alexis told me that while she still receives a child care subsidy, it is much less than she received previously — eating up more of her take-home pay than before, and effectively zeroing out her raise. She wants to keep her child in high-quality care to make sure she's prepared to achieve when she starts kindergarten, Alexis says, but as a single mom she's worried that the climbing costs will become prohibitive and that her daughter will unfairly suffer the consequences.
And these, along with other stories I heard during stops at centers in Vancouver and Seattle, are just the tip of the iceberg.
---
"We can pay for it now, or pay for it later"
Whether you're a parent struggling to find high-quality child care for your family that's affordable, or one of the countless members of our community who are depending on today's youth to become the next generation of business owners, innovators, workers, and leaders, the lack of high-quality, affordable child care in our nation is a problem that impacts all of us.
As heartbreaking as Dustin and Alexis' stories are, I know there are only too many families in Washington state and around the country — particularly families with kids with disabilities and those in rural areas — who are struggling in silence to give their kids the tools and support they need to enter Kindergarten prepared to succeed. Their trials, and the challenges faced by so many working families, inspired me to draft the Child Care for Working Families Act last fall, a bill that would significantly expand access to child care and early learning for low and middle-income families by bringing down rising child care costs, making major investments in training and compensation for child care workers, and significantly expanding access to high-quality preschool for low- and middle-income 3 and 4 year olds.
While we work to continue building support for the legislation in Congress (the Senate bill already has 30 sponsors, and its House companion bill has 119 co-sponsors), I was proud to work with my colleagues just last month to secure more than $2.3 billion for the Child Care and Development Block Grant in the bipartisan spending bill — the largest increase in federal child care spending ever, and a significant "down payment" on our goal of expanding access to high-quality, affordable child care for all.
However, our work is not over. Far too many leaders in Congress still aren't focused on addressing this growing crisis with the smart investments working families and communities need, leaving countless working parents like Dustin and Alexis to fend for themselves and their children.
But it doesn't have to be this way — we can make a different, better choice about how we use our national resources and prepare the next generation for success, in school and in life. A mom named Rachel I met in Longview summed it up to me perfectly: "we can either pay for it now, or pay for it later," she told me, speaking both about the difficulty of managing the climbing costs of keeping her two sons in care, and the even greater potential long-term costs of not helping them get the best possible start to their education.
That's why I'll continue listening to the parents and advocates on the front lines, and fighting to strengthen investments in our youngest learners until our dream of providing high-quality child care for all is a reality.
---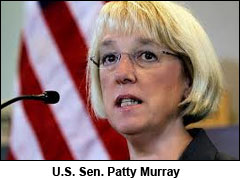 U.S. Sen. Patty Murray, a former preschool teacher, is the senior senator from Washington state and the top Democrat on the Senate Health, Education, Labor and Pensions Committee. This column was originally posted at Medium and is posted here with the author's permission.

Short URL: https://www.thestand.org/?p=65684
Posted by
David Groves
on Apr 11 2018. Filed under
OPINION
. You can follow any responses to this entry through the
RSS 2.0
. Both comments and pings are currently closed.