Amazon vs. taxes | Dino's dinner | When you join together | Super Bad
Thursday, May 4, 2018
---
LOCAL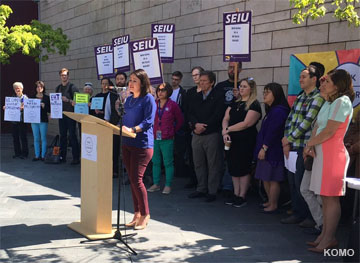 ► From KOMO News — Amazon fires back at Seattle's proposed head tax, pauses construction projects — Amazon is flexing its muscles making its opposition known to a proposed Seattle tax by bringing a halt to all planning on a massive project scheduled for construction in Downtown Seattle, and may tweak its plans to occupy a new downtown skyscraper…  Amazon would pay more than $20 million under the proposal, according to the AP. The tax is expected to raise $75 million per year, which the city says 75 percent would go toward affordable housing.
► In today's NY Times — Amazon pauses huge development plans in Seattle over tax plan
EDITOR'S NOTE — Jeff Bezos last week: I can't think of any way to spend my money other than rocketships. Jeff Bezos today: I will halt Amazon HQ expansion in Seattle over proposed taxes to fund affordable housing. (Tweet by Mike Rosenberg)
► From KOMO — Outrage devolves into disrespect at town hall on Seattle's head tax — Shouting and anger erupted at a fiery town hall on homelessness and a proposed big business tax to help.
► From C is for Crank — Tonight in Ballard: Two hours hate — At what was supposed to be a panel discussion, with a moderated Q&A,  on a proposed business tax to pay for homeless services, was not just a crowd of angry neighbors wanting to be heard by their elected representatives. It was an organized mob that showed up with a single goal: To shut down dialogue, create chaos, and prevent people with opposing views from having a voice.
► From KOMO — May Day march organizers hope peaceful, non-violent demonstrations continue in future —  Cariño Barragan from Casa Latina said the chaos and property destruction in the past has "been a distraction" from the real purpose of May Day. "For us May Day is a day to celebrate workers, to celebrate immigrant rights," Barragan said. "The messages got out about workers' rights, immigrants' rights, about justice and dignity."
► In today's Yakima H-R — Cinco de Mayo celebrations planned for Yakima, Sunnyside — Organizers of Yakima's annual Cinco de Mayo Cultural Festival are expecting entertainment and fair weather to again bring thousands downtown for the 17th annual celebration.
► In the (Longview) Daily News — CEO: WestRock-KapStone merger still on track — WestRock Co. CEO Steve Voorhees told investors Friday that the company's $4.9 billion merger with KapStone Paper and Packaging Co. is still on track despite extra scrutiny from the U.S. Department of Justice.
---
ELECTIONS

► In today's (Everett) Hareld — Initiative would bar governments from enacting soda taxes — Signature gathering began this week for a proposed statewide initiative (I-1635) to bar cities and counties from imposing their own taxes on sweetened beverages as well as other food and drinks typically sold in supermarkets.
► In today's (Everett) Herald — GOP defends its turf in Congress, gives incumbent Democrats a pass — Washington has six — Rick Larsen, Suzan DelBene, Pramila Jayapal, Derek Kilmer, Adam Smith and Denny Heck — and none of them had a Republican challenger as of Wednesday, based on the online records of the FEC.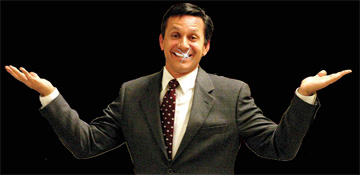 ► From The Stranger — Dino Rossi to speak at an Eastern Washington secessionist event — State Rep. Matt Shea, wants to talk about seceding from western Washington again. Next Saturday in Wenatchee, Shea is giving a presentation at the Douglas County Republican Central Committee's Lincoln Day Dinner called "Liberty, the 51st State!" A room full of real Americans paying $60 for dinner will likely clap along and dream of the day when they'll be "liberated" from a world where King County pays for most of their shit, and Dino Rossi, the sole Republican running for Congress in Washington's 8th Congressional District, will be out glad-handing among them. Rossi is the scheduled to open for Shea's keynote speech, as is Congressman Dan Newhouse, who represents the 4th CD.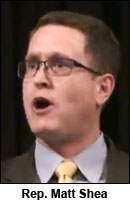 PREVIOUSLY at The Stand — It's up to Republicans to hold Rep. Matt Shea accountable (March 21, 2016) — Here's a guy whose rap sheet of illegal, inappropriate and embarrassing behavior includes posting creepy Facebook pictures of himself standing in a female political opponent's driveway; displaying a gun, for which he had no permit, in a road-rage incident; and actively supporting the 2014 armed protest in Arizona on behalf of "Deadbeat on the Range" Cliven Bundy, where participants trained their weapons on public employees who were just trying to do their jobs. Now we learn that Rep. Shea was actively supporting Ammon Bundy and his band of armed occupiers at the federal Malheur National Wildlife Refuge in Oregon. Shea reportedly led a group of state legislators in negotiating with local and federal law enforcement officials on the occupiers' behalf, ignored law enforcement officials' requests not to visit with and "embolden" the occupiers, and shared tactical information from that meeting with the occupiers.
---
TEACHERS TAKE A STAND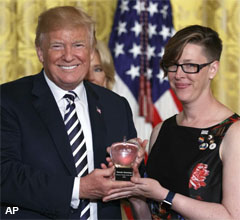 ► In today's Spokesman-Review — Before Trump handed her a trophy, she handed him a message (by Shawn Vestal) — Mandy Manning showed up at the White House with a batch of letters for the president. One of her students from Uganda had written a poem about her experience. Another told the president how badly he wants to attend college. A Rwandan immigrant wrote of the connection between "negative messages" about immigrants that come from the corridors of power and the ones she sometimes hears in the corridors of high school. On Wednesday, Manning gave the letters to President Trump, right before he honored her as the National Teacher of the Year. Manning instructs refugee and immigrant students from all over the world at Ferris High School in the Newcomers Center – she also invited Trump to pay a visit to her "amazing and beautiful" students.
► From the Hill — Arizona teachers hold vigil outside state capital as strike continues — Arizona teachers on Wednesday gathered outside of the state capitol in Phoenix and held a candlelight vigil as the state's teachers strike continued. The vigil took place as state lawmakers debated a budget blueprint that would raise teacher's pay, but does not address their other demands.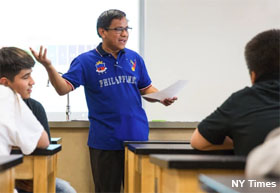 ► In the NY Times — Teacher pay is so low in some U.S. school districts that they're recruiting overseas — Among the latest states hit by the protests is Arizona, where teacher pay is more than $10,000 below the national average of $59,000 per year. The Pendergast Elementary School District, where Donato Soberano works, has recruited more than 50 teachers from the Philippines since 2015. "Rather than increase salaries, districts may once again resort to recruiting internationally as a way to solve the teacher shortage," Randi Weingarten, president of the American Federation of Teachers, a national teachers' union, said in a statement. She added that while her union "will fight for everyone working in our communities and educating our kids to have fair wages, rights and workplace protections regardless of where they're from, the use of the J-1 visaprogram to fill long-term shortages is an abuse of an exchange program."
► In the Washington Post — Could North Carolina's teachers be next to strike? Here's the mess they're in. — Teachers in states including West Virginia, Kentucky, Oklahoma and now Arizona have recently or are now striking for better pay and more education funding. This post is about why North Carolina teachers may be next.
---
THAT WASHINGTON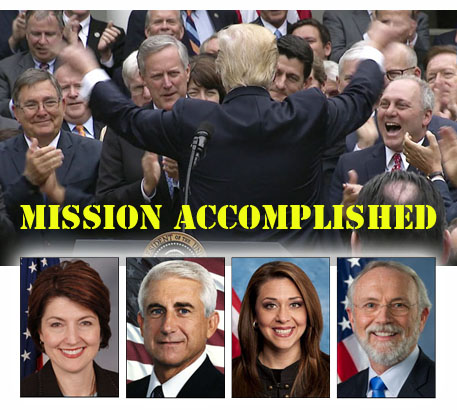 ► In the US News & World Report — Report: Obamacare coverage gains are eroding — The rate of uninsured American adults has trended upward in the last two years, a new report shows, with gains in coverage attributed to passage of the Affordable Care Act starting to reverse. The report released Tuesday by The Commonwealth Fund says the erosion in coverage is likely due to Congress' deciding not to shore up weaknesses in the law known as Obamacare, and to White House moves such as cutting advertising geared toward getting people to sign up for government-sponsored insurance plans. It also warns the trend is likely to continue in the foreseeable future, in part because of the tax reform bill GOP lawmakers passed in December.
► In today's Washington Post — Trump acknowledges his lawyer was reimbursed after payment to Stormy Daniels — President Trump said Thursday that his longtime lawyer, Michael Cohen, was reimbursed through a monthly retainer for the $130,000 payment made to porn actress Stormy Daniels to stop what Trump called "false and extortionist accusations" about a decade-old affair.
---
NATIONAL
► In the World Casino Directory — Palms Casino Resort Spa workers vote to unionize — In Las Vegas, workers at the Palms Casino Resort Spa have overwhelmingly voted to unionize with the Culinary Workers Union. The result came after a two-day secret ballot supervised by the NLRB saw some 84% of the around 900 workers at the Palms Casino Resort Spa vote to unionize.
EDITOR'S NOTE — Here's what it feels like when you successfully join together with your co-workers to negotiate a fair return  on your work.
So much strength, love, sacrifice, and power. That's my union! Congratulations @Palms workers! Welcome to the union family! ✊??❤ pic.twitter.com/HoBtYqCTW6

— Bethany Khan (@BethanyKhan) April 29, 2018
EDITOR'S NOTE 2 — Find out how YOU can join together with your co-workers!
► From NJ.com — N.J. employers now required to give paid sick days to their workers — Nearly all of New Jersey's private-sector workers will soon be allowed to receive paid sick time off under a law Gov. Phil Murphy on Wednesday, ending a years-long battle over the issue. The law — which takes effect in six months — will allow workers to accrue one hour of sick leave for every 30 hours worked. Workers can use up to 40 hours of sick leave a year.
---
T.G.I.T.
► Drummer John "Jabo" Starks died this week at the age of 79. Alongside fellow drummer Clyde Stubblefield, Starks was responsible for some of the funkiest beats in musical history that continue to be sampled by modern-day producers. The two were the powerhouse rhythm section for James Brown's band. Roots drummer Questlove, described the dynamic between Starks and Stubblefield, saying, "Starks was the Beatles to Clyde's Stones. A clean shuffle drummer to Clyde's free-jazz left hand." Bottom line: you've got to have a funky beat to make somebody dance like this. R.I.P., Mr. Starks.
---
The Stand posts links to Washington state and national news of interest every weekday morning by 10 a.m.
WASHINGTON IS A UNION STATE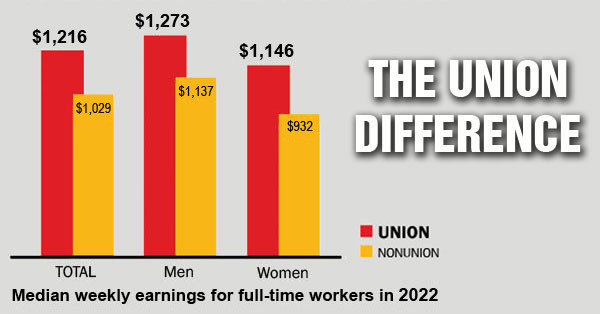 CHECK OUT THE UNION DIFFERENCE in Washington state: higher wages, affordable health and dental care, job and retirement security.
FIND OUT HOW TO JOIN TOGETHER with your co-workers to negotiate for better working conditions and respect on the job. Or go ahead and contact a union organizer today!