Subsidizing Bezos | Postage-paid ballots | Trump vs. children
Tuesday, May 8, 2018
---
LOCAL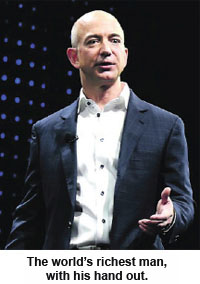 ► From The Stranger — Amazon among top Washington companies for employee dependence on Medicaid — While Amazon tech workers in Seattle make an average of $110,000 a year, the company recently released data showing its median employee makes less than $30,000 a year. Here in Washington, the tech company ranks 11th in the state for the number of its employees on Medicaid (also known as Apple Health), according to a November 2017 report from the Washington State Health Care Authority. The company ranked behind top offenders like Walmart and McDonalds but higher on the list than Dollar Tree, Target, Burger King, and Wendy's… On the day Amazon announced its construction pause, Seattle City Council member Teresa Mosqueda brought a copy of that list to a council committee meeting. "As we have a conversation about what companies — the largest companies — can afford to help pay for the housing crisis that we have," Mosqueda said, "we should have a better sense of whether or not these corporations are also getting corporate welfare kickbacks."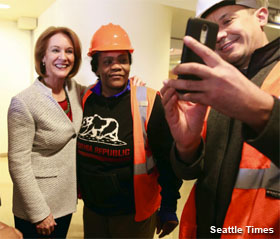 ► In today's Seattle Times — Durkan's dilemma: Seattle mayor caught between fury over head tax, push to help homeless — Mayor Jenny Durkan is facing a homeless crisis, residents and business owners questioning Seattle's spending, and City Council members pushing a tax on large employers that would raise $75 million a year for housing and homeless services… The M.L. King County Labor Council, an umbrella group that supported Durkan last year, has endorsed the tax. Unionized construction workers are opposing it.
► In the NW Labor Press — Yes, welders can unionize at Precision Castparts, NLRB rules — A group of 100 highly skilled welders at Precision Castparts can have a union after all, the NLRB has ruled. The Portland-area welders voted 54 to 38 to join the Machinists union on Sept. 22, 2017, but Precision Castparts filed a legal appeal with the NLRB, arguing that a welders-only bargaining unit wouldn't be appropriate, because the welders work in 18 separate departments at three separate campuses.
► From KNKX — It's not just pilots. labor shortage looms for other key aviation jobs — Aircraft mechanics and flight simulator technicians are also in high demand. At Alaska Airlines' Flight Training Center near Seattle, DeMarco Best and his coworkers program, maintain and fix a row of highly-realistic flight simulators.
---
THIS WASHINGTON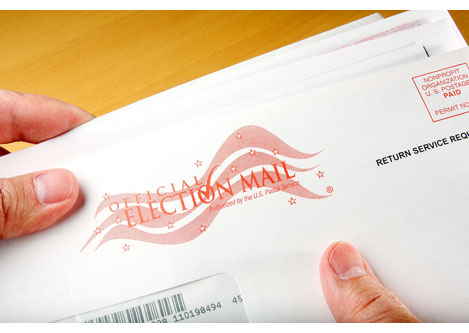 ► In today's Seattle Times — King County Council passes measure to fund prepaid postage for mail-in ballots — It passed 7-2 with only Councilmembers Reagan Dunn and Kathy Lambert voting against it. King County Elections Director Julie Wise brought the proposal to the council with the objective to increase voter turnout by reducing barriers to voting and discussion was largely supportive of Wise's proposal and objectives. The request's sponsor, Dave Upthegrove, echoed Wise in stating his belief that prepaid postage will increase access to the polls for all voters, especially younger voters who don't carry or use stamps much, and for the county's low-income voters.
► From The C Is for Crank — Bags and bags of shredded ballots — Before the final vote, Kathy Lambert offered a strange, last-ditch anecdote to explain why she opposed voting by mail… "I hope that we won't find out later on that there are bags and bags of shredded ballots that have gotten caught in the (USPS) machinery."
► In today's Seattle Times — All of Washington deserves postage-paid ballot envelopes (editorial) — If postage-paid ballots would improve turnout in King County, the entire state deserves that upgrade.
► In today's (Everett) Herald — State should pay postage of returned ballots (editorial)
► In today's Yakima H-R — Rep. Gina McCabe changes last name to Mosbrucker — The Goldendale Republican officially changed her last name to her maiden name Monday after filing for divorce in April from her husband.
---
TODAY'S NEWS JUXTAPOSED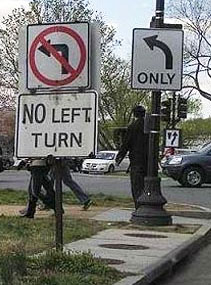 ► From Reuters — Trump proposes $15 billion spending cuts, targets children's health program — U.S. President Donald Trump will request a package of $15 billion in spending cuts from Congress on Tuesday, including some $7 billion from the Children's Health Insurance Program championed by Democrats, senior administration officials said on Monday.
► From The Guardian — Melania Trump launches campaign to help children stay 'healthy and balanced' — The First Lady briefly stepped out of her (cyber-bullying) husband's larger than life shadow on Monday to launch a campaign against cyber-bullying.
► From Bloomberg — Trump administration wants to train teens in 'hazardous' jobs — The Labor Department plans to unwind decades-old youth labor protections by allowing teenagers to work longer hours under some of the nation's most hazardous workplace conditions, sources say. The DOL will propose relaxing current rules — known as Hazardous Occupations Orders — that prohibit 16- and 17-year-old apprentices and student learners from receiving extended, supervised training in certain dangerous jobs, said the two sources. That includes roofing work, as well as operating chainsaws, and various other power-driven machines that federal law recognizes as too dangerous for youth younger than 18.
---
THAT WASHINGTON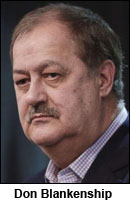 ► From The Hill — GOP nightmare looms in West Virginia — The nightmare scenario for Republicans is upon them: Former coal CEO Don Blankenship — who was in prison a year ago — is the candidate with momentum in Tuesday's GOP primary to take on Sen. Joe Manchin (D-W.Va.).
► From The Hill — Addressing the skills gap in America through apprenticeships (by Sen. Chris Coons, et al) — It is essential that policymakers and businesses find ways to support apprenticeship programs in their states. Too often in the Senate we define "education" too narrowly. We talk about education as a ticket to the middle class — but we don't include apprenticeship programs. That has to change.
EDITOR'S NOTE — True dat. But it's a little worrisome that this column does not include the words "union" or "labor"… at all.
---
NATIONAL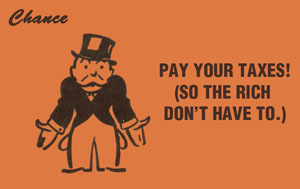 ► From Vox — Republicans are paying for teacher raises with taxes and fees that hit working- and middle-class taxpayers — Teacher unrest has roiled a handful of (mostly conservative) states: Arizona, Oklahoma, West Virginia, and Kentucky. The protests are a response to decades of funding cuts for education and years of tax cuts that overwhelmingly benefited businesses and wealthy taxpayers. In each of these states, teachers called on lawmakers to boost funding for public education with higher taxes on corporations and the wealthy. For the most part, the strikes have proven effective in forcing Republican lawmakers in those states to restore some of that funding. But these legislatures have fiercely resisted efforts to raise any taxes. And when they have given in, they've done so in ways that would disproportionately hurt workers who are struggling to make ends meet.
► In today's LA Times — L.A. Unified school bus drivers and teacher assistants are planning a daylong strike — The union that represents 30,000 Los Angeles Unified School District support staff workers is planning a strike on May 15 over what its leaders have called unfair labor practices.
► In today's LA Times — Sen. Kamala Harris to skip UC Berkeley commencement in support of striking workers — California Sen. Kamala Harris has canceled plans to deliver UC Berkeley's commencement address this weekend in support of UC workers who are on strike over wages and health benefits.
From Forbes — Despite good labor relations, United Airlines opposes effort to unionize catering workers — About 80% of United Airlines' 88,000 workers are union members, but that has not prevented the carrier from strongly opposing an effort by UNITE HERE to organize its 2,700 catering workers.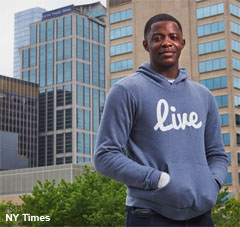 ► In today's NY Times — Man who wrested rifle from Waffle House gunman raises $227,000 for victims — James Shaw Jr. exuded modesty in the hours and days after he wrested an assault rifle from a gunman at a Nashville Waffle House restaurant. And in his efforts to help the shooting victims, he set what turned out to be a modest fund-raising goal: $15,000. Just two weeks later, though, Shaw's GoFundMe has raised more than 15 times that amount — about $227,000 as of Monday night. "I am overwhelmed," Shaw said. "To the thousands of people who have expressed their care, prayers and made financial donations, I can only respond by saying, 'Thank you.'"
EDITOR'S NOTE — Shaw, a wire technician at AT&T, is a member of the CWA Local 3808.
---
The Stand posts links to Washington state and national news of interest every weekday morning by 10 a.m.
Short URL: https://www.thestand.org/?p=66359
Posted by
David Groves
on May 8 2018. Filed under
DAILY LINKS
. You can follow any responses to this entry through the
RSS 2.0
. Both comments and pings are currently closed.