Get ready for Janus decision on Wednesday
Solidarity rallies, actions are planned statewide on Decision Day 
UPDATE (June 27, 2018) — As expected, the Supreme Court ruled against unions in the Janus v. AFSCME case today. See you at the rallies at 11:30 a.m. (details below)
---
Is your union ready for the Janus decision?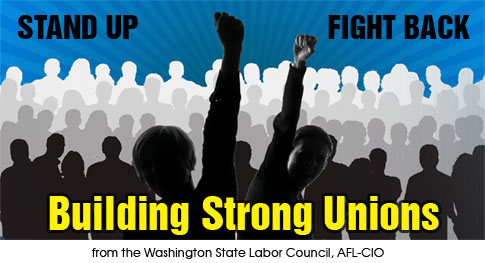 As part of its Building Strong Unions efforts, the Washington State Labor Council, AFL-CIO is urging all affiliated unions — whether they represent public or private employees — to get ready in three ways:
1) Make plans to join in solidarity rallies and activities planned throughout Washington state on Janus Decision Day;
2) Attend a special daylong Janus Preparation Training on Wednesday, June 6 at the WSLC's Seattle office (or via webinar); and
3) Check out the Building Strong Unions TOOLKIT to help your union get ready for Decision Day and thereafter.
---
At about 7:30 a.m. on a weekday in June, Wednesday, June 27, the U.S. Supreme Court is expected to announce its decision in Janus v. AFSCME and impose "Right to Work Is Wrong" restrictions on all public employees nationwide. That means all state and local governments and all public employee unions will be banned from agreeing to fair-share provisions in their contracts, and the unions will be required to represent non-members, even if they don't pay a penny to support the effort.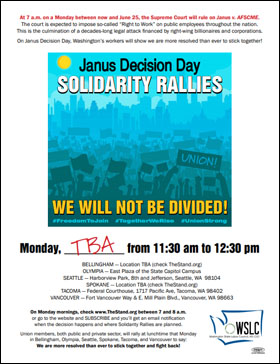 Janus Decision Day Solidarity Rallies will be held that day from 11:30 a.m. to 12:30 p.m. in Bellingham, Everett, Olympia, Seattle, Tacoma, Spokane and Vancouver, Wash. (Download an event flier for details.) Union members and their community supporters will rally at the following locations to say, "We are more resolved than ever to stick together and fight back!"
EVERETT — Worker's Memorial Courtyard (by the Snohomish County Courthouse) facing Wetmore Ave.
SEATTLE — Harborview Medical Center, 325 9th Ave., Seattle, WA 98104
SPOKANE — Rotary Fountain in Riverfront Park, 507 N. Howard St., Spokane, WA 99201
TACOMA — Federal Courthouse, 1717 Pacific Ave, Tacoma, WA 98402
VANCOUVER — Fort Vancouver Way & E. Mill Plain Blvd., Vancouver, WA 98663
Also that day, starting at 4:30 p.m., union members will be expressing their solidarity and determination to keep unions strong by waving Union Strong signs and banners at highway overpasses throughout the state. Seattle-area locations will be at the I-5 overpasses at N. 92nd Avenue, NE 45th St., Olive Street, Madison Street, Yesler Way, and Albro Place (new) in Tacoma at S. G St. For information about other locations, email WSLC Field Mobilization Director Cherika Carter or call her at 206-281-8901.
Download and print your Union Strong sign. Take selfies with co-workers and post on social media using #UnionStrong and #FreedomtoJoin and/or use graphics found here.
The WSLC has posted an important Building Strong Unions TOOLKIT for internal use by its affiliated unions on a password-protected page of the WSLC website. This communications toolkit will help Washington's unions speak as one and defend against this attack by corporate CEOs and right-wing billionaires (and the think tanks they fund). To request a link/password for the private page where this toolkit and many other helpful Janus preparation materials are posted, fill out this form.
---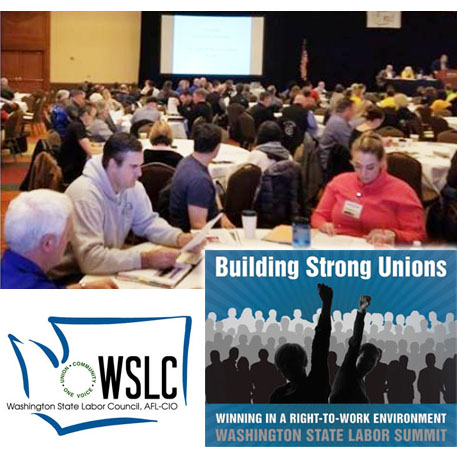 Because the fix has been in on the Janus decision for more than a year, WSLC-affiliated unions have been preparing for it by doing what they do best: organizing. Only now, those efforts are being focused inward to get existing members to commit to sticking together for good wages and strong contracts.
The WSLC hosted a statewide Labor Summit in February to prepare for the post-Janus world. Union leaders, staffers and stewards from across the state gathered to find out what their peers are doing to keep their unions strong and share best practices for re-engaging members. Local unions say that this work is inspiring their members and staffs. Some report that it's galvanizing their unions to fight harder and become more militant in the face of these blatantly political attacks.
"We are committed not only to sustaining the labor movement in this state, but also to building and strengthening it so more working people can negotiate a fair return for their hard work," said WSLC President Jeff Johnson. "No court decision is going to stop us from joining together to fight for good jobs, safe workplaces, equal pay for women and dignity at work for everyone."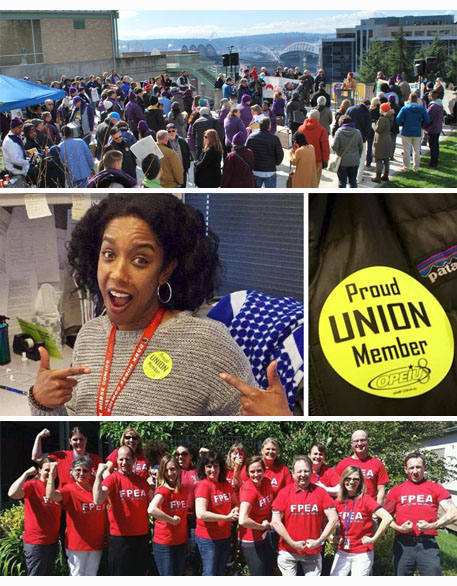 The day the Supreme Court heard oral arguments in the Janus case, hundreds of union members throughout the state expressed their solidarity in a variety of ways. They rallied, did banner drops, leafleted, or simply wore their union colors to work. The message: when we stand strong in our unions, we have the power to win for our communities and our families.
Make sure you join in the Janus Decision Day solidarity events!
Short URL: https://www.thestand.org/?p=67105
Posted by
David Groves
on May 31 2018. Filed under
W.S.L.C.
. You can follow any responses to this entry through the
RSS 2.0
. Both comments and pings are currently closed.