Farm bill cutting food assistance FAILS; state's GOP reps vote yes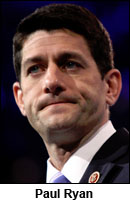 UPDATE (May 18, 2018) from the Washington Post — In blow to GOP, House fails to pass massive farm bill in face of conservative Republican showdown — A sweeping farm bill failed in the House on Friday in a blow to GOP leaders who were unable to placate conservative lawmakers demanding commitments on immigration. The House leadership put the bill on the floor gambling it would pass despite unanimous Democratic opposition. They negotiated with members of the conservative House Freedom Caucus up to the last minutes. But their gamble failed. The vote was 213 to 198, with 30 Republicans joining 183 Democrats in defeating the bill.
EDITOR'S NOTE — All four Republicans from Washington — Cathy McMorris Rodgers, Dave Reichert, Jaime Herrera Beutler, or Dan Newhouse — voted YES on this failed farm bill, which would have slashed funding for Supplemental Nutrition Assistance Program (SNAP) and imposed onerous work restrictions. All six Democratic members from Washington voted NO, with Rep. Adam Smith (D-9th) noting:
"The bottom line is that if this bill were enacted, an estimated 25,000 households or 60,000 people in Washington state would lose their SNAP benefits. It's appalling that just a few months after passing a corporate tax cut bill that costs Americans 1.5 trillion dollars, Republicans can justify taking essential nutrition support away from individuals and families that desperately need it."
---
Farm bill's onerous rules for food assistance would cut off working families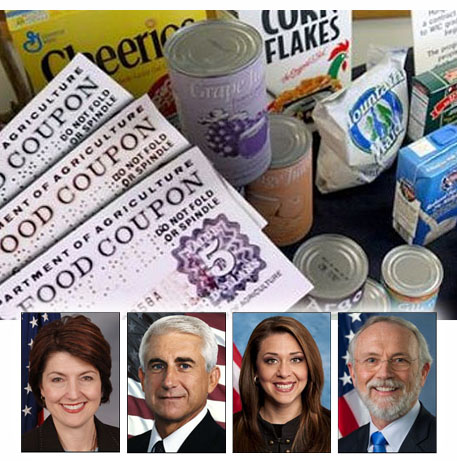 WASHINGTON, D.C. (May 17, 2018) — The Farm Bill under consideration in the U.S. House of Representatives (H.R.2) could take away food from one in eight Washington workers and their children who rely on the Supplemental Nutrition Assistance Program (SNAP, AKA Food Stamps). A vote on the bill could come TOMORROW (Friday), so please take action now to urge members of Congress to vote NO on the bill.
TAKE A STAND — Click here to urge your member of Congress to Vote NO on H.R. 2 by taking action below and to reject a bill that would increase hunger and hardship among struggling Washingtonians. This action form (set up by United Way of King County) is particularly important if you are represented by a member of Washington's Republican delegation: Reps. Cathy McMorris Rodgers, Dave Reichert, Jaime Herrera Beutler, or Dan Newhouse.
SNAP helps low-income families, seniors, and people with disabilities buy groceries and enables kids to qualify for other essential anti-hunger programs like school breakfast, lunch and summer meal programs.
H.R. 2's proposed increases in SNAP work requirements will create frequent paperwork renewals that will have the effect of cutting eligible families off needed food for a year at a time if they do not have all the employer signatures or forget to submit paperwork once. Now is not the time to cut children off from accessing food at school and families off from groceries.
While most working-age SNAP participants do work, they are low-wage workers — either working part-time or seasonally, often with no control over their schedules. Stringent requirements like those being proposed are not about getting SNAP families to work, they are about saving money by reducing access to food.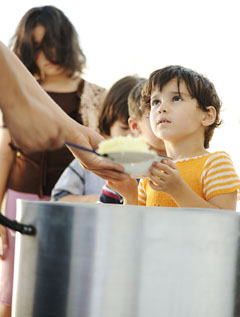 AFL-CIO Government Affairs Director William Samuel sent the following letter to all members of Congress regarding the bill:
On behalf of the AFL-CIO, I am writing to urge you to oppose the Agriculture and Nutrition Act of 2018 (H.R. 2), which would slash the Supplemental Nutrition Assistance Program (SNAP) and make it more difficult for millions of Americans to feed themselves and their families.
SNAP provides a vital lifeline to over 40 million households in the U.S. who regularly struggle to eat.  H.R. 2 would cut $17 billion in nutrition support, taking food assistance from 2 million people.  It would also result in 265,000 children losing access to free school meals.
SNAP is a successful program that operates as an economic multiplier — benefiting not only its recipients and their families, but also the broader economy. According to the USDA's Economic Research Service, every $1 billion of retail generated by SNAP creates $340 million in farm production as well as 8,900 to 17,900 full-time jobs, including 3,300 farm jobs. This multiplier effect is particularly significant during economic downturns as every $5 spent on SNAP is estimated to yield $9 of spending in local communities.
H.R. 2 also imposes unreasonable and unsustainable work requirements, ignoring the fact that many SNAP recipients are already working, but have wages too low and hours too scarce to go without food assistance. While the bill does increase funding for the USDA to oversee job-training programs, the Congressional Budget Office analysis of H.R. 2 confirms that it will take a decade for states to accommodate the influx of new participants.
Finally, we urge Congress to reject any effort to restrict or repeal America's cargo preference laws or otherwise weaken the Food for Peace, Food for Progress or McGovern Dole programs.  Foreign food aid cargoes represent the largest percentage of non-defense cargo carried by the U.S. Merchant Marine.  Undermining these programs would hurt farmers, destroy thousands of maritime jobs and weaken our national security.
Take action now to urge your members of Congress to Vote No on H.R. 2!
Short URL: https://www.thestand.org/?p=66817
Posted by
David Groves
on May 17 2018. Filed under
NATIONAL
. You can follow any responses to this entry through the
RSS 2.0
. Both comments and pings are currently closed.