Union-buster Howard Schultz quitting day job, mulling politics
(June 5, 2018) — The following story was originally published in WSLC Reports Today, the Washington State Labor Council's news service that preceded The Stand, and is no longer available online. (But we know a guy who has the archives.) This report is reposted in the context of Schultz's announcement Monday that he will resign as "Executive Chairman" of Starbucks and hasn't ruled out a presidential run in 2020. Warning: Some links may no longer work.
---
Union-buster Howard Schultz is Pacific NW's highest-paid CEO
SEATTLE (June 22, 2010) — Starbucks CEO Howard Schultz — the guy who sold out Seattle by giving away its SuperSonics to a bunch of Oklahoma City yahoos — is now the highest paid CEO in the Pacific Northwest. The $15 million he got paid in 2009 is more than the the CEOs of Microsoft, Boeing, Nike, Weyerhaeuser… all of them. And the truth is, Schultz collected tens of millions more than that last year by exercising stock options.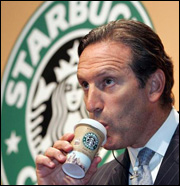 In September 2009, with Starbucks earnings and shares in the toilet, Schultz spoke of "the shared sacrifice I want to make" as he vowed to take almost no salary for the rest of the year. But as the Seattle Times reported last week, Schultz not only took in $15 million in total cash and equity pay in 2009, he cashed in more than $26 million in stock options from 1998 and 1999. Meanwhile, the company awarded him a new package of stock options in November 2008 that are now worth $46.8 million.
So what else is new, right? Some overpaid corporate executive continues to get super-rich — in his case by buying coffee for about $1.50 a pound and selling it for $10 a pound — while the rest of us struggle to find or keep a roof over our families' heads amid the Great Recession.
What's even more deplorable about Howard Schultz's embarrassment of riches is that he has also achieved it by aggressively and illegally denying his employees the freedom to choose whether they want to form a union. He has overseen the spending of millions of dollars on anti-union consultants and lawyers to block his employees' attempts to unionize.
Even as he was becoming the richest CEO in the Pacific Northwest, his company was getting thumped by the National Labor Relations Board for unfair labor practices, including the firing and punishing of pro-union baristas in New York, Michigan, and elsewhere around the country. And because of the lax labor laws in this country, Starbucks has been able to enter into "settlements" that avoided fines and, in most cases, even avoided admissions of wrongdoing.
Schultz has reportedly said that he takes his company's employees' efforts to unionize as a "personal insult."
CURRENT LAW SAYS workers have the right to decide for themselves — free from threat of firing, punishment, harassment or other employer coercion — whether they want to form a union. But the law has no teeth and is broken with relative impunity by companies like Starbucks, which has reportedly spent millions on high-priced lawyers to subvert unionization campaigns using those illegal tactics.
Here is an account — from portfolio.com — of the of one group of workers to form a union at a single Starbucks store:
Four years ago, a small but hardy band of baristas attempted the near-impossible task of unionizing a single Starbucks store on Madison Avenue in New York. The leader of the effort, a young firebrand named Daniel Gross, took on what he called "the myth of the socially responsible Starbucks," complaining of subsistence wages, sadistically unpredictable schedules, and understaffing. He noted that only four out of 10 Starbucks employees actually receive its vaunted health benefits — a lower rate than at Wal-Mart — either because, as part-time workers, they don't work the 240 hours a quarter required to qualify, or because, at between $7 and $9 an hour, they can't afford the premiums, copays, and deductibles. (A Starbucks spokesperson says it's because they have coverage from other sources and that 80 percent of its employees are covered by some kind of insurance.)

As soon as the unionization drive was announced, Schultz sent out a company­wide email expressing his dismay and disappointment. It was almost as if his feelings had been hurt. He visited the epicenter of the unionization effort, the store on Madison Avenue where Gross worked. Gross, a member of the Industrial Workers of the World, a.k.a. the Wobblies, says that when he tried talking to Schultz, he was rebuffed, though Schultz denies it. Gross was later fired.

After his visit, the I.W.W. says that Starbucks sent antiunion managers into the store and sicced high-priced lawyers from the Washington, D.C., law firm of Akin Gump Strauss Hauer & Feld on Gross and his cohorts. The local office of the National Labor Relations Board sided with the union, filing complaints that Starbucks had engaged in numerous unfair labor practices and twice taking it to court. One case was settled; the other, which required weeks of testimony, is still pending.

(The baristas eventually prevailed.)

Gross and his lawyer, Stuart Lichten of Schwartz Lichten & Bright in New York, estimate that Starbucks has gone through several million dollars in legal fees to suppress the union. Even if the Wobblies had successfully unionized the Madison Avenue store, Lichten says, Starbucks could easily have shut it down; after all, there are plenty of other Starbucks stores nearby. Why then, I ask him, would the company spend so much to squelch something so weak?

Partly, Lichten says, it's to keep Gross from ever returning to Starbucks. But partly too, he adds, it's because of the boss's vanity. Under Schultz's benevolent rule, unions should be unnecessary; it is "a personal insult," he says, that anyone feels otherwise. "They also see it as retro," he adds. "It's not new-age to have a union. Unions are for General Motors. They're the 'third wave,' or whatever they call it." Schultz says he won't talk about the matter because it's still in litigation.
Workers shouldn't face such hurdles to exercise their legal right to decide for themselves whether they should have a union. This is America. Democracy doesn't stop at the employers' door. And yet, Human Rights Watch lists the United States alongside many Third World nations as a violator of basic human rights, due to the degree to which we restrict the freedom of association and the freedom to form unions.
Each year thousands of workers in the United States are spied on, harassed, pressured, threatened, suspended, fired, deported or otherwise victimized by employers in reprisal for their exercise of the right to freedom of association. In the 1950's, victims numbered in the hundreds each year. In 1969, the number was more than 6,000. By the 1990's, more than 20,000 workers each year were dismissed or otherwise victims of discrimination serious enough for the government-appointed National Labor Relations Board (NLRB) to issue a reinstatement and "back-pay" or other remedial order…
Howard Schultz is not only the highest-paid CEO in the Pacific Northwest, he's the poster boy for why the Employee Free Choice Act is necessary in America. Now more than ever.
WASHINGTON IS A UNION STATE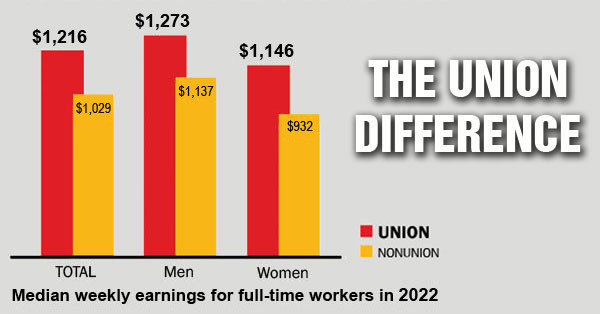 CHECK OUT THE UNION DIFFERENCE in Washington state: higher wages, affordable health and dental care, job and retirement security.
FIND OUT HOW TO JOIN TOGETHER with your co-workers to negotiate for better working conditions and respect on the job. Or go ahead and contact a union organizer today!