Raises at Providence ● Eaten at work? You're at fault! ● Power in our hands ● King Drake
Wednesday, July 11, 2018
---
LOCAL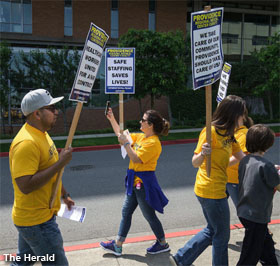 ► In today's (Everett) Herald — Providence nurses get raises and a reply on staffing concern — Providence Regional Medical Center Everett has reached a contract agreement with the union that represents 1,600 registered nurses at the hospital. The understanding appears to end an eight-month standoff over staffing levels and pay. Members of the union (UFCW 21) ratified the three-year contract Friday. The hospital and union reportedly agreed to a 2.25 percent salary increase in the first year, with 2.5 percent raises for the next two years.
EDITOR'S NOTE — Want a raise? You and your co-workers should join together and negotiate a fair return for your work. Contact a union organizer today!
► In the News Tribune — Need a job? QFC has more than 200 openings areawide — An area grocer is offering an array of benefits to entice job applicants for full, part-time, hourly and management positions at its chain of stores in the area. That includes stores in Tacoma, Lacey, Kent and Belfair, as well as those in and around Seattle.
EDITOR'S NOTE — And hourly employees get a union contract, and the wages and benefits that come with it!
---
THIS WASHINGTON

► From KNKX — Lawmaker pays $35K for child care, vows to make it cheaper for other parents — State Rep. Kristine Reeves (D-Federal Way) sponsored the bill to create a task force to tackle the issue. Like a lot of parents, she and her husband both work so they need child care for their two children, ages three and five. It's not cheap.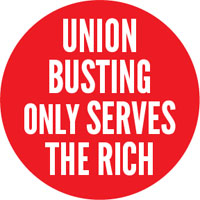 ► In today's Spokesman-Review — GOP lawmakers want state to change provisions for union dues — State workers who refuse to join a union got their first paychecks Tuesday without deductions known as "agency fees" after a U.S. Supreme Court decision ruled they couldn't be forced to pay them. But Republican legislators want the state to go further, demanding unions make it easier for workers to cancel membership or stop collecting any union dues unless employees sign new statements that they agree to have them deducted from their paychecks.
EDITOR'S NOTE — Not exactly "Man Bites Dog." Of course they do! Because the Janus decision was never about free speech, it was pure politics. Republicans and their partisan Supreme Court justices continue to try to rig the American political system against working-class people by restricting voting rights, gerrymandering districts, and defunding the opposition. And speaking of court partisans…
---
SUPREME COURT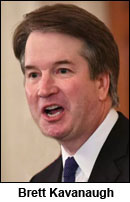 ► From Vanity Fair — Family man Brett Kavanaugh thinks businesses shouldn't be liable if employees are eaten on the job — The conservative judge was the only dissent in a case involving the SeaWorld trainer who was eaten by a killer whale during a performance in 2010, the third time the whale had been "involved in a human death." While his colleagues upheld a prior ruling that the theme park had violated safety standards by "exposing… trainers to recognized hazards when working in close contact with killer whales during performances," Kavanaugh thought that was bullshit, writing that lots of sports are dangerous, but that doesn't mean the Labor Department should use its authority to implement regulations aimed at minimizing the chances that trainers will be eaten in full view of paying customers.
► In today's Washington Post — 3 ways Trump's Supreme Court pick could transform U.S. labor law — President Trump's nominee for the Supreme Court may prove a crucial conservative vote in cases defining protections for gay and lesbian workers, the scope of union organizing and the rights of workers to take their grievances to court, according to labor law experts.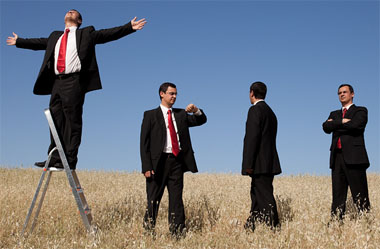 ► From Politico — What's missing from the Supreme Court — Kavanaugh's ascension would further ratify a trend that has been building for a generation: a Court of careerists… In nominating a conservative who checks all the conventional boxes, Trump guaranteed that the Court will again have zero members who have ever held elective office. Only one who ever served in the U.S. military (Samuel Alito, for three months active duty in 1975). Zero who started a business. Zero who went abroad with the Peace Corps. Zero, even, who zigged and zagged through their twenties or early thirties — in the way that millions of ultimately successful Americans have done — between travel here, a false career start there, a wandering path in which they wondered with an open mind what they really wanted to do in life. These nine people knew from early on: They wanted to be legal stars. They all proved uncommonly adept at shimmying to the top of the greasy pole.
---
THAT WASHINGTON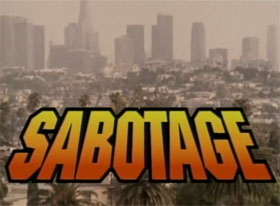 ► In today's Washington Post — Administration slashes grants to help Americans get Affordable Care Act coverage — The Trump administration is eliminating most of the funding for grass-roots groups that help Americans get Affordable Care Act insurance and will for the first time urge the groups to promote health plans that bypass the law's consumer protections and required benefits.
► In today's Washington Post — Trump makes good on threat to target an additional $200 billion in Chinese imports with tariffs — The president escalated his trade war with China with a new range of tariffs to be imposed later this summer that will include consumer products.
---
NATIONAL

► From AFL-CIO — After Janus, Electrical Workers show the power is in our hands — IBEW Local 1245 established and trained volunteer organizing committees at each of their 34 public sector worksites. Local leaders sat down with new committee members and listened to their stories — the distinct but universally motivating experiences that were driving each of them to give their time and energy to organizing. These powerful stories made powerful organizers. A year since IBEW Local 1245's VOCs formed, 25 of their public sector worksites have secured voluntary dues commitments from at least 80% of members — including 15 that have rallied together 100% of their membership.
► In the Kansas City Star — Could Missouri's right-to-work vote be a 'turnaround' for labor? Unions hope so. — Unions have been fighting "right-to-work" policies for years in Missouri, defeating it at the ballot box 40 years ago. Missourians will be back at the polls again next month, and union officials are telling them they see it as a fight for unions' lives.
► From The Hill — NFL players union files grievance over new anthem policy — "The union's claim is that this new policy (requiring players to remain standing during the national anthem), imposed by the NFL's governing body without consultation with the NFLPA, is inconsistent with the collective bargaining agreement and infringes on player rights," the NFLPA said in a statement.
► From AP — American workers' willingness to quit their jobs hits 17-year high — The proportion of American workers who quit their jobs in May reached the highest level in 17 years, a sign that more people are confident they can find a new job, probably at higher pay.
---
T.G.I.W.
► Step aside, Beatles. According to Billboard's latest Hot 100 list, Drake has seven of the Top 10 songs in the country and an unprecedented 27 songs in the Top 100. Credit his new double-album Scorpion that dropped last month (and Billboard's effort to account for streaming music). As Rolling Stone points out, Drake is now "bigger than all of rock 'n' roll," which only has about a dozen songs on the chart. Here's #4 on the list, the video for which Drake called "the most important thing I have ever done in my career." He spends a day handing out $1 million to women's shelters, grocery shoppers, college students, and families in need. Just a PR stunt? Poverty as prop? Maybe. Maybe not. But it's fun and moving to watch.
The Entire Staff of The Stand will be gone for the rest of the week. We'll be back on Tuesday, the first day of the WSLC's 2018 Convention. See you there!
---
The Stand posts links to Washington state and national news of interest every weekday morning by 10 a.m.
WASHINGTON IS A UNION STATE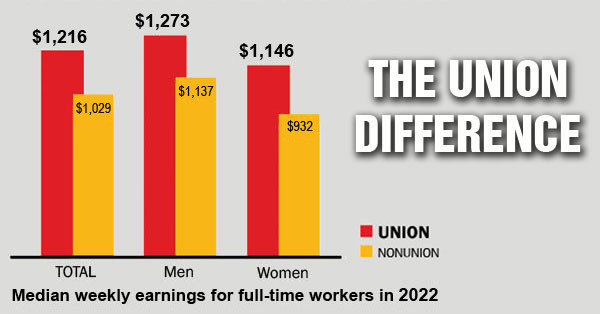 CHECK OUT THE UNION DIFFERENCE in Washington state: higher wages, affordable health and dental care, job and retirement security.
FIND OUT HOW TO JOIN TOGETHER with your co-workers to negotiate for better working conditions and respect on the job. Or go ahead and contact a union organizer today!