No-class Matt ● More tax cuts for rich ● Tariff layoffs
Tuesday, July 31, 2018
---
ELECTION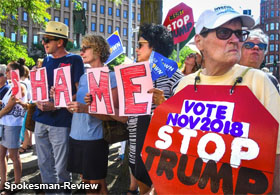 ► In today's Spokesman-Review — Protesters target GOP backlash to Russia probe at Devin Nunes fundraiser for Cathy McMorris Rodgers — A stump appearance in Spokane by U.S. Rep. Devin Nunes, the California Republican who has been critical of the probe into President Donald Trump's campaign ties to Russia, brought protesters to the front door of the Spokane Club on Monday afternoon. "The worst possible person she could bring with her, almost, is here with her," said Vivian Coleman, a South Hill resident who carried a "Grab 'Em By the Midterms" sign in the shadow of the John R. Monaghan statue. "I don't know why she would have him here."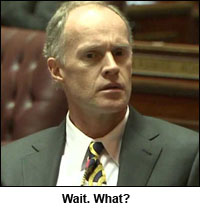 ► In today's Seattle Times — Running as a Democrat, Rodney Tom attracts help from Republican groups — In his bid to return to the state Senate as a Democrat, Rodney Tom is getting help from groups that usually support Republicans. Tom, who was first elected to the Legislature as a Republican and later turned Democrat, in late 2012 helped put Democrats in the Senate minority by joining Republicans in a governing coalition. He's back knocking doors this year in the 48th district, challenging Sen. Patty Kuderer (D-Bellevue) for the seat he gave in 2014… Tom's campaign is employing a political consulting firm, the Minnick Group, that this year is working for three Republican House campaigns.
EDITOR'S NOTE — Union delegates representing the affiliated union of the Washington State Labor Council voted to endorse Sen. Patty Kuderer.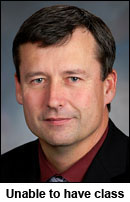 ► In the Columbia Basin Herald — Facebook page parodying opponent has Manweller ties — A Facebook page claiming to be that of a Democrat from Ephrata running for state House, which local candidate Sylvia Hammond said is a crude impersonation of her, was created and managed by her opponent, incumbent Rep. Matt Manweller (R-Ellensburg). The "Sylvia Loves Seattle" account paints Hammond as liberal on various issues and she says it misrepresents her views.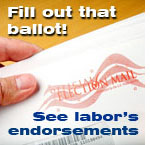 EDITOR'S NOTE — Manweller remains on paid administrative leave from Central Washington University, where he teaches political science, amid an investigation into allegations of inappropriate conduct with students. Manweller has previously faced scrutiny over allegations of sexual harassment at CWU, over reports from women at the State Capitol who have told the Legislature that interactions with him made them uncomfortable, and over his marriage to a former high school student of his after she turned 18. (He was 30.) WSLC delegates voted not only to endorse Sylvia Hammond, but to oppose Matt Manweller. See all the WSLC election endorsements here.
---
LOCAL
► In today's Seattle Times — Memorial Tuesday for Kent police officer killed in line of duty — Officer Diego Moreno, a Kent police officer killed in the line of duty earlier this month, will be laid to rest Tuesday following a scheduled memorial service and nearly 6-mile funeral procession.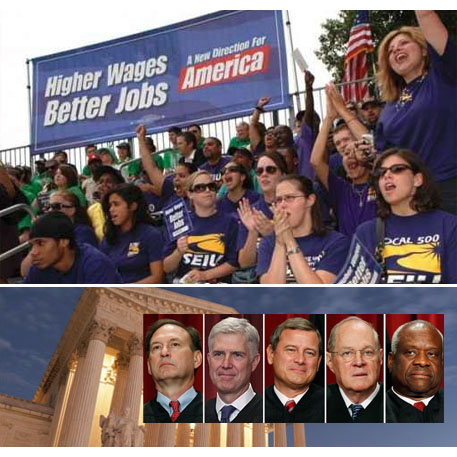 ► From AP — U.S. Supreme Court ruling in union dues impacts case in Oregon — A state employee in Oregon obliged to pay union fees despite her disagreement with the union's stances, including financing an attack ad against her husband's campaign for the Legislature, has reached a settlement of her lawsuit. She will be refunded $3,000 in dues she paid during two years.
EDITOR'S NOTE — As a fee-payer (non-member), none of her money went to politics, or that ad. Her fees just paid her fair share of the costs of negotiating and enforcing the union contract she benefits from. Those fair share fees were deemed legal by  a unanimous Supreme Court decision more than 40 years ago and has been standard practice ever since for public employee unions… until last month's Janus decision. That the union chose to reimburse her for past fees is an indication they wanted to settle and avoid a legal battle that would cost more than $3,000 to fight, not that she deserved a refund or would have prevailed in court.
► In today's News Tribune — Here's a way to start on a career as an iron worker — For those 18 and over, here's a pre-apprenticeship program that could land you with a new career. It is a grant-funded, four-week training program to prepare participants to start the four-year apprenticeship for Iron Workers Local 86. Descriptions of the program note it teaches students basic ironwork knowledge, including terms, safety, measuring, tools, rigging, crane signaling, cutting and welding. Deadline to apply is Wednesday (Aug. 1).
---
THIS WASHINGTON

► From KNKX — Wash. schools may get a boost in federal funding for career, technical education — Washington schools may get a boost in funding for career and technical education classes. That's because Congress has voted to reauthorize the Perkins Act, which spells out gradual increases in federal dollars for vocational education through 2024.
---
THAT OLIGARCHY
► In today's Washington Post — Trump administration considers (another) tax cut for the wealthy — The Treasury Department is considering a tax cut for the wealthiest Americans through a change that would not need approval from Congress, officials said, a move that would follow a package of tax cuts last year that also benefited the super-rich.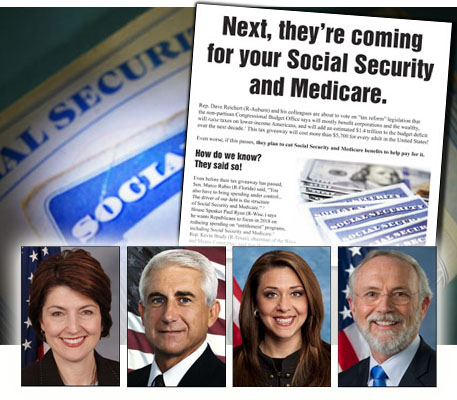 ► From The Hill — Tax breaks for wealthy paid for with deep cuts to Medicare, Medicaid and Social Security (by Sens. Martin Heinrich and Chris Van Hollen) — They say that we don't have a choice and can't afford these earned benefits for Americans on a fixed or limited income without making drastic cuts. A recent report by the nonpartisan Institute on Taxation and Economic Policy points out why they are scrambling to take away these benefits: they have already given the money away to the wealthiest 1 percent of Americans.
ALSO at The Stand — GOP plans big Social Security, Medicare cuts
► From The Hill — Koch network freezing out Republicans who have crossed them — Billionaire conservative businessman Charles Koch's political network is freezing out Republicans that it believes have violated its fiscally conservative principles.
► From The Hill — Trump: 'Globalist Koch brothers' have become a 'total joke in real Republican circles' — Trump ripped conservative mega-donors Charles and David Koch one day after the political network formed by the billionaire brothers said it would not support a Republican Senate candidate in North Dakota.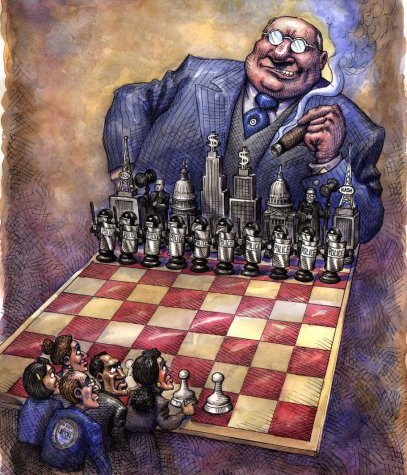 ► From The Guardian — Almost 80% of U.S. workers live from paycheck to paycheck. Here's why. (by Robert Reich) — America doesn't have a jobs crisis. It has a good jobs crisis. When Republicans delivered their $1.5 trillion tax cut last December they predicted a big wage boost for American workers. Forget it. Wages actually dropped in the second quarter of this year. Not even the current low rate of unemployment is forcing employers to raise wages. Contrast this with the late 1990s, the last time unemployment dipped close to where it is today, when the portion of national income going into wages was 3% points higher than it is today.
What's going on? Simply put, the vast majority of American workers have lost just about all their bargaining power. The erosion of that bargaining power is one of the biggest economic stories of the past four decades, yet it's less about supply and demand than about institutions and politics. Two fundamental forces have changed the structure of the U.S. economy, directly altering the balance of power between business and labor. The first is the increasing difficulty for workers of joining together in trade unions. The second is the growing ease by which corporations can join together in oligopolies or to form monopolies.
---
THAT WASHINGTON
► In today's NY Times — Build border wall or government will be shut down, Trump says — Trump reiterated his threat to shut down the federal government this fall if Congress does not deliver on Republican demands to crack down on immigration by enforcing security on the border with Mexico and building his long-promised wall.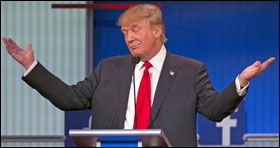 ► In today's Washington Post — Layoffs from Trump tariffs are piling up. So are calls for more bailouts. — Jane Hardy, the chief executive of a company that makes lawn-care equipment, says she had to lay off 75 employees this summer because of President Trump's trade war. As she fights to keep her southern Indiana business going, Hardy is one of several manufacturers warning the White House that, unless they see relief from the tariffs soon, job losses will mount and factory closures are likely. Trump has repeatedly said he would protect American farmers in the trade war, last week setting aside $12 billion to help them, but he is facing pressure to extend aid to other industries if the tariffs remain in place or get extended to more products. Extending those bailouts would be an expensive proposition.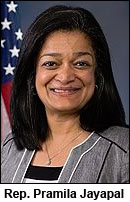 ► From The Hill — Liberal Dems lay groundwork to push Medicare for All — Democrats are laying the groundwork to make a push for "Medicare for All" legislation if they win back the House in November. More than 60 House Democrats launched a Medicare for All caucus this month, a sign of the popularity surrounding the concept of a government-run health insurance system for all that's supported by liberal firebrands like Alexandria Ocasio-Cortez. Rep. Pramila Jayapal (D-Wash.), is a co-chair of the caucus.
► From The Hill — Poll: Majority backs ObamaCare, disapprove of Trump on health care — A majority of Americans support the continuation of the Affordable Care Act and disapprove of President Trump's handling of health care.
---
NATIONAL
► In the St. Louis Post-Dispatch — Protect collective bargaining rights and vote no on Prop A (editorial) — The most hotly debated item by far on the Aug. 7 ballot is Proposition A, which asks Missourians whether they want to sustain the "right-to-work" bill passed by the Legislature in 2017. The law seeks to prohibit, as a condition of employment, the forced membership in a labor union or forced payments of dues or similar fees. A yes vote would uphold the Legislature's action, while a no vote would overturn it. Missouri voters should vote no and reject this blatant attempt to weaken labor bargaining rights.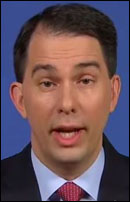 ► From Politico — Scott Walker broke the unions. Now he says he's the 'education governor.' — The crackdown on teachers made Walker a national hero among Republicans who have long disdained the political power of teachers unions. Walker's likely Democratic opponent is the head of the Wisconsin school system, Tony Evers, meaning the election likely will be won or lost on how moderate voters view Walker's turnaround on education. Right now he's trailing Evers in head-to-head polls back in Wisconsin.
---
The Stand posts links to Washington state and national news of interest every weekday morning by 10 a.m.
Short URL: https://www.thestand.org/?p=68601
Posted by
David Groves
on Jul 31 2018. Filed under
DAILY LINKS
. You can follow any responses to this entry through the
RSS 2.0
. Both comments and pings are currently closed.