Urge U.S. senators to reject Kavanaugh nomination
UPDATE (July 30, 2018) — Although the national call-in day has passed, this toll-free hotline remains active. So if you haven't already called your senators, do it today!
---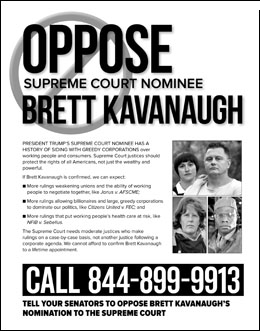 WASHINGTON, D.C. — On Thursday, July 26, unions across America are joining together to urge Congress to reject Donald Trump's nominee for Supreme Court, Judge Brett Kavanaugh. Please join the AFL-CIO's national call-in day and call the toll-free hotline 844-899-9913 and leave a message for your U.S. Senators calling on them to oppose Kavanaugh's nomination. (Download and share this flier.)
This nomination is another attempt by the Trump administration and extremists in Congress to take away affordable health care and our freedom to join together in union. If confirmed, Kavanaugh will will undermine rights on the job for all working people and put millions of Americans with pre-existing conditions at risk.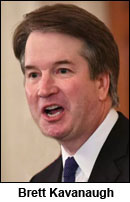 Kavanaugh has a long history of siding with big corporations over working people and consumers. Supreme Court justices should protect the rights of all Americans, not just the wealthy and powerful.
If Brett Kavanaugh is confirmed, we can expect:
► More rulings weakening unions and the ability of working people to negotiate together, like Janus v. AFSCME;
► More rulings allowing billionaires and large, greedy corporations to dominate our politics, like Citizens United v. FEC; and
► More rulings that put working people's health care at risk, like NFIB v. Sebelius.
The Supreme Court needs moderate justices who make rulings on a case-by-case basis, not another justice following a corporate agenda. We cannot afford to confirm Brett Kavanaugh to a lifetime appointment.
Call 844-899-9913 and tell your U.S. Senators to oppose his nomination to the Supreme Court.
Short URL: https://www.thestand.org/?p=68549
Posted by
David Groves
on Jul 25 2018. Filed under
NATIONAL
,
TAKE A STAND!
. You can follow any responses to this entry through the
RSS 2.0
. Both comments and pings are currently closed.