Arm teachers with real raises ● Safety net at stake ● Tick tock
Friday, August 24, 2018
---
PAY OUR TEACHERS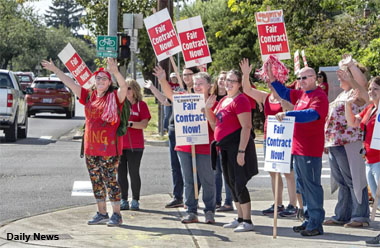 ► In today's Daily News — Longview teachers strike, argue for higher pay raises — The battle for public support began Thursday as hundreds of Longview teachers took to the streets bearing picket signs while school officials started making strike plans and explaining the district's position to parents. Out on a picket line in near Northlake Elementary School, teacher Jennifer Hoffman said, "We are striking so we can get fair pay. The legislature allocated money for our salaries, and the district is unwilling to give it to us. Instead of rolling over and saying, 'OK,' we are actually saying, This is not OK anymore.' "
ALSO at The Stand — With 93% rejecting contract offer, Longview teachers STRIKE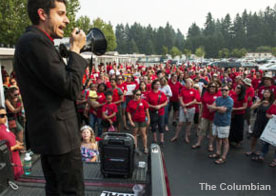 ► In today's Columbian — Evergreen teachers vote to strike — By a vote of 95.9 percent, Evergreen Public Schools teachers become the latest to announce a strike in light of ongoing heated bargaining sessions. The district, Clark County's largest at about 26,000 students, remains at odds with the union over how much to pay teachers after the Legislature allocated more money to pay for basic education, including teacher salaries… Meanwhile, the school board also unanimously approved a resolution giving the district broad authority to respond to a teacher strike, including taking legal action in order to stop the strike and suspending health insurance premiums for employees involved in a strike.
► In today's Yakima H-R — Will Yakima schools open on Monday? Teachers, district vow to continue contract talks — With a possible strike looming, Yakima School District teachers and administrators will continue contract discussions Friday and into the weekend if necessary, officials said.
► In the Skagit Valley Herald — School districts, teachers continue contract talks
► In the Daily World — Aberdeen School District adds mediator to handle AEA negotiations
► In the Daily World — Hoquiam School District negotiations underway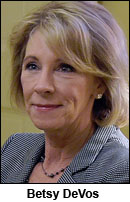 ► From Mediaum — Washington state will not arm its teachers (by SPI Chris Reykdal) — Yesterday, it was reported U.S. Secretary of Education Betsy DeVos was considering using federal funds to arm teachers. I have been in public K–12 and higher education for 28 years, and I have never seen a more destructive and dangerous policy contemplation by a U.S. Secretary of Education. Washington state will not participate!
► Meanwhile, in today's Washington Post — Arming teachers with federal education money? Are they even thinking? (editorial) — Who would benefit? Not students still imperiled by gun violence. Not parents still fearful for their children. Not teachers, giving up some of their paychecks at Staples this weekend to outfit their classrooms as the school year begins. No, the beneficiaries would be the gun manufacturers and the gun lobby.
---
LOCAL
► In the Kitsap Sun — Equipment operators and pavers strike halts Kitsap road projects — Work on several Kitsap road construction projects has been put on hold after equipment operators, pavers and other workers went on strike earlier this week.
ALSO at The Stand — Operating Engineers Local 302 on STRIKE in Western Wash.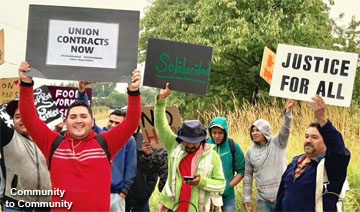 ► In the Seattle Times — Foreign workers' two-day walkoff at Whatcom County farm ends with settlement — Dozens of foreign workers at Crystal View Raspberry Farms in Whatcom County staged a two-day walkoff  earlier this week, alleging that they have not received paychecks on time and faced unreasonable production quotas amid smoke from wildfires.  It ended Tuesday, with the workers agreeing to return to work after Monday settlement talks. This is the latest incident of labor unrest among foreign workers, who form an increasingly important part of the Washington workforce for labor-intensive crops such as berries, apples and other fruits and vegetables.
ALSO see the Community to Community's Facebook video update on this successful effort.
► In today's Tri-City Herald — Program for sick and injured Hanford workers is troubled, audit finds — The Hanford workers' compensation program has problems, ranging from controls over federal money to a lack of worker trust, according to a new DOE Office of Inspector General audit report. Sens. Patty Murray and Maria Cantwell requested the inspector general investigate the program and the IG audit report released Thursday said it found a wide range of problems, including a lack of good communication with ill or injured workers filing compensation claims.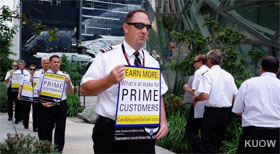 ► From KUOW — Pilots who fly for Amazon protest wages — Pilots who fly for Amazon say they are underpaid, and that's causing a pilot shortage that is slowing down Amazon's deliveries. They want the retail giant to use its power to get their wages back on track. "Our working conditions, our benefits, everything is substandard for what we do," said Nancy Devine, one of protesting pilots. The pilots don't work for Amazon directly, but rather, Atlas Air. Amazon is one of their biggest clients, and the pilots say the retail giant could throw its weight around and get their wages up to the industry standard.
---
NORTHWEST LABOR PRESS
Founded in 1900 by a consortium of trade unions, the Northwest Labor Press is an independent, labor-supported newspaper. The print edition is mailed out twice a month to more than 50,000 members of 80-plus unions in Oregon and Southwest Washington. (Subscribe!) The online edition, which features daily news postings, offers lots of important news items like these…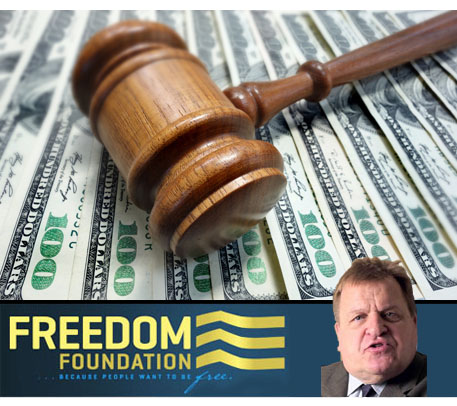 ► In the NW Labor Press — Turning the tables on union-busting canvassers — For years, the Olympia-headquartered anti-union group Freedom Foundation has filed public records requests to get names, addresses and even birthdays of public employee union members in Oregon, Washington and California — in order to contact them about dropping their union membership. Now the union-funded group Northwest Accountability Project is turning the tables, publishing the names, pictures, and in some cases addresses of Freedom Foundation employees, including canvassers who knock on workers' doors to try to talk them out of financial support for their union. They're posting their findings at FreedomFoundationCanvassers.com and are calling on union members to report Freedom Foundation canvassers when they're spotted.
EDITOR'S NOTE — Since this story was first written, the Northwest Accountability Project says the Freedom Foundation complained to the company hosting the web site, and the site has been taken down. But they expect it to be back up soon.
► In the NW Labor Press — OPEIU members are voting on whether to cut their own pension – to halt insolvency — About 7,400 current and former members of nine western union locals of OPEIU face a vote on whether to cut their own promised pension benefits by 30 percent — in order to prevent the pension from running out of money altogether in 2036.
► In the NW Labor Press — Bargaining under way for 18,000 Oregon grocery workers
► In the NW Labor Press — Union bakers picket outside Portland home of Nabisco board member
---
THIS WASHINGTON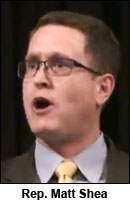 ► In today's (Everett) Herald — Lawmaker shouldn't work alongside 'dirty' news media (editorial) — It will be up to the voters in Rep. Matt Shea's (R-Spokane Valley) district to determine if his rank animosity toward the news media should factor into their support for his re-election. But as he would be representing all state residents as a member of a panel of great interest and importance to the public, Shea has disqualified himself from participation, and lawmakers should not want him speaking on their behalf.
► In the Wenatchee World — Wenatchee City Council members assigned districts — The council decided Aug. 9 to adopt a system where five council members would be elected from the districts they live in and two would be elected citywide. Previously, all council members served at-large.
ALSO see the WSLC 2018 Legislative Report — Voters get more 'Access to Democracy'
---
ELECTIONS
► From Yahoo News — White House blocks bill that would protect elections — A bipartisan bill that would have significantly bolstered the nation's defenses against electoral interference has been held up in the Senate at the behest of the White House, which opposed the proposed legislation.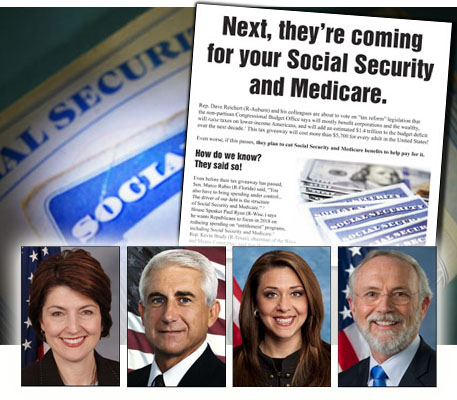 ► In today's NY Times — The tax cut con goes on (by Paul Krugman) — What will happen if the blue wave in the midterm elections falls short? If the GOP hangs on, there will also be bread-and-butter consequences for ordinary Americans. Longstanding programs, very much including Social Security and Medicare, would be on the chopping block. Who says so? Republicans themselves… The same Republicans now wringing their hands over budget deficits and admitting Social Security and Medicare are on the chopping block just blew up that same deficit by enacting a huge tax cut for corporations and the wealthy.
PREVIOUSLY at The Stand — GOP plans big Social Security, Medicare cuts (June 20)
► In today's NY Times — For female candidates, harassment and threats come every day — The abuse already common in many women's everyday lives can be amplified in political campaigns, especially if the candidate is also a member of a minority group.
► From PennLive — Scott Wagner says he doesn't want workers knowing what he makes — The Republican gubernatorial candidate said he will not release a tax return because his income is nobody else's business and he suggested that labor unions will use it to try to organize workers at the non-union waste-hauling business he owns.
► Not from The Onion, from The Hill — Florida GOP congressional candidate: I was abducted by aliens but that doesn't define me
---
THAT WASHINGTON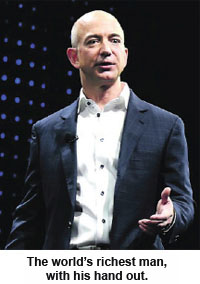 ► In the Seattle Times — Thousands of Amazon workers receive food stamps. Now Sen. Bernie Sanders wants Amazon to pay up. — Sen. Bernie Sanders, I-Vt., will soon introduce legislation that would require large employers like Amazon, Walmart and McDonald's to fully cover the cost of food stamps, public housing, Medicaid and other federal assistance received by their employees. The goal, he says, is to force corporations to pay a living wage and curb roughly $150 billion in taxpayer dollars that currently go to funding federal assistance programs for low-wage workers each year.
► In today's Washington Post — Critics fear Trump's attacks are doing lasting damage to the justice system — President Trump took his criticism of the criminal justice system to new heights Thursday, prompting alarm from national security and law enforcement officials who fear the president is seeking to protect himself from encroaching investigations at the expense of lasting damage to ­institutions.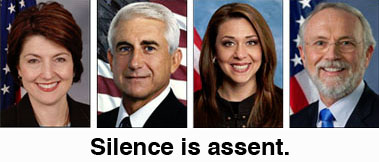 ► In today's Washington Post — Last chance, Republicans (by David Ignatius) — As Trump's world collapses around him, the danger for the country arguably increases. Trump could lash out at his tormentors, reasoning that a constitutional crisis is his only possible salvation; the partisan fever in America could spike even further, with angry people on both sides taking to the streets; and foreign adversaries could seek to exploit our troubles… For Republicans, there is a last chance over these next two months to finally show some guts and principle by separating themselves from Trump.
► From Politico — It would take exactly one senator to get Trump's taxes — We still don't know just what, if anything, Trump owes Russia. The answer may lie inside documents we've been talking about for two years: his tax returns. If Trump does have a clear connection to Russians—if he owes them money, or if he has business partnerships with Putin allies—the returns may provide useful clues and would certainly be a worthwhile place to look… according to the rules already on the books, the Senate doesn't need a new law to see Trump's returns. Rather, action by a single Senate Republican may be all that is needed to initiate an immediate investigation of Trump's tax returns and begin the process of discovery.
---
ATTENTION-SPAN CHECK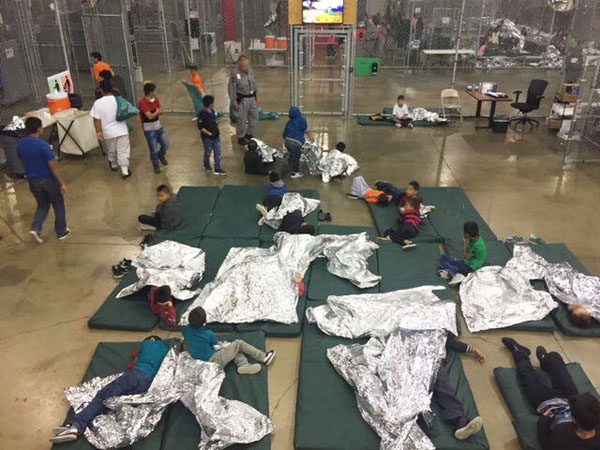 ► From HuffPost — Over 500 migrant kids are still separated from parents weeks after court deadline — The Trump administration's lawyers said that 528 children remained in government-contracted shelters without their parents as of Aug. 20 ― nearly a month after the court-ordered July 26 deadline to reunify separated families. Of the children still separated from their parents, 23 were under age 5.
---
NATIONAL
► From Bloomberg — Microsoft bug testers unionized. Then they were dismissed. — Philippe Boucher and his ex-colleagues from the Temporary Workers of America are among a growing population of tech workers, including many Uber drivers, Amazon.com warehouse loaders, and Google software engineers, who lack the rights and perks of those companies' full-fledged employees. 
► From Labor Notes — How New York taxi workers took on Uber and won — This summer, the scrappy union representing 21,000 taxi and for-hire vehicle drivers in New York City scored two groundbreaking victories against the world's most valuable start-up company.
---
T.G.I.F.
► Tick Tock… it's not just a cynical taunt amid what could be the beginning of the end.
It's a beautiful song about hope and optimism. It is a call to work toward a better world, and to enjoy life while you can. It was recorded by two brothers, guitarist/vocalists Jimmie and Stevie Ray Vaughan, in their only studio collaboration. It would be the very last studio performance of one of the greatest blues guitarists of our generation. About a month before the release of the Vaughan Brothers' album, Family Style, Stevie Ray was killed in a helicopter crash. Remember… time's ticking away.
For your listening pleasure, here is another excellent song from that album.
---
The Stand posts links to Washington state and national news of interest every weekday morning by 10 a.m.
WASHINGTON IS A UNION STATE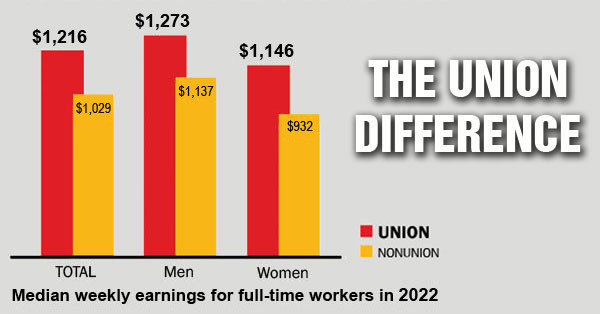 CHECK OUT THE UNION DIFFERENCE in Washington state: higher wages, affordable health and dental care, job and retirement security.
FIND OUT HOW TO JOIN TOGETHER with your co-workers to negotiate for better working conditions and respect on the job. Or go ahead and contact a union organizer today!