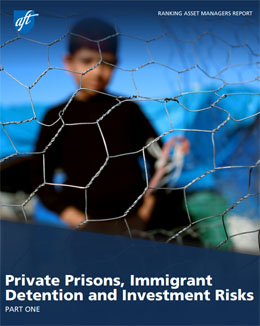 First, there are the companies that directly profit from the family separation policy. They build and operate the facilities used to detain immigrants or provide support services to those facilities. These companies include:
► CoreCivic: Formerly known as Corrections Corporation of America, the nation's largest private prison company owns and operates eight immigration detention centers.
► GEO Group: A company that operates private prisons and operates family detention centers.
► General Dynamics: A top defense contractor, the company provides case management services at youth detention centers.
Second, there are the companies that provide financing to CoreCivic and GEO Group. These companies include:
► BlackRock
► JPMorgan Chase & Co.
► Wells Fargo
These companies may hold direct shares in the companies that profit from the policy, or they may have indirect investments in those companies through index, private equity or hedge funds.
AFT will issue a follow-up report that identifies individual investment managers who profit from private prisons and the mass incarceration of people of color.
Read the full report to learn more.
---
This report originally appeared at AFL-CIO Now.