Picket Freedom Foundation fundraiser Friday in Bellevue
Far-right provocateur Dinesh D'Souza will keynote the extremist Freedom Foundation's gala Sept. 28 at the Hilton Bellevue. Join the protest.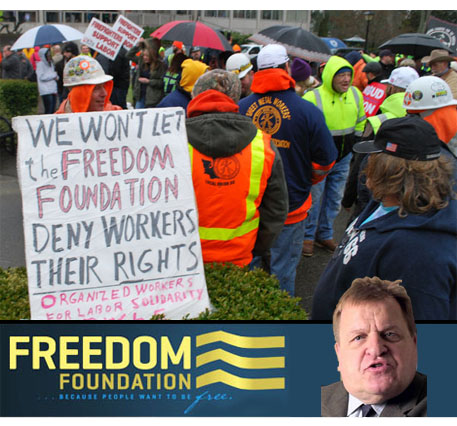 BELLEVUE — Organized Workers for Labor Solidarity (OWLS) are sponsoring a protest outside the extremist Freedom Foundation's annual fundraising gala, featuring far-right provocateur Dinesh D'Souza as keynote speaker, from 4:30 to 6:30 p.m. on Friday, Sept. 28 at the Hilton Bellevue, 300 112th Ave. SE. All union members and community supporters are urged to participate.
The Freedom Foundation is an extremist think tank dedicated to destroying unions by legislation and lawsuit. It is funded by billionaire conservatives and their foundations, such as Donors Trust, Walton family, Koch brothers and the John Birch Society. But it also has funding ties to groups that fund a racist, anti-LGBTQ agenda, which explains its keynote speaker for this Friday's gala.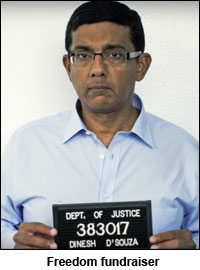 In 2012, Dinesh D'Souza resigned as president of a Christian college amid charges of adultery and deception. In 2014, he pleaded guilty to violating federal campaign-finance laws. He was sentenced to eight months of confinement followed by 52 months probation. Now, as reported in The Atlantic:
He has reinvented himself as something like the court intellectual of the age of Trump. Trump pardoned D'Souza on May 31, 2018. At the beginning of August, Donald Trump Jr. co-hosted the premiere of D'Souza's latest movie, Death of a Nation. The movie compares Donald Trump to Abraham Lincoln, and his Democratic opponents to Nazis… If you need a historian's point-by-point refutation of D'Souza's grotesque and absurd abuse of history, Princeton's Kevin Kruse has posted a useful recapitulation.
D'Souza has urged American conservatives to make common cause with Muslims worldwide against gay rights, feminism, and secularism generally. And here's his appraisal of the working lives of black Americans: "The slaves all worked while many modern urban plantation dwellers don't, nor do they aspire to do so in the normal, productive economy. To the extent they have jobs, those jobs are criminal assignments."
The OWLS Sept. 28 picket aims to denounce the Freedom Foundation fundraiser and expose the think tank's agenda, which has broadened from attacking unions to opposing tenant rights, taxes on the wealthy, and most recently, vilifying striking public school teachers in Washington state. The group's CEO is longtime Republican operative and campaign consultant Tom McCabe, who previously ran the Building Industry Association of Washington. At the BIAW, McCabe spent heavily to try to elect Republicans via a scheme that siphoned millions of dollars from Washington's state-run workers' compensation system.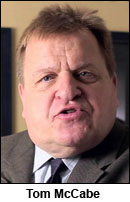 But McCabe's tenure at the BIAW netted few victories and his abrasive rhetoric — BIAW once declared that former Gov. Chris Gregoire was a "heartless, power-hungry she-wolf who would eat her own young to get ahead" — alienated elected officials and some of BIAW's own members. McCabe's final straw at BIAW was his decision to spend more than $6 million in 2008 in a failed attempt to get Republican Dino Rossi elected as governor amid a housing crunch that was devastating most home builders. (Rossi lost — twice — and now is running for Congress.) The internal BIAW acrimony that ensued led to McCabe's ouster, but not before he negotiated a $1.25 million buyout and a year of health-care coverage as severance.
---
Organized Workers for Labor Solidarity is an open multiracial labor organization formed to educate and organize  workers' self-defense campaigns build union militancy and promote the rights of the lowest paid. The Sept. 28 picket against the Freedom Foundation is endorsed by several labor organizations, including AFT Washington, ATU Local 587, AFGE Local 3197, Carpenters Local 30, and WFSE/AFSCME Locals 340 and 1488. Click here to RSVP for Friday's picket.
Short URL: https://www.thestand.org/?p=70086
Posted by
David Groves
on Sep 24 2018. Filed under
LOCAL
. You can follow any responses to this entry through the
RSS 2.0
. Both comments and pings are currently closed.