Seattle council calls on Darigold to protect state's dairy workers
SEATTLE (Sept. 18, 2018) — The Seattle City Council voted unanimously Monday to pass a resolution in support of Darigold farm workers and their upcoming Fast for Reconciliation. The council's resolution highlighted the dangerous work conditions of dairy workers, worker complaints about Darigold member dairies including sexual harassment, wage theft, and physical and verbal abuse, and that a substantial percentage of Washington state dairies are controlled by Darigold.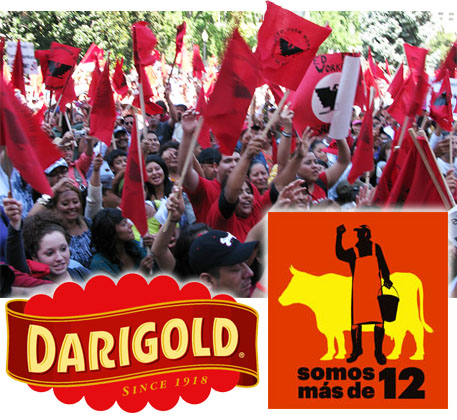 The resolution called on Darigold and companies who purchase their products to ensure they are adequately protecting their workers. The City Council extended its support to Darigold workers and their upcoming Fast for Reconciliation.
Before the vote, Seattle City Councilmembers Teresa Mosqueda, Lorena González, and Kshama Sawant joined dairy workers, United Farm Workers National Vice President Erik Nicholson, and a coalition of labor, faith, and community leaders for a press conference in further support of Darigold farm workers and condemning Darigold member dairy's employment practices.
"More than 90 percent of the state's dairies supply Darigold," said Lynne Dodson, Secretary Treasurer of the Washington State Labor Council, AFL-CIO. "They have a responsibility to ensure their dairies have workplaces free from harassment, discrimination, and wage and hour, health and safety violations."
Three former Darigold workers, Maria Gonzalez, Yolanda Carrion, and Miguel Cuevas, also spoke at Monday's news conference. Gonzalez and Carrion spoke about the sexual harassment they faced at Darigold.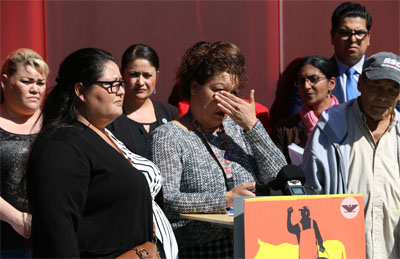 "It is not fair that women like me who are working in the dairies have to suffer sexual harassment," Gonzalez said. Through tears she added, "I am unemployed because I spoke out at the last dairy I was working, and the owner of the farm decided to fire me just because I spoke out because another manager at the dairy farm was also harassing me. I am here to seek support. For someone to stop this because no one at the dairy farms is helping us."
Miguel Cuevas, one of the Darigold Dozen, spoke about his experience through a translator, "We would work ten to eleven or twelve hours, and they would only pay us for eight. And that was not right."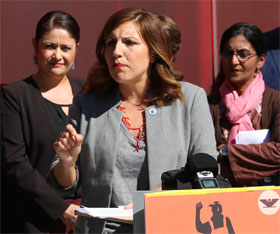 "Today the City of Seattle says that we demand accountability, we demand justice, and we demand respect for these dairy workers," said Seattle City Councilmember Teresa Mosqueda. "Farm workers, who daily put milk and food on our tables, can't afford to put milk and food on their own family's tables."
Councilmember Lorena González, related to the farmworkers, "I grew up as a migrant farmworker in Central Washington state," continuing in Spanish, "El valor que no han ensenado hoy es una inspiracion. Ustedes merecen todos los derechos bajo las leyes de este estado," meaning the bravery that these farm workers have shown is an inspiration, and that all deserve rights under Washington state law.
Michael Ramos, Executive Director of the Greater Church Council of Seattle, called on the Ruby Ridge Dairy in Pasco to end its retaliatory lawsuit against its former employees and the UFW who successfully sued for back wages after being denied lunch and other breaks.
"We call on Ruby Ridge to drop their lawsuit and Darigold to make serious changes in how their member dairies operate and treat workers," Ramos said. "We vigil and we fast for these workers and their children, so that the next generation might enjoy the produce of their parents, pasteurized by justice."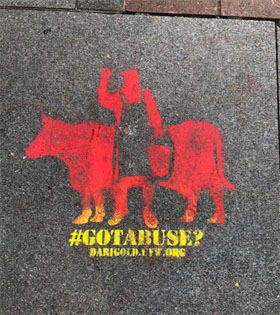 Seattleites were greeted this morning at dozens of Starbucks throughout the city by stencils urging them to research the Darigold Dozen and to speak out against Darigold's treatment of workers.
As farmworkers and community members prepare for the Fast for Reconciliation, UFW National Vice President Erik Nicholson said, "If this is inadequate to persuade Darigold to do the right thing we will then stop eating. And as of Thursday, we will be starting a Fast for Reconciliation, depriving ourselves intentionally of food in an act to show that the dairy farmers and their cooperative Darigold need to join us as partners and not adversaries to bring a better day for our state's dairy workers."
In solidarity with the Darigold Dozen, workers, labor leaders, faith leaders, and elected officials will join UFW President Arturo Rodriguez and farm workers in a five-day fast beginning on Thursday, Nov. 20 in front of Darigold headquarters. Termed the Fast for Reconciliation, it is an effort to raise awareness of the plight of farmworkers, to condemn Ruby Ridge's retaliatory lawsuit, and to put pressure on retailers and Darigold for their inaction on this issue.
For more information about Darigold Dozen and the Fast for Reconciliation, please visit darigold.ufw.org.
---
ALSO at The Stand — Darigold Dozen will be fasting for all dairy workers
Short URL: https://www.thestand.org/?p=70035
Posted by
David Groves
on Sep 18 2018. Filed under
LOCAL
. You can follow any responses to this entry through the
RSS 2.0
. Both comments and pings are currently closed.