Brett's gentle probe ● Preexisting liability ● Bottom-up unionism
Thursday, October 4, 2018
---
SUPREME COURT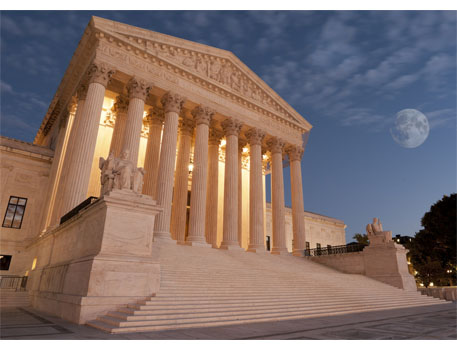 ► BREAKING from AP — GOP senator: Secret FBI report shows no Kavanaugh misconduct
► In today's NY Times — Senate gets FBI inquiry on Kavanaugh; White House is 'confident' on confirmation — Senior White House officials, after reviewing summaries of interviews conducted by the F.B.I., are increasingly confident that the information collected will ease the path for senators to confirm Judge Brett M. Kavanaugh to the Supreme Court.

► In today's Washington Post — FBI background check of Kavanaugh appears to have been highly curtailed — The FBI background check of Brett M. Kavanaugh appeared to remain curtailed in its scope, opening up the possibility that the bureau would again face criticism over what some will view as a lackluster investigation. The investigation was always unlikely to answer definitively whether Kavanaugh was guilty of sexual misconduct decades ago. But the probe's limited scope — which was dictated by the White House, along with a Friday deadline — is likely to exacerbate the partisan tensions surrounding Kavanaugh's nomination.
► From The Hill — McConnell sets key Kavanaugh vote for Friday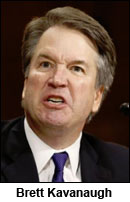 ► In today's NY Times — The Senate should not confirm Kavanaugh (signed by 1,000+ law professors… and counting) — We are law professors who teach, research and write about the judicial institutions of this country. Many of us appear in state and federal court, and our work means that we will continue to do so, including before the United States Supreme Court. We regret that we feel compelled to write to you, our Senators, to provide our views that at the Senate hearings on Sept. 27, Judge Brett Kavanaugh displayed a lack of judicial temperament that would be disqualifying for any court, and certainly for elevation to the highest court of this land.
ALSO at The Stand — Kavanaugh saga's lesson: Keep fighting, starting with this election (by Lynne Dodson)
FROM The Stand's Calendar — Several community groups and women's organizations are holding a "Cancel Kavanaugh" march and rally TONIGHT (Thursday, Oct. 4) in downtown Seattle to oppose the confirmation of Brett Kavanaugh to the Supreme Court. Meet at Westlake Park (401 Pine St.) at 5 p.m. and join the march to the Federal Building (915 2nd Ave.) for the rally. Get details.

► In today's Washington Post — Time for undecided senators to put up or hush up (by Jennifer Rubin) — Sen. Jeff Flake (R-Ariz.) was "kind of appalled" by President Trump's cruel ridicule of Dr. Christine Blasey Ford. He was not pleased with Kavanaugh's "sharp and partisan tone." He demanded a real investigation, not just something to give Republicans "cover." Neither President Trump nor Kavanaugh has shown an ounce of regret for their respective screeds; the FBI probe turns out to be an investigation that didn't include speaking with the accused, every accuser, or a slew of witnesses. Flake has said that if you believe Ford, you have to vote against Kavanaugh. If he lied, he's through, Flake also declared. So what now? Flake is no bystander here; his vote matters more than it ever has. Words are great, Senator, but show us…
The undecided Republican senators have used so many lovely words. They told us that women should be believed, civility be maintained, the facts be determined and the rule of law be protected. They don't like Trump's tone — or Kavanaugh's. We get it. We've heard the words. Now it's time to show us.
EDITOR'S NOTE — And don't forget, Sen. Flake, you "have children and grandchildren to answer to."
---
THIS WASHINGTON

► In today's Seattle Times — GOP state lawmakers unveil plans to improve Washington's troubled mental-health system — The proposals range from boosting mental-health monitoring and counseling in schools to building more treatment facilities and attracting more qualified workers. The announcement reinforces pledges by lawmakers and Gov. Jay Inslee to confront a continuing crisis in Washington's mental-health system.
► In today's (Everett) Herald — 17 people will decide whether elected officials get raises — Next week, a special commission will begin the biennial rite of setting the level of pay for each position in the state's executive, legislative and judicial branches.
► From AP — Washington deemed fully compliant with REAL ID
---
THAT WASHINGTON



► In today's NY Times — GOP candidates pay the price for attempts to kill Obamacare and its guarantee of coverage for preexisting conditions — After being a drag on Democratic candidates for several election cycles, Obama's 2010 health care law is now threatening Republicans who have spent years railing against it and seeking its repeal. Many Republicans in key races scrambling to square their opposition to the health care overhaul with voters' strong support for one of its most popular provisions: coverage of preexisting conditions.
---
NATIONAL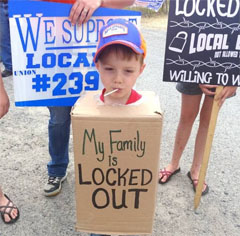 ► From the AFL-CIO — Support locked-out Boilermakers in Montana — The labor movement supports members of the Boilermakers (IBB) working at Imerys Talc in Three Forks, Montana, who have been unfairly locked out while fighting against an anti-worker contract proposal. These hardworking Americans and their families have been without a paycheck or employer-provided health insurance for 62 days.
► In today's Boston Globe — Marriott seeks to replace striking hotel workers — Marriott-owned hotels across Boston are scrambling for replacement workers after roughly 1,500 employees went on strike yesterday to fight for higher wages, one expert said. Striking workers formed picket lines outside the Westin Copley, Ritz-Carlton and the W. It's the first hotel strike in the city's history.
► From the AP — Survey: Companies continue to pass health costs to workers — More companies are making workers pay an annual deductible or increasing the amount they must spend before insurance starts covering most care, according to a survey released Wednesday by the Kaiser Family Foundation. Annual deductibles for single coverage have now climbed about eight times as fast as wages over the last decade.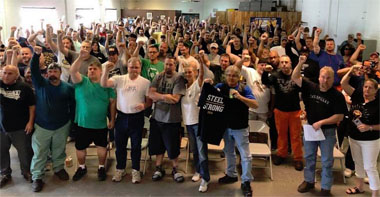 ► In today's Washington Post — Steel is surging under Trump. Will workers benefit? — Production at U.S. Steel's facilities have ramped up, and the company announced this summer that, thanks in part to the tariffs, its profits will surge. But steelworkers say they're no longer confident they'll take part in the tariff bounty. "It's been a little like watching the air going out of a balloon," said Richard Lattanzi, the mayor of Clairton, Pa., and a safety inspector at the U.S. Steel plant in nearby West Mifflin… Frustrated by the lack of progress in negotiations, about 31,000 steelworkers voted last month to authorize a strike. Though there were signs Wednesday that they could reach an agreement, if the negotiations break down, it could bring about the industry's first major work stoppage in four decades.
► From HuffPost — Amazon's minimum wage hike comes with cuts to other compensation — Managers at an Amazon fulfillment center probably thought they would be leading a celebration when they explained the company's new pay scheme to employees on Tuesday. Instead, some workers turned angry, convinced their take-home pay would go down.
---
TODAY'S MUST-READ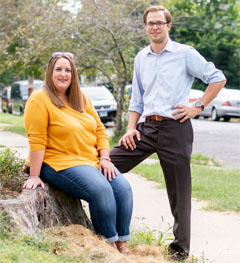 ► From HuffPost — This union has a radical plan to save itself: Get to know its members again — Not long ago, an unsolicited home visit from union representatives would have been unheard of here. But the Peoria (Ill.) Federation of Teachers is trying to do things differently now. The open-ended talk in members' dining rooms is just the type of outreach unions are doing after the Supreme Court recently dealt them a severe blow that could reduce membership… What's happening in Peoria is an experiment of the local's parent union, the 1.7 million-member American Federation of Teachers. The goal is to steer away from a top-down model of unionism, in which teachers view the union primarily as an insurance policy when trouble pops up. Instead, they want to achieve a bottom-up organizing model in which members are deeply involved in the union and setting its agenda. Doing so, they believe, will help retain membership and make the union a more effective advocate for teachers and the education policies they want to see.
---
The Stand posts links to Washington state and national news of interest every weekday morning by 10 a.m.
Short URL: https://www.thestand.org/?p=70363
Posted by
David Groves
on Oct 4 2018. Filed under
DAILY LINKS
. You can follow any responses to this entry through the
RSS 2.0
. Both comments and pings are currently closed.