Narrow margins ● GOP vs. pre-existing protections ● Feds need a raise
Thursday, October 11, 2018
---
THIS WASHINGTON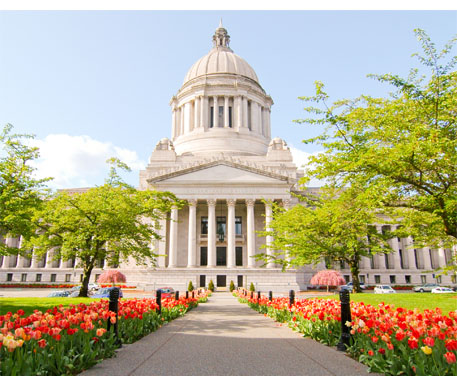 ► From the AP — Democrats hope to retain narrow margin of control in Olympia — While Democrats hold most statewide offices in Washington, the political split in the Legislature is much narrower: Democrats currently hold a one-seat advantage in the Senate and a two-seat advantage in the House… August's primary showed several Republican incumbents and Republican candidates in open seats trailing their Democratic opponents, even in some districts that were previously considered safe GOP districts.
ALSO at The Stand — It's a BIG weekend to make a BIG difference. Volunteer for Labor Neighbor! — This weekend will be the biggest yet for Labor Neighbor as union member volunteers will participate in neighborhood walks in legislative districts near Bremerton, Everett and Ferndale on Saturday, Oct. 13, and in the 8th congressional district near Issaquah on Sunday, Oct. 14.
---
AMAZON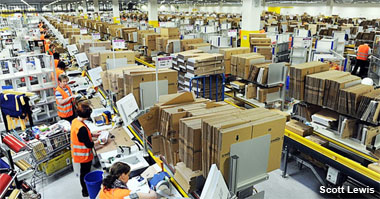 ► From KING 5 — After backlash, Amazon to boost pay for longtime workers — Amazon, facing a backlash from longtime warehouse workers who say its $15 hourly minimum wage wouldn't benefit them, says it will now provide a bigger raise for certain employees.
► From the Beacon Broadside — Praise the workers, not Amazon (by Jonathan Rosenblum) — The pundits' praise for Bezos is utterly misplaced. Praise should go to the workers, who endure brutal conditions, who have just achieved a modest yet remarkable concession from Amazon, and who, step by step, are struggling and learning to build worker power inside the behemoth. We must support them, because their success in this years-long battle will lift us all.
---
IMMIGRATION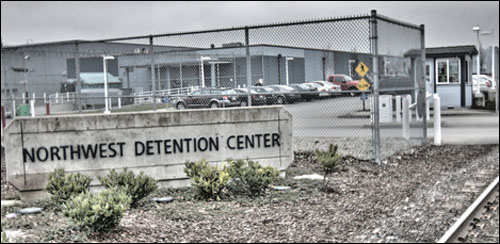 ► In today's Seattle Weekly — Incarcerated and infirmed: How the Northwest Detention Center is failing sick inmates — Medical documents, court records, and interviews with five current and one former NWDC detainees revealed a multitude of complaints about insufficient medical care, including tumors that grew exponentially while in custody, the denial of surgery for hernias, several-month delays on the stocking of medical devices such as catheters, the administering of ibuprofen for severe pain, and forced isolation of people with mental health issues.
► In today's Seattle Times — 'Heartless, punitive': Patient advocates decry Trump move to restrict immigrants' health-care access — The administration's proposal to restrict immigrants' access to green cards if they use the health-care safety net poses a risk to public health and government finances, according to scores of health-care groups seeking to reverse the so-called public-charge rule.
---
THAT WASHINGTON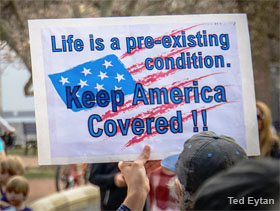 ► From The Hill — Senate Republicans defeat Dem measure to preserve protections for pre-existing conditions — The Senate on Wednesday defeated a Democratic measure to overrule President Trump's expansion of non-ObamaCare insurance plans. The measure would have overruled Trump's expansion of short-term health insurance plans, which do not have to cover people with pre-existing conditions or cover a range of health services like mental health or prescription drugs. It was defeated on an extremely narrow, mostly party line 50-50 vote, with Sen. Susan Collins (R-Maine) voting with Democrats in favor of overturning the short-term plans.
► From Think Progress — Trump writes laughably false op-ed about Medicare for All — President Donald Trump took a break from Twitter Wednesday to rail against Medicare for All in a falsehood-ridden op-ed for USA Today, despite promising voters on the campaign trail in 2016 that health care for all is "just human decency." The op-ed, which editors clearly didn't bother to fact-check, contained dozens of lies about the health care proposal for which many Democrats have advocated over the past two years. What Trump is attacking in his op-ed is a single government-run health care system, a proposal that is wildly popular, with 70 percent of Americans supportive of the plan.
---
NATIONAL
► From The AP — Uptick in Social Security checks for 2019 as inflation rises — Tens of millions of Social Security recipients and other retirees will get a 2.8 percent increase in benefits next year as inflation edges higher. For the average retired worker, it amounts to $39 a month. After a period of low inflation, the increase for 2019 is the highest in 7 years.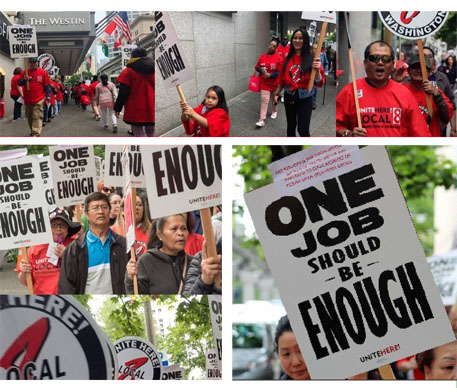 ► From Vox — Why nearly 8,000 Marriott workers are striking in 8 cities — Thousands of hotel employees are refusing to go to work at Marriott-owned hotels in eight major US cities, citing mounting frustration over stalled negotiations for higher wages and safety measures.
ALSO at The Stand — Join major rally Friday outside Westin Seattle — The Washington State Labor Council, AFL-CIO is calling on all area union members and community supporters to join Westin workers at 4 p.m. Friday, Oct. 12 outside the hotel, 1900 5th Ave. in downtown Seattle, as union tradeswomen from the Women Build Nations conference there rally alongside housekeepers, cooks, dishwashers, servers, and other Westin hotel workers. As this critical bargaining session plays out inside the hotel, the labor movement and its supporters will show their solidarity and power in the street outside.
► From TruthOut — As midterms approach, fast food workers plan strikes in battleground states — Now striking fast-food workers are hoping to spread their influence beyond corporate headquarters. Organizers are going from strike lines to door knocking, planning to canvass across California, Colorado, Connecticut, Georgia, Florida, Illinois, Michigan, New York, Ohio, Pennsylvania and Wisconsin ahead of November's elections.
► From HuffPost — Voting rights has become a flashpoint in Georgia governor's race — Brian Kemp, the Republican candidate in a neck-and-neck race for governor, is in charge of elections and voter registration in Georgia. Through a process that Kemp calls voter roll maintenance and his opponents call voter roll purges, Kemp's office has cancelled over 1.4 million voter registrations since 2012. Nearly 670,000 registrations were cancelled in 2017 alone.
---
TODAY'S MUST-READ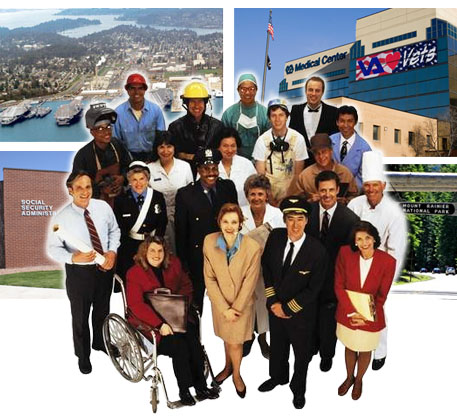 ► In the (Longview) Daily News — Unemployment is down, now pay should go up — even for federal workers (guest editorial from the Baltimore Sun) — It's all very reasonable to debate about this or that government program, but the notion that all federal workers — the majority of whom earn between $33,000 and $55,000 per year and do not work in the District of Columbia but in far-flung posts across the country — should be denied a cost-of-living boost in times of prosperity is absurd. Better for Congress to set the example. It's time for employers of all stripes to open up the purse strings. The federal government can find its budgetary savings elsewhere (we have plenty on that list beginning with a repeal of recent tax cuts for the uber-wealthy) and pay its own employees a competitive wage.
---
The Stand posts links to Washington state and national news of interest every weekday morning by 10 a.m.
Short URL: https://www.thestand.org/?p=70547
Posted by
David Groves
on Oct 11 2018. Filed under
DAILY LINKS
. You can follow any responses to this entry through the
RSS 2.0
. Both comments and pings are currently closed.