L&I moves to restore workers' overtime pay protections
After four decades of inaction, L&I releases "pre-draft" towards updated overtime rules that could restore protections to hundreds of thousands of salaried workers.
OLYMPIA (Oct. 9, 2018) — On Friday, the Washington State Department of Labor and Industries (L&I) released "pre-draft" rules, which could restore overtime protections to hundreds of thousands of salaried workers in Washington state who have been denied the extra pay they should get for the extra hours they work beyond 40 per week.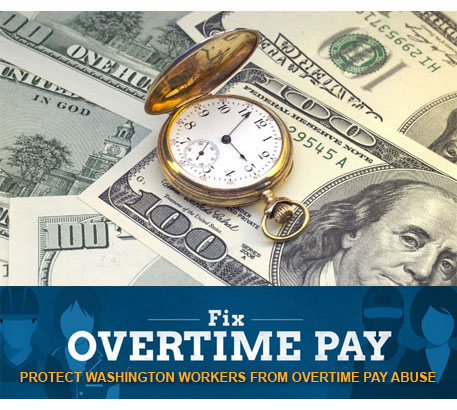 Under current overtime pay rules, employers can deny time-and-a-half pay for any worker in the state just by giving them a fancy job title and making them a salaried worker exempt from overtime. Under federal law, anyone who makes less than $23,660 per year cannot be declared "salaried" and exempted from overtime pay, but that threshold has not been adjusted for inflation since 1975, eroding access to overtime pay for millions of Americans since that time. As a result, workers in Washington state can legally be paid less than the minimum wage just by declaring them salaried and forcing them to work long hours.
That's why many states have taken action to raise that overtime pay threshold below which all workers have access to overtime pay. But Washington state has yet to do so, until now.
L&I is proposing to raise the state overtime pay threshold and set it as a multiple of the minimum wage. That way it will increase along with the inflation-adjusted minimum wage and never again be allowed to fall so far out of date.
In its "pre-draft" proposal, L&I did not propose a specific threshold. Instead, the department offered a range of possibilities: between 1.5 and 3 times the state minimum wage, which works out to a range of about $37,500 to about $75,000 per year. Union organizations and their allies have called for the threshold to be raised to 2.5 to 3 times the minimum wage and strongly believe that it would be inappropriate to allow a worker paid just $37,500 to work effectively unlimited hours.
TAKE A STAND — Click here to submit comments to L&I in support of raising the overtime pay exemption threshold to 2.5 to 3 times the state minimum wage. Feedback can also be submitted via email to EAPRules@Lni.wa.gov.
"Restoring overtime rights could improve the lives of hundreds of thousands of salaried workers, including front-line managers in food and retail; underpaid professionals in social work, research, and other fields; numerous office and clerical workers; more than a few journalists; and many others," wrote the workers' advocacy organization Working Washington in a release issued Friday after L&I's announcement. "And that means more parents with more time for their children, more people with more time to pursue their passions, and more neighbors with more time for their communities."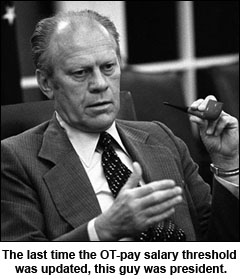 As recently as the mid-1970s, when the federal overtime pay rules were last updated, more than 60 percent of salaried workers received time-and-a-half pay when they worked extra hours beyond 40 per week. Now less than 10% do — and it's not because people are working less. A Gallup poll finds that salaried workers are clocking an average of 49 hours a week — with some as many as 60 or more — and few are paid an extra dime for the extra hours they put in.
L&I's pre-draft rule is the latest stage in a months-long rulemaking process, which has already included numerous rounds of stakeholder comment, a detailed data review, and more than 1,000 workers calling for action, including many who have shared their own personal experience about the impact of out-of-date overtime rules. Now L&I will hold public hearings on this pre-draft rule over the next two weeks, then accept additional written comment. The draft rule will be analyzed to measure its economic impact and additional feedback will be accepted before the rule is finalized. The department plans to complete the rule by the end of the year.
WASHINGTON IS A UNION STATE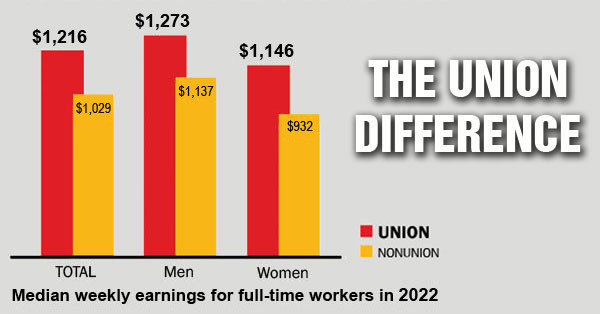 CHECK OUT THE UNION DIFFERENCE in Washington state: higher wages, affordable health and dental care, job and retirement security.
FIND OUT HOW TO JOIN TOGETHER with your co-workers to negotiate for better working conditions and respect on the job. Or go ahead and contact a union organizer today!