More Shea refunds ● Marriott's unhappy scabs ● What's Going On… Tuesday
Friday, November 2, 2018

---
ELECTION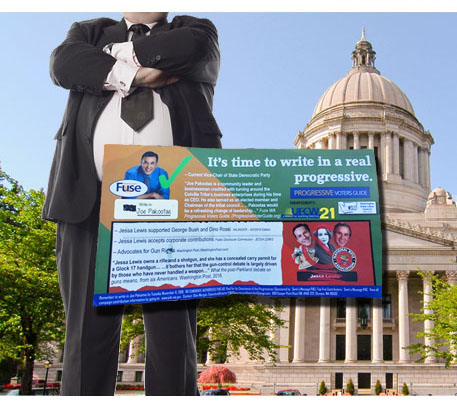 ► In the NW Labor Press — Republican operative sends counterfeit union mailings to mislead Washington voters — Republicans in several closely-fought Washington electoral races stooped to a new low this year: sending out mailings with labor organization logos to trick voters into writing in the names of candidates who aren't running … in order to drain support from union-backed candidates who are running.
PREVIOUSLY at The Stand — Republicans double down with more phony election mail
…plus — "This is dirty politics at its absolute lowest" — The fake postcards have exclusively targeted Democratic women who are challenging Republican men currently in office.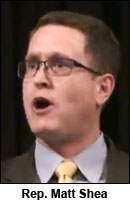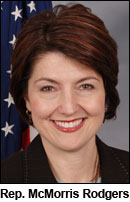 ► In today's Spokesman-Review — AT&T, Washington Realtors seek Shea campaign refunds over 'Biblical Basis for War' manifesto — Two more organizations demanded money back from state Rep. Matt Shea's re-election campaign on Thursday, while others denounced his rhetoric and said they would not support him in the future. A spokesman for U.S. Rep. Cathy McMorris Rodgers – who has Shea's endorsement in her race against Democrat Lisa Brown – refused to comment on the matter.
► In today's Seattle Times — State lawmaker Matt Shea defends advocacy for 'Holy Army' as Spokane sheriff refers his writings to FBI
EDITOR'S NOTE — The Northwest Credit Union Association was the first to request its money back because "his beliefs do not reflect the views and values of our organization, member credit unions or customers." On Thursday we posted a list, courtesy of the PDC, of some of the corporate interests that have contributed to Shea. We do so again (updated on Saturday), crossing out the ones that have requested their money back. The rest presumably still share his "views and values."
Altria (tobacco), Anheuser Busch, AT&T, Avista, Boeing, BNSF, BP, Farmers Insurance, Geico, PhRMA (drug companies), Puget Sound Energy, Weyerhaeuser, and the PACs for Washington state associations of Realtors, optometrists, hotels & restaurants, hospitals, homebuilders (BIAW), dentists, credit unions, CPAs, beer & wine distributors, and auto dealers, among several others.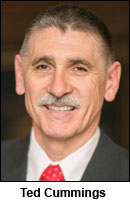 The Washington State Labor Council, AFL-CIO enthusiastically endorses Shea's opponent, Ted Cummings, in this race. Ted is an aluminum worker turned cattleman and a union leader with the United Steelworkers Local 338. He understands the importance of creating family-wage jobs with good health care and retirement benefits. And he's NOT a supporter of domestic terrorists and a deranged fascist preparing for a coming biblical war.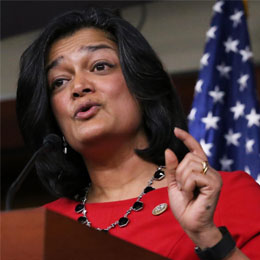 ► From HuffPost — Medicare For All PAC announces first candidate endorsements — "Access to quality affordable health care is becoming more and more unattainable for American families," said Rep. Pramila Jayapal (D-Wash.), the PAC's founder. "That's why we need fighters in public office committed to making Medicare For All a reality."
EDITOR'S NOTE — The Washington State Labor Council, AFL-CIO strongly supports Medicare for all because "while we will continue to fight to improve the ACA, Medicaid, and Medicare, the only commonsense alternative to effectively reform the U.S. healthcare system is to provide universal access to affordable, comprehensive health care regardless of a person's health status or income."
► From KUOW — Washington state voters are treating these midterms more like a presidential election — As Election Day nears, the voting data in Washington is looking more like a high-stakes, presidential year than a midterm election. 31 percent of people had turned in ballots as of Thursday morning. It's about the same number of voters that had turned in ballots by this time in 2016, the last presidential election. That's surprising some political analysts. Voters are much less engaged, historically, in mid-terms.
► Today's MUST-READ from Vanity Fair — 'Blowing smoke': Sorry, pundits, but you have no clue what will happen on Tuesday — Electorates mutate every two years. Using past turnout patterns can be useful when modeling a universe of voters, but the polls cannot tell us with certainty what will happen on Election Day anymore. In a volatile environment where Trump has saturated every inch of our cultural fabric with politics, who the hell knows what's going to happen?
---
THE PRESIDENT OF THE UNITED STATES
► From The Hill — Trump bemoans attacks that halted midterm 'momentum' — President Donald Trump lamented Thursday that Republican midterm momentum was stopped due to the fact that nobody was talking about the election in the light of the attempted pipe bombings and the fatal shooting at the Pittsburgh synagogue.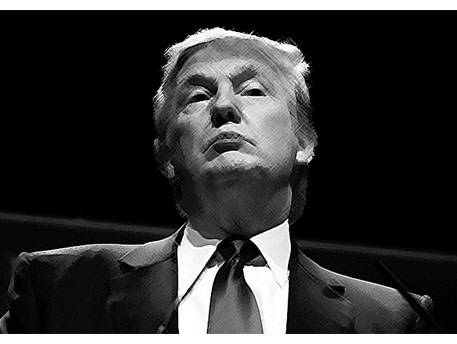 ► In today's NY Times — As midterm vote nears, Trump reprises a favorite message: Fear immigrants — President Trump's closing argument is now clear: Build tent cities for migrants. End birthright citizenship. Fear the caravan. Send active-duty troops to the border. Refuse asylum.
► In today's — Trump's new immigration ad was panned as racist. Turns out it was also based on a falsehood. — Luis Bracamontes, the murderer featured in the ad had been deported multiple times before his crime rampage, and appears to have last entered the country while George W. Bush was president.
► From Newsweek — Trump's surprise border mission is a politically motivated waste of money, Pentagon sources say — The Trump administration's plan to deploy thousands of troops to the U.S. border took officials by surprise, with many senior-level Defense Department officers believing the move to be politically-motivated and a waste of money, said multiple Pentagon sources.
► In today's NY Times — Trump's nationalism is breaking point for some suburban voters, risking GOP coalition — In Republican-leaning districts that include diverse populations or abut cities that do the party is in danger of losing its House majority next week because Trump's racially-tinged nationalism has alienated these voters who once made up a dependable constituency.
---
LOCAL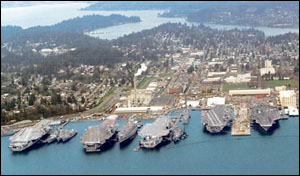 ► In today's Kitsap Sun — Defense contract awards bring in millions for projects in Kitsap County — A number of large-sum defense contracts awarded within the past few months are slated to bring in millions of federal dollars to fund projects at Navy installations in Kitsap County.
► From The Stranger — Tacoma Weekly's 20-year history of wage theft allegations and unpaid bills — More than a dozen people contacted us after we published our first story about wage theft allegations made against the Tacoma Weekly. Their allegations of unpaid wages, physical threats, verbal abuse, bounced checks, and intimidation from John Weymer, the Weekly's publisher, stretch back over 20 years.
---
NATIONAL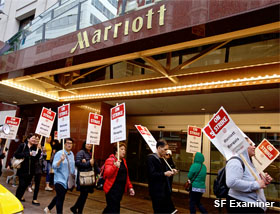 ► In today's S.F. Chronicle — Temporary workers at striking SF Marriott hotel allege labor violations — Unionized Marriott workers in San Francisco who have been striking for weeks at seven San Francisco hotels as they demand higher pay. The strike, which has led to numerous event cancellations during a busy convention season for the city, has widened to eight cities across the country and bruised Marriott's reputation. Now temporary workers are alleging labor violations that could leave Marriott, the world's biggest hotel operator, open to legal claims if their accusations are found to have merit.
► In today's Washington Post — Google walkout: Employees stage protest wildcat strike over handling of sexual harassment — In New York, more than 3,000 gathered in a city park and carried signs that said, "O.K. Google, really?" In Dublin, dozens filled a sidewalk. And in Silicon Valley, thousands poured out of office buildings into a common outdoor area and chanted: "Stand up! Fight back!" Similar scenes played out in other cities around the world — from Singapore and Hyderabad, India, to Berlin, Zurich, London, Chicago and Seattle — as Google employees held a wave of walkouts on Thursday to protest the internet company's handling of sexual harassment.
► In today's Washington Post — Forbes cuts ties with sports business columnist, deletes piece about WNBA player salaries — David Berri, an economics professor who studies gender and sports business and has written three books on the subject, argued in an opinion piece that WNBA players should earn higher salaries to boost their star power. The NBA voiced concerns with the piece to Forbes editors, who took down the piece and dismissed Berri as a contributor.
---
T.G.I.F.
► The best way "to bring some lovin' here today" is to VOTE!
---
The Stand posts links to Washington state and national news of interest every weekday morning by 10 a.m.
WASHINGTON IS A UNION STATE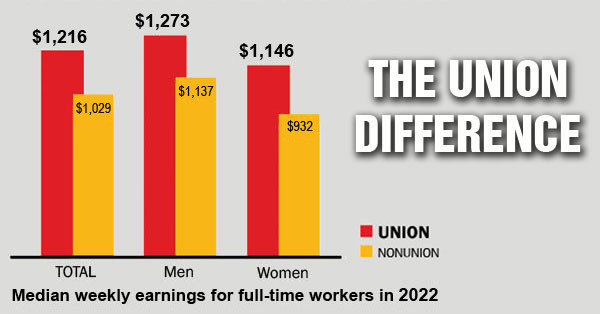 CHECK OUT THE UNION DIFFERENCE in Washington state: higher wages, affordable health and dental care, job and retirement security.
FIND OUT HOW TO JOIN TOGETHER with your co-workers to negotiate for better working conditions and respect on the job. Or go ahead and contact a union organizer today!