U.S. v. Hanford workers ● Educated v. GOP ● Online retail v. humanity
Wednesday, November 28, 2018
---
STATE GOVERNMENT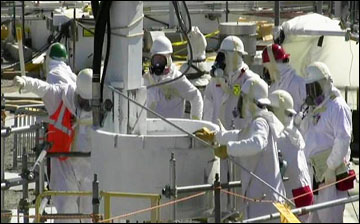 ► In today's Seattle Times — Justice Department threatens to sue Washington state over compensation law that aids Hanford workers — The U.S. Justice Department is threatening to sue Washington state to block legislation signed into law this year by Gov. Jay Inslee to help Hanford workers win more compensation claims for illnesses. State officials have been willing to discuss the state law with Justice Department, but they are not willing to suspend enforcement.
YESTERDAY at The Stand — Feds oppose protections for Hanford workers
► In the Yakima H-R — Who qualifies for overtime? Hearing in Yakima will discuss preliminary proposed rules — The state Department of Labor & Industries will have a hearing in Yakima on Wednesday to explain preliminary draft rules that would increase the number of workers qualified for overtime.
ALSO at The Stand — L&I seeks input on latest proposal to change OT pay rules
Yakima, Nov. 28, 10 a.m., Hilton Garden Inn, Rainier Room
Vancouver, Nov. 29, 10 a.m., L&I Vancouver office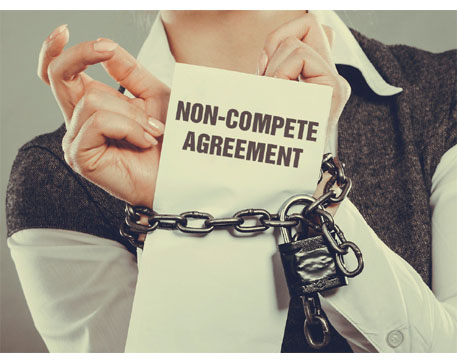 ► From GeekWire — Washington Democrats to push for controversial non-compete legislation again — The Washington state legislature plans to take up one of the tech industry's most hot-button issues next session: non-compete agreements. The contracts temporarily prevent workers from taking jobs with employers' competitors. Non-competes are subject of fervent debate in the tech community, with advocates claiming they protect business secrets and opponents arguing they stymie innovation.
► From L&I — Wage violations, false payrolls mean Bonney Lake firm banned from bidding on public construction projects — I&C Northwest, a Bonney Lake construction firm, and its owner Jim Lingnaw are permanently banned from bidding or working on public projects in Washington as the result of a recent settlement with the state Department of Labor & Industries (L&I) over wage violations and false reporting of payroll records.
► In today's Seattle Times — Long-serving Frank Chopp to step down as Washington's state House speaker after 2019 session — While vowing to relinquish his speaker gavel "to provide an orderly leadership transition," Chopp said he will remain in the Legislature as a representative of the 43rd Legislative District, where he was just re-elected to a 13th term.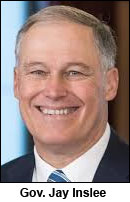 ► In today's Seattle Times — If Jay Inslee runs for president, his biggest accomplishment may be his undoing (by Danny Westneat) — Inslee was the chief cheerleader of the largest corporate tax break in U.S. history, $8.7 billion to woo Boeing's 777 plant here. Five years later, it still ranks No. 1 — twice as big, amazingly, as the controversial breaks Amazon just got from two states combined to bring 25,000 jobs to each. Inslee can argue he saved Boeing, and that he really had no choice. But the deal fatally didn't include job guarantees, and Boeing later drained away nearly 20,000 jobs. Plus the deal put the Machinists union in a vise, pressuring it into canceling worker pensions (as Boeing insisted on in addition to the tax breaks). Organized labor was still so mad at Inslee more than a year later that it uninvited him from its state convention.
---
BOEING

► In today's Seattle Times — Lion Air pilots struggled against Boeing's 737 MAX flight-control system, black-box data shows — Data from the fatal Oct. 29 flight that killed 189 people, and from the prior day's flight of the same jet, raises questions about three factors that seem to have contributed to the crash.
► In the PS Business Journal — Southwest Airlines suddenly grounds 34 Boeing 737 jets in its fleet (subscription required) — The low-fare carrier had to take the planes out of service on one of the year's busiest travel days.
---
LOCAL

► In today's (Longview) Daily News — County ends privatization bid, expects to earn $6 million off Headquarters — The Cowlitz County commissioners Tuesday night ended discussions about contracting out management of the Headquarters Landfill to Republic Services but set ambitious goals for the county's continuing management of the facility.
► From Crosscut — Can a $2.5B budget help King County reimagine transit? — King County leaders are dreaming of a future where almost every suburban resident has easy access to public transit. But that dream faces a stubborn reality — Seattle and its nearly 100,000 in-city transit commuters demand most of the growth.
---
ELECTION
► In today's Yakima H-R — Yakima County ranks last in state for voter turnout — Of 115,873 registered voters in Yakima County, 71,585 — or 61.78 percent — voted. It was the lowest turnout percentage in the state. Statewide, turnout was 71.78 percent.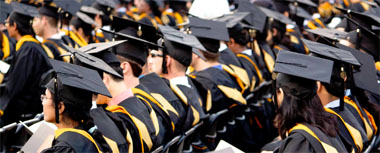 ► From The Hill — Educated voters breaking hard against GOP — The new Democratic House majority will include more than a dozen members who knocked off Republican incumbents in some of the best-educated districts in the country. Voters who have attained a bachelor's degree favored Democrats by a 20-point margin in this year's midterm elections, according to exit surveys. Those without a bachelor's degree told pollsters they split their ballots evenly between Democrats and Republicans.
► In today's Washington Post — Republican Cindy Hyde-Smith wins racially charged election over Democrat Mike Espy — Sen. Cindy Hyde-Smith, who was appointed to her seat in April, is the first woman in Mississippi to be elected to the U.S. Senate. Her win preserves Republicans' 53-47 Senate majority.
► CNBC explains — The 10 most and least educated states in 2018 — Mississippi is ranked #50, dead last. (Washington is #9.)
---
THAT WASHINGTON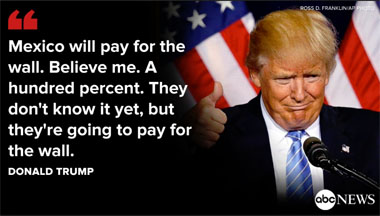 ► From The Hill — Trump would 'totally be willing' to shut down government over border wall — President Trump said in an interview published early Wednesday that he would "totally be willing" to shut part of the government down if Congress does not approve a $5 billion budget to build his proposed wall along the U.S. southern border.
► From Politico — Republicans fear they're squandering lame duck — Among items on the wish list from various Republican factions: more tax cuts, a new trade deal, criminal justice reform, full funding of the border wall, a farm bill, protecting special counsel Robert Mueller and confirmation of a slew of nominees.
► In today's Washington Post — Pelosi solidifies support among dozens of Democratic freshmen on eve of crucial vote — On the eve of a crucial vote, Pelosi (D-Calif.) spoke to roughly 60 incoming members at a closed-door session, praising the newcomers, most of them women, appealing for unity, and delivering an implicit pitch for a return to the top position.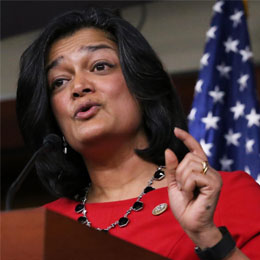 ► From HuffPost — The progressive caucus has a chance to be more influential than ever — The Congressional Progressive Caucus, which has historically lacked the clout of other values-based congressional factions, is making a serious play for influence in the next Congress. Rep. Pramila Jayapal (D-Wash.), a CPC co-chair, says that progressives who have ambitious ideas about expanding the federal government's role in public life need to build coalitions to advance their agenda.
---
NATIONAL
► From CNBC — AFL-CIO worries GM job cuts are a 'smokescreen for offshoring' — The AFL-CIO says General Motors' decision this week to halt production at several factories and cut thousands of jobs in the U.S. could be a pretext for sending work outside the country where labor costs are significantly cheaper. "This situation is really about whether or not GM is going to put new work into these plants or whether this is a smoke screen for offshoring work," said AFL-CIO Policy Director Damon Silvers.
ALSO at The Stand — "We didn't bail out GM so it could hoard profits, close plants" — Statement by UAW Vice President Teryy Dittes.
► From the Indianapolis Business Journal — Foxconn subsidiaries to lay off 155 manufacturing, assembly workers in Plainfield
► In the LA Times — Some Californians are hiring private fire crews to save their homes. Regular firefighters aren't happy about it — The private forces have generated complaints from some fire departments, who say they don't always coordinate with local crews and amount to one more worry as they try to evacuate residents and battle the blaze.
► From The Guardian — Restricting breaks keeps poultry industry workers living in fear — "The not using the restroom thing was really the last straw for me," said Vivian Valadez, 36, after working for less than three months for Sanderson Farms, the third largest poultry provider in the United States.
---
TODAY'S MUST-HEAR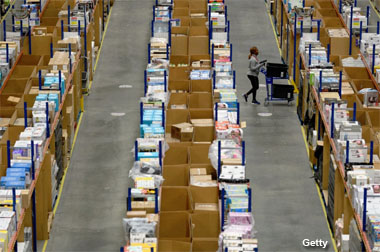 ► From the NY Times — The human toll of instant delivery (podcast) — With the rise of online retail, expectations about delivery speed have changed. But at what cost? Jessica Silver-Greenberg, a business reporter for The Times, explores this issue with Tasha Murrell, a warehouse employee who shared her disturbing experiences. She and several of her co-workers who were pregnant around the same time all suffered miscarriages, which Murrell blamed on management for ignoring doctors' notes and forcing them to lift heavy objects and work in unsafe conditions. Then one day, a sick co-worker collapsed and died at work. Murrell and everyone else were expected to keep working for hours around the dead body, which was simply surrounded by cones. That's when she finally got fed up and called the Teamsters Union.
---
The Stand posts links to Washington state and national news of interest every weekday morning by 10 a.m.
Short URL: https://www.thestand.org/?p=71680
Posted by
David Groves
on Nov 28 2018. Filed under
DAILY LINKS
. You can follow any responses to this entry through the
RSS 2.0
. Both comments and pings are currently closed.