Kim England named Harry Bridges Endowed Chair at UW
The following is from the The Harry Bridges Center for Labor Studies at the University of Washington: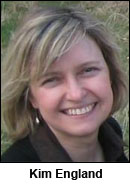 SEATTLE (Dec. 3, 2018) — The Harry Bridges Center for Labor Studies is proud to welcome Kim England, Professor of Geography at the University of Washington, as the Harry Bridges Endowed Chair in Labor Studies (2018-2020). Endowed in 1992, the Bridges Chair guides the center's mission to further the study and research of labor and society, inform policymakers, and galvanize students to be actors in the labor movement.
The Harry Bridges Endowed Chair in Labor Studies honors the legacy of one of the preeminent labor leaders in the U.S., the late Harry Bridges, outstanding founder and leader of the International Longshore and Warehouse Union (ILWU) for over 40 years. As a tribute to Bridges' memory, over one thousand contributors, spearheaded by current and retired members of the ILWU, raised the funds necessary to endow a faculty chair in his name in 1992.
The ninth University of Washington professor to hold the Bridges Chair, Professor England is the first geographer and the first whose research and teaching centers on women and caring labor. Originally from the United Kingdom, she completed her undergraduate degree at the University of Leicester, and subsequently went on to complete her MA and PhD in Geography at the Ohio State University.
Since coming to the University of Washington in 1999, she has continued to pursue her interests in feminist, economic, social and political geographies through teaching and research. England's research, including work funded by the Bridges Center, focuses on the relationships between care, paid work and the home, and the interconnections between inequalities, social reproduction and the state. She explores the shifting contours of care work, welfare, and the meanings of home associated with neoliberal social policy reforms.
England's long standing interest in labor, work and employment stems from her own personal history and geography. She was born in Wallsend, a town on the River Tyne in Northeast England, with a long history of coal-mining and ship-building. She grew up in a time when jobs in those industries were declining, and was privy thus to the struggles of family and friends whose livelihoods were disappearing.
"As a girl, I knew those jobs weren't open to me anyway, but I was mindful of what this meant for the local economy and everyday life, and saw the ways unions fought to keep jobs and protest deteriorating working conditions," she said.
Upon moving to the United States to go to graduate school, England found her intellectual home: studying the social and spatial differentiations of women's experiences in paid work, politics, and community in different places.
"I recoiled at descriptions of women workers as helpless pawns, of being too dim-witted to realize they were being exploited by 'capitalists' – that simply didn't describe the strong women in my extended family, and none of the actual flesh-and-blood women of my acquaintance," she said.
The central focus of England's academic career has been a commitment to position women as knowledgeable agents, particularly through her research on pink collar work, strategies for combining paid work with caregiving, and activism over working conditions.
"Geography matters, as geographers are fond of saying," she said, "including making us who we are."
As someone who hails from a proud working class community in the North of England, she will continue to bring this dedication to labor and activism in her research, advocacy, and leadership as Harry Bridges Chair.
For more information, visit the Harry Bridges Center website.
Short URL: https://www.thestand.org/?p=71788
Posted by
David Groves
on Dec 3 2018. Filed under
LOCAL
. You can follow any responses to this entry through the
RSS 2.0
. Both comments and pings are currently closed.