President Jeff Johnson's legacy is celebrated
By DAVID GROVES
The Stand
---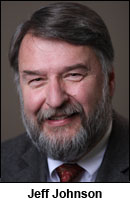 SEATTLE (Dec. 5, 2018) — After 32 years working for the Washington State Labor Council, AFL-CIO — including the last eight serving as president of the state's largest union organization — Jeffrey G. Johnson announced last June that he would not be seeking re-election and would retire at the end of this year. Last Friday, dozens of his closest friends and colleagues gathered to celebrate his impending retirement and pay tribute to Johnson's proud legacy as a labor leader.
The emcee for the evening was his close friend and former WSLC co-worker Robby Stern. He and others rattled of a partial list of accomplishments where Johnson played an integral role. They included major advances in farmworkers' rights and child labor protections, protecting and strengthening the state safety nets for laid-off and injured workers, shaping worker-friendly climate change policies, and making Washington a national leader on raising the minimum wage. In fact, Stern added, it was Jeff's idea to include language in 1998's Initiative 688 that made Washington the first state to index its minimum wage for inflation, a model several other states subsequently followed.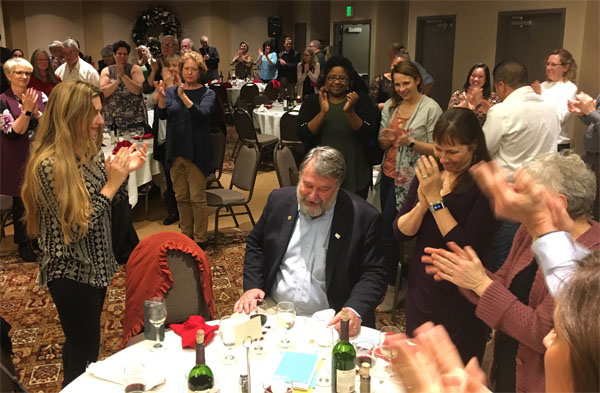 Stern then invited all in attendance to "let Jeff know how much we love and respect him and hear our wishes for a wonderful transition in his life for a new, fulfilling, and joyful chapter in the remarkable life and legacy of Jeff Johnson."
By design, it was an intimate gathering for a man who has never sought credit or acclaim. Instead, as speaker after speaker pointed out, Johnson dedicated his career to building power for others, and in particular, for the most disenfranchised among us.
"Jeff fundamentally understands, at the deepest level, that power is not something you have," said Lynne Dodson, who has served as WSLC Secretary Treasurer alongside him these past eight years. "Power is what you build and share. It is not to make you feel better as a person, it's to do better. As the leader of the labor movement, Jeff is a powerful person. And that positional power is meaningful because he has used it to give others a voice, to elevate, not diminish. Jeff has used his power to build power for the labor movement… That is a great leader."
About a dozen speakers representing different labor and community constituencies shared stories and thoughts about the WSLC's "gentle giant." They included UFW leader Lupe Gamboa, WFSE Executive Director Greg Devereux, retired UFCW 21 President Dave Schmitz (on behalf of the union's current executive officers), IBEW 77 President Rick Johnson, Seattle City Councilmember Teresa Mosqueda, Washington CAN Executive Director Mary Le Nguyen, Casa Latina Executive Director Marcos Martinez, Pacific NW Labor History Association President Tom Lux, and others. Jeff's wife, Rebecca Smith, and his eldest daughter, Danica, also said a few words.
In addition, Washington Gov. Jay Inslee and AFL-CIO Executive Vice President Tefere Gebre wished Johnson a happy retirement via video.
April Sims, WSLC Political and Strategic Campaigns Director, shared her family's personal story to explain why she wanted to work for Johnson. Her grandparents were sharecroppers who fled the violence of the segregated South and migrated to the Pacific Northwest, where her grandfather was able to find "a fair day's pay for a fair day's work."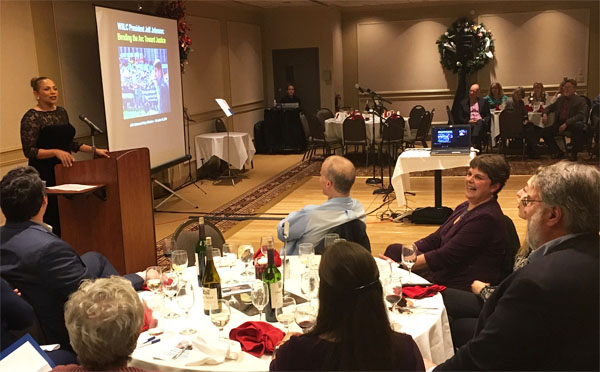 "For me, and my family, and my community, the fight for social justice and economic justice are inextricably linked. They are the same struggle – one can't exist without the other," Sims said. "I've watched you over the years work to make sure we never compromised one for the sake of the other. So I want to thank you, Jeff, for hiring me and allowing me to do the kind of work that would make my grandfather proud. And for allowing me to help with the issues that create a better life, not just for workers, but for their children and their children's children."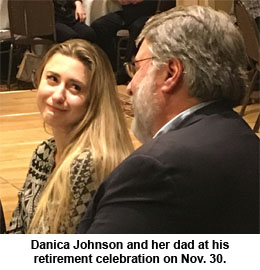 Councilmember Mosqueda, a former WSLC staffer, said it was "a true honor, privilege and inspiration" to work for the council under Johnson's leadership.
"Jeff, you embody what it means to have a moral compass," she said, "and to use that compass to guide you no matter the political obstacles or challenges that try to shake you and the movement from that path."
Lynne Dodson praised Johnson's leadership on tackling the issue of climate change while making sure workers and vulnerable communities are protected:
"Jeff has said many times that this is the existential crisis of our time. His work building partnerships between the environmental community, tribes, communities of color and our affiliates has meant that climate policy in the State of Washington will not be written by the oil industry, multinational corporations, and billionaires. It will, it must, be written by the people. It must include accountability to the community, it must provide a true just transition, it must be an economic policy that improves the standard of living for all workers, not just the pocketbooks of billionaires and millionaires.
"This is Jeff's legacy – we will not, we cannot, step away from the table that is determining how our economic policy will look for generations to come. As Jeff has also said many times – if we aren't at the table, we're on the menu. And he made sure we aren't just at the table, we set it, we cooked the food, we cleaned up afterward. This work needs us all and we have no choice but to find ways to move it forward, together. The future literally depends on it."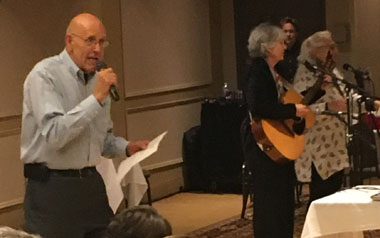 In the end, Stern couldn't end the evening without singing. He joined Rebel Voices for a rewritten version of The Band's "The Weight."
"Jeff leaves a legacy, of which he can be proud;
He fought for workers, never fearing to be too loud;
And he fought for children, and a future that we all need;
There's so much more to do, he'll find his way to lead.
"Take a load off Jeff, take a load for free;
Take a load off Jeff, And you put the load right on me."
Clearly humbled by all the praise and celebration of his work and legacy — and a dash of roasting — Johnson thanked everyone who spoke and attended. But then he did what you'd expect an organizer to do, he urged everyone to keep up the fight for social and economic justice.
And he vowed to do the same.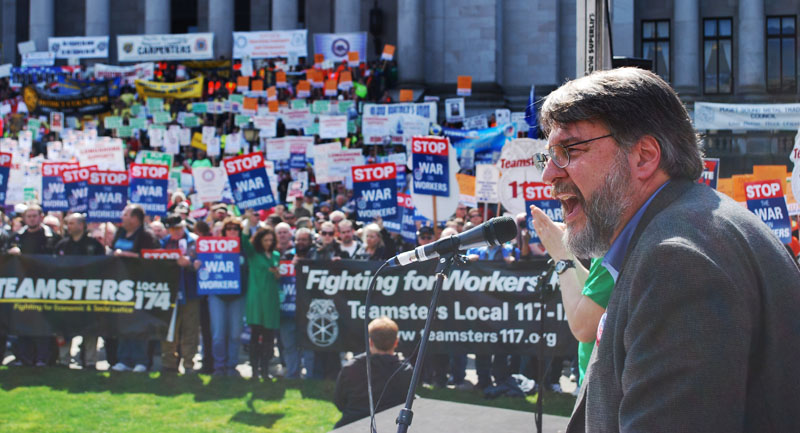 ---
POINT OF PERSONAL PRIVILEGE — The Entire Staff of The Stand has had the privilege of working alongside Jeff Johnson, and then under his leadership, for the past 26 years. We have continually marveled at an uncanny ability to deliver powerful, passionate and persuasive advocacy without ever seeming to make demands, and his forward-thinking grasp of the big picture. His leadership will be missed at the WSLC. We sincerely wish him a happy and well-earned retirement.
Short URL: https://www.thestand.org/?p=71836
Posted by
David Groves
on Dec 5 2018. Filed under
W.S.L.C.
. You can follow any responses to this entry through the
RSS 2.0
. Both comments and pings are currently closed.