Teacher strikes end in Kennewick, Toutle Lake school districts
UPDATE (Aug. 31, 2019)
► In the (Longview) Daily News — Toutle Lake teacher strike comes to an end
► In the Tri-City Herald — 99% vote to end Kennewick teacher strike. School starts Tuesday
---
UPDATE (8 p.m. – Aug. 29, 2019) –The Kennewick Teachers Association reports tonight that they have reached a tentative agreement with school district administrators to end the strike that began Tuesday. So the rally planned for Friday morning is CANCELLED, and instead teachers will be meeting to discuss and vote on the contract. (See coverage from the Tri-City Herald.)
Meanwhile, the (Longview) Daily News reports that Friday classes have been cancelled as the Toutle Lake teachers' strike continues.
---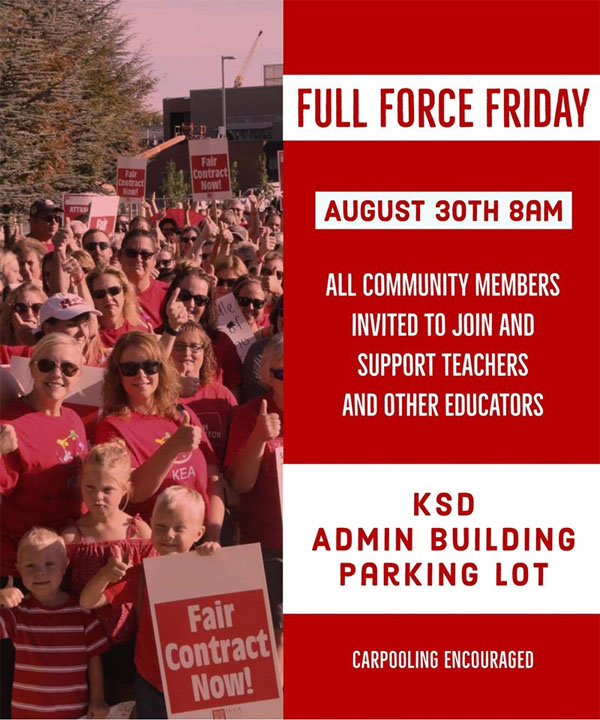 UPDATE (Aug. 29, 2019) — Educators in Kennewick and Toutle Lake continue their strikes today. All union members and community supporters are invited to come show your solidarity on the picket lines (and wear union your colors, if you can).
In Kennewick:
THURSDAY — Picket lines will be up outside all the Kennewick Public Schools from 8 to 11 a.m. There will also be a food drive; bring non-perishable food items at all school picket locations. That food will be loaded up at 11 a.m. and donated to both the Sozo Food Bank and Domestic Violence Services.
FRIDAY — Join Kennewick teachers for a big rally from 8 to 10:30 a.m. outside the Kennewick School District administrative building, 1000 W 4th Ave, Kennewick, WA 99336.
---
UPDATE (Aug. 28, 2019) — Teachers and education support professionals remain on strike Wednesday in the Kennewick and Toutle Lake school districts. For updates, check the Kennewick Education Association's Facebook page or the WEA's Our Voice blog.
Here is some local media coverage:
► In today's Tri-City Herald — No school again Wednesday in Kennewick. Teachers to return to picket lines. –Kennewick schools will be closed again Wednesday after a state mediator sent exhausted negotiators home about 7 p.m. Tuesday. The strike will keep 19,000 students on summer vacation for a second day while schools in Richland, Pasco and other communities opened Tuesday.
► In today's (Longview) Daily News — Toutle teachers strike Tuesday morning while talks continue —  Toutle teachers went on strike at 8:30 a.m. Tuesday and picketing outside school grounds along Spirit Lake Memorial Highway Tuesday morning. The district and teacher's union resumed talks at 10:30 a.m., and bargaining continued into the evening past TDN press time. Wednesday classes for the first day of school already were cancelled Tuesday morning. Contract talks have bogged down over teacher pay.
---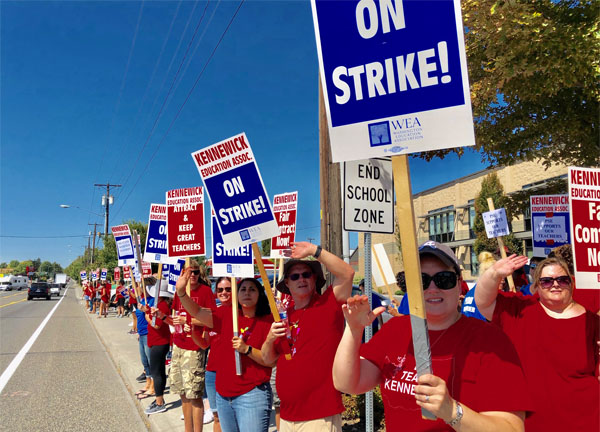 (Aug. 27, 2019) — Teachers and education support professionals represented by the Washington Education Association (WEA) went on strike Tuesday in the Kennewick and Toutle Lake school districts after administrators failed to reach contract agreements with the local unions. Competitive and professional pay continues to be a top issue in both districts and elsewhere in multiple school districts around the state where contracts talks continue.
The Kennewick Education Association's strike sent hundreds of teachers to the picket lines on what was supposed to be the first day of classes Tuesday. They were joined by Teamsters, Public School Employees/SEIU, and many other local union members as they picketed on the sidewalks outside multiple schools throughout the district.
"The community support for educators is off the charts," said WEA President Larry Delaney from the Kennewick picket line on Tuesday. "Now it's just time for the district to show that same respect that the community has for their educators… (who) simply want to be compensated at the same level as their neighbors in Pasco and Richland."
Jill Mullhausen, a striking teacher from Phoenix High who picketed with her children, told the Tri-City Herald that this strike was important to her both as a teacher and as a parent.
"It's important to me that the teachers are heard and listened to by our employer and that we get a contract that will retain and attract the best teachers," she said. "I want the teachers that are taking care of my students to feel valued and to feel like professionals so that they stay and give the best possible education to my kids."
Mediated talks continued Tuesday between KEA and school district administrators.
Meanwhile, in the Toutle Lake School District — northwest of Longview in Cowlitz County — teachers also went on strike Tuesday morning over pay issues. Classes, which were scheduled to begin Wednesday, have been cancelled even as contract talks continued on Tuesday.
Toutle Lake Education Association members walked the picket lines in front of multiple schools before moving to the shoulder of the Spirit Lake Memorial Highway, where passing motorists honked their support of the waving strike signs.
Read more in news coverage by the (Longview) Daily News.
Short URL: https://www.thestand.org/?p=79460
Posted by
David Groves
on Aug 27 2019. Filed under
LOCAL
. You can follow any responses to this entry through the
RSS 2.0
. Both comments and pings are currently closed.