Trump's NLRB pleases Boeing ● We're a working class family ● USMCA's fate
Tuesday, September 10, 2019
---
BOEING
UPDATE at GoIAM.com — Machinists union will not back down at Boeing South Carolina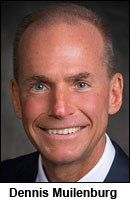 ► In today's (Charleston) Post and Courier — Federal labor board overturns Boeing SC union bid — The NLRB on Monday ruled that flight-line workers at Boeing's North Charleston plant can't join the International Association of Machinists (IAM) union as their own separate group. The decision overturns an earlier ruling by the board's regional director in Atlanta. A Boeing spokesman said the company was "pleased" with the decision… NLRB Chairman John Ring was joined by board members Marvin Kaplan and William Emanuel in the majority opinion. All three were appointed to the board by Trump… In the months after the union vote, the North Charleston plant has come under fire for allegations of shoddy production and safety lapses blamed on Boeing's decision to eliminate quality inspectors while increasing the number of planes built each month.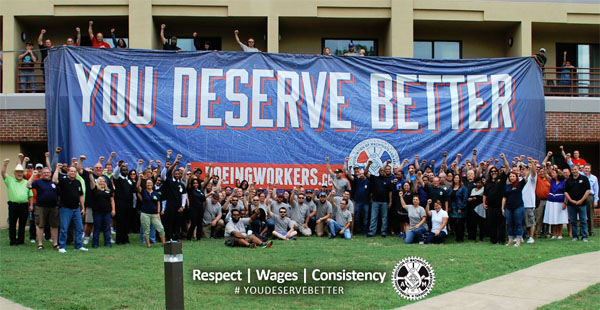 IAM spokesman DeLane Adams called the board's decision "unprincipled" and added it will not stop the union's organizing campaign at Boeing's North Charleston plant:
"We will not relent or back down. This decision is irresponsible and reckless. American workers are under attack from those who value corporations over working families. We stand with the flight line and all workers at Boeing South Carolina and justice will prevail when their voices are recognized."
EDITOR'S NOTE — Another reason why we need labor law reform in this country. When workers vote by nearly a 2-to-1 margin to unionize, political appointees are empowered to reinterpret the law and block them from joining together to negotiate a fair return on their work. America needs the PRO Act to fix this!
---
TODAY'S MUST-SEE
► At YouTube — We're a working class family — A new video by the Trades Union Congress, a federation of trade unions in England and Wales, celebrates the diversity and resilience of the working class.
---
LOCAL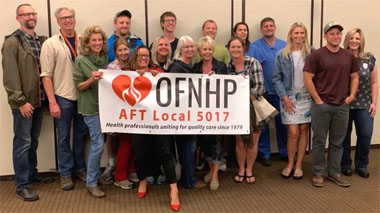 ► In the NW Labor Press — Medical techs unionize at St. Charles Hospital in Bend — Medical technologists at St. Charles Medical Center in Bend, Oregon, voted to unionize by a nearly three-to-one on Sept. 5. The 90-to-34 vote adds 163 new members to 5,100-member Oregon Federation of Nurses and Health Professionals, and gives the workers at St. Charles a way to improve conditions and address ongoing frustrations. "They were tired of being disrespected," says OFNHP president Adrienne Enghouse.
EDITOR'S NOTE — Tired of being disrespected? Get a union! Find out more information about how you can join together with co-workers and negotiate a fair return for your hard work. Or go ahead and contact a union organizer today!
► From the Olympian — Federal judge in Richland stops 50% pay hike for blueberry pickers — for now — U.S. District Court Judge Salvador Mendoza Jr. temporarily stopped the Department of Labor from implementing a July order raising wages for pickers. The company was told to pay workers 75 cents a pound — half again more than the 50 cents workers received in 2018.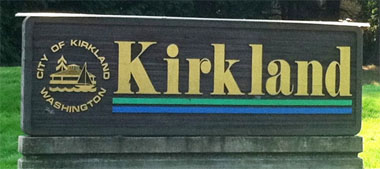 ► In today's Seattle Times — Kirkland takes creative approach to help city employees live where they work — The issue of low and middle-income workers not being able to live in the city where they work extends far beyond Kirkland, as average rents have increased by nearly 70% since 2010 in many parts of the Eastside. But the Eastside city is among a handful of public employers to approve an initiative aimed at allowing more of its employees to live close to their job. The Kirkland City Council voted last week to work with a development company that will set aside 34 units in two downtown buildings, Plaza and Areta, specifically for city employees.
► In today's Seattle Times — Broken Columbia River barge lock means commerce chokehold — A critical navigation lock at the mighty Bonneville Dam on the Columbia River has shut down because of cracked concrete, meaning huge barges that transport millions of tons of wheat, wood and other goods from the inland Pacific Northwest to the Pacific Ocean for export are at a standstill.
► In today's Seattle Times — Amazon employees step up pressure on climate issues, plan walkout Sept. 20
---
THIS WASHINGTON

► In the Olympian — No evidence to support allegations of 'hate, sexism, racism' in Senate Dem caucus, inquiry finds — An inquiry by a high-ranking legislative staff member found no evidence that any member of the Senate Democratic caucus made sexist or racist statements in closed-door meetings during the 2019 legislative session.
---
THAT WASHINGTON
► From CNBC — House Democrats will decide the fate of Trump's North American trade deal as Congress returns — Many organized labor groups — part of a key electoral constituency for Democrats — have not warmed to the USMCA. Organizations such as union federation AFL-CIO have pushed for changes before Congress ratifies the deal to better protect American workers.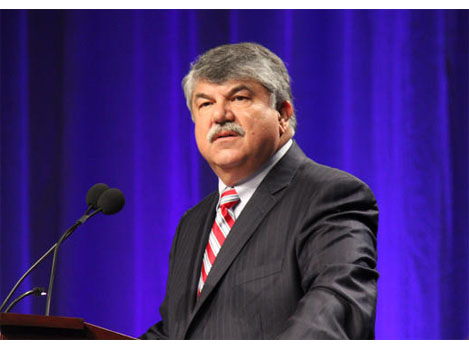 ► In the Pittsburgh Post-Gazette — Fate of rewritten North American trade pact rests with labor unions and Democrats — AFL-CIO President Richard Trumka is skeptical the Mexican government can achieve the necessary changes spelled out in the USMCA. Last week, he met with Mexican president Andrés Manuel López Obrador to discuss Mexico's plans to, in the next four years, end more than 700,000 labor contracts with artificially low wages — a key victory for American labor in the USMCA. "In order to change the culture, you have to get rid of all 700,000 of those," Trumka said. He cited Nabisco Mondelez's move last year to shutter U.S. bakeries and open a plant in Mexico that pays workers as little at 97 cents an hour.
► From Politico — Trump insists everything is fine as economic anxiety surges — The United States economy is slowing by nearly every major measure, from job creation to business investment. And there's one major culprit cited by academics, corporate executives and business owners: a surge in economic uncertainty to historic levels driven largely by Trump's itchy Twitter finger and head-spinning approach to trade and fiscal policy.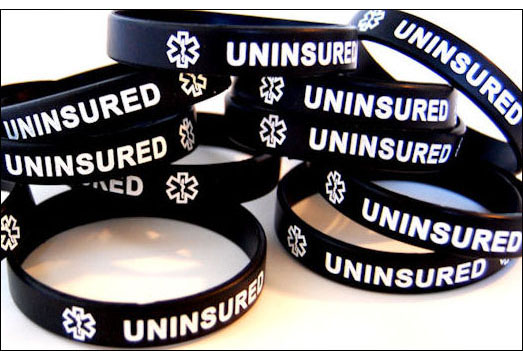 ► A related story from the Washington Post — Uninsured rate rose in 2018 despite strong economy, Census says — The number of people in the United States without health insurance grew by nearly two million last year, the U.S. Census Bureau reported Tuesday, the first significant decrease since the passage of the 2010 Affordable Care Act. Some 27.5 million Americans were uninsured in 2018, compared to 25.6 million the year before. The uninsured rate rose to 8.5 percent, according to census data.
► In the (Everett) Herald — Shuffling money to wall threatens future abuses (editorial) — Those who see no problem with the president going around Congress to fund his own priorities, might consider their reaction to a Democratic president declaring climate change an emergency and reallocating military construction money or funding for other programs to protect coastal communities from rising seas and severe storms.
ALSO at The Stand — Trump's border-wall military cuts hit home at Naval Base Kitsap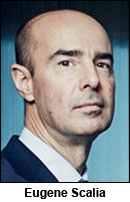 ► From The Hill — Liberal group urges Senate panel to vote against Scalia as Labor secretary — The liberal organization Allied Progress is pushing members of the Senate Health, Education, Labor, and Pensions (HELP) Committee to oppose Eugene Scalia's nomination as Department of Labor Secretary, calling him "too extreme and too conflicted."
► In the NY Times — Judge reinstates nationwide injunction on Trump asylum rule — A federal judge on Monday issued a nationwide order barring a Trump administration policy that denies asylum to migrants crossing the border unless they have already tried and failed to obtain asylum in another country along the way, a rule that effectively bans claims for most Central Americans fleeing persecution and poverty.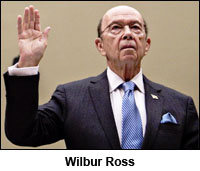 ► From TPM — Report: Wilbur Ross threatened to fire NOAA employees unless they backed Trump — Commerce Secretary Wilbur Ross called acting NOAA Administrator Neil Jacobs from Greece to threaten him and top officials with termination if they didn't contradict a statement from the Birmingham, Alabama office undermining Trump's bogus Hurricane Dorian meteorology.
EDITOR'S NOTE — This is another reason why federal employees need basic union rights, so they can do their jobs and tell the truth without being punished for it by meddling partisan extremists. And that's why this must happen…
ALSO at The Stand — U.S. Representatives urge leaders: Stand up for federal employees
► From the Hill — (Moscow Mitch) McConnell: Short-term spending bill needed to avoid shutdown — His comments come as lawmakers have roughly three weeks until the Oct. 1 deadline to pass the 12 individual appropriations bills, or a stopgap, to avoid a second government shutdown of the year. Though the Democratic-controlled House has already passed 10 of the 12 bills, the Republican-controlled Senate is just starting its work on the fiscal 2020 bills this week.
---
NATIONAL

► In the LA Times — Grocery strike may be averted: Supermarkets and union reach tentative deal — Two major Southern California supermarket operators reached a tentative deal on a new labor contract that could avert a strike at more than 500 grocery stores by the chains' 47,000 workers. Albertsons, which owns Vons and Pavilions, and the Ralphs division of Kroger Co. said they reached the agreement early Sunday with the seven locals of the United Food and Commercial Workers union that represent the workers. The union confirmed the proposed deal and said its members would start voting Monday whether to ratify the agreement, with the results expected to be announced Thursday. Union leadership is recommending ratification.
---
TODAY'S MUST-READ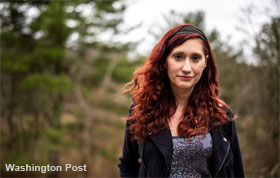 ► In today's Washington Post — 'UVA has ruined us': Health system sues thousands of patients, seizing paychecks and putting liens on homes — Heather Waldron and John Hawley are losing their four-bedroom house in the hills above Blacksburg, Va. A teenage daughter, one of their five children, sold her clothes for spending money. They worried about paying the electric bill. Financial disaster, they say, contributed to their divorce, finalized in April. Their money problems began when the University of Virginia Health System pursued the couple with a lawsuit and a lien on their home to recoup $164,000 in charges for Waldron's emergency surgery in 2017. The family has lots of company: Over six years ending in June 2018, the health system and its doctors sued former patients more than 36,000 times for over $106 million, seizing wages and bank accounts, putting liens on property and homes and forcing families into bankruptcy. Unpaid medical bills are a leading cause of personal debt and bankruptcy, with hospitals from Memphis to Baltimore criticized for their role in pushing families over the financial edge. But UVA Health System stands out for the scope of its collection efforts and how persistently it goes after payment, pursuing poor as well as middle-class patients for almost all they're worth.
---
The Stand posts links to Washington state and national news of interest every weekday morning by 10 a.m.
Short URL: https://www.thestand.org/?p=79832
Posted by
David Groves
on Sep 10 2019. Filed under
DAILY LINKS
. You can follow any responses to this entry through the
RSS 2.0
. Both comments and pings are currently closed.