IAM to keep fighting ● Take that 'gig' and shove it ● Expand Social Security
Thursday, September 12, 2019
---
LOCAL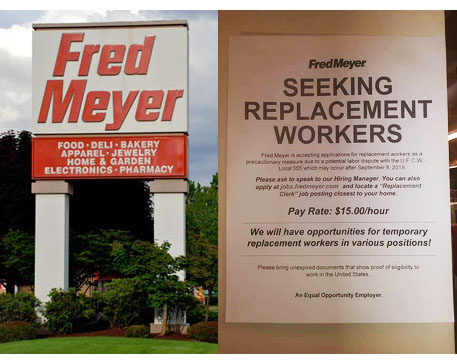 ► In today's (Longview) Daily News — Grocery workers file unfair labor practice complaint, cancel contracts — A grocery workers union in Oregon and Southwest Washington filed unfair labor practice complaints against Fred Meyer this week in response to what union officials are calling a "concerted effort" to mistreat and intimidate employees.
ALSO at The Stand — Fred Meyer goes to war against employees
► From Crosscut — 'It just builds up': Washington firefighters struggle with PTSD long after the fires go out — As wildfires become more common, Washington firefighters are creating support networks for their communities to deal with the mental trauma.
► From Crosscut — Near Northgate, firefighters slower to arrive after 'cancer house' station closes — The station was evacuated this summer after testing showed possible mold toxins. Now, local response times are up 60%.
---
BOEING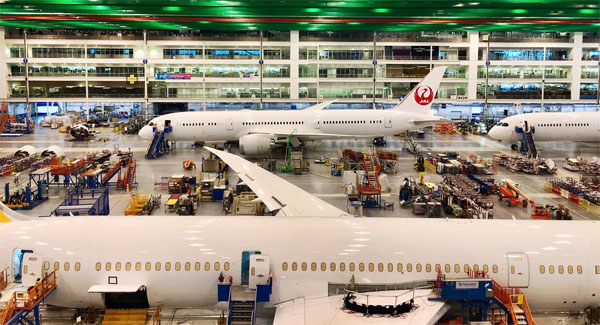 ► From the (Charleston) Post and Courier — Union vows to keep fighting for fired workers despite Boeing SC labor board ruling — Complaints that Boeing fired workers for supporting a labor union will still be heard despite a ruling this week that blocked the union's attempts to get a foothold at the aerospace giant's North Charleston campus. The NLRB said in a 3-1 ruling Monday that flight-line workers at the 787 plant can't join the IAM as their own separate group, but Unfair Labor Practice charges filed by the union against Boeing will continue to work their way through the system as the IAM tries to get five fired flight-line workers rehired. "This is far, far from over," said Bill Haller, the IAM's associate general counsel.
ALSO at The Stand:
— Fired SC Boeing Machinists win legal battle (Aug. 20)
— More heat for Boeing from both Washingtons on union firings (June 5)
► In today's Seattle Times — Boeing CEO expects 737 MAX to resume flying around November, but possibly not in all countries — Dennis Muilenburg reiterated his projection that, despite concerns publicly expressed by Europe's air safety regulator, the 737 MAX should begin to return to service around November. However, he conceded that lack of alignment among international regulatory bodies could mean that the grounded jet may first resume flying in the United States, with other major countries following later.
► In today's (Everett) Herald — Air Force finds another problem with Boeing's KC-46 tanker — Cargo locks on the bottom of the floor of the Everett-built aircraft became unlocked during a recent flight.
---
THIS WASHINGTON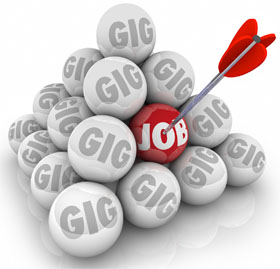 ► In today's NY Times — Take that 'gig' and shove it (editorial) — Corporate America has made a lot of money by treating millions of workers as independent contractors, denying them basic legal protections enjoyed by employees. California is now on the verge of taking an important step to curb that sham. The practice is pervasive, but it has reached new extremes with the rise of companies like Uber and Lyft, whose business models are built on the use of such contractors. (It) could well result in higher prices for customers. But that would be nothing more than a necessary corrective. The companies and their customers have benefited at the expense of workers who lack the legal power to protect themselves: They have neither the minimum protections afforded to most workers nor the right to bargain collectively. The underpayment of unprotected workers is not a defensible business model… Other states should follow close behind. It's not enough to raise the minimum wage or to mandate family leave. Legislatures also must act to ensure those standards apply broadly.
EDITOR'S NOTE — If you need any more evidence that these "gig economy" companies will say/do anything to deny their employees basic rights — and that they have absolute contempt for the rule of law — Uber says it plans to ignore California's law on the grounds that "drivers' work is outside the usual course of Uber's business." F—ing ridiculous.
► In today's (Everett) Herald — State needs to help local districts build schools (editorial) — A land swap could add to state school construction funds, but it's a far cry from what's needed. If lawmakers can't find the funds to increase the state's share of school construction, in the coming session they should end the supermajority requirement and give school districts a fair shot at serving their students.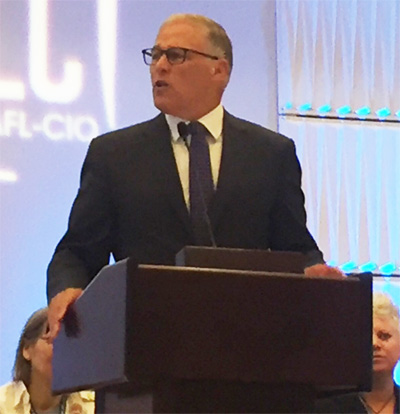 ► In today's (Everett) Herald — Inslee passes up a chance to confront corporate 'blackmail' (by Jerry Cornfield) — The governor skipped a meeting about tax breaks he said Boeing squeezed out of the state. It would have been interesting to see if he's ready to exact a dose of legislative requital from those with whom he seemed to willingly bargain a few years back. The result was what stands as the largest tax break any state has ever given a private company in American history… Inslee's aerospace advisor, Robin Toth, did attend. She delivered a promotional message of the industry's strength and importance, and of the state's efforts to attract more aerospace outfits to Washington. She veered wide of the issue of whether a jobs-related metric should be appended to the tax break law. "I don't really have a position on that," she said afterwards. "I haven't gotten anything from the governor on that."
---
ELECTIONS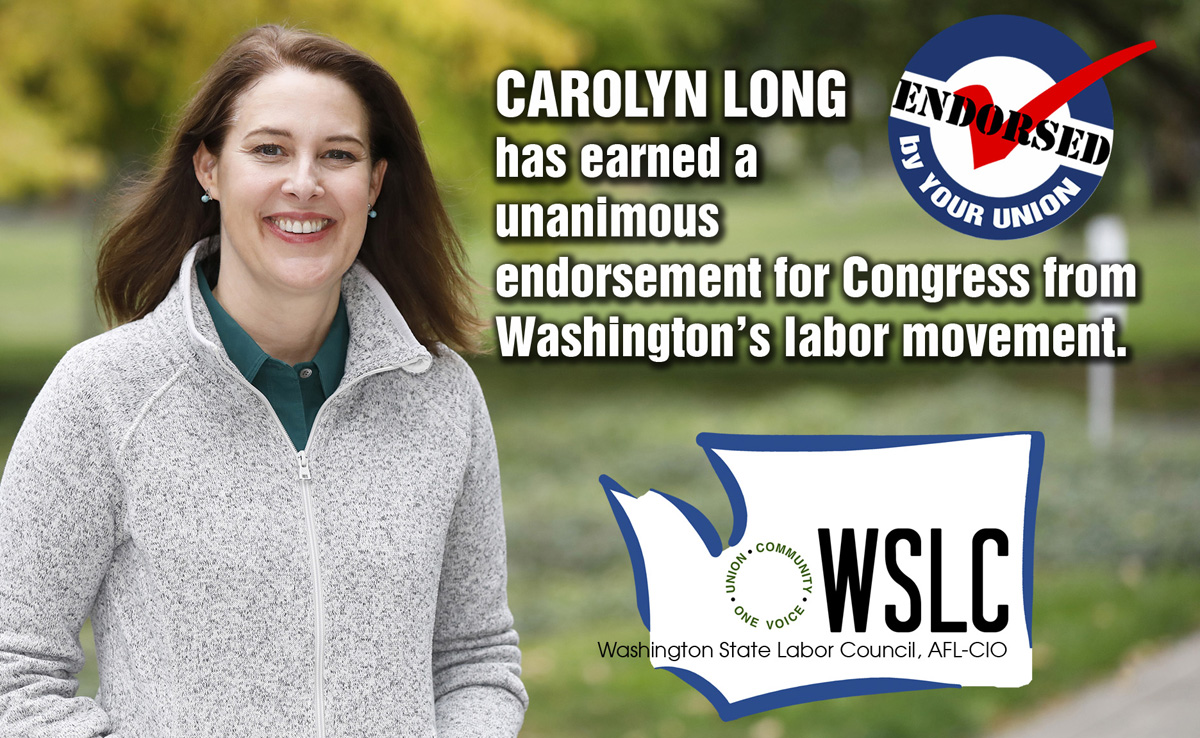 ► In today's Columbian — EMILY's List endorses Carolyn Long in race for 3rd District seat — The national campaign funding organization that works to elect pro-choice women to public office endorsed Carolyn Long to represent Washington's 3rd Congressional District. "Herrera Beutler has consistently supported President Trump's harmful agenda, voting to take away access to affordable health care and to defund Planned Parenthood," EMILY's List President Stephanie Schriock said. "In 2018, Carolyn made this race more competitive than it had been in nearly a decade, and in 2020, EMILY's List has complete confidence that she will be able to win."
ALSO at The Stand — WSLC endorses Carolyn Long for Congress in 3rd District
---
THAT WASHINGTON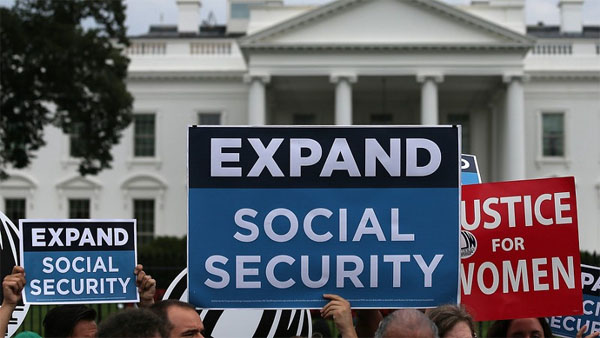 ► From HuffPost — Democrats have a big plan to fix Social Security. They might even vote on it. — For the first time in recent memory, a bill to expand Social Security benefits and close the program's long-term funding gap looks like it could pass the House of Representatives. The legislation's got a seasoned lawmaker carrying it, the support of more than 200 members and a vibrant grassroots movement behind it. And sometime this month, Rep. John Larson's (D-Conn.) Social Security 2100 Act may get a hearing before the full House Ways and Means Committee.
EDITOR'S NOTE — All seven of Washington's Democratic delegation to the House are co-sponsors of this bill.
► From CNN — Elizabeth Warren proposes major expansion of Social Security — Sen. Elizabeth Warren has unveiled a proposal to overhaul and expand Social Security, beefing up benefits with a hike in payroll and investment incomes taxes on some of the country's wealthiest households. Most significantly, it would immediately boost benefits by $200 a month for every Social Security recipient.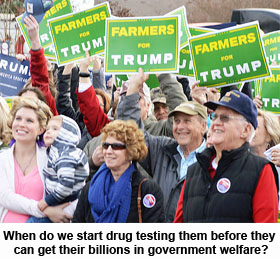 ► In today's Washington Post — Top Democrat attempts to block Trump from paying farm bailout money, setting up battle over trade war tactics — House Appropriations Committee Chair Nita Lowey (D-N.Y.) is proposing to block the White House request over its farm bailout program, potentially imperiling President Trump's ability to direct payments to thousands of farmers. The bailout program was created last year amid complaints from agriculture groups that China had stopped purchasing their crops in retaliation for new tariffs that the White House imposed on Chinese imports. Trump has ordered that billions of dollars in taxpayer funds be paid directly to farmers as a way to offset their losses. The bailout hadn't needed congressional approval up to this point, but that has changed.
► In today's Washington Post — U.S. can deny migrants asylum as legal fight continues, Supreme Court rules — The Trump administration can deny asylum requests from migrants who traveled through another country without seeking protection there, after the justices put on hold a lower court's ruling that the rule change could not be enforced pending additional legal action… Justices Sonia Sotomayor and Ruth Bader Ginsburg dissented: "Although this Nation has long kept its doors open to refugees — and although the stakes for asylum seekers could not be higher — the Government implemented its rule without first providing the public notice and inviting the public input generally required by law."
► In today's Washington Post — Sotomayor's brutal dissent unmasks an ugly truth about Trump (by Greg Sargent)
► In today's Washington Post — Trump pushed staff to deal with NOAA tweet that contradicted his inaccurate Alabama hurricane claim, officials say
---
NATIONAL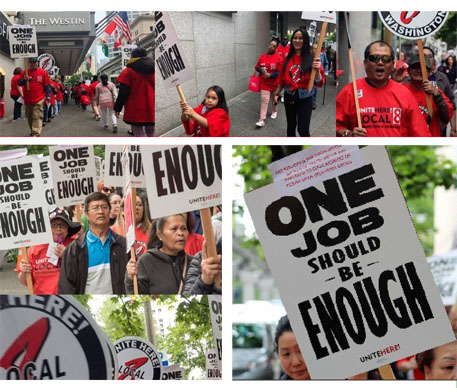 ► In today's NY Times — Thriving hotel industry scrambles for workers — The hotel industry is booming in the United States in pretty much every way, except in one that might matter most to guests: staffing. "This is the tightest labor market we've seen in a generation, at a time when demand for hotels has never been higher," says an industry lobbyist.
EDITOR'S NOTE — As the UNITE HERE union notes, "This is called leverage." If these hotels really want to attract and retain enough staff: One Job Should Be Enough! If you are a hotel or restaurant worker, and you want better wages and working conditions, contact a UNITE HERE organizer today! (If you work in some other industry, click here and we'll have an organizer contact you.)
► In today's NY Times — Nursing homes are a breeding ground for a fatal fungus — Drug-resistant germs, including Candida auris, prey on severely ill patients in skilled nursing facilities, a problem sometimes amplified by poor care and low staffing.
► In today's Washington Post — N.C. Republicans vote to override a budget veto in half-empty Assembly during 9/11 remembrance — Republicans had been unable to override the veto for about two months because of the presence of Democrats in the chamber.
---
The Stand posts links to Washington state and national news of interest every weekday morning by 10 a.m.
Short URL: https://www.thestand.org/?p=79923
Posted by
David Groves
on Sep 12 2019. Filed under
DAILY LINKS
. You can follow any responses to this entry through the
RSS 2.0
. Both comments and pings are currently closed.