Good jobs for good journalism ● Big Boeing bonuses ● All the president's men
Tuesday, October 1, 2019
---
LOCAL
► In today's (Vancouver) Columbian — Columbian news staff announce intent to unionize — Newsroom employees at The Columbian on Monday announced their intention to form a union to bargain collectively for wages, benefits and working conditions.
► From The Columbian Guild, via Twitter…
---
BOEING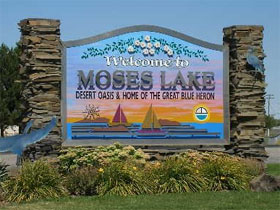 ► In today's PS Business Journal (subscription req'd) — Boeing dangles hefty bonuses to those who work on 737 MAX at Moses Lake — Boeing will pay its engineering union workers hefty bonuses for completing work on the 737 MAX airplanes parked at Moses Lake as it readies the stored jets for delivery to airlines… The longer Boeing workers stay at Moses Lake, the bigger the bonuses, according to an agreement signed by Boeing and SPEEA. The agreement covers work done through April 30, 2021 — offering potential insight into not only how long the 737 MAX recovery effort may take and how much extra labor costs the jet maker faces as it prepares to return the 737 MAX to service.
► In today's Seattle Times — Boeing CEO sees 'endgame' in effort to lift grounding of 737 MAX — Boeing is in the "endgame" of preparing its 737 MAX to return to the commercial market after two deadly crashes prompted a global grounding more than six months ago, CEO Dennis Muilenburg said.
► From the AP — Southwest pilots see February or March return of Boeing MAX — Pilot-union leaders at Southwest Airlines say it could be February or March before their airline resumes flights using the Boeing 737 MAX. That's much later than projected by either Southwest or Boeing. The union officials say it will take longer because of pilot-training needs.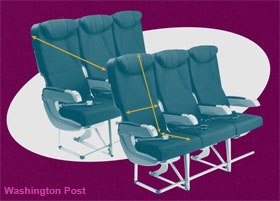 ► In today's Washington Post — Are airplane seats getting dangerously small? The FAA is about to find out. — This year, over the course of 12 days, 720 volunteers will go through the motions of every air traveler's nightmare: an emergency evacuation. The testing will take place in November at the FAA's Civil Aerospace Medical Institute, in Oklahoma City, and authorities will use the results to collect 3,000 data points. They will use that information, as mandated by last year's FAA reauthorization, to determine how small airplane seats can safely get, and how close rows of seats can be to one another. Under federal regulations, planes must be able to be evacuated within 90 seconds.
---
THIS WASHINGTON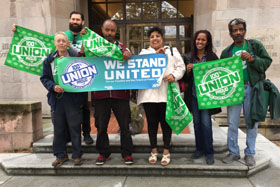 ► From WFSE — WFSE UW members ratify contract — After two years of bargaining, the Washington Federation of State Employees' University of Washington members have overwhelmingly ratified the final piece of their 2019-2021 contract. Once the UW management rejected the "contingent" funding provided by the Legislature, the parties returned to the table to bargain over what funding was indeed provided by the Legislature. The latest Agreement, which provides a lump sum of $700 for full time employees and $125 for part time workers, also must be approved by the Legislature.
► In the News Tribune — L&I fines The Evergreen State College $135,000 for asbestos, safety violations — L&I announced the fine on Friday after an inspection that began in spring 2019. Among L&I's findings: A maintenance team had an employee enter a steam vault and remove damaged asbestos-containing pipe insulation without adequate protections; the college required employees to work on electrical or powered equipment while the machinery could still operate; and violations for lack of eye protection, emergency eyewash requirements, and problems with the college's chemical hazard communication program.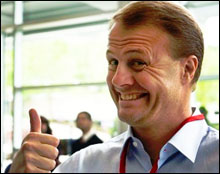 ► In today's Seattle Times — Firm ordered to pay more than $1 million after illegally funneling money to initiative activist Tim Eyman — A Thurston County Superior Court judge on Monday ordered a for-profit signature-gathering firm and its principal to collectively pay more than $1 million for deceiving Washington state residents by funneling their campaign donations to activist Tim Eyman for Eyman's personal use. State Attorney General Bob Ferguson said the campaign finance lawsuit was filed in 2017 after Citizen Solutions and its principal, William Agazarm, unlawfully concealed a $308,185 payment to Eyman. In his order, Judge James Dixon found that Agazarm "personally approved Citizen Solutions' kickback payment" to Eyman.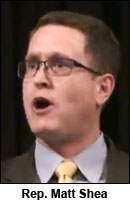 ► From The Stranger — Democrats increase pressure on corporations to cut ties with Rep. Matt Shea (by Rich Smith) — A new website that makes it easy for the public to shame corporations and PACS who have recently donated to Shea's campaigns. If you want to Tweet at Premera, Puget Sound Energy, Altria, the landlords, or his 15 other backers, then head on over here. Surprisingly, it's expensive to agitate for holy war from within the Republican Rarty. According to the Seattle Times, Shea has used a good chunk of campaign cash — $68,000, or "roughly 13% of all contributions he has raised" — to fund American Christian Network, the radio network that hosts his platform for spreading his Dominionist nonsense, Patriot Radio. So cutting his corporate donors is a meaningful thing to do.
► In today's Seattle Times — An Army veteran and Amazon manager will challenge Rep. Kim Schrier's reelection bid — Jesse Jensen, 35, a Republican, was set to announce his candidacy Tuesday morning. A senior program manager at Amazon since 2018, Jensen previously worked for Microsoft. He has not previously sought political office, but was an aide to Republican Sen. John Thune of South Dakota in the mid-2000s.
► In today's (Everett) Herald — One Republican era ends and soon another one will begin — Republican state Sen. Barbara Bailey (R-Oak Harbor) closed out her legislative career Monday. Six are vying to succeed her. On Thursday, the district's Republican PCOs will gather in Mount Vernon to nominate three people for the appointment.
---
IMPEACHMENT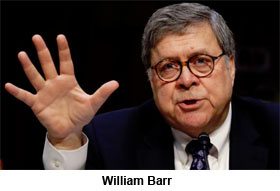 ► In today's NY Times — Trump pressed Australian leader to help Barr investigate Mueller inquiry's origins — Trump pushed the Australian prime minister during a recent telephone call to help Attorney General William P. Barr gather information for a Justice Department inquiry that Trump hopes will discredit the Mueller investigation. The White House curbed access to a transcript of the call — which the president made at Barr's request — to a small group of aides, one of the officials said. The restriction was unusual and similar to the handling of a July call with the Ukrainian president that is at the heart of House Democrats' impeachment inquiry.
► In today's Washington Post — Barr personally asked foreign officials to aid inquiry into CIA, FBI activities in 2016 — Barr's personal involvement is likely to stoke further criticism from Democrats pursuing impeachment that he is helping the Trump administration use executive branch powers to augment investigations aimed primarily at the president's adversaries.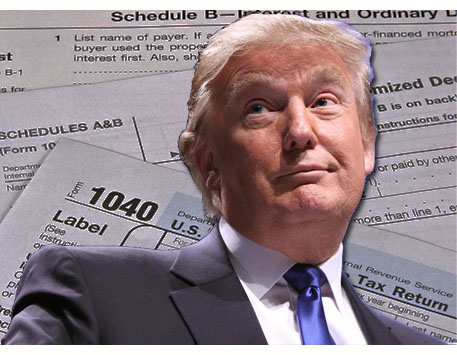 ► In today's Washington Post — There's another whistleblower complaint. It's about Trump's tax returns. (by Catherine Rampell) — This whistleblower alleges a whole different category of impropriety: that someone has been secretly meddling with the IRS's audit of the president. In defiance of a half-century norm, Trump has kept his tax returns secret. We don't know exactly what he might be hiding… The whistleblower offered credible allegations of "evidence of possible misconduct," specifically "inappropriate efforts to influence" the audit of the president.
► From Politico — Trump may have lied to Mueller, House Democrats say — Lawyers for the House of Representatives revealed on Monday that they have reason to believe that the grand-jury redactions in special counsel Robert Mueller's report show that President Donald Trump lied about his knowledge of his campaign's contacts with WikiLeaks.
---
NATIONAL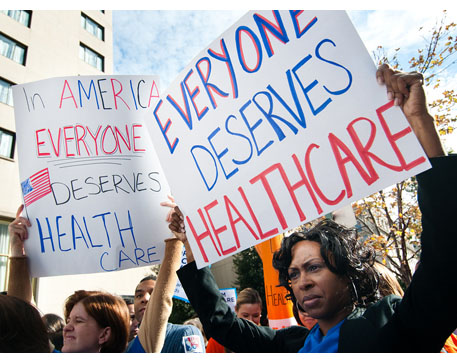 ► From Vox — Health care is getting more and more expensive, and low-wage workers are bearing more of the cost — Half of all Americans get their health insurance through work. Trouble is, doing so is becoming less and less affordable — especially for already low-wage workers. In 2019, the Kaiser Family Foundation Employer Health Benefits Survey — an annual account of roughly 2,000 small and large businesses' employer-sponsored insurance — found the average annual premium to cover a family through work was a whopping $20,576, and $7,188 for an individual. Employers cover most of that, but families still contributed an average of $6,015 in premiums, and single Americans covered about $1,242 of the annual cost. The kicker? Over the past 10 years, the cost of the portion of employer-sponsored health insurance premiums that falls on American families has increased by 71 percent. Overall, premiums have gone up 54 percent since 2009. That's faster than the rate of inflation and faster than the average wage growth.
EDITOR'S NOTE — Want more affordable health care? Get a union! Find out more information about how you can join together with co-workers and negotiate a fair return for your hard work, including health insurance that you and your family can afford. Contact a union organizer today!
► From Newsday — 1,200 employees at NYU Winthrop vote to join SEIU Local 1199 — About 1,200 workers at NYU Winthrop Hospital will join a health care union after voting 817 to 142 to join.
► In the Sacramento Bee — California child care workers gain new union rights to bargain with the state for higher pay — Tens of thousands of California child care providers gained new rights to bargain for better wages and health benefits under a new law Gov. Gavin Newsom signed on Monday.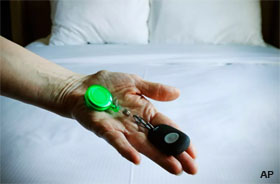 ► From Vox — How a button became one of the greatest #MeToo victories — Since the #MeToo movement took off in 2017, thousands of hotel housekeepers in eight major U.S. cities and two states have fought for — and won — panic buttons to use at work. It's an easy, straightforward solution to keeping workers safe. It's also one of the biggest victories for workplace harassment in any industry. But that doesn't mean the fight is over. While some hotel chains have rolled out panic buttons for some workers, it wasn't of their own accord. So far, these safety measures are mostly happening at hotels where housekeepers are unionized. Workers have had to fight for the panic buttons during contract negotiations. They've even had to go on strike. It's been up to the workers themselves to lead the charge.
► From Vox — Elon Musk broke U.S. labor laws on Twitter — A California judge ruled Friday that the Tesla CEO and other company executives have been illegally sabotaging employee efforts to form a union.
► From Omaha Public Radio — U.S. income inequality worst in 50 years — New figures from the U.S. Census Bureau show the gap between the richest and poorest Americans is the largest in the past 50 years.  The widening gap comes despite an economy with more than ten consecutive years of GDP growth and the lowest unemployment since the late 1960s.
EDITOR'S NOTE — It's gotten significantly worse since this was made seven years ago…
---
The Stand posts links to Washington state and national news of interest every weekday morning by 10 a.m.
Short URL: https://www.thestand.org/?p=80446
Posted by
David Groves
on Oct 1 2019. Filed under
DAILY LINKS
. You can follow any responses to this entry through the
RSS 2.0
. Both comments and pings are currently closed.