Grocery deal near ● Approve I-1000/R88 ● Boeing CEO testifies
Tuesday, October 29, 2019
---
LOCAL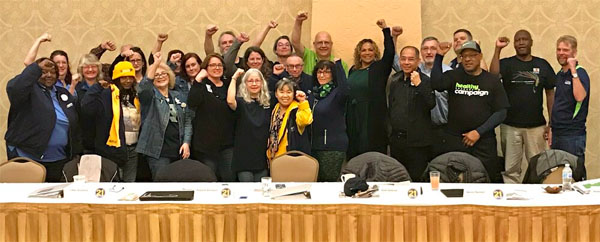 ► From UFCW 21 — Grocery store bargaining update: Exciting news! — After more than six months of negotiations, hundreds of actions leafleting and picketing in front of our stores, wearing solidarity buttons, handing out 25,000 Better Jobs-Better Communities union grocery store bags to our customers, and joining together with other UFCWs up and down the West Coast, we are pleased to announce that we have reached a Tentative Agreement with the employers, pending one last step. This final critical step will be for Kroger and Safeway/Albertsons to work out the remaining details to the long-term pension agreement.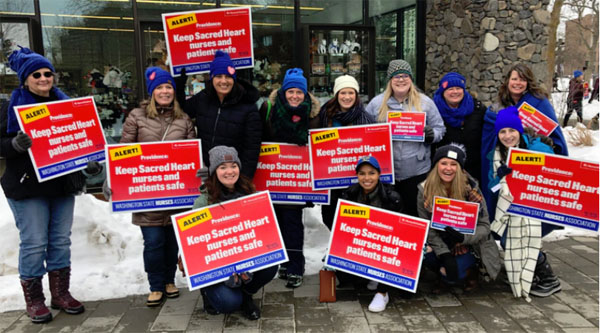 ► From WSNA — Providence Sacred Heart nurses vote to authorize strike — After two days of voting, Sacred Heart members of the Washington State Nurses Association voted overwhelmingly to authorize a strike. The vast majority of the 1,900 Sacred Heart registered nurses turned out for the vote. Nurses are sending a loud and clear message to Providence that they are willing to do whatever it takes to get a fair contract, including going on strike. When a strike is called, WSNA will give the legally required 10-days' notice to Providence Sacred Heart in Spokane prior to the strike.
► In the Spokesman-Review — Sacred Heart nurses vote to authorize a strike; next negotiation set for Tuesday — Nurses at Providence Sacred Heart Medical Center voted overwhelmingly to authorize a strike, the Washington State Nurses Association announced late Friday night. The next negotiation date for WSNA with Providence officials is set for Tuesday.
► From the AP — Sumner-Bonney Lake schools reopen after paraeducators strike resolved — The Sumner Paraeducators Association approved a new three-year contract after a strike canceled class for two days. The Sumner-Bonney Lake School District will resume school Tuesday. Paraeducators attribute their new contract to support from the community, other unions and their own teachers.
---
ELECTION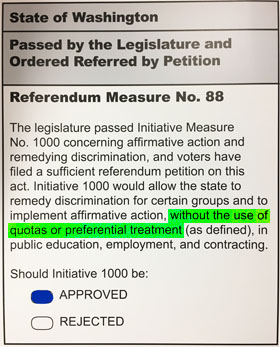 ► In today's (Everett) Herald — R-88 will fairly promote racial, gender diversity (editorial endorsement) — Voters should note that I-1000's adoption would bring the state in line with the practice of 42 other states as well as that of private employers, who depend on recruitment efforts and outreach to minority candidates to build inclusive and diverse workforces… I-1000 makes necessary changes to I-200, while honoring its call for fairness and equality. Voters should pass R-88 and its adoption of I-1000.
► From the AP — Washington state to vote on affirmative action referendum — April Sims, co-chair of the Washington Fairness Coalition, said that I-1000 is needed because the fact that the attorney general was asked to weigh in shows that "the language in I-200 wasn't clear." She said voting to approve the initiative through next month's referendum would clarify what state agencies and universities can do to diversify their workforce. "This gives us the opportunity to level the playing the field," she said.
► From KNKX — After more than 20 years, affirmative action returns to Washington's general election ballot — The vote will test whether attitudes about affirmative action have changed over the past two decades.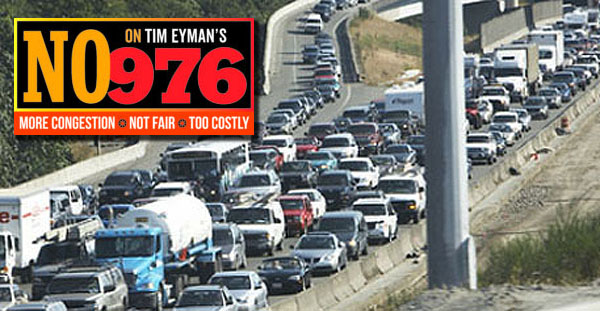 ► In the Bellingham Herald — I-976 would cut "car tabs" to $30, but here's what officials say will be cut in Whatcom — Initiative 976, the "car-tab" measure on the Nov. 5 ballot, could mean deep cuts for mass transit, road work and other transportation projects in Whatcom County, officials said last week. Hardest-hit would be Whatcom Transportation Authority's bus services, funding for rural Whatcom County roads, and for the Lummi Island ferry.
► In the News Tribune — Hundreds of Pierce County voters received 2 ballots for the upcoming general election — The Pierce County Auditor's Office has fixed record-keeping to ensure hundreds of Pierce County voters who received duplicate ballots for the Nov. 5 election can't vote twice.
---
BOEING
► In today's Seattle Times —Boeing CEO must have answers about the 737 MAX as he faces congressional scrutiny this week — Boeing's CEO Dennis Muilenburg faces two days of grilling by U.S. lawmakers about the failures of the planemaker's 737 MAX jet, two of which crashed within just a few months of each other, killing all aboard.
MORE coverage in the NY Times and Washington Post.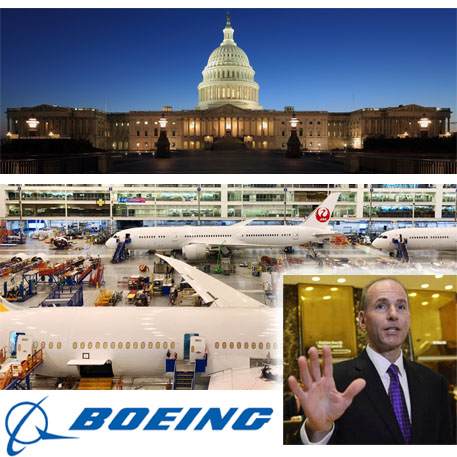 ► In the NY Times — Boeing shaped a law to it liking. Weeks later, a 737 MAX crashed. — With a few short paragraphs tucked into 463 pages of legislation last year, Boeing scored one of its biggest lobbying wins: a law that undercuts the government's role in approving the design of new airplanes. For years, the government had been handing over more responsibility to manufacturers as a way to reduce bureaucracy. But those paragraphs cemented the industry's power, allowing manufacturers to challenge regulators over safety disputes and making it difficult for the government to usurp companies' authority. In a stark warning as the bill was being written, the Federal Aviation Administration said that it would "not be in the best interest of safety."
A labor group representing agency inspectors raised concerns that the rules would turn the F.A.A. into a "rubber stamp" that would only be able to intervene after a plane crashed "and people are killed." Weeks after the law was passed, a Boeing 737 Max jet crashed off the coast of Indonesia, killing everyone on board. A second Max crashed in Ethiopia less than five months later, and the plane was grounded.
► In the (Everett) Herald — When an airplane design is questioned, Boeing gets defensive — The company's reaction to the 737 Max accidents follows a familiar pattern of deflecting blame.
---
THIS WASHINGTON

► In today's Seattle Times — Pharma sells Washington state and others on 'Netflix model' to wipe out Hep C. But the cost is being kept from the public. — The price and other details of the deal between Washington state and a drugmaker selling medicine to eradicate hepatitis C infections are secret under the Washington state Public Records Act — even though they involve a massive commitment of taxpayer dollars.
---
THAT WASHINGTON
► In today's Washington Post — Payday lenders discussed raising money for Trump's campaign to fend off regulation, audio reveals — The recording of a webinar offers a frank insight into the industry's strategy for advocating for weaker government regulations by forging a tight relationship with the Trump administration and the president's campaign.
EDITOR'S NOTE — No doubt there are dozens of corporate sectors that are also doing this. These are multinational corporations that don't care about America's integrity, national security, or lawlessness in the White House. They only care about their profits.
► In today's Washington Post — White House official feared Trump's Ukraine demands would undermine national security — "I did not think it was proper to demand that a foreign government investigate a U.S. citizen," Lt. Col. Alexander S. Vindman, who is testifying before House impeachment investigators, says in a draft of his opening statement.
---
NATIONAL
► In today's Chicago Tribune — Still no deal for Chicago Teachers Union, city after marathon talks as walkout enters 9th day: 'We're not there yet' — Striking Chicago teachers were marching to the site of the Lincoln Yards megadevelopment Tuesday morning, kicking off their walkout's ninth day by directing scorn at the $6 billion North Side project as the union continues demanding more funds for the district.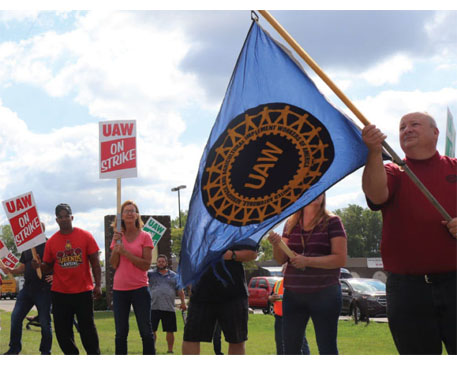 ► From CNBC — UAW strike cost GM about $3.8 billion for 2019, substantially higher than estimated — A 40-day strike by the United Auto Workers union against General Motors cost the automaker about $3.8 billion for the year and $1 billion for the third quarter, higher than some Wall Street analysts had estimated.
► In the NY Times — 40 days, thousands of jobs: The GM strike from the picket lines — Our photographer spent the last month with autoworkers in Flint, Mich., who went on strike for better wages and job security. Here's what she saw.
---
TODAY'S MUST-READ
► In the Washington Post — We are in a fight for the soul of our democracy. Our civil servants will save us. (by Elijah E. Cummings, adapted from a foreword that Cummings wrote July 17 for a forthcoming book) — As I pen these words, we are living through a time in our nation's history when powerful forces are seeking to divide us one from another; when the legitimacy of our constitutional institutions is under attack; and when factually supported truth itself has come under relentless challenge. I am among those who have not lost confidence in our ability to right the ship of American democratic life, but I also realize that we are in a fight — a fight for the soul of our democracy…. From my more than two decades of experience performing  government oversight, I can confirm that our nation's federal employees deserve our respect, gratitude and support.
---
The Stand posts links to Washington state and national news of interest every weekday morning by 10 a.m.
Short URL: https://www.thestand.org/?p=81236
Posted by
David Groves
on Oct 29 2019. Filed under
DAILY LINKS
. You can follow any responses to this entry through the
RSS 2.0
. Both comments and pings are currently closed.