Got your ballot? See labor's endorsements and mail it in!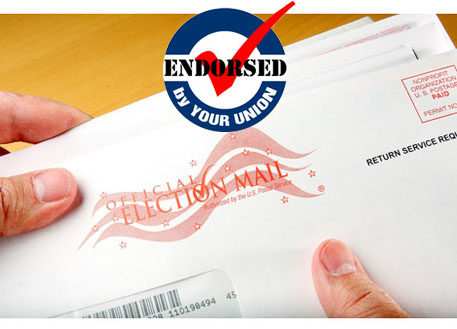 (Oct. 16, 2019) — Got your ballot?
County auditors around Washington state are mailing ballots to voters this week, so it'll be arriving soon. And union voters are being urged to fill them out right away and return them.
The Washington State Labor Council, AFL-CIO and the state's regional Central Labor Councils have recommendations for union members' consideration. The WSLC makes endorsements in races for Congress, statewide offices and judicial races, state legislature, and statewide ballot measures. The 2019 election is mostly for county and city offices, which are the jurisdiction of Central Labor Councils. So see the CLC endorsements listed below.
The WSLC has made the following endorsements:
---
Sen. Liz Lovelett for State Senate
The WSLC has endorsed Washington State Sen. Liz Lovelett (D-Anacortes) in her bid to retain the 40th Legislative District seat in this fall's special election. She was appointed to the Senate in February following the resignation of Sen. Kevin Ranker.
"Senator Lovelett has been a champion for working families from the moment she arrived in Olympia," said WSLC President Larry Brown. "She has already emerged as a leader on fixing our state's regressive tax code, supporting public schools and colleges, and this year's passage of the job-creating 100% clean energy bill. Washington's labor movement is proud to support Liz Lovelett's candidacy and we look forward to sharing her strong voting record with our members in Northwest Washington." Read more.
---
Initiative 976 –

NO
This Tim Eyman initiative would limit Motor Vehicle Excise Taxes (MVET) to $30. If approved, it will cut funding for transportation infrastructure in every corner of the state, including safety projects, road maintenance, transit service, expansion of light rail, ferry service, and even the Washington State Patrol. It would also cost many cities and towns across the state the local funds they spend to repair and maintain roads and transportation services. VOTE NO on I-976.
---
Initiative 1000 / Referendum 88 –

APPROVE
I-1000/Ref. 88 restores fairness and opportunity to our state's contracting, public employment, and education enrollment policies. Washington is one of only 8 states that bans affirmative action outreach and recruitment for qualified women, veterans, persons with disabilities, seniors, and people of color. In the 20 years since those protections were rolled back, state spending on contracts for women and minority owned businesses has dropped from 10% to just 3% — a devastating $3.8 billion loss of revenue since 1998. Under I-1000, quotas and preferential treatment remain prohibited. I-1000 simply allows outreach and recruitment of veterans, women, minorities and others who get left behind. APPROVE I-1000/Ref. 88.
Union members are also encouraged to check out ballot measure flyers with additional information about why the recommendations were made.
---
AFL-CIO Central Labor Council endorsements
Cowlitz-Wahkiakum Central Labor Council
MLK Labor (King County)
North Central Washington Central Labor Council (Chelan, Douglas)
Northwest Washington Central Labor Council (Whatcom, Skagit)
Pierce County Central Labor Council
Snohomish & Island County Labor Council
Southwest Washington Central Labor Council (Clark)
Spokane Regional Labor Council
Thurston-Lewis-Mason Central Labor Council
If your CLC isn't listed here, contact your local Central Labor Council to see if they have any 2019 election recommendations.
Short URL: https://www.thestand.org/?p=80933
Posted by
David Groves
on Oct 16 2019. Filed under
ELECTION
. You can follow any responses to this entry through the
RSS 2.0
. Both comments and pings are currently closed.