Providence still facing strikes ● Pelosi PROcrastinates ● Amazon maims
Monday, December 2, 2019
---
LOCAL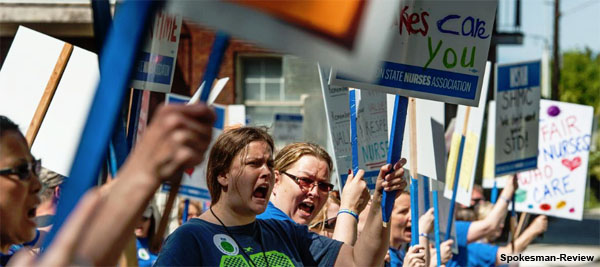 ► In the Spokesman-Review — Sacred Heart nurses prepare for strike as Tri-Cities nurses reach tentative agreement — A group of unionized nurses in the Tri-Cities reached a tentative contract agreement with Providence officials Monday night, but their counterparts at Spokane's Sacred Heart Medical Center are continuing to prepare to strike. Nurses and health care workers at Providence facilities statewide have authorized strikes, and the bargaining unit at Kadlec is the first to reach a tentative agreement.
ALSO at The Stand — Kadlec nurses win major victory with tentative agreement
► In the Seattle Times — Carrying coffins, Sea-Tac airline catering employees demand better wages on eve of busy travel day — In concert with thousands of picketing airline kitchen workers around the country, more than 100 airline catering workers organized a funeral procession — complete with coffins and a brass band playing mournful marches — to Seattle-Tacoma International Airport on Tuesday night, where they called for higher wages. "This is a life or death issue," said Stefan Moritz, the secretary of the workers' union, Unite Here Local 8. "Workers are struggling to make the most basic ends meet. Workers are tired and stressed. Workers are constantly working overtime."
MORE in the Nevada Current — Labor steps up pressure on American Airlines, catering companies — Airline catering employees at 17 U.S. airports are demanding American Airlines pressure its catering companies to resolve a labor dispute.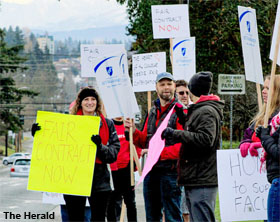 ► In the (Everett) Herald — EdCC teachers picket for pay raises as negotiations stall — A group of about 20 faculty members at Edmonds Community College picketed and called on college administrators to meet their demands for higher salaries. "We can't keep putting students first if faculty can't get a living wage," said Gabrielle McIntosh, a full-time math instructor. The union's contract with the school ended in July and negotiations for increased pay aren't going anywhere, members said.
---
THIS WASHINGTON

► From the AP — King County judge blocks Tim Eyman's $30 car-tab measure — A judge on Nov. 27 blocked Tim Eyman's $30 car tab measure from taking effect in Washington state while cities and counties challenge its legality, citing "substantial concerns" that the initiative's description on the ballot was misleading. He ordered Washington state to cease efforts to implement the initiative on Dec. 5, when it was due to take effect, pending further orders.
► In the (Everett) Herald — State delays funding for local projects in the wake of I-976 —  The state Department of Transportation halted more than two dozen projects across the state as the agency deals with a potential loss of revenue from the passage of I-976. Funding allocated to dozens of local municipalities and transit agencies also has been delayed for at least six months.
► In the Kitsap Sun — DOT delays Bremerton, Poulsbo road projects after I-976
► In the Seattle Times — Eyman says he'll run for governor as an independent
► In the Seattle Times — Just when it couldn't get any worse for state Republicans, along comes their old friend Eyman (by Danny Westneat)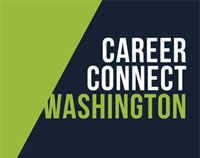 ► In the Seattle Times — Washington's new career-education programs are off the ground, but how will the state regulate them? — How do you create equitable programs, and avoid "tracking" only certain student groups into skilled labor? School districts across the state are asking such questions as the state's new public-private initiative, called Career Connect Washington, goes into full swing. The program, launched in March, is intended to give high-school students and young adults real-world skills through a wealth of career programs.
► From the Olympian — Here's why state Rep. Jeff Morris resigned suddenly — State Rep. Jeff Morris (D-Mt. Vernon) resigned from the Legislature on Nov. 27 — the second 40th District legislator to resign this year. He's been hired with Schneider Electric, a Fortune 500 firm headquartered near Paris with offices on Mercer Island.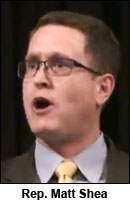 ► From the L.A. Times via the Olympian — Far-right Washington state lawmaker faces backlash against white nationalism — Rep. Matt Shea, a six-term Republican from Spokane Valley, distributed a document last year telling Christians to "kill all males" if gay people and abortion advocates don't yield to fundamentalist religious law after the U.S. government collapses. Shea commands more influence than his state legislative role would suggest, speaking nationally and attracting wide attention in far-right and white supremacist circles.
ALSO at The Stand — It's up to Republicans to hold Rep. Matt Shea accountable (March 21, 2016)
---
INTERNATIONAL TRADE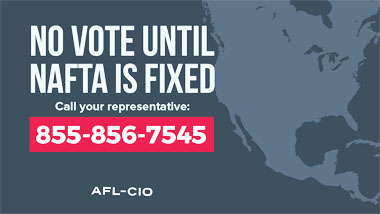 ► In today's NY Times — Trump's trade deal steals a page from Democrats' playbook — House Democrats return to Washington on Monday facing a difficult choice: Should they hand Trump a victory in the midst of a heated impeachment battle or walk away from one of the most progressive trade pacts ever negotiated by either party? … After months of talks, including through the Thanksgiving break, both sides say they're in the final phase of negotiations. But Democrats insist the administration must make more changes to the labor, environmental and other provisions before Speaker Nancy Pelosi will bring legislation implementing the new United States-Mexico-Canada Agreement to a vote.
ALSO at The Stand — Call today: No NAFTA 2.0 vote until it's fixed
► In today's Washington Post — Trump will reimpose steel and aluminum tariffs on Brazil and Argentina, opening new trade war fronts — The surprise announcement came after it appeared as though the White House was preparing to dial back its adversarial trade approach in the lead up to next year's election. The administration appeared close to a deal with House Democrats to revamp the NAFTA, and tensions with China had eased in recent weeks.
► Meanwhile, from the AP — U.S. manufacturing contracts for 4th straight month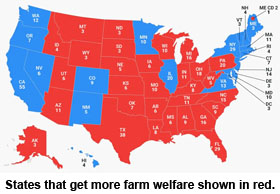 ► In the Seattle Times — Fix the unfair trade-war farm bailouts (editorial) — Washington crop growers have been given short shrift by the U.S. Department of Agriculture. A new report showed that in the first round of trade-crisis relief payments, farmers in some Southern states have already received more than $50 per acre on average while Washington farmers were sent less than $10 an acre.
► In the Seattle Times — 'Nothing matters': Even a $2.4 billion hit to Washington state and a huge taxpayer bailout can't move the political needle (by Danny Westneat) — "The tariff wars are a $2.4 billion hit on Washington households" annually, testified the state's trade adviser. "That comes out to about a thousand-dollar-a-year hit on (each) Washington household." And we're upset about our car tabs… The federal government's trade war bailout, a $25 billion farm-support program, will likely cost about twice the Obama administration's auto-industry bailout back in 2009. But there's not a peep of protest, and support for Trump among those struggling most from the trade war — farmers — seems only to be rising, recent polls show. "I'm not in favor of everyone going to college for free, or getting health care for free," one farmer said. "Someone has to pay the bill."
---
THAT WASHINGTON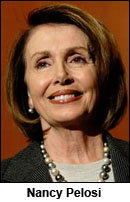 ► From The Intercept — Pelosi pushes House to pass USMCA, but neglects a bill with broad support to strengthen unions — A top priority for labor has been sitting quietly on House Speaker Nancy Pelosi's desk and, unlike the USMCA, already commands enough support to get it over the House finish line. The Protecting the Right to Organize Act would be the most comprehensive rewrite of U.S. labor law in decades. It would eliminate right-to-work laws, impose new penalties on employers who retaliate against union organizing, crack down on worker misclassification, and establish new rules so that employers cannot delay negotiating collective bargaining contracts. Introduced by Rep. Bobby Scott (D-Va.) in May, it already has 215 co-sponsors in the House and 40 in the Senate. The PRO Act passed the House Committee on Education and Labor on Sept. 25 on a party-line vote. But two months later, Pelosi has still not moved to bring the bill to the House floor, nor has she given any indication of when she would. Her office did not return requests for comment. "I don't know exactly what the holdup is — it is taking longer than it should given the number of co-sponsors that we have," said Rep. Pramila Jayapal, co-chair of the House Progressive Caucus. "Many other bills have come to the floor with fewer co-sponsors than this one."

EDITOR'S NOTE — Sen. Patty Murray (D-WA) is the sponsor of the Senate version of the PRO Act and Sen. Maria Cantwell (D-WA) is a co-sponsor. All seven of Washington's Democratic House members are co-sponsors as well.
► From Truthout — Corporate spies are watching organized labor — Lots of employers would like to put union organizing campaigns under surveillance. And they'll have their chance if the NLRB gives corporations a free hand to snoop on employees, as two of the board's right-wing members, John Ring and Marvin Kaplan, evidently want to do. They want to reconsider the longtime ban on labor spying… Surveillance intimidates employees. It can kill organizing efforts. If corporations get the green light to spy on workers, they'll have an easier time ferreting out organizing campaigns and bullying employees into dropping them.
---
NATIONAL
► In today's LA Times — One of California's most powerful labor unions is feuding with Gov. Gavin Newsom — As the end of his first year in office nears, the governor has found himself on the wrong side of one of the most formidable factions of organized labor at the Capitol — the State Building and Construction Trades Council of California — in a fight that could threaten his agenda to address the state's housing crisis and test the trades' political muscle in Sacramento.
► From The Independent — 'Crucial witness' in Hard Rock Hotel collapse is deported by ICE — He may have been targeted for deportation because he voiced concerns about the New Orleans project's safety.
---
HAPPY HOLIDAYS!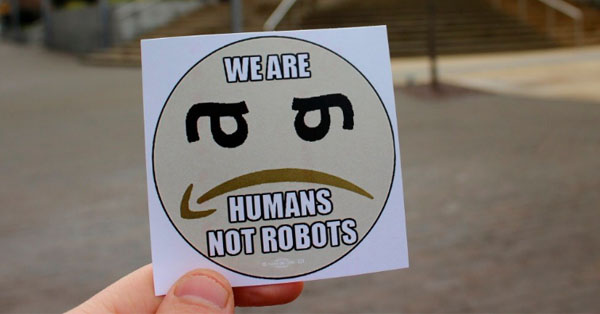 ► From The Atlantic — Ruthless quotas at Amazon are maiming employees — Amazon's famous speed and technological innovation have driven the company's massive global expansion and a valuation well over $800 billion. It's also helped make Amazon the nation's second-largest private employer behind Walmart, and its CEO, Jeff Bezos, one of the richest humans on Earth. Now an investigation by Reveal from the Center for Investigative Reporting has found that the company's obsession with speed has turned its warehouses into injury mills. Reveal amassed internal injury records from 23 of the company's 110 fulfillment centers nationwide. Taken together, the rate of serious injuries for those facilities was more than double the national average for the warehousing industry: 9.6 serious injuries per 100 full-time workers in 2018, compared with an industry average that year of 4.
---
The Stand posts links to Washington state and national news of interest every weekday morning by 10 a.m.
Short URL: https://www.thestand.org/?p=82026
Posted by
admin
on Dec 2 2019. Filed under
DAILY LINKS
. You can follow any responses to this entry through the
RSS 2.0
. Both comments and pings are currently closed.