Boeing culture change ● Local Dem a 'no' on PRO ● U.S. corporations vs. America
Thursday, January 16, 2020
---
BOEING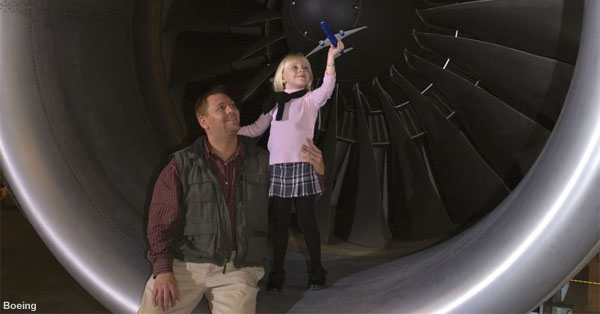 ► In today's Seattle Times — Boeing needs massive culture change (editorial) — The public examination of the 737 MAX debacle revealed symptoms of corporate decline that should have triggered drastic change long ago. The 117 pages of internal messages from 2015-18 released Jan. 9 show how deeply mistrust and cynicism spread among Boeing employees. The frank worker-to-worker assessments of shoddy safety oversight, easily misled regulators and profit-driven haste add damning detail to Boeing's existential crisis… New Boeing CEO David Calhoun and other Boeing leaders must restore the principled vision Boeing embraced for decades atop the world's aviation industry.
EDITOR'S NOTE — That culture change should start with Boeing's short-sighted, profit-driven efforts to bust its employee unions…
► In today's Seattle Times — Boeing pilot union decertification vote postponed as SPEEA files charge — A vote to decide if a small group of Boeing safety and flight-training pilots in the Seattle area will leave their union has been postponed, pending an investigation into a union charge that Boeing violated labor laws and manipulated its members. SPEEA charges that Boeing offered large pay raises only to nonunion pilots late last year, and promised a 25% pay raise to the union pilots if they decertify.
► In today's Seattle Times — Boeing orders from China could resume now that trade deal is signed — The "phase one" trade deal signed by the U.S. and China Wednesday is expected to unblock an informal halt to Chinese orders for Boeing jets that had begun to affect the manufacturer's long-term production plans, and it could lead to big orders in 2020 and 2021.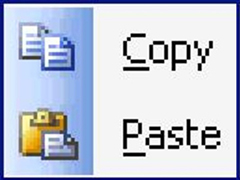 ► From Politico — Industry-led 737 MAX panel defends Boeing, FAA — A DOT panel reviewing two Boeing 737 MAX crashes overseas largely exonerated the FAA and Boeing for the way the plane was certified as safe to fly, calling the system "effective" and urging Congress not to "dismantle" it, in a report issued Thursday. The panel, chartered by DOT Secretary Elaine Chao, strongly defended the FAA program that allows manufacturers to certify large swaths of their own planes with FAA oversight. The report, which was authored by five aviation industry insiders, in some instances quotes previous FAA talking points word-for-word.
---
LOCAL
► From KUOW — Labor shortage, fall weather stack up to leave apples rotting in Washington orchards — There was a shortage of picking crews — the whole nation's labor market is tight. Plus, an October freeze hammered Washington orchard managers, biting into thousands of still unharvested acres. Experts say the Trump administration's tariffs are not to blame for this one.
EDITOR'S NOTE — Perhaps. But Trump's hostile immigration policies are.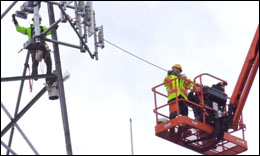 ► In today's Tri-City Herald — Appeal filed over $4 billion Hanford contract. More uncertainty for 2,000 workers. — The award of a $4 billion Hanford contract for sitewide services has been appealed to the Government Accounting Office, delaying the transition to a new contractor. On Dec. 16 the Department of Energy announced it was awarding the 10-year contract for site services to Mission Integration Solutions, a company with much of the same ownership as the company with the expiring contract, which employs about 1,950 people. Now an appeal has been filed by Hanford Integrated Infrastructure Services Contractor, a subsidiary of Huntington Ingalls Industries.
► In the Wenatchee World — Wenatchee Valley College union delivers its demand: fire Richardson — The Wenatchee Valley College faculty union on Wednesday formally demanded the school's board of trustees fire President Jim Richardson over a $1 million financial crisis that's led to 21 layoffs and other cuts.
---
THIS WASHINGTON

► In today's Seattle Times — Last year, Washington lawmakers made college free for some. This year, they want to make it more accessible. — If last year was about bringing down the cost of college, this session is about making sure people can take advantage of it. To start, lawmakers hope to simplify the college-application process and make it easier to access financial aid.
► In today's Spokesman-Review — Student immigration status would be protected under Senate bill — A student's immigration or citizenship status would be protected and law enforcement officers couldn't access it without a valid judicial warrant under a bill being considered by a Senate panel.
► In the NW Labor Press — Oregon Democrats meet with public workers whose retirement contributions they voted to cut — In the basement at Oregon AFL-CIO headquarters, Oregon's House Speaker Tina Kotek and fellow Portland House Democrat Rob Nosse came face to face Jan. 10 with several dozen public workers whose retirement savings they voted to cut last year. It was a gloomy meeting that left no one satisfied.
---
THAT WASHINGTON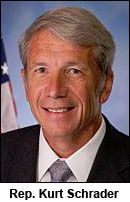 ► From the NW Labor Press — Oregon AFL-CIO ramps up pressure on Rep. Kurt Schrader to get behind labor law reform — The Oregon AFL-CIO is asking union members, their families, and friends to call Oregon U.S. Rep. Kurt Schrader (D-5th District) and urge him to support legislation that will give workers additional protections to organize and have a voice on the job. The Protecting the Right to Organize (PRO) Act (H.R. 2474) would protect the right to strike, prevent misclassification of workers as independent contractors, increase penalties for retaliation, and more. Currently it has 219 bipartisan sponsors and co-sponsors in the U.S. House. It is supported by every Democratic member of Congress from Oregon except five-term incumbent Schrader, who has indicated he does not plan to vote for the bill.
EDITOR'S NOTE — All seven Democratic members of Washington's congressional delegation are among the 219 sponsors and co-sponsors of the PRO Act, which is expected to get a House vote by mid-February. No Republicans from either state have indicated they support the PRO Act.
► From the NW Labor Press — We need labor law reform (by Oregon AFL-CIO President Graham Trainor) — If lawmakers want to be a champion for workers, if they want to get real about fixing economic inequality, they MUST prioritize making it easier for more workers to join unions immediately. Workers have been told to wait for change for far too long.
► From the Chicago Maroon — More than 12,000 comments submitted on NLRB rule as deadline looms — The National Labor Relations Board collected more than 12,000 comments about a proposed federal rule that could hamper graduate student unionization efforts across the country—more than any other rule proposed by the NLRB in 2019. Following an extension of the comment period in November, the deadline to receive those comments was Wednesday, Jan. 15.
The Stand (Dec. 2, 2019) — Help academic student employees fight back!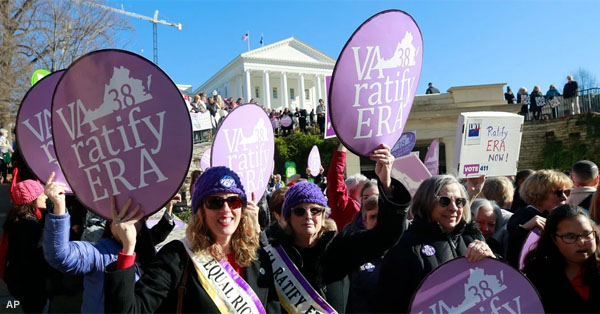 ► In today's NY Times — Virginia approves the ERA, becoming the 38th state to back it — Virginia on Wednesday became the 38th state to approve the Equal Rights Amendment, a symbolic victory for those who for generations have been pushing for a constitutional guarantee of legal rights regardless of sex. Virginia's decision does not seal the amendment's addition to the United States Constitution. A deadline for three-quarters, or 38, of the 50 states to approve the E.R.A. expired in 1982, so the future of the measure is uncertain, and experts said the issue would likely be tied up in the courts and in the political sphere for years.
► From HuffPost — Americans are shrugging over Trump's big new trade deal — Americans' opinions of the USMCA trade deal are the survey version of a tolerant shrug, a new HuffPost/YouGov survey finds: 44% favor it, 11% oppose it and 44% are unsure. Fewer than a quarter report holding a strong opinion on it.
► In today's NY Times — Another disability disaster in the making (by Jonathan M. Stein) — The Trump administration's proposal to restrict eligibility of adults and children currently receiving Social Security disability benefits would repeat one of Ronald Reagan's most damaging mistakes.
TAKE A STAND — Submit a comment to the Social Security Administration opposing this proposal.
---
IMPEACHMENT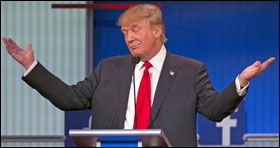 ► In today's Washington Post — New revelations as Senate impeachment trial is set to begin — The White House violated federal law in its hold on security aid to Ukraine last year, according to the Government Accountability Office, a nonpartisan agency that reports to Congress. The GAO decision comes as the Senate prepares for the impeachment trial of President Trump, a process set to begin Thursday.
► In today's Washington Post — Eyeing swift trial, Trump's legal team aims to block witnesses — The White House has accepted the idea that senators should make quick work of acquitting Trump.
► From Politico — Lev Parnas: Trump 'knew exactly what was going on' in Ukraine — The associate of Rudy Giuliani also leveled accusations against Vice President Mike Pence and Attorney General William Barr.
---
NATIONAL
► From the LaborPress.org — W.Va. Supreme Court to rule on union-shop ban — The West Virginia Supreme Court heard oral arguments Wednesday on the state's appeal of a lower-court decision striking down its 2016 law banning the union shop. The state AFL-CIO challenged the so-called "right-to-work" law's constitutionality just before it went into effect, arguing that it was an unconstitutional "taking" of unions' property because it would allow nonmembers to gain the benefits of union representation without paying agency fees.
---
TODAY'S MUST-READ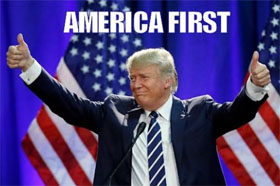 ► From The Guardian — American firms aren't beholden to America – but that's news to Trump (by Robert Reich) — Trump doesn't understand a basic reality of today's global economy: the profitability and competitiveness of American corporations aren't the same as the wellbeing and competitiveness of Americans. American corporations have no particular obligation to the United States. They're obligated to their shareholders. About 30% of the shareholders of large American corporations aren't even American. As global money sloshes ever more quickly across borders, that percentage is growing. The 500 largest corporations headquartered in the United States are steadily becoming less American. A full 40% of their employees live and work outside the United States. They sell and buy components and services all over world. They do research wherever they find talented engineers and scientists.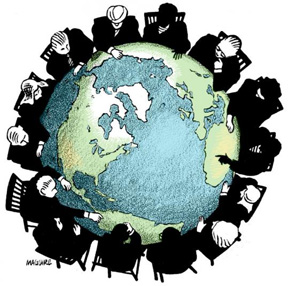 The reality is that leading global corporations like Tesla, GE, Google and Facebook will create good, high-wage jobs in the United States (or in Britain, Australia, or anywhere else you may be reading this) only if those countries' inhabitants are clever and productive enough to make it profitable for them to do so. This means that the real competitiveness of the United States depends on the creativity and productivity of Americans. That in turn depends on Americans' education (including the basic research that's done in national labs and universities), health and the infrastructure connecting them to one another. But the American workforce is hobbled by deteriorating schools, unaffordable college tuitions, decaying infrastructure, soaring healthcare costs and diminishing basic research. All of which is putting most Americans on a path toward second-rate jobs in the global economy.
---
The Stand posts links to Washington state and national news of interest every weekday morning by 10 a.m.
Short URL: https://www.thestand.org/?p=82978
Posted by
David Groves
on Jan 16 2020. Filed under
DAILY LINKS
. You can follow any responses to this entry through the
RSS 2.0
. Both comments and pings are currently closed.