Proof that it pays to join together in unions
As union membership stays strong in Washington, a new report finds that union members make 23% more money and have better benefits.
By DAVID GROVES
The Stand
SEATTLE (Jan. 23, 2020) — A recent national study ranked Washington No. 1 in its 2019 edition of its States With the Strongest Unions. The latest federal data on union membership shows why our state remains "Union Strong!"
The U.S. Department of Labor's Bureau of Labor Statistics (BLS) released its 2019 union membership report Wednesday, and although the number of union members in Washington dropped slightly from 649,000 in 2018 to 638,000 last year, the Evergreen State maintains its position as the third most unionized state in the nation.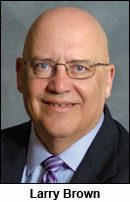 At 18.8 percent of the workforce, Washington's unionization rate is unchanged from two years ago. But as the state economy and overall employment have grown, union membership has also increased since 2017 from 584,000 to 638,000.
"It's great news for all Washington workers and our state economy that we remain Union Strong," said Larry Brown, President of the Washington State Labor Council, AFL-CIO. "Union members earn more money, they boost our state and local economies, and they fight for improved working standards for everyone. That's the power of joining together to negotiate a fair return on your work."
JOIN TOGETHER! — If you don't have a union at your job, learn how to join together with your co-workers and get higher wages, better benefits and respect on the job. Click here to get started.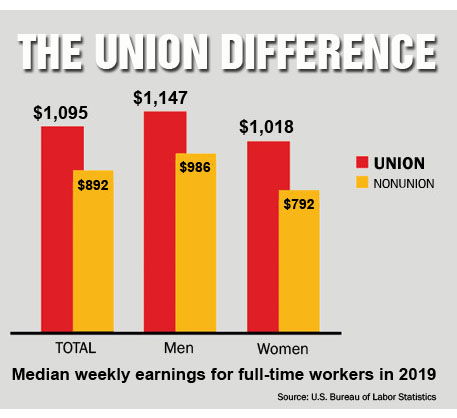 America's union members earn higher wages, according to the new BLS report. The median weekly earnings for union members was $1,095 in 2019, compared to $892 for nonunion. That 23 percent "Union Difference" means that full-time union members make about $56,940 per year on average, which is about $10,500 more than nonunion workers. The Union Difference is even greater for women, who earn 28.5 percent more when they are union members. (See chart.)
In addition to earning higher wages, the BLS also reports that union members are far more likely to have employer-provided health care and retirement benefits:
► 95 percent of union workers had the option of an employer-sponsored health care plan, compared to 68 percent of nonunion workers.
► 94 percent of union workers had access to an employee-sponsored retirement plan, compared to 67 percent of nonunion workers.
► 93 percent of union workers had the option of an employee-sponsored prescription drug coverage, compared to 67 percent of nonunion workers.
► 74 percent of union workers had the option of an employer-sponsored dental plan, compared to 40 percent of nonunion workers.
Amid attacks on union rights, membership slips again nationally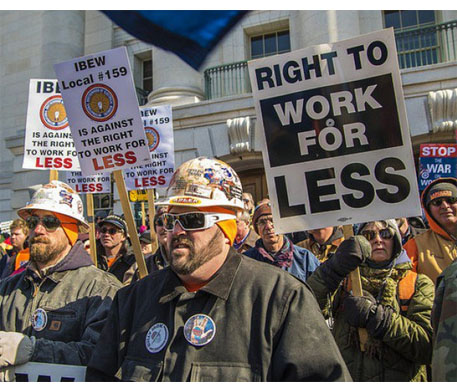 National union membership levels, which have dropped in recent years as Republican lawmakers and conservative court decisions have actively discouraged unionization, dropped again slightly from 10.5 percent to 10.3 percent in 2019, according to the new BLS report.
The AFL-CIO noted Wednesday that the latest national statistics "reflect both the tremendously difficult barriers workers seeking to form a union continue to face and the unmatched resilience of working people in our desire to win bargaining power on the job."
With its 18.8 percent union membership rate, Washington is the third most unionized state in the nation. Only Hawaii (23.5) and New York (21.0) have a higher percentage of their workforce unionized. The comparatively low national union membership rate of 10.3 percent is driven down by so-called "right-to-work" states like South Carolina (2.2), North Carolina (2.3), Virginia (4.0), and Texas (4.0) that actively discourage unionization.
Right-to-work laws ban unions and employers from agreeing to union-security clauses that require all who benefit from the contract to pay a fair-share representation fee. These laws, which have racist origins, require unions to represent everyone, regardless of whether they pay any dues or representation fees. It's like allowing people to opt out of paying taxes, although they still receive government services. Right-to-work laws weaken unions financially, make it much harder to organize workplaces and negotiate contracts, and result in those states having significantly lower wages.
Janus decision has had little impact so far in Washington
In June 2018, the U.S. Supreme Court ruled 5-4 along ideological lines in Janus v. AFSCME to impose right-to-work restrictions on public employee unions nationwide, including in Washington state. That means all unions representing state and local government employees are banned from negotiating for "union security" provisions in their contracts to ensure all employees pay their fair share for representation. (Learn more about the Janus decision and how/why it happened here.)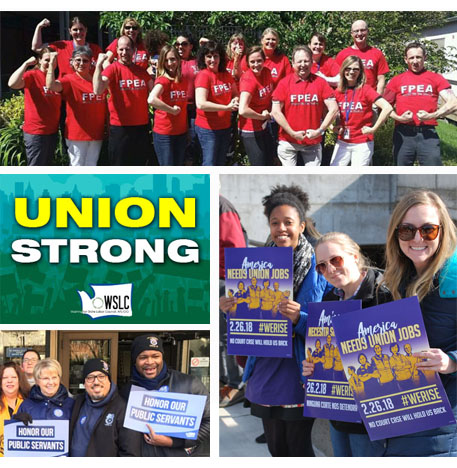 WSLC President Larry Brown noted that Washington's unionization rate of 18.8 percent is the same as it was in 2017 before the Janus decision took effect, and during that period 54,000 new members have joined labor's ranks.
"Washington's public employee unions have re-engaged their members like never before and those efforts have proven successful," he said. "The people who keep our communities safe, care for the elderly and disabled, teach and protect our children, maintain our roads, and provide other essential services in Washington understand the value of their unions. If anything, Janus has energized them to fight even harder for strong unions, quality public services, and a fair return on their work."
Short URL: https://www.thestand.org/?p=83247
Posted by
David Groves
on Jan 23 2020. Filed under
W.S.L.C.
. You can follow any responses to this entry through the
RSS 2.0
. Both comments and pings are currently closed.