New report: Misclassification costs Washington workers, state
The following is from the Harvard Labor and Worklife Program:
OLYMPIA (Jan. 6, 2020) — The number of employers engaging in worker misclassification in Washington state has risen substantially over the last 10 years. Misclassification has resulted in the denial of pay and benefits for tens of thousands of workers as well as millions of dollars in lost revenue, according to a new study from researchers with Harvard Law School's Labor and Worklife Program.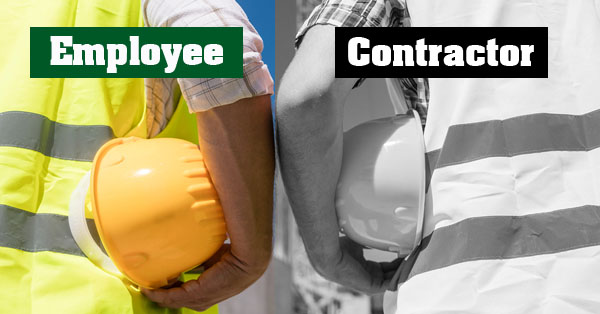 The issue — misclassifying workers as independent contractors instead of labeling them as employees — hurts the public and workers while allowing irresponsible employers to avoid tax and insurance obligations. Across all industries, misclassification leads to underpaying wages, a lack of benefits for workers, and decreased safety protections. According to the new report, "Economic Consequences of Misclassification in the State of Washington," the top three industries affected are construction, clerical services, and hotels and restaurants.
"Employers that misclassify their workers as independent contractors – intentionally or not – cheat their workers out of wages and other protections and benefits those workers have earned," said Washington State Attorney General Bob Ferguson. "This problem is not new, but this Harvard Labor and Worklife Program report shines a light on the degree to which this problem impacts Washingtonians."
According to Mark Erlich and Lisa Xu's research, the percentage of Washington employers who engage in misclassification nearly tripled between 2008 and 2017 – that's unacceptable. I look forward to working with our partners across state government to address the increasing prevalence of this practice and improve protections for misclassified workers."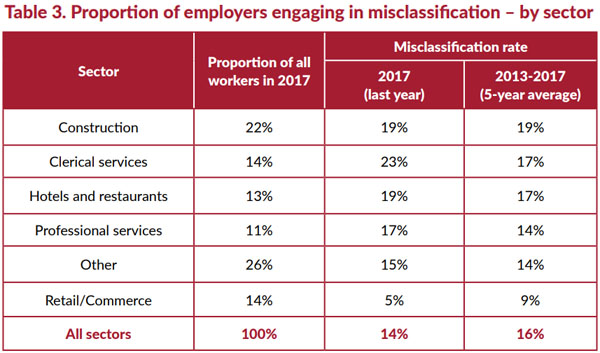 The misclassification of employees can result in savings up to 30 percent, a strong incentive for employers seeking to reduce labor costs. In addition, from 2013-17, the state of Washington and the federal government lost substantial revenues as a result of this practice:
► The state of Washington lost $152 million in unemployment taxes, for an average annual loss of $30.4 million;
► Washington state's workers' compensation system and the private self-insured pool lost $268 million in unpaid premiums, for an average annual loss of $53.6 million;
► The federal government lost $384 million in federal income taxes during the five-year period, for an average annual loss of $76.8 million;
► The federal government lost $299 million in payroll taxes for Social Security and Medicare (FICA), for an average annual loss of $59.8 million; and
► The federal government lost $9 million in federal unemployment insurance tax (FUTA), for an average annual loss of $1.8 million.
"The rise of the gig economy has brought increasing attention to the study of worker misclassification and its effects on federal and state tax revenues and worker conditions," commented study co-author Mark Erlich. "Workers, responsible employers, and taxpayers pay a price when misclassification occurs. It is a form of fraud that demands correction. I hope our research will prompt legislative and regulatory enforcement solutions to protect all citizens across the state."
About the Harvard Labor and Worklife Program
The Labor & Worklife Program is Harvard University's center for research, teaching and creative problem solving related to the world of work and its implications for society.  Located at Harvard Law School, LWP brings together scholars, students, practitioners, community members and policy experts from a variety of disciplines. LWP organizes projects and programs that (1) examine critical changes in labor markets, labor law, and the experiences of working people and (2) analyze the role of advocates, unions, worker organizations, business, and government in improving the quality of life for working families in the U.S. and around the world.  The faculty, staff, fellows and research associates of LWP include an array of nationally and internationally renowned scholars, experts and intellectuals.
Short URL: https://www.thestand.org/?p=82646
Posted by
David Groves
on Jan 6 2020. Filed under
STATE GOVERNMENT
. You can follow any responses to this entry through the
RSS 2.0
. Both comments and pings are currently closed.