SPEEA surprise ● Welcome, Leanne ● Forced arbitration ● HB 1965 theme song
♥

 Friday, February 14, 2020

♥
---
BOEING

♥  In today's Seattle Times — Surprise move: Boeing and engineering union agree on new contract proposal with changes to pay, family leave — After starting talks to work out problems with their existing contract, leaders of the engineering union at Boeing and company management reached a surprising outcome: They've agreed on a new contract that would extend to 2026, four years beyond the end of the current labor agreement. The board of SPEEA, the Society of Professional Engineering Employees in Aerospace, will recommend the proposal to its 18,000 members in the Puget Sound area. "This contract does a fantastic job of solving the problems our members asked us to solve," said Ray Goforth, SPEEA executive director.
ALSO TODAY at The Stand — SPEEA members will vote on contract extension with Boeing

♥  From EIN Presswire — Boeing gets LOI for 30 747-8 passenger jets a deal worth over $10 billion — Boeing — still reeling from the fallout of two 737 MAX tragedies of 2019 could stand a bit of positive news. On Feb. 7, 2020, Boeing received a Letter of Intent from Avatar Airlines for the purchase of 30 new 747-8 passenger version aircraft. Although Boeing is fulfilling a number of sales of its 747-8F freighter, it had no new orders in 2019 for its passenger version. Avatar promises this order could save the legendary "Queen of the Skies" from extinction which otherwise appears to be inevitable.
♥  From Reuters — Jet buyers back Boeing-Embraer deal as Airbus expands reach — Some of the world's biggest aircraft buyers are urging the European Union to clear Boeing's tie-up with Embraer, fearing Embraer's commercial aviation business would struggle on its own now Airbus has swallowed its main competitor in regional jets.
♥  A MUST-READ from The Stranger — The crisis at Cinerama has the same root as the crisis at Boeing: cost cutting (by Charles Mudede) — It is not enough to just work, to be a successful business, to be in the black. What the owners or administrators of capital want are high yields, which only the short-term can provide. This want is what's normal to a mode of being defined not by economics as such (no high yields there), but by an exploitation that's class driven (cutting costs). The bad news is that this drive directs every aspect of our economy, from airplanes to movie theaters.
---
THIS WASHINGTON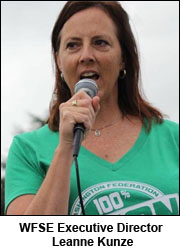 ♥  From WFSE — Welcome WFSE's new executive director, Leanne Kunze — Leanne Kunze began serving as the union's executive director this February after being selected by the AFSCME Council 28/WFSE Executive Board in January. She is the fifth person and first woman to hold the position. Kunze brings a wealth of knowledge and experience to the job, both as a member activist and staff leader.
The Stand (Feb. 10) — 'Example for what a labor leader should be' — Longtime WFSE/AFSCME leader Greg Devereux, who oversaw the union's growth, retires.
♥  In today's Seattle Times — State Supreme Court sides with Sound Transit in car-tab case — The state Supreme Court delivered a huge win to Sound Transit on Thursday, upholding provisions of a law that allows the regional transit authority to collect hundreds of millions of dollars in vehicle-license taxes that voters approved in 2016 for mass transit.
♥  In today's Seattle Times — Tim Eyman says he'll run for governor as Republican, not independent — Looming as the campaign begins is a long-running Attorney General's Office lawsuit that accuses Eyman of running a scheme to enrich himself from initiative campaigns through kickbacks and contributions laundered through a web of political committees. He has been found in contempt of court and racked up hundreds of thousands of dollars in fines for refusing to disclose information about his finances.
---
CORONAVIRUS
♥  In today's Seattle Times — What it was like for doctors and nurses at an Everett hospital to treat the nation's first novel coronavirus patient — As luck would have it, Providence Regional Medical Center staff — along with the Snohomish Health District, the state Department of Health, the Northwest Healthcare Response Network and the Everett Fire Department — had done a dry run earlier that month to practice receiving an Ebola patient. Two hours after getting the call, the biohazard team had erected the isolation unit. They'd needed to move patients who were in the designated space and put up movable walls to create a room with negative pressure so no air could escape.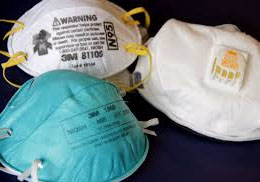 ♥  In today's NY Times — China says 1,700 health workers have contracted coronavirus — Six of the workers have died, the government said on Friday. It was the first time officials have disclosed the number.
♥  ICYMI yesterday, in the Washington Post — Health-care workers are the front-line warriors against coronavirus. We must protect them. (by Michael T. Osterholm and Mark Olshaker) — In a very real sense, what happens to our health-care workers will be the metric of how we respond to this unfolding crisis. If we don't do all we can to protect them, they will quickly transition from providers to patients, further stressing already overburdened facilities.
♥  In today's News Tribune — Masks may control deadly coronavirus spread in Washington. But not bigotry. (editorial) — Heightened anxiety is understandable. Scientists are still grappling with how the virus started and are scrambling for ways to stop it. But experts are sure about one thing: Diseases aren't spread by ethnicity.
---
THAT WASHINGTON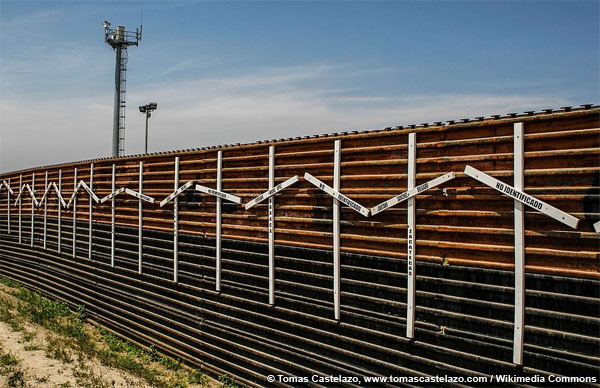 ♥  In today's NY Times — Administration to divert billions from Pentagon to fund border wall — The Pentagon plans to divert $3.8 billion intended for military equipment to the construction of a wall at the southwestern border, it informed lawmakers on Thursday, drawing bipartisan outrage and reviving a long-running battle with Congress over funding for Trump's signature campaign promise.
The Stand (Sept. 5, 2019) — Trump's border-wall military cuts hit home at Naval Base Kitsap
---
NATIONAL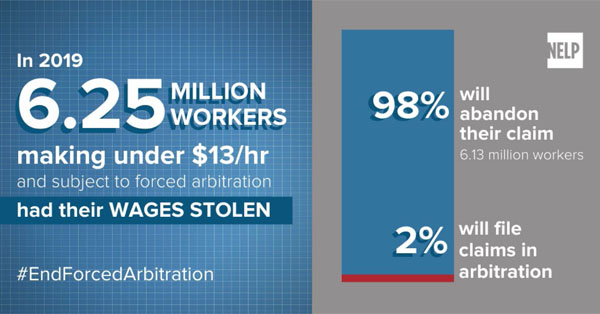 ♥  In the Washington Post — There's a little-known employment contract provision enabling billions of dollars in wage theft each year — It's no secret that the balance of power in America's workplaces has shifted from employees to employers in recent decades. Among other things, business leaders and lawmakers have worked in tandem to weaken unions, concentrate hiring power among fewer employers and keep wages low. But employers have put their thumbs on the scale in less obvious ways as well. A new brief from the National Employment Law Project, underscores one of them: forced arbitration, which requires workers to settle disputes with their employer in the office of a private mediator, rather than in a court of law. NELP estimates that forced arbitration clauses cost low-paid workers $12.6 billion in stolen wages in 2019.
♥  From The Guardian — The Americans forced into bankruptcy to pay for prescriptions — Millions of Americans can't afford the prescription drugs they require to survive, forcing them into bankruptcy, trips to Mexico or cutting off utilities.
♥  From Bloomberg Law — Apple on hook for millions for off-the-clock bag searches — Apple Inc. violated California law when it failed to pay employees for time they spend waiting for mandatory bag and iPhone searches at the end of their shifts, the California Supreme Court ruled.
♥  In today's LA Times — New California labor law AB 5 is already changing how businesses treat workers — Employers may dislike the new law on independent contractors, but they're devising a host of strategies to comply.
---
HAPPY VALENTINE'S DAY
♥  In today's Washington Post — Valentine's Day was humiliating for me as a child. I tell my students about it every year. (by Melanie McCabe) — "I'm going to tell you a story," I tell my class of high school seniors. I've been looking forward to telling them this tale. It is a story I've told every February since I started teaching in 1999. Its power lies, I think, in how it changes the way they see me. Gone temporarily is whatever omnipotence I command as their teacher. Left behind is an 11-year-old girl whose feelings are crushed — and each of them is outraged by the brutality of the one who did the crushing.
---
T.G.I.F.
♥  This one goes out to the Washington State Legislature… The Entire Staff of The Stand presents: the theme song for HB 1965!
---
The Stand posts links to Washington state and national news of interest every weekday morning by 10 a.m.
WASHINGTON IS A UNION STATE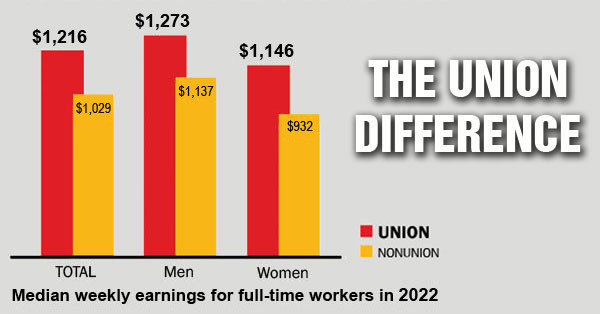 CHECK OUT THE UNION DIFFERENCE in Washington state: higher wages, affordable health and dental care, job and retirement security.
FIND OUT HOW TO JOIN TOGETHER with your co-workers to negotiate for better working conditions and respect on the job. Or go ahead and contact a union organizer today!