Ban port automation subsidies to protect jobs and taxpayers
The following is from the International Longshore and Warehouse Union:
OLYMPIA (Feb. 11, 2020) — Legislation that would prohibit the expenditure of public tax dollars for automation at the state's two largest container ports passed a key milestone last Friday, and the longshore union is predicting eventual passage in this year's legislative session. HB 2828, sponsored by Rep. Javier Valdez (D-Seattle) has bipartisan support, and would encourage the use of zero-emissions human-operated equipment on the large container ports, in lieu of automated equipment.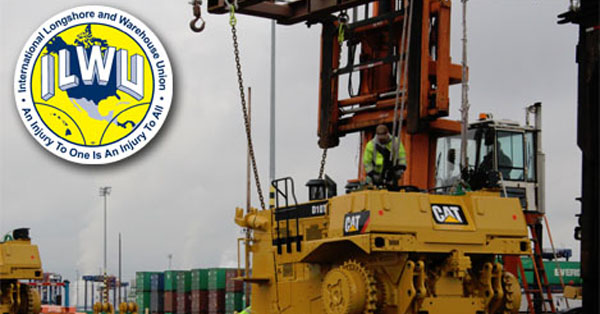 "Nothing in this legislation prohibits private investment by terminal operators for automated container handling equipment on container terminals in our two major ports," says Rich Austin Jr., President of the ILWU Local 19 in Seattle. Jared Faker, President of ILWU Local 23 in Tacoma adds, "This would not impact the 73 other smaller ports in Washington, but would protect living wage jobs and save precious dollars for improving transportation infrastructure statewide."
For container automation, the upfront capital expenditures are high, and the operational challenges are significant. A McKinsey survey states "practitioners responding to the survey think that these ports, especially fully automated ones, are generally less productive than their conventional counterparts. The return on invested capital of assets at some automated ports is falling short by up to one percentage point from the industry norm of about 8 percent the operational challenges."
Another report by Prism Economics and Analysis states that "analysis shows automation and subsequent job loss would have a substantial effect on the local economies and on tax revenue that supports services in those communities."
Loss of productivity would send more container cargo to Canada at the Ports of Prince Rupert and Vancouver BC, adding to the problems caused by the Harbor Maintenance Tax of $125 per box and high rail shipping rates to the West Coast. Meanwhile, actual productivity in Seattle/Tacoma has increased over the past year, according to the Northwest Seaport Alliance.
When accounting for part-time casual labor, a significant majority of longshore workers are at or below the median income in Puget Sound, and union won health care benefits for dependent children are a key to survivability locally.
"Health care has been a lifeline for my family and as a single mom, I want to make sure the young people in our industry can also take care of their families," states Ali Vekich, a longshore worker in the Port of Seattle who is a member of ILWU 19.
"We bargain with our employers over what automation may look like, but they need to pay their own way, and not use taxpayer dollars to pad their profits," says Robert Ross, an ILWU 23 union member who works at the Port of Tacoma.
Short URL: https://www.thestand.org/?p=83939
Posted by
David Groves
on Feb 11 2020. Filed under
STATE GOVERNMENT
. You can follow any responses to this entry through the
RSS 2.0
. Both comments and pings are currently closed.