Support airline catering workers on Friday in SeaTac
Join National Day of Action at SeaTac; back legislation to raise wage standards   
The following is from UNITE HERE Local 8:
SEATAC, Wash. — UNITE HERE Local 8 invites all union members and community supporters to join together on Friday, Feb. 14 for a National Day of Action for Airline Catering Workers. As American, Delta, and United made a combined $7.4 billion in profit in 2018, more than 20,000 airline food workers are refusing to continue to accept lousy wages and substandard health care.
Airline catering workers are standing up to say, one job should be enough.
TAKE A STAND — Meet airline catering workers and their supporters at 4:30 p.m. on Friday, Feb. 14 at the IBEW 77 Hall, 19415 International Blvd in SeaTac, Wash. RSVP and get more details at the Facebook event page.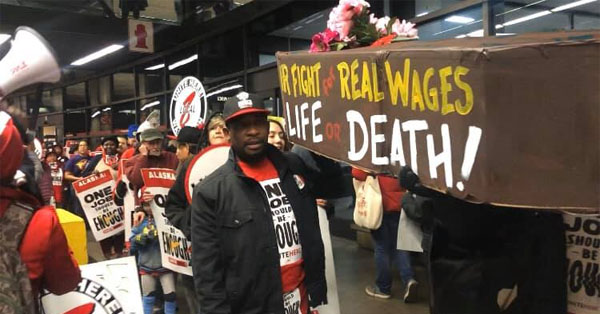 WHY — Delta Air Lines reported $4.7 billion in net income in 2019 and returned $3 billion to shareholders through dividends and share repurchases in 2019. On February 14 it will distribute $1.6 billion in profit sharing to its well-deserving direct employees. Yet, subcontracted airline catering workers who provide the food and beverages served aboard Delta's flights at SeaTac Airport and around the country remain stuck in poverty.
They prepare Delta's and Alaska's first-class meals and ensure its flights are properly stocked for on-time departures. However, wages are as low as $13.50 per hour, the state minimum wage.
According to a survey of 146 out of approximately 900 airline catering workers employed by LSG Sky Chefs and Gate Gourmet at SeaTac Airport, only 30% of workers at SeaTac Airport had company healthcare in 2018, and only 6% covered any dependents. 42% reported being uninsured, and of parents with children under age 26, 8% reported uninsured kids.
In a 2019 survey by UNITE HERE of 2,240 out of 15,000 catering workers at the two largest contractors nationally, 56% of respondents reported having gone to work sick, 66% because they could not afford to miss time.
LEGISLATION IN OLYMPIA — About 68% of airline catering workers at SeaTac Airport earn less than $16.34, the wage required of many other airport employers by the City of SeaTac. While airlines and their subcontractors have been unwilling to address worker concerns, UNITE HERE Local 8 and the Port of Seattle are promoting Senate Bill 6217 and House Bill 2715 in the State Legislature to help tackle the crisis of low wages and inequality among airport workers.
Click here to send your Washington state legislators a message in support of SB 6217.
SB 6217, sponsored by Sen. Karen Keiser (D-SeaTac), and HB 2715, sponsored by Rep. Mia Gregerson (D-SeaTac) would authorize the Port of Seattle to raise wage standards for airline catering workers to equal those of other transportation and hospitality workers in the City of SeaTac. The legislation passed out of their respective policy committees and is awaiting a floor vote in both chambers of the Washington State Legislature.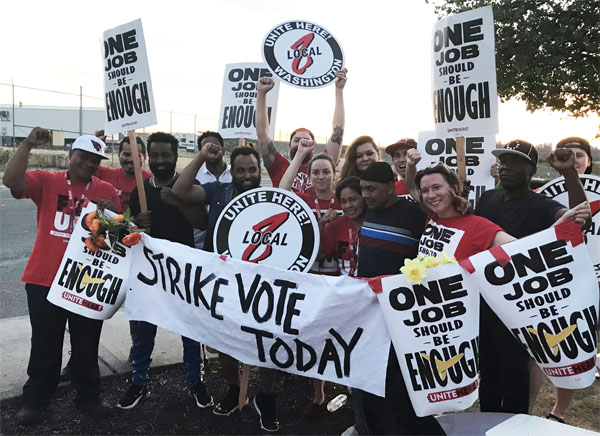 And please join these workers on Feb. 14 in SeaTac as they again demand decent wages and benefits.
Short URL: https://www.thestand.org/?p=83985
Posted by
David Groves
on Feb 12 2020. Filed under
LOCAL
. You can follow any responses to this entry through the
RSS 2.0
. Both comments and pings are currently closed.