Boeing offers buyouts ● Appeal from front lines ● Southern spread
Thursday, April 2, 2020
---
LOCAL
► LIVE from the Seattle Times — Coronavirus daily news update, April 2 — The state Department of Health confirmed 5,984 COVID-19 cases and 247 deaths in Washington on Wednesday evening.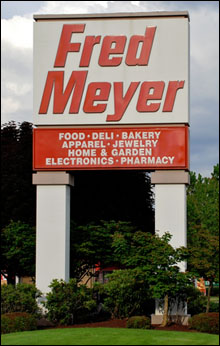 ► In the Columbian — Fred Meyer, QFC parent company to raise workers' pay — The temporary $2-an-hour pay increases and other new benefits are expected to impact more than 460,000 Kroger grocery workers nationwide, including more than 13,000 workers at Washington Fred Meyer and QFC locations, according to a joint press release from Kroger and the UFCW, which represents grocery workers at Kroger stores.
ALSO from UFCW 21 (March 20) — Grocery store workers' unions, Kroger announce new deal for hazard pay
► In the Yakima H-R — Plans call for using Astria Regional for non-COVID-19 patients — A temporary medical care site that will be set up at the former Astria Regional Medical Center in Yakima could serve up to 250 patients, local and state officials said Wednesday.
► In the (Longview) Daily News — TDN, parent company order furloughs — The Daily News and all other newspapers owned by Iowa-based Lee Enterprises have instituted an employee furlough equal to two weeks' pay in the period from April 1 through June 30.
---
BOEING
► In the Seattle Times — Boeing to offer buyouts, mull output cuts amid 'new reality' — Boeing is offering buyouts to its entire staff of 161,000 people and weighing new output reductions as the coronavirus pandemic threatens to depress aircraft sales for years. The planemaker is considering another cut to wide-body production beyond what was already announced for the 787… For now, Boeing plans to reopen its Seattle-area factories next week, with workers reporting for an overnight shift that begins April 7. But that situation remains fluid and the decision to restart production in an epicenter for the coronavirus could be revisited.
► In the (Everett) Herald — Boeing offers voluntary buyouts to its 161,000 employees — The move keeps a $60 billion bailout option viable. Forced layoffs would complicate that effort.
► In the Columbia Basin Herald — Three Moses Lake Boeing employees test positive for COVID-19
This photo is incredible. If you closely, that's all Boeings on the left, Airbuses on the right. (Via @AirTeamImages) pic.twitter.com/vKA5jl1vG9

— Jon Ostrower (@jonostrower) April 1, 2020
---
THIS WASHINGTON


► From UFCW 21 — An open letter to Governor Inslee, Secretary Wiesman, Vice Admiral Bono from Washington's front line Unions — We are writing to thank you for your leadership during this unprecedented crisis and to ask for your help to address a number of ongoing concerns. As unions representing workers who are on the frontlines fighting this pandemic, we are hearing from our members daily about their genuine commitment to serving our communities combined with their very real fears of getting sick, potentially infecting others, and of the critical need for their protection. As you well know, without our health care workers and emergency responders, we will fail to adequately respond in the days ahead.
► In the (Everett) Herald — Inslee to state businesses: Pivot to make medical equipment — Citing the lack of available equipment from the federal government, the governor said the state will need to "put pedal to the metal right here on a voluntary basis in the state of Washington" to fill the need for masks, test vials, face shields, gowns and other equipment.
► In the Seattle Times — State's weekly jobless claims jump to nearly 190,000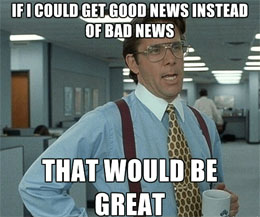 ► In the Seattle Times — Good news, bad news for the unemployed as Washington agency tries to ramp up amid flood of claims — The good: State officials say federal emergency funds will supercharge Washington's existing unemployment insurance system, including weekly payments for previously uncovered workers; an extra 13 weeks of benefits; and a $600 weekly payment, on top of the regular weekly benefits, for anyone who qualifies under either the state or federal program. The bad: Washington residents probably won't see the new dollars before April 18 as the state Employment Security Department upgrades an already overworked system to handle the new federal money and the continued flood of jobless claims.
► In the Seattle Times — Coronavirus necessitates painful cuts to Washington state budget (editorial) — Despite the pain, Gov. Jay Inslee must make deep cuts to the supplemental budget Washington's Legislature finalized just a few weeks ago… He must be quick and assertive with his veto pen Friday, to protect core government services and potentially avoid more painful cuts in the coming year.
► In the News Tribune — Puyallup nurse begs to join Washington coronavirus fight. It's a shame the state won't let her. (editorial) — Katherine Knable of Puyallup has nursing in her blood, a passion for seniors at risk of coronavirus in her heart and nearly 10 years of geriatric healthcare experience on her resume. Trouble is, Knable also has a (barely) expired Washington state nursing license after taking three years off to raise her son. And despite a 10-month effort to renew the license and go back to work, an unyielding state bureaucracy blocks her path.
► In the Seattle Times — End of the republic? We're No. 1 in voter turnout — for a reason the president thinks is 'crazy.' (by Danny Westneat) — "Universal vote by mail would be the end of our republic as we know it," one GOP congressman, Rep. Thomas Massie of Kentucky, freaked out when the idea was proposed last week as part of the $2.2 trillion coronavirus rescue package (vote by mail was eventually taken out). As we know in this state, voting by mail is way more boring than these hyperbolic statements suggest. There's been no voter-fraud issue. It's more about convenience than revolution. So what is the right so apocalyptic about? Leave it to the president to blurt out the part that usually goes unsaid. "The things they had in there were crazy," Trump said Monday about the universal vote by mail measure. "They had things — levels of voting that, if you ever agreed to it, you'd never have a Republican elected in this country again." Ah, fear of the people — or at least of some of the people. A hallmark of our democracy.
---
THAT WASHINGTON
► In the Washington Post — Over 10 million Americans applied for unemployment benefits in March as economy collapsed — A record 6.65 million people filed a new jobless claim the week ending March 28. The past two weeks have seen more people file for unemployed claims than during the first six months of the Great Recession, a sign of how rapid, deep and painful the economic shutdown has been on many American families who are struggling to pay rent and health insurance costs in the midst of a pandemic.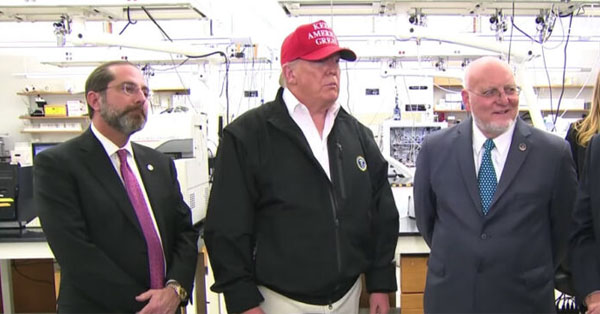 ► From The Hill — Economists fear slow pace of testing will prolong recession — Epidemiologists are warning that unless the federal government overhauls its pandemic response to ensure a national system for testing, the U.S. could find itself in a vicious cycle of sporadic lockdowns until scientists find a treatment or vaccine for the coronavirus. A scenario like that would lessen the chances of a quick, V-shaped economic rebound that analysts are hoping for and instead prolong the recession and subsequent recovery, damaging household finances for years to come.
► In the Washington Post — Protective gear in national stockpile is nearly depleted, DHS officials say — The government's emergency stockpile of respirator masks, gloves and other medical supplies is running low and is nearly exhausted due to the coronavirus outbreak, leaving the Trump administration and the states to compete for personal protective equipment in a freewheeling global marketplace rife with profiteering and price-gouging.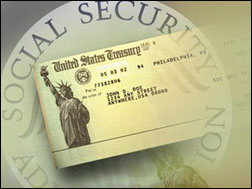 ► In the Washington Post — Social Security recipients who don't usually file tax returns will automatically get $1,200 payments, Treasury says in reversal — Most high school seniors and college students still won't get any money at all.
► From Politico — Wall Street titans lobby for a cut of small business bailout — Some of the richest firms in the business world — private equity companies and venture capitalists — are lobbying for their piece of the coronavirus bailout.
► From Politico — Behind the scenes, Kushner takes charge of coronavirus response — Trump's son-in-law sets up shop at FEMA as his portfolio balloons to include manufacturing, supplies and long-term planning.
---
NATIONAL
► From The Hill — U.S. coronavirus deaths top 5,000, with 1,000 in one day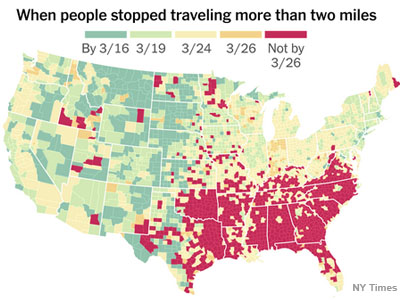 ► In the NY Times — Where America didn't stay home even as the virus spread — Stay-at-home orders have nearly halted travel for most Americans, but people in Florida, the Southeast and other places that waited to enact such orders have continued to travel widely, potentially exposing more people as the coronavirus outbreak accelerates, according to an analysis of cellphone location data by The New York Times.
EDITOR'S NOTE — Generally, it's south of the Mason-Dixon line.
► From The Hill — Several states have yet to issue stay-at-home orders — Twelve states have yet to issue stay-at-home orders to their residents despite a rising number of coronavirus cases and deaths across the country. Florida GOP Gov. Ron DeSantis issued a statewide state-at-home order on Wednesday after coming under heavy pressure for days.
► In the Washington Post — Georgia Gov. Brian Kemp, who resisted strict coronavirus measures, says he just learned it transmitted asymptomatically — But health officials have been saying that for two months.
► From CBS News — Dozens of University of Texas spring breakers who defied officials' warnings test positive for coronavirus
► In the NY Times — Farmworkers, mostly undocumented, become 'essential' during pandemic — Immigrant field workers have been told to keep working despite stay-at-home directives, and given letters attesting to their "critical" role in feeding the country. For many workers, the fact that they are now considered both illegal and essential is an irony that is not lost on them.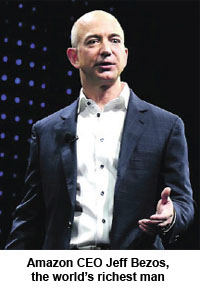 ► In the Seattle Times — Leaders of nation's largest labor unions pressure Amazon, CEO Jeff Bezos on coronavirus response — Leaders of America's largest labor unions, 45 New York elected officials and a group of Amazon employees called on Amazon to change its warehouse policies and practices in response to the novel coronavirus outbreak. Their letter, to Amazon founder and CEO Jeff Bezos and other senior executives, amplifies calls made by Amazon warehouse workers, including some who went on strike in New York on Monday to protest the company's handling of the outbreak.
► From The Guardian — Dear Jeff Bezos, instead of firing me protect your workers from coronavirus (by Chris Smalls) — Because of Covid-19, we're being told that Amazon workers are "the new Red Cross". But we don't want to be heroes. We are regular people. I don't have a medical degree. I wasn't trained to be a first responder. We shouldn't be asked to risk our lives to come into work. But we are. And someone has to be held accountable for that, and that person is you… To Mr. Bezos my message is simple. I don't give a damn about your power. You think you're powerful? We're the ones that have the power. Without us working, what are you going to do? You'll have no money. We have the power. We make money for you. Never forget that.
► In the Detroit Free Press — Scared to go to work: Romulus Amazon workers walk off the job amid coronavirus fears — Afraid for their safety, employees of a metro Detroit Amazon fulfillment center, where three people have tested positive for COVID-19, walked off the job Wednesday. It was another example of the devastating — and likely irreversible — toll the coronavirus crisis is taking on the morale those deemed essential workers in this pandemic.
► From HuffPost — The coronavirus worker revolt is just beginning — The pandemic has revealed just how poorly many companies treat their employees. Will workers continue to fight back once life goes back to normal?
---
TODAY'S MUST-READ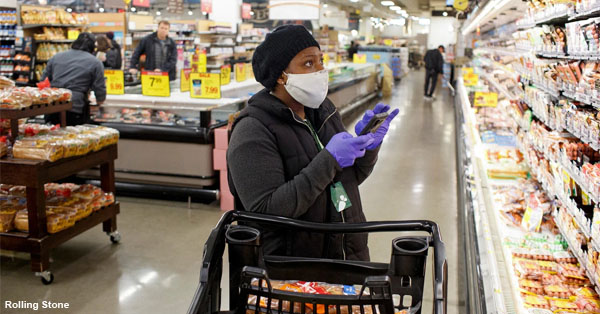 ► From Rolling Stone — What it's like to work for Instacart during the coronavirus pandemic — Laura Richey's story underscores how the coronavirus pandemic has stretched Instacart workers and tens of millions of other U.S. gig-economy employees: They've never been more indispensable, both for their customers and companies, but their app-based employers still fail to provide them with protections afforded to other workers — even when the basics of their jobs put them at constant risk of exposure to a virus that much of the country is staying home to avoid. While the company's in-store shoppers — part-time employees, some of whom unionized this past February in a first for Instacart — have access to accrued sick pay and COVID-19 bonuses, full-service shoppers work without these minimal protections, as Instacart's shopping algorithm directs them from crowded grocery stores to people's homes, creating the sort of hectic hustle that potentially increases viral exposure and spread. It's a dynamic that boils down to more risk, less reward.
---
The Stand posts links to Washington state and national news of interest every weekday morning by 10 a.m.
WASHINGTON IS A UNION STATE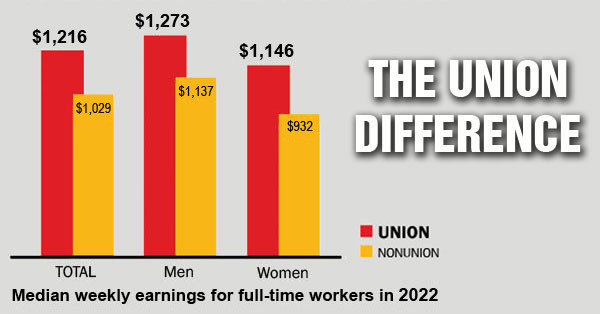 CHECK OUT THE UNION DIFFERENCE in Washington state: higher wages, affordable health and dental care, job and retirement security.
FIND OUT HOW TO JOIN TOGETHER with your co-workers to negotiate for better working conditions and respect on the job. Or go ahead and contact a union organizer today!