Who's completely out of luck ● UWMC needs a deep clean ● Bail out workers
Thursday, April 9, 2020
---
LOCAL
► LIVE from the Seattle Times — Coronavirus daily news update, April 9 — The number of COVID-19 cases in Washington continues to grow, though at a slower rate. As of 11:59 p.m. Tuesday, the state has confirmed 9,097 people infected with the virus, including 421 who have died.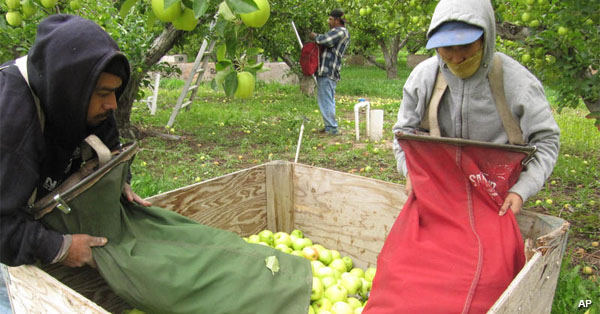 ► From KNKX — Lack of protection from coronavirus puts 'essential' farmworkers and food at risk — Farmworkers are considered an essential part of the food supply system, so they have to stay on the job, even under Gov. Jay Inslee's "Stay Home, Stay Safe" order. But many of the people who work the fields or ranches here lack sufficient protection to keep them safe from the coronavirus. Human rights advocates say that needs to change immediately.
► From The Stranger — Jobless and without benefits, the undocumented community is 'completely out of luck' — Despite a statewide moratorium on evictions, María's landlord threatened to evict her and her family of seven. She and her husband lost their food service jobs five weeks ago. Their last paycheck went to paying bills and paying for food and they're not eligible for unemployment. They're undocumented. Undocumented people across Washington are acutely feeling the pressures and impacts of the COVID-19 pandemic. Many of the jobs that undocumented workers can get are in food service or hospitality, industries that have been leveled by COVID-19. With no access to state or federal benefits and the fear of drawing attention to themselves, undocumented families are struggling to survive.
FROM the WSLC's COVID-19 Resources for Washington Workers:
Relief Fund for Undocumented Individuals in Washington State — To support our community, the Washington Dream Coalition, in partnership with Scholarship Junkies, Northwest Immigrant Rights Project, and Washington Immigrant Solidarity Network are providing financial relief to undocumented individuals. Click here to apply or learn more.
► In the (Everett) Herald — 2 Everett postal workers have tested positive for COVID-19
► In the (Aberdeen) Daily World — Grays Harbor commissioners OK 5% pay raises for 'essential' county employees
---
THIS WASHINGTON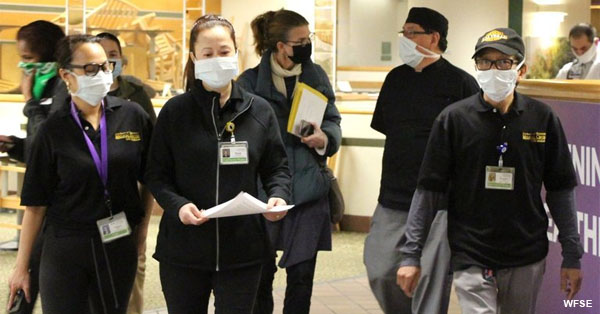 ► In the Seattle Times — Cafeteria workers at UW Medical Center demand better protection from coronavirus — Hundreds of food-service workers at the University of Washington Medical Center (UWMC) are demanding more protection from the novel coronavirus, as they continue to staff the hospital's cafeteria through the crisis. More than 300 hospital and UW employees signed a petition, delivered Tuesday to hospital management, demanding the cafeteria be shut down for a "deep clean," workers be given protective masks and gloves and temporary protective shields be erected around cashiers. Grocery stores around the region have put in similar barriers at check-outs. At least three workers at UWMC's Plaza Cafe have tested positive for COVID-19, the disease caused by the virus, according to the Washington Federation of State Employees (WFSE), the union representing the cafeteria workers.
► In the (Everett) Herald — It took a year: Swedish and 8,000 union members have a deal — It's a deal one year in the making. Nurses and caregivers across all Swedish Medical Center campuses, including the Edmonds hospital, have approved a new union contract, Gov. Jay Inslee announced Wednesday. Since talks started last April, all it took was a three-day strike in January, an intervention from the governor and a global pandemic.
ALSO TODAY at The Stand — Inslee hails contracts for Swedish caregivers
► In the Seattle Times — Coronavirus spread to 137 long-term care facilities in Washington state, killing more than 200 people — A list of facilities with COVID-19 cases, provided for the first time by the Department of Social and Health Services (DSHS), includes 52 nursing homes, 53 assisted-living facilities, 23 adult family homes and nine other facilities. At least 52 of these facilities reported a total of 221 deaths from the disease so far, according to the state Department of Health. That's about half the number of deaths the state had confirmed by Wednesday.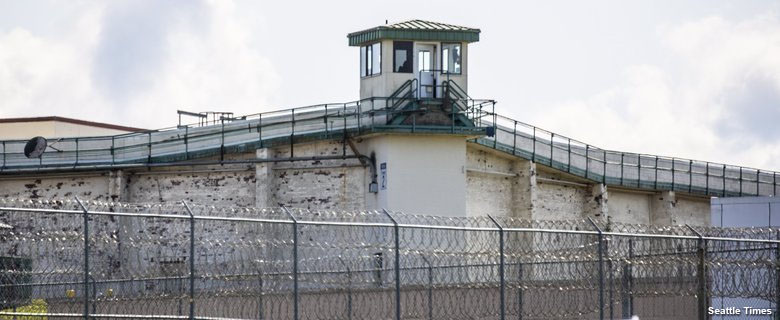 ► In the Seattle Times — Police respond to disturbance involving hundreds of inmates at Monroe Correctional Complex — State and local police brought a large disturbance at Monroe Correctional Complex under control Wednesday evening, after a couple hundred inmates concerned about the facility's COVID-19 outbreak threatened to set fires and possibly take corrections officers hostage.
► In the Seattle Times — Jobless benefits for some will exceed their wages, thanks to boost from coronavirus relief package — "The money isn't going to make anybody rich," said UW economist Jacob Vigdor. "It's targeted at individuals who were in the most economically precarious positions at the start of the pandemic, and eases the worries about how they will pay the rent or feed their families for a few months."
EDITOR'S NOTE — No mention in this report that most workers who are laid off also lose their employer-provided health care coverage and other benefits. Reports like this could feed far-right political myth that some workers actually prefer to be laid off when unemployment benefits are boosted.
► In the (Everett) Herald — County Council appoints Jared Mead to fill vacated seat — The Snohomish County Council unanimously voted to appoint state Rep. Jared Mead (D-44th) to fill an open seat. He will finish his legislative term, which concludes at the end of the year, he said.
---
BOEING
► From The Verge — The ancient computers in the Boeing 737 Max are holding up a fix — A brand-new Boeing 737 Max gets built in just nine days. In that time, a team of 12,000 people turns a loose assemblage of parts into a finished $120 million airplane with some truly cutting-edge technology: winglets based on ones designed by NASA, engines that feature the world's first one-piece carbon-fiber fan blades, and computers with the same processing power as, uh, the Super Nintendo.
---
THAT WASHINGTON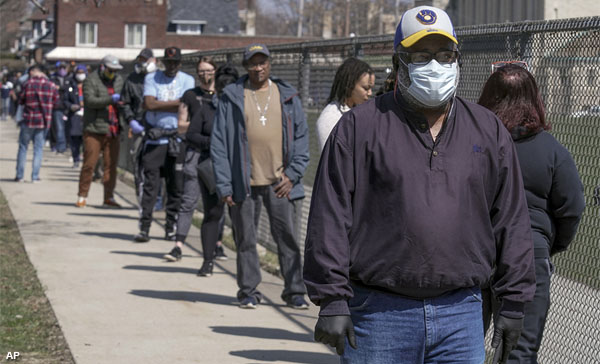 ► From Common Dreams — 'A day that will live in infamy': This is what it looked like when Wisconsin forced in-person voting during a pandemic — AFL-CIO President Richard Trumka, declared that "it's unconscionable that Wisconsin voters are being forced to choose between their health amid a pandemic and their constitutional right to vote… Democracy in our country is dying, and those meant to uphold our Constitution have failed miserably in their duty. Working people see what's happening, and we're not going to stand for it in November and beyond."
► In the NY Times — Republicans pursue limits on voting by mail, despite the coronavirus — Trump and his Republican allies are launching an aggressive strategy to fight what many of the administration's own health officials view as one of the most effective ways to make voting safer amid the deadly spread of Covid-19: the expanded use of mail-in ballots. The new political effort is clearly aimed at helping the president's re-election prospects, as well as bolstering Republicans running further down the ballot. In their efforts to fight expanding vote-by-mail, Republican officials are counting on a crucial and powerful ally: like-minded judges.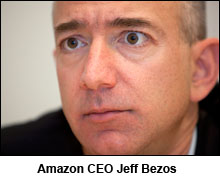 ► In the Seattle Times — Senators want details from Amazon on firing of New York coronavirus protest organizer — Five U.S. senators sent Amazon CEO Jeff Bezos a series of questions in a letter Wednesday focusing on Smalls' dismissal, which he and other politicians, as well as union leaders, have described as retaliation.
► From Reuters — Exclusive: Wall Street firm dangled up to 175% returns to investors using U.S. aid programs — A New York investment firm pitched wealthy investors in recent days on a way to make returns of 22% to 175% using U.S. government programs designed to help Americans keep their jobs and boost the coronavirus-stricken economy.
► In the Washington Post — Time to plan for a phase-two battle against the coronavirus (editorial) — In any return to normalcy, comprehensive diagnostic testing will be required to isolate the sick and help certify those who can go back to work safely. Can an administration that presided over a movable feast of half-measures now create a national testing network that will be orders of magnitude larger? This is a Rubik's Cube challenge entwining public health issues, economics and social behavior, and it deserves more attention than it is getting.
---
NATIONAL
► In today's Washington Post — 6.6 million Americans filed for unemployment last week, bringing the pandemic total to over 17 million — Economists say the U.S. unemployment rate is now 13 percent, the worst since the Great Depression… Relief has been slow to reach people losing their jobs as states have been overwhelmed with claims. The Washington Post spoke with more than a dozen workers across the country who lost their jobs. The majority have not received money yet.
► From ProPublica — Inside the union where coronavirus put 98% of members out of work — Nearly all of UNITE HERE's members are in industries — not just hotels and casinos, but also providing food services for universities, airlines, airports and sports stadiums — that have been ravaged by the pandemic. Two months ago, UNITE HERE President D. Taylor could boast that the organization had never seen better days. Today, a staggering 98% of the union's 307,000 members are out of work, he said. "Right now, we're fighting for our survival," Taylor said. "We're crushed in every city and every sector of our industry. There is nobody that has escaped the effects of COVID-19." The crisis poses a sweeping financial challenge to UNITE HERE and its local affiliates.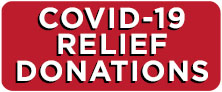 The Stand (March 30) — Donate to UNITE HERE's local hospitality worker relief fund — The money raised for this UNITE HERE Local 8 hardship fund will be used to support hospitality workers with critical bills such as rent, mortgage or utility payments. Your donation will help keep workers housed and feed their families when they need it the most.
► From Reuters — U.S. nurses who can't get tested fear they are spreading COVID-19 — Many medical centers are testing only the workers with the most severe symptoms, according to the frontline workers and hospital officials. As a result, nurses and doctors risk infecting patients, colleagues and their families without knowing they are carrying the virus, medical experts say.
► From Vox — Hospitals are laying off workers in the middle of the pandemic — A new report found that 43,000 health care workers had been laid off in the first month of the COVID-19 outbreak. Most of the initial losses were in ambulatory services: physician offices, dental practices, and other practitioners. Hospital staffing stayed mostly flat through the first month of the crisis. But that is beginning to change already, with a slew of hospitals announcing furloughs or layoffs in recent days.
► In the Washington Post — As COVID-19 cases mount, flight attendants grow increasingly fearful of flying — "Some of us are stuck between being thankful we still have jobs to go to and terrified we still have jobs to go to."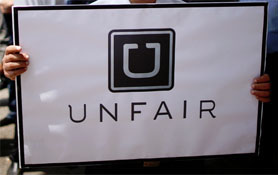 ► In the LA Times — Uber wants to redefine employment. More than 50 labor groups are fighting back — A coalition of about 50 labor groups is asking congressional leaders to reject Uber Chief Executive Dara Khosrowshahi's proposal for a new legal category that would allow the company to keep treating its workers as independent contractors while affording them partial employee benefits. In a letter sent Wednesday, the organizations — which include the National Employment Law Project, AFL-CIO, Legal Aid Society, Rideshare Drivers United and Gig Workers Rising — argue these workers have been misclassified as contractors and the resulting lack of benefits has left them "uniquely vulnerable" to the coronavirus pandemic. The groups accuse Uber of "exploiting the moment to further strip protections from those on the front lines of the crisis."
► From Vice — Fast-food workers at 30 restaurants across California are going on strike — Hundreds of cooks and cashiers at 30 fast food restaurants across California plan to strike on Thursday—demanding that McDonald's and other fast food chains provide masks, gloves, soap, $3-an-hour hazard pay, and two weeks of paid sick leave to workers exposed to COVID-19. Workers from Burger King, Taco Bell, Domino's, Pizza Hut, Subway, Popeye's, El Pollo Loco, and WaBa Grill will participate in the walkout.
---
TODAY'S MUST-READ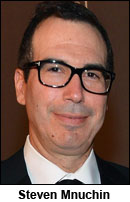 ► From Fortune — Coronavirus relief funds should be used to pay for workers, not bail out corporations (by Rep. Katie Porter and AFA President Sara Nelson) — Over the past 20 years, Washington has handed out bailout after bailout to Wall Street and corporate America — like the 2008 bank bailouts or the 2001 airline bailouts — while everyday workers got pink slips and eviction notices. It doesn't have to be that way this time… What if workers kept their paychecks and health insurance, and had the certainty that their same jobs would be there when the economy is able to reopen? That's exactly what's happening for aviation workers, thanks to a framework that aviation unions proposed and fought for alongside Transportation and Infrastructure Committee chairman Peter DeFazio — and won. In the CARES Act, Congress dedicated $31 billion in payroll grants for aviation. These grants can be used for one thing only: to keep 750,000 airline employees and other aviation workers on payroll and connected to their health insurance. Treasury Secretary Steven Mnuchin could make that paycheck security the same reality for tens of millions more American workers.
---
The Stand posts links to Washington state and national news of interest every weekday morning by 10 a.m.
Short URL: https://www.thestand.org/?p=86089
Posted by
David Groves
on Apr 9 2020. Filed under
DAILY LINKS
. You can follow any responses to this entry through the
RSS 2.0
. Both comments and pings are currently closed.