Adam is a Marine who was deployed to Iraq and has worked as a firefighter and first responder, all roles where proper PPE helped keep him safe. Nurses like Adam on the front lines of the battle against COVID-19 deserve to be safe, too.
Nurses and health care workers, speak out for patient safety. Speak out for your safety. Proper personal protec­tive equip­ment (PPE) is essen­tial in the battle against COVID-19. Your voice matters.
Take a selfie with this #SilenceKills sign and send it to selfie@wsna.org to show your support.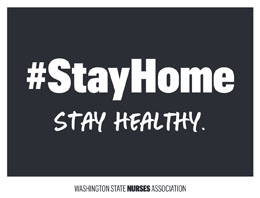 And for all others who support healthcare workers, here's a sign for you to urge everyone to #StayHome and stay healthy.
---
The Washington State Nurses Association has more than 17,000 members and repre­sents the profes­sional inter­ests of more than 103,000 regis­tered nurses who live and work in Washington state. earn more at WSNA.org.
---
Previously from The Stand (March 19) — Supplies Save Lives: Donate unused personal protective gear — Please donate your unused masks and help save lives.  Do you work at or own a construction company, medical or dental office, or other organization with an inventory of potentially life-saving personal protective equipment? Donate your unopened boxes of masks (N95 preferred), gowns, eye protection, and gloves to keep front-line health care workers healthy so they can save lives!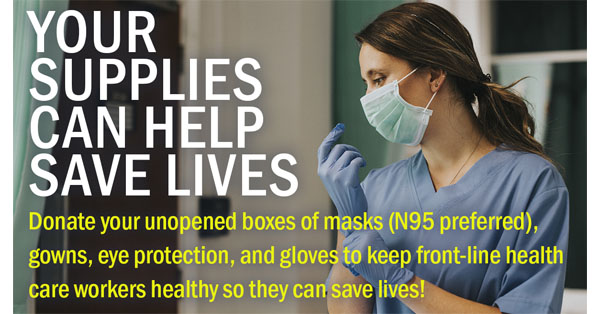 SuppliesSaveLivesWA.org was established by UFCW 21, Washington State Council of Firefighters, SEIU Healthcare 1199NW, Washington State Nurses Association, and the Washington State Labor Council, AFL-CIO.