Bartenders' blues ● Unemployment off the charts ● Mama Told Me
Friday, May 8, 2020
---
THIS WASHINGTON

► LIVE from the Seattle Times — Coronavirus daily news update, May 8 — The most recent count of COVID-19 cases in Washington totals 16,231 infections (up 326 from yesterday) and 891 deaths (up 21), according to the state Department of Health.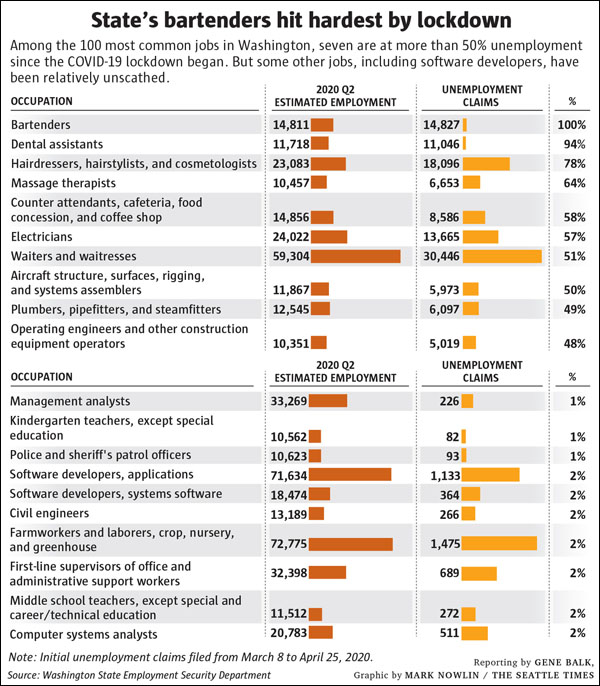 ► From the Seattle Times — Coronavirus unemployment: Bartenders, dental assistants top list of Washington's hardest-hit jobs — Analysis of data from the state Employment Security Department shows that basically everyone who worked as a bartender has filed for unemployment since March 15, when an emergency declaration temporarily shut down bars, restaurants and places of entertainment and recreation statewide.
The Stand (March 30) — Donate to UNITE HERE's local hospitality worker relief fund
► From Crosscut — Why COVID-19 is hitting Washington Latinos especially hard — The state's communities of color now account for larger share of positive tests, due to slow testing, exposure at work and other factors.
► From the News Tribune — Absurd Inslee 'Hairgate' faux-scandal again shows Tim Eyman not cut out for governor (editorial) — It gives Eyman, the (cough, cough) leading Republican challenger in this year's gubernatorial election, a platform to do what Eyman does best: Taunt, play to the crowd, beg for money and make unsubstantiated claims of wrongdoing while deflecting attention from his own.
---
LOCAL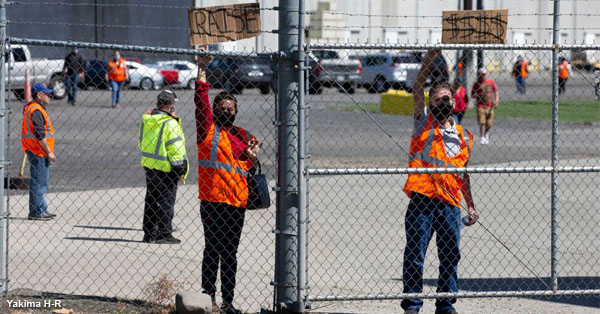 ► From the Yakima H-R — Allan Bros. workers walk off the job, citing safety concerns — More than 50 workers at Allan Bros. walked off the job Thursday, voicing concerns about the company's response to the coronavirus. Workers started protesting outside the fruit company's plant in Naches at 8 a.m. Thursday. They say the company isn't being transparent about COVID-19 cases and has been lax on safety measures, such as facility cleaning.
► From the Tri-City Herald — 2 more Tri-Cities coronavirus deaths. Public health prepares for influx of farm workers — One more worker at Tyson Fresh Meats beef plant in Wallula was added to the total of those living in the Tri-Cities area with COVID-19. It brings the total of plant workers who have been infected with the virus and live in the Tri-Cities to 250.
► From the Tri-City Herald — Thousands of Hanford workers will return in phases to guard against coronavirus — Most Hanford nuclear reservation workers will stay home for an eighth week, but there's a plan for a phased return to work.
► From the Spokesman-Review — MultiCare announces furloughs as region's major health providers deal with coronavirus financial woes — MultiCare Health Systems, which operates Valley and Deaconess hospitals in Spokane, will furlough 6,000 employees mostly outside clinical settings. The furloughed workers, mainly from the administrative side of the company, will include about 350 employees "in the Inland Northwest."
► From the Kitsap Sun — Puget Sound Naval Shipyard to hire 900 amid surging unemployment claims — The call for new jobs at one of Washington state's largest employers, whose workforce numbers more than 14,000, is not unusual. The trainee positions at the nation's largest public shipyard will pay an hourly wage between $17.35 to $23.34. Successful applicants will qualify for benefits including health and insurance, a comprehensive retirement package, 13 to 26 days of vacation each year along with 10 holidays off and 13 days of sick leave per year.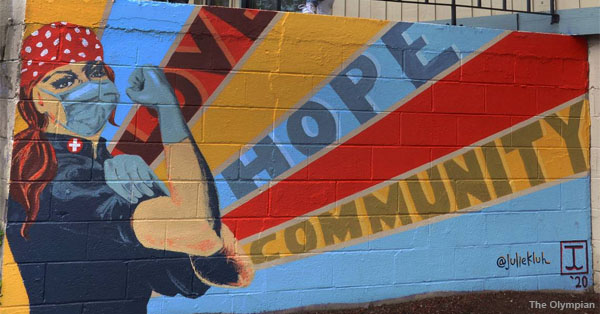 ► From the Olympian — Olympia artists inspired by Rosie the Riveter create can-do image for COVID-19 battle — Artists Taylor Clinton and Julie Kluh created the mural to offer a message of hope during the COVID-19 crisis.
► From KIRO — Air Force to conduct Friday Puget Sound flyover to salute frontline workers
---
BOEING
► From Reuters — Boeing expects to start 737 MAX production in May — "I am confident we will start our line this month on the MAX again," CEO David Calhoun told Fox Business on Friday. In April, Chief Financial Officer Greg Smith said Boeing was planning to begin production for the aircraft at low rates during the second quarter of 2020, with deliveries resuming in the third quarter following regulatory approvals.
---
THAT WASHINGTON
► From the Washington Post — U.S. unemployment rate soars to 14.7 percent, the worst since the Depression era — The jobless rate was pushed higher because 20.5 million people lost their jobs last month, the Labor Department said Friday, wiping out a decade of job gains in a single month. The staggering losses are roughly double what the nation experienced during the 2007-09 crisis, which used to be described as the harshest economic contraction most people ever endured. Now that has been quickly dwarfed by the fallout from the global pandemic.


► From the NY Times — How bad is unemployment? 'Literally off the charts' — If anything, the unemployment rate understates the extent of the damage to the labor market. The government's official definition of unemployment typically requires people to be actively looking for work, making the measure ill suited to a crisis in which the government is encouraging people to stay home.
► From The Hill — Schumer, Pelosi set to unveil 'Rooseveltian' relief package — Senate Minority Leader Charles Schumer (D-N.Y.) noted that Congress has appropriated nearly $500 billion to set up a credit-lending facility with more than $4 trillion in firepower so that financial markets would not crash. "We've got to have the same focus, even a stronger focus on the people — the working people, the average people who are suffering as well. We need the same kind of big, bold, tough action," he said.
► From The Hill — House GOP urge Trump against supporting additional funding for state and local governments — Top conservatives in the House are urging Trump not to support additional funding for state and local governments in the next coronavirus relief bill, arguing that many of the states seeking financial support were economically mismanaged prior to the pandemic.
► From the NY Times — An epidemic of hardship and hunger (by Paul Krugman) — Whatever the reasons, it's becoming increasingly clear that Americans suffering from the economic consequences of COVID-19 will get far less help than they should. Having already condemned tens of thousands to unnecessary death, Trump and his allies are in the process of condemning tens of millions to unnecessary hardship.
► From Politico — Barr reignites charge he is conducting Mueller cleanup for Trump — The attorney general has launched an investigation into the Russia probe's origins, intervened in Roger Stone's case and moved to dismiss Michael Flynn's case.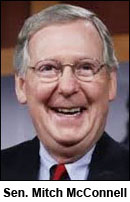 ► From Politico — 'We're going to fill it': Republicans ready for any Supreme Court vacancy — Justice Ruth Bader Ginsburg's hospitalization this week and the looming end of the Supreme Court's term raise the prospect of yet another prized vacancy for Trump. And if there is a surprise opening or retirement in the months before the presidential election, GOP senators plan to act on it, despite denying President Barack Obama a Supreme Court seat in an election year.
---
NATIONAL
► From the Washington Post — She begged her virus-stricken partner to go to the hospital. He refused until it was too late. — Across the country, thousands of people with COVID-19 are staying home as their conditions deteriorate. Fear has many refusing to go to the hospital — fear of financial ruin from hospital bills, or fear of immigration agents, or fear of dying alone in an unfamiliar place.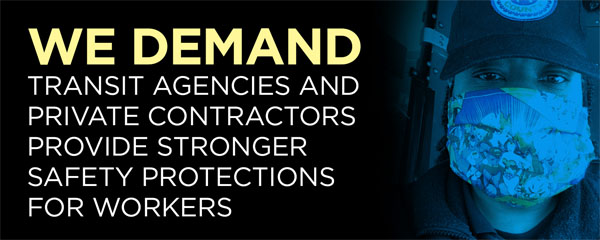 ► From WICZ — A bus driver told a rider to wear a mask. Then the passenger spit on her. — Bus drivers nationwide are facing new challenges as they try to protect passengers and themselves from a virus that's killed at least 135 transit workers nationwide, according to reports from the largest transit unions, the ATU and the TWU.
The Stand (April 15) — Join ATU in demanding Safe Service policies for transit workers
► From the IAM — After IAM pressure, United backs off forced furlough plan — The IAM's campaign and the resulting public outrage against United Airlines has caused the carrier to back away from its illegal scheme to force 15,000 full-time IAM members into part-time positions.
► From the Seattle Times — At protests, mostly white crowds show how pandemic has widened racial and political divisions — The raucous protests in wealthy, coastal Orange and San Diego counties and at the state Capitol in recent days have, for many, highlighted racial and class disparities amid a pandemic that has killed more than 2,500 Californians — a disproportionate number of whom are black, Latino and poor.
► From the Washington Post — As Iowa reopens, workers are being forced to choose between a paycheck and their health — "I can't believe this is a choice I have to make."
---
T.G.I.F.
► Fifty years ago, Three Dog Night had a hit with this Randy Newman song about maternal advice against attending certain big-city parties.  B.C. (Before COVID), The Entire Staff of The Stand had airplane tickets to go visit our mom this weekend on the East Coast. So instead, we'll have to settle for some Facetime on Sunday. Happy Mothers Day, Mom!
---
The Stand posts links to Washington state and national news of interest every weekday morning by 10 a.m.
Short URL: https://www.thestand.org/?p=87395
Posted by
David Groves
on May 8 2020. Filed under
DAILY LINKS
. You can follow any responses to this entry through the
RSS 2.0
. Both comments and pings are currently closed.