SEATTLE (May 15, 2020) — On Thursday afternoon, a coalition of five unions representing University of Washington employees met near Harborview Medical Center in downtown Seattle to participate in a 20-minute Unity Break to show the UW that the employees stand strong and united against the UW's lack of commitment to the safety of their staff. As high-risk workers, these UW employees have been pleading for safer working conditions, but the university has ignored their simple requests.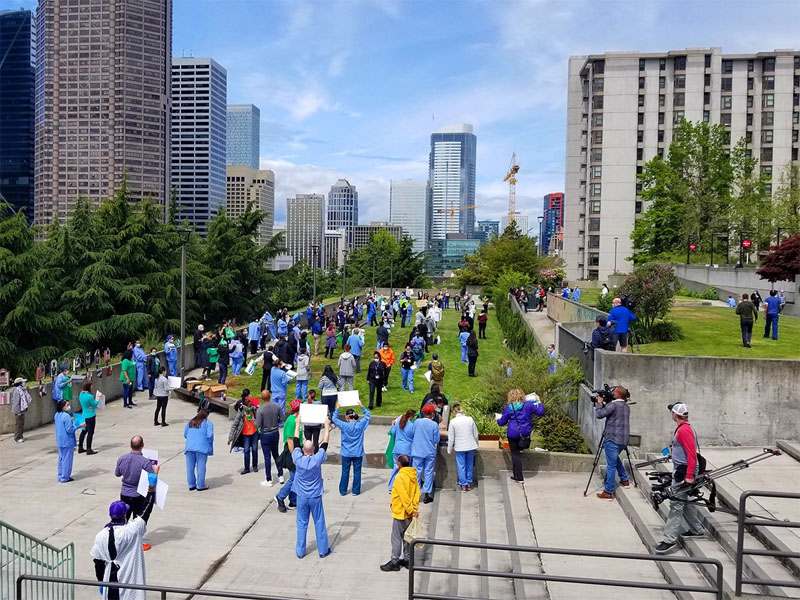 On Thursday, they made their voices heard for the safety of all employees.
The Washington State Nurses Association, SEIU Local 925, SEIU Healthcare 1199NW, AFSCME Council 28 WFSE and University of Washington Housestaff Association worked together to secure COVID-19 related Memoranda of Understanding (MOUs) to protect UW staff during the crisis. These MOUs included re-deployment pay of $4/hour, protections for vulnerable populations, security for those with COVID-19 exposure and confirmed cases, telecommuting options for employees, free parking, appropriate PPE and other workplace concerns.
This coalition approached UW for an extension on these MOUs, and the university has declined to re-sign the agreements. The current date of expiration is Friday, May 15 — today.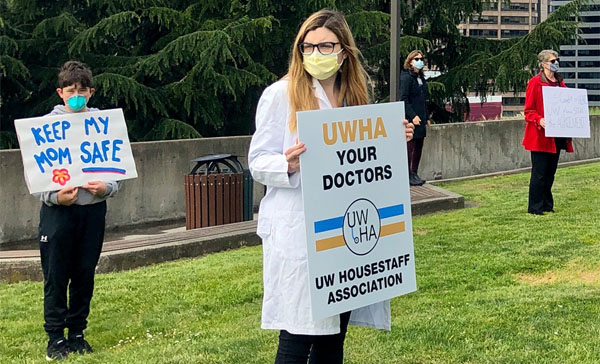 The coalition continues to fight for these MOUs to be extended, as well as additional requests that we are hearing from our members, including:
► Plexiglas to protect workers in high traffic areas
► Hazard pay for front line workers
► Job protections for the furloughs UW announced on May 11.