Combating racism ● Boeing's heavy cuts ● Caravan to Yakima
Monday, June 1, 2020
---
COMBATING RACISM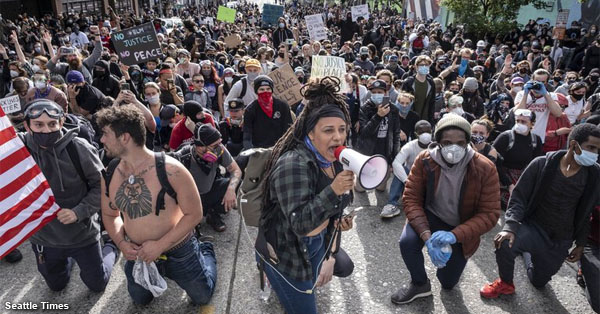 ► From the Seattle Times — Seattle demonstrations vent anguish at death of George Floyd and more, for a 'grieving nation' — George Floyd's death murder "lit gasoline already poured all over the ground," said the Rev. Dr. Leslie Braxton, senior pastor of New Beginnings Christian Fellowship of Kent. For years people have been suffering hardships made worse by the coronavirus pandemic, killing more people in the U.S. than any other nation and putting millions out of work. "We are a grieving nation," Braxton said. No one should be surprised demonstrations about Floyd vented anger about so much more, Braxton said. "People say, 'this is not about Floyd anymore,' you are right. It is about an American public that is fed up." But at the center of the demonstrations and their message is the inescapable and unchanging fact that Black people are policed differently, Braxton said. "We have seen it over and over and over again," Braxton said. "So this is the rawest nerve. It is really about institutionalized racism." The message of healing and need for police reform was not overshadowed by the looting and other criminal activity that erupted Saturday, Taylor said. And it must not be now.
► From the Spokesman-Review — It was far from certain, but Spokane showed up in a big, peaceful way (by Shawn Vestal) — We are nowhere close to well. And yet, during Sunday's protest, there were little rays of light. The police kneeling with the protesters. The way the crowd shut down a man who threw something at the cops. A tall man with a booming voice, clearing a large circle in the crowd to pray at the top of his lungs: "Father, we need you! We are crying out to you! … May you put an end to this violence! May you put an end to the divisiveness and anger!" And the sweet, strange moment on that tense line at the courthouse, when a young man, Dashea McDowell, walked from one officer to the next, embracing each one. "Thank you for your service," he said. "I love you, and I know it's not your fault."
► LOCAL COVERAGE of the mostly peaceful protests against the murder of George Floyd in the (Bremerton) Kitsap Sun, KUOW (re: Bellevue), (Longview) Daily News, The Olympian, Peninsula Daily News, (Tacoma) News Tribune, Tri-City Herald, (Vancouver) Columbian, Walla Walla Union-Bulletin, and the Yakima Herald-Republic.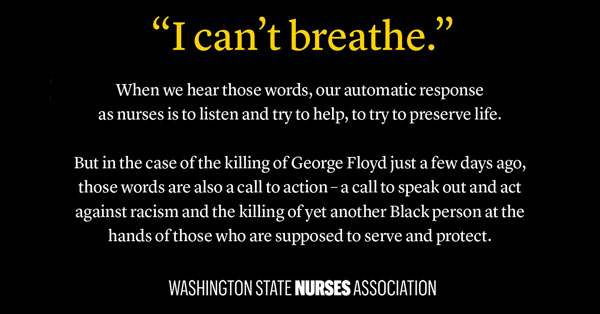 ► From the WSNA — WSNA statement calling for an end to systemic racism — The Washington State Nurses Associ­a­tion stands in solidarity with all those who are calling for an end to systemic racism, racial violence and police brutality. We also are calling on our profes­sion to look hard at the many ways racism manifests itself in our health care system and in patient care. We must do better.
► From WFSE — WFSE releases statement condemning murder of Black Americans — The Washington Federation of State Employees/AFSCME Council 28 stands with all of our union siblings, and especially the millions who have disproportionately suffered violence and loss due to white supremacy. These ongoing killings in our communities lay to bare the deeply entrenched structural racism that must be addressed.
The Stand (May 31) — 'WSLC is always proud to stand on the side of justice and equality'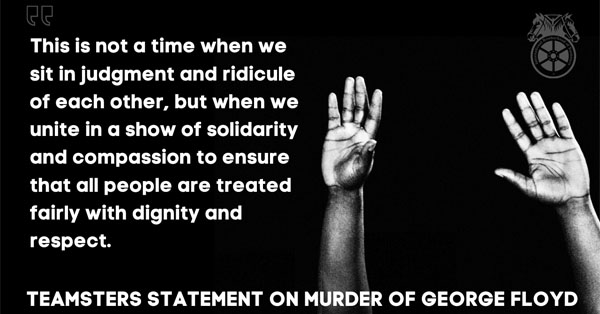 ► From the Teamsters — Teamsters statement on murder of George Floyd — Teamsters President James P. Hoffa: "Unfortunately, this is just the latest incident of an unwarranted police killing of an unarmed black man in the United States, and a harsh truth that we must accept – equal justice under the law is not a reality for all Americans. Black people fear for their lives on a daily basis by the very institutions which are supposed to protect them."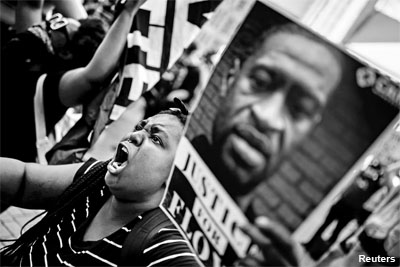 ► From the NY Times — Remember, no one is coming to save us (by Roxane Gay) — Even during a pandemic, racism is as pernicious as ever. COVID-19 is disproportionately affecting the black community, but we can hardly take the time to sit with that horror as we are reminded, every single day, that there is no context in which black lives matter… Eventually, doctors will find a coronavirus vaccine, but black people will continue to wait, despite the futility of hope, for a cure for racism. We will live with the knowledge that a hashtag is not a vaccine for white supremacy. We live with the knowledge that, still, no one is coming to save us. The rest of the world yearns to get back to normal. For black people, normal is the very thing from which we yearn to be free.
► From Fox News — AFL-CIO chief condemns people using Floyd death to 'perpetuate violence' — "Racism affects Democrats and Republicans alike … We had the chance to have a real conversation and we still have that opportunity," Trumka said.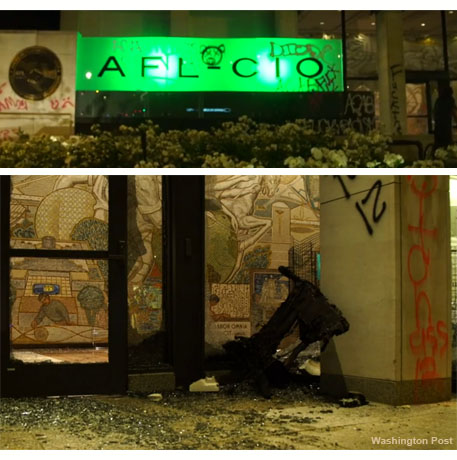 ► From The Hill — AFL-CIO: Attack on headquarters during night of protests 'disgraceful' — AFL-CIO President Richard Trumka is calling the attack on the labor group's Washington, D.C. headquarters during a night of protests over the death of George Floyd on Sunday evening "senseless" and "disgraceful." Trumka said, "We categorically reject those on the fringes who are engaging in violence and destroying property. Attacks like the one on the AFL-CIO headquarters are senseless, disgraceful and only play into the hands of those who have oppressed workers of color for generations and detract from the peaceful, passionate protesters who are rightly bringing issues of racism to the forefront."
ALSO TODAY at The Stand — Labor is not a building: We will never stop fighting for economic, social, racial justice
► From the Washington Post — As cities burned, Trump stayed silent — other than tweeting fuel on the fire (by Philip Rucker) — Never in the 1,227 days of Trump's presidency has the nation seemed to cry out for leadership as it did Sunday, yet Trump made no attempt to provide it.
---
BOEING
► From the Seattle Times — Boeing job cuts will fall heavily on engineers and machinists — Boeing has provided its two main unions detailed breakdowns showing they'll each be hit heavily by the initial round of nearly 10,000 job cuts announced this week for Washington state. The Machinists union will lose about 5,000 people, or 16% of its membership, in a combination of layoffs and buyouts. Boeing's white-collar technical union will lose about 1,500, or 12%, of its engineers and about 1,000, or 21%, of its technical staff. That leaves about 2,500 nonunion employees who will also lose their jobs in the state. "This is a significant amount of knowledge and skill leaving the Boeing Company," said Bill Dugovich, spokesman for the Society of Professional Engineering Employees in Aerospace.
---
LOCAL
► LIVE from the Seattle Times — Coronavirus daily news update, June 1 — The latest count of COVID-19 cases in Washington totals 21,702 infections (7-day average of new infections per day: 268) and 1,118 deaths (7-day average of deaths per day: 8).
► From KIMA TV — Activists, unions form a caravan to support striking workers — Hundreds from across the State demonstrated along side striking workers at fruit packing plants Saturday in a show of solidarity. Since May 7, workers at seven fruit packing warehouses went on strike or protested working conditions. Allan Bros, Roche Fruit, Frosty Packing, Monson Fruit, and Hansen Fruit have returned to work but strikes at Columbia Reach Pack and Matson Fruit continue. The workers said they aren't being heard. "Here at Columbia Reach, those requests and demands have not been met, nor even considered," said Dulce Gutierrez, an organizer with the Washington State Labor Council.
The Stand (May 31) — ¡Si Se Puede! 85-car solidarity caravan joins Yakima strikers
► From the Yakima H-R — Lawsuit accuses Mabton dairy, employee of sexual harassment against 8 workers — Eight current and former employees of Mensonides Dairy in Mabton have filed a lawsuit against the company and one of its employees alleging sexual harassment and retaliation. Mensonides is a Northwest Dairy Association member and an affiliate of Darigold. The lawsuit alleges that a former general manager at the dairy repeatedly sexually harassed and retaliated against the eight plaintiffs, that the dairy failed to protect the workers, and that it eventually retaliated against them as well.
► From the Bellingham Herald — 86 crew members of trawler that docked in Bellingham test positive for COVID-19 — Eighty-six crew members of the American Dynasty trawler that docked in Bellingham last week have tested positive for COVID-19. The Seattle-based crew are not showing symptoms of the disease and stayed on the ship when it was in Bellingham
► From the Columbian — Outbreak at Firestone a learning opportunity (editorial) — The coronavirus outbreak at Firestone Pacific Foods is believed to be the largest workplace infection in the metro area. Ideally, other companies in the region can learn from it to help keep employees — and the public — safe from the virus.
► From the Kitsap Sun — New firefighter training facility planned for West Hills area of Bremerton
---
THIS WASHINGTON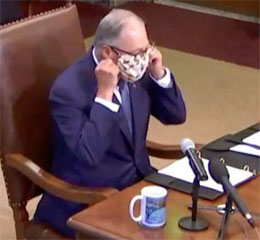 ► From the Olympian — Workers will be required to wear masks to protect others from COVID-19 starting June 8 — As Washington state defends against a possible rebound in COVID-19 cases, workers who interact with customers and other workers will be required to wear facial coverings, starting June 8, Gov. Jay Inslee said Friday. The requirement to wear a non-medical mask such as one made of cloth is waived if employees are working alone in an office, vehicle, or job site, or if they don't have "in-person interactions" such as being regularly within 6 feet of customers, for example. The wearing of masks is needed because as the reopening of Washington's economy reduces social distancing, other tools are needed, Inslee said.
► From the Spokesman-Review — Inslee announces stay-home order will be replaced with new, more flexible plan for reopening — Washington will enter a new phase in the state government's efforts to control the COVID-19 pandemic, replacing a stay-home order with a new program that will allow counties to have different amounts of business and recreational activity. "We plan to move Washington forward on a county-by-county basis," Gov. Jay Inslee said in announcing the change Friday afternoon.
---
THAT WASHINGTON
► From Bloomberg Law — Court strikes down major parts of NLRB union election rules — A federal judge has struck down major portions of a new set of regulations that modify how union elections are conducted, ruling that the NLRB should have given the public a chance to weigh in on those components of the rulemaking. The court's Saturday decision effectively blocks the full rule from taking effect on June 1, as planned.
► From Law360 — OSHA's critics seize on news of lone COVID-19 citation — The disclosure at a congressional hearing that OSHA had only issued one citation related to the COVID-19 pandemic shows the workplace safety watchdog is dropping the ball, worker advocates say. "Monday is going to be June, and they've issued one citation, in a pandemic," said AFL-CIO Safety and Health Director Rebecca Reindel. "Is that really how you want to react during a crisis?"
► From Politico — McConnell and Pelosi's next battle: How to help the 40 million unemployed — After brushing off Democrats' demands for more relief, Senate Republicans now say the next major coronavirus package is likely to move in the coming weeks. And a key conflict ahead will be over how to help the 40 million Americans out of work.
► From the Seattle Times — COVID-19 testing plan puts White House leadership crisis on display (by Sen. Patty Murray) — We can't afford to keep waiting while this president's failures destroy more American lives or livelihoods. Instead we've got to push him every step of the way not just on testing, but on all the nationwide challenges our federal government is uniquely positioned to solve — and must — in the coming months.
---
NATIONAL
► From the Washington Post — Despite widespread economic toll, most Americans still favor controlling outbreak over restarting economy, poll finds — Nearly 6 in 10 Americans say the coronavirus outbreak has exacted a severe economic toll on their communities, but a majority of a divided country still says controlling the virus's spread is more important than trying to restart the economy, according to a Washington Post-ABC News poll.
---
TODAY'S MUST-LISTEN
► ICYMI… from Trevor Noah of The Daily Show:
---
The Stand posts links to Washington state and national news of interest every weekday morning by 10 a.m.
Short URL: https://www.thestand.org/?p=88190
Posted by
David Groves
on Jun 1 2020. Filed under
DAILY LINKS
. You can follow any responses to this entry through the
RSS 2.0
. Both comments and pings are currently closed.