Floyd laid to rest ● Videos contradict police ● Yakima's holdout
Tuesday, June 9, 2020
---
POLICE ACCOUNTABILITY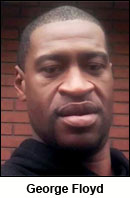 ► From the AP — George Floyd, whose death energized a movement, to be buried today — The black man whose death has inspired a worldwide reckoning over racial injustice will be buried in Houston Tuesday, carried home in a horse-drawn carriage. George Floyd, who was 46 when he was killed, will be laid to rest next to his mother. On May 25, as a white Minneapolis officer pressed a knee on Floyd's neck, the dying man cried out for his mother. His funeral will be private. Some 6,000 people attended a public memorial service Monday in Houston, where he grew up.
► From SPEEA — SPEEA demands justice for George Floyd and an end to racism — In unanimous vote, the SPEEA Executive Board added our union to the growing list of labor unions calling for justice: "We stand side-by-side with the Washington State Labor Council, AFL-CIO, and other local unions throughout Washington state in reaffirming our commitments to eliminating racism from the labor movement, calling out injustice wherever it occurs, and combating the structural and institutional inequities that advantage some while denying others their full human dignity."
The Stand (June 3) — Labor decries Floyd's murder, urges action — Let this be an archive of organized labor's sense of resolve at this difficult time in our history. Let this also be a reminder of our anger and our calls to action that we can refer back to in the future, as we hold each other accountable for fighting systemic racism in our unions and our country.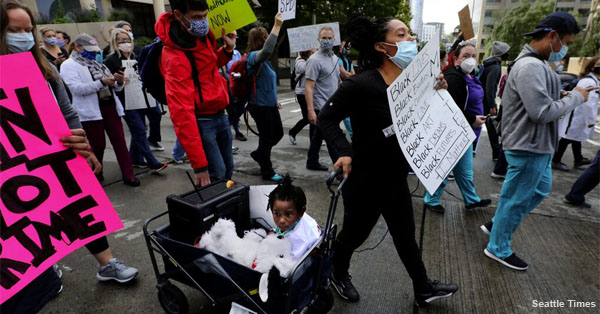 ► From the Seattle Times — Double duty: Health care workers of color fight the twin pandemics of coronavirus and racism — "For me as an African American woman, police brutality has been my corona since before corona showed its face," Hazzaunah Underwood said. "I have a 7-year-old son. I want him to be able to grow up, to walk the street, for me not to be fearful every time he leaves the house that he won't come back." Her voice broke into tears. "It's not OK," she said. "So when do you speak? When do you stand up?"
► LIVE from the Seattle Times — Seattle-area protests: Live updates for Tuesday, June 9 — Peaceful protesters celebrated Monday after police began, in the chief's words, "decreasing our footprint" in the Capitol Hill neighborhood. Officers removed barricades at 11th Avenue and Pine Street, clearing the way for crowds to march, and boarded up the department's East Precinct, where demonstrators gathered to list demands for change that they plan to send to public officials.
► MORE LOCAL COVERAGE of peaceful protests from the Bainbridge Island Review ("hundreds"), Bellingham Herald (5,000+), Columbia Basin Herald (300+), Columbian (50), Ellensburg Daily Record ("hundreds"), Everett Herald (800+), Kitsap Sun ("hundreds"), Spokesman-Review ("thousands"), Tri-City Herald ("thousands"), Walla Walla Union-Bulletin ("hundreds"), Wenatchee World (1,000+), and the Yakima Herald-Republic (150).
► From the Seattle Times — Inslee proposes restrictions on police chokeholds, new state body to investigate police killings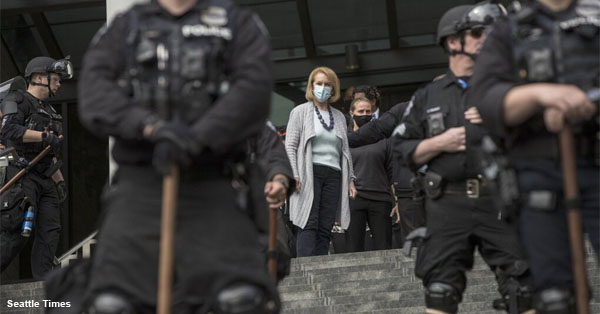 ► From the Seattle Times — Seattle council members vow 'inquest' into police budget; some say mayor should consider resigning — Amid ongoing protests over police brutality and killings of Black people, "war zone" actions against demonstrators on the street and calls in some corners for Mayor Jenny Durkan to step down, the Seattle City Council vowed Monday to carve into the Police Department's budget and completely rethink how to ensure public safety.
► From the Spokesman-Review — Spokane Police Guild eyes long-overdue contract; City Council has questions — The tentative new contract is certain to meet substantial scrutiny from the council when it takes the issue up next week.
► From the News Tribune — Manuel Ellis died handcuffed in the street. How Tacoma responds will define us. (by Matt Driscoll) — If history is made of a chronicled series of events that collectively tell the tale of our humanity, there's little question Tacoma's story will now always include a chapter on Manny Ellis and how we answered the call.
► From the Seattle Times — How a history of racism, police brutality and a pandemic led to an 'extraordinary moment' (by Naomi Ishisaka) — To understand the unprecedented moment we're in, activists, organizers and scholars are looking back at its historic underpinnings, parsing the dynamics of the moment and envisioning where it might take us next.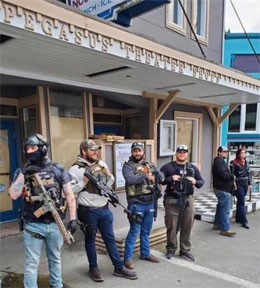 ► From the (Everett) Herald — 100 armed vigilantes rouse fear, soul-searching in Snohomish — Citizens are angry that the mayor and police chief welcomed armed vigilantes — one waving a Confederate flag, some flaunting patches of a hate group's coded insignia on tactical gear — as they occupied First Street's historic downtown with military-style rifles to "protect" local boutiques from alleged leftist looting threats that never materialized. Snohomish Police Chief Keith Rogers and Mayor John Kartak faced a chorus of citizens calling on them to resign for allowing a gun-carrying crowd to publicly drink alcohol, intimidate citizens and tarnish the city's reputation.
► From the (Everett) Herald — After public outcry, Snohomish police chief is reassigned — Snohomish Police Chief Keith Rogers is being reassigned amid public calls for his resignation. He will stay on as a lieutenant with the sheriff's office.
EDITOR'S NOTE — Meanwhile in Clallam County, a multiracial family traveling in a bus to go camping near Forks was confronted by multiple people outside a store who falsely believed they were busing in members of Antifa and then cut down trees to block them from leaving their campsite.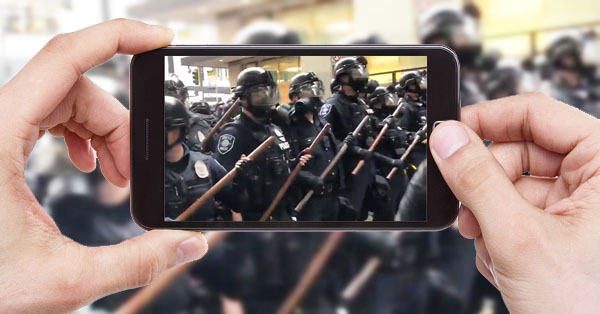 ► From the Washington Post — In violent protest incidents, a theme emerges: Videos contradict police accounts — On May 26, the morning after George Floyd's last gasps underneath a policeman's knee, the Minneapolis Police Department wrote he had "physically resisted" officers, who noted Floyd "appeared to be suffering medical distress." That news release went online hours before video revealed two things the public may have never learned otherwise: the source of his distress was nearly nine minutes of Derek Chauvin's leg pressed into Floyd's neck, and there is little evidence, if any, that Floyd resisted officers. The pattern — video of violent police encounters that contrast sharply with accounts by the departments or their unions — has repeated with grim symmetry in the days since Floyd's death. Numerous incidents have captured the rage of the public who point to inaccurate or outright misleading descriptions of what has occurred before their eyes. Taken together, the incidents show how instant verification of police accounts have altered the landscape of accountability.
► From the Washington Post — Newly released video shows N.J. trooper fatally shooting unarmed black man during traffic stop — New Jersey's attorney general released police dash-camera footage Monday that captured the fatal shooting of Maurise Gordon, a 28-year-old unarmed black man, by a white state trooper last month.
► From The Hill — Video emerges of black man who died in police custody saying 'I can't breathe' during arrest in Austin — Video has emerged of a 2019 arrest of a black man in Austin, Texas who can be heard telling officers he can't breathe and informing them about a heart condition before his death.
► From The Hill — Democrats unveil sweeping legislation in response to protests of police brutality — Democrats in both chambers introduced sweeping reforms on Monday designed to combat racial disparities in the criminal justice system — the party's much awaited legislative response to recent police violence against African Americans that's sparked mass protests across the country and beyond. The package — the most aggressive crack down on law enforcement to arrive in decades — would establish a federal ban on chokeholds, eliminate the legal shield protecting police from lawsuits, mandate the use of body cameras nationwide, limit federal transfers of military-style weapons to local police, ban military-style weapons for police and create a national database disclosing the names of officers with patterns of abuse… Democrats want to pass the legislation through the House before the end of the month.
► From Bloomberg —
► From the Washington Post — Big majorities support protests over Floyd killing and say police need to change, poll finds — Trump receives negative marks for his handling of the protests, with 61 percent saying they disapprove and 35 percent saying they approve. Much of the opposition to Trump is vehement, as 47 percent of Americans say they strongly disapprove of the way the president has responded to the protests… More than 2 in 3 Americans (69 percent) say the killing of Floyd represents a broader problem within law enforcement, compared with fewer than 1 in 3 (29 percent) who say the Minneapolis killing is an isolated incident.
► From The Hill — Trump claims 75-year-old man shoved by Buffalo police could be part of 'set up' — "Buffalo protester shoved by Police could be an ANTIFA provocateur," Trump tweeted.
---
LOCAL
► LIVE from the Seattle Times — Coronavirus daily news update, June 9 — The latest count of COVID-19 cases in Washington totals 24,041 infections (7-day average of new infections per day: 284) and 1,161 deaths (7-day average of deaths per day: 7)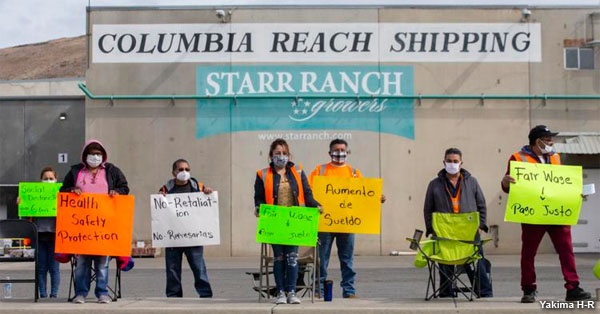 ► From the Yakima H-R — Workers seek meeting as strike continues at Columbia Reach Pack — Workers at the Yakima plant have had to tap into their inner strength as their strike approaches the four-week mark. Columbia Reach Pack is the last Yakima Valley fruit-packing plant with workers on strike. While workers at other plants have been able to reach agreements with employers, those at Columbia Reach have yet to even have an in-person meeting with company officials. The company has only agreed to one-on-one conversations with human resources, said Rosalinda Gonzalez, a member of the workers' committee. "They don't want to meet (us) as a group," she said.
EDITOR'S NOTE — And in a related story…
► From the Yakima H-R — "We are a hot spot for COVID-19." Yakima County adds another 215 cases Monday — Cases need to decrease below 25 per 100,000 people over two weeks before the county can be considered for Phase 2 of Gov. Jay Inslee's reopening plan. As of now, Yakima County's infection rate is more than 537 per 100,000 over 14 days.
► From the Tri-City Herald — Tri-Cities COVID cases soar to highest daily total yet. Counties still look to reopen — The Tri-Cities area hit a new record for daily confirmed cases of COVID-19 — 86 reported in one day. The health district said the increase in positive cases seen since about the start of June could not be attributed to additional testing. Instead, health district officials have attributed the increased cases to the coronavirus being spread broadly through the community, including at workplaces that remain open because businesses are considered essential and at large gatherings.
---
THIS WASHINGTON

► From SEIU 775 — DSHS announces plan to balance state budget by destroying long-term care services — The Washington State Department of Social & Health Services has announced a plan to balance the state budget by decimating long-term care services in our state. "To cut funding for the frontlines of healthcare in the middle of a global pandemic is tantamount to neglect," said SEIU 775 President Sterling Harders. "The people of Washington are asking: Why are we slashing care for the most vulnerable while the wealthiest in our state pay next to nothing."
► From the (Longview) Daily News — Lower Columbia College to cut 13 full-time staff, roll out more layoffs — Six exempt staff positions will be cut. Of those, two contracts will not be renewed and four vacated positions will not be filled. Seven classified staff positions will be cut. The cuts are in addition to 45 part-time employees that previously received layoff notices.
► From the Spokesman-Review — Employees must wear facial coverings starting this week, due to governor's Safe Start order — Starting Monday, employees at businesses statewide must wear face coverings at work, due to Gov. Jay Inslee's Safe Start order. A person's workplace determines which kind of face covering they should wear from reusable cloth masks to N95 respirators, and the state Department of Labor & Industries released guidance on how industries can provide the appropriate face coverings to their employees.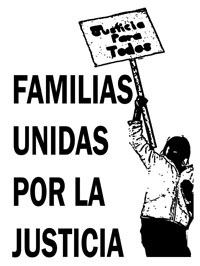 ► From the News Tribune — Farmworkers' union sues state agencies over COVID-19 emergency rules — Familias Unidas por la Justicia has sued two state agencies, asking a Thurston County Superior Court judge to strike down emergency rules on temporary farm worker housing as "contrary to scientific evidence." The lawsuit asks the court to repeal parts of the emergency housing rules adopted by the Department of Labor & Industries and the Department of Health. Also, the farmworkers' union asks the court to order the state to approve rules that provide workers with more protections.
► From the Seattle Times — ESD commissioner sued for halting benefits during fraud investigation — Lawyers for two workers whose unemployment benefits were halted during a fraud investigation have asked the state Supreme Court to force the state Employment Security Department to restart those payments as quickly as possible.
---
THAT WASHINGTON
► From the Seattle Times — Hospitals got bailouts and furloughed thousands while paying CEOs millions — HCA is among a long list of deep-pocketed health care companies that have received billions of dollars in taxpayer funds but are laying off or cutting the pay of tens of thousands of doctors, nurses and lower-paid workers. Many have continued to pay their top executives millions, although some executives have taken modest pay cuts.
► From Reuters — Billions in COVID relief go to biggest hospital chains as smaller rivals await aid — Spared the worst of COVID-19, the largest for-profit hospital chains in the United States are pursuing a speedy recovery backed by billions of dollars in federal aid, while other hospitals say they have been harder hit and left wanting.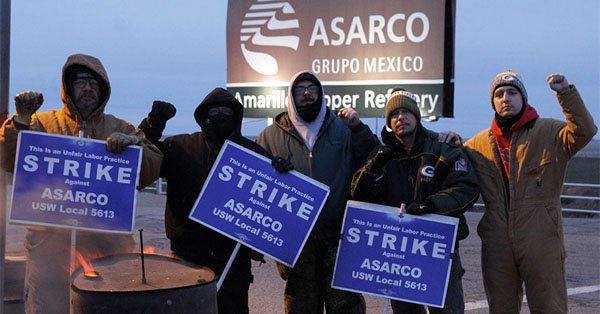 ► From the Arizona Daily Star — No end in sight for Asarco copper strike, but critical ruling lies ahead — The strike against Tucson-based copper producer Asarco by unions representing about 1,800 workers in Arizona and Texas is in its eighth month, with no talks underway or planned. Now, the success of the strike may hinge on a crucial decision from the National Labor Relations Board.
---
NATIONAL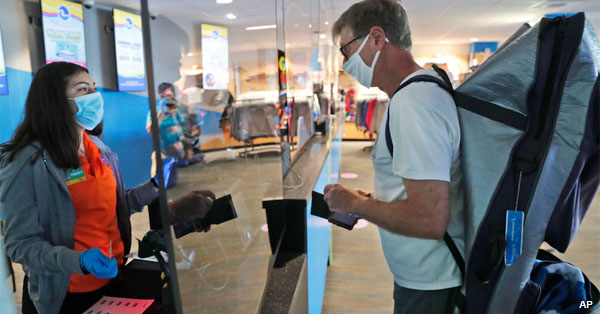 ► From the Washington Post — 'I don't know if that counts as a job': Fewer hours, less pay and more anxiety greet returning workers — As millions of Americans return to work amid the worst economic crisis in a generation, they're unexpectedly discovering their old positions are far more burdensome than they used to be. Their hours have been cut, their pay has been slashed and their responsibilities are now magnitudes greater. And their job security — despite President Trump's recent proclamations about an economy on the mend — remains anything but guaranteed.
EDITOR'S NOTE — A union contract makes sure a job stays a job. Find out more information about how you can join together with co-workers, negotiate a fair return for your hard work, and keep the company from arbitrarily slashing your hours and wages. Or go ahead and contact a union organizer today!
► From NBC News — 'Historic and unprecedented': Women have been hit hardest by coronavirus layoffs — Women who work entered the year on a high note, with sky-high employment numbers thanks, in part, to the rapid expansion of industries such as health care and education. However, the impact of the coronavirus has wiped out nearly all of women's gains in the workforce over the last decade — leading some economists to call the current crisis a "she-cession."
► From the NY Times — Why it's hard to keep meatpacking workers safe as plants reopen (interactive) — See how workers stand should-to-shoulder to provide Americans with affordable meat.
EDITOR'S NOTE — So it's hard. These plants are morally and legally bound to do it anyway.
► From The Hill — Texas reports record number of COVID-19 hospitalizations weeks after reopening
► From the NY Times — 'Corporate America has failed Black America' (by David Gelles) — In the past week, it has seemed like every major company has publicly condemned racism. All-black squares cover corporate Instagram. Executives have made multimillion-dollar pledges to anti-discrimination efforts and programs to support black businesses. Yet many of the same companies expressing solidarity have contributed to systemic inequality, targeted the black community with unhealthy products and services, and failed to hire, promote and fairly compensate black men and women.
---
TODAY'S MUST-SEE
► Last Week Tonight with John Oliver — Police — As nationwide protests over the deaths of George Floyd and Breonna Taylor are met with police brutality, John Oliver discusses how the histories of policing and white supremacy are intertwined, the roadblocks to fixing things, and some potential paths forward. (WARNING: Explicit language and violent video clips.)
---
The Stand posts links to Washington state and national news of interest every weekday morning by 10 a.m.
Short URL: https://www.thestand.org/?p=88565
Posted by
David Groves
on Jun 9 2020. Filed under
DAILY LINKS
. You can follow any responses to this entry through the
RSS 2.0
. Both comments and pings are currently closed.