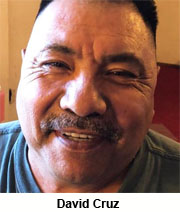 YAKIMA (June 3, 2020) — This past Sunday evening, David Cruz, an employee at Allan Bros. Fruit, who participated in strikes for COVID-19 protections after an outbreak at their company, died from the virus. Whether he contracted the virus at work or elsewhere, his close proximity to co-workers prior to the strike increased the risk of transmission to and from him. His wife and daughter, who also became ill, are only now emerging from quarantine. Cruz had worked for the company for 12 years.
The death comes just days after his co-workers ended a historic three-week strike with a written agreement between management and a worker-elected negotiating committee to improve conditions and wages.
"It is painful to lose the life of a member of our worker family and we will continue to work to protect everyone else while this disease continues," said Agustin Lopez, member of the democratically-elected negotiation committee of the Allan Bros. Fruit strike.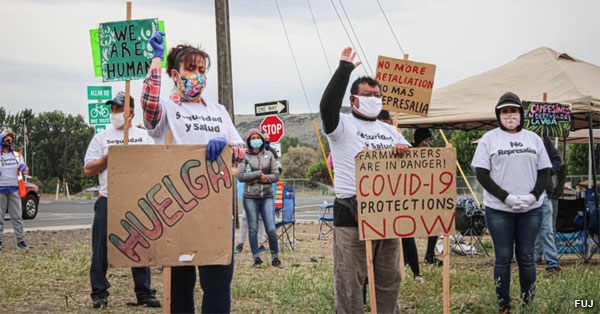 While important agreements protecting workers have been reached at two of the six fruit companies in the Yakima Valley, Allan Bros. Fruit and Monson Fruit, workers at Columbia Reach and Matson Fruit are in their third week on strike for workplace protections from the virus.
Today (Wednesday, June 3) the striking workers are planning a caravan to the Labor and Industries and the Department of Health offices in Yakima to demand that the agencies intervene and enforce safety standards at their workplaces. This follows a caravan they organized last week where they delivered more than 200 complaints to L&I. The workers have yet to see any meaningful investigations from state regulators.
At Columbia Reach and Matson Fruit, workers remain on strike and are committed to winning improvements. The workers are frustrated by their bosses' refusal to negotiate in good faith to reach a fair agreement, but are resolved to continue until they win. Many see the victories at Allan Bros. and Monson Fruit as hopeful, and are even more determined after the tragic death of their community member.
Many workers at Columbia Reach and Matson have worked at their respective companies for decades and still make the same amount as a new employee. They are fighting for safety from COVID-19, wage increases, and to address longstanding grievances. They are calling for community members to join them on the picket line and continue the fight.
Workers are concerned about more than just their own safety on the job. With low wages forcing many workers to live in crowded housing, they are worried about getting the virus at work and then spreading it to their family and neighbors.