Legal organizing ● No hoax ● Botching America ● Heat's on Mitch
Tuesday, July 14, 2020
---
LOCAL
► BREAKING from the Seattle Times — 1 police officer killed, 1 injured in Bothell shooting; suspect in custody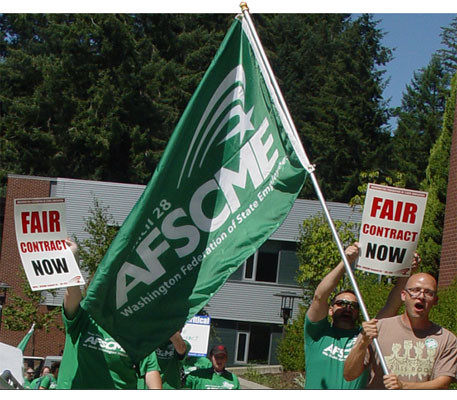 ► From WFSE — Legal assistants in Pierce County form a union — After dealing with years of favoritism, retaliation, and arbitrary staffing changes, the legal assistants, legal interviewers, and victim advocates at the Pierce County Prosecuting Attorney's Office have come together to form a union with the Washington Federation of State Employees, AFSCME Council 28. In May, the "Fab Four" of Laura Devereaux, Kanani Palafox, Danielle Johnson, and Sylvia Eichman got a majority of their colleagues on board for the union. They became an official unit in the beginning of June and will get together virtually later this month to discuss bargaining. "We can't change everything that's been done over the last nine years, but with a union we can make our voices heard," Johnson said.
EDITOR'S NOTE — Want a voice at work? Get more information about how you can join together with co-workers and negotiate a fair return for your hard work. Or go ahead and contact a union organizer today!
► From Crosscut — WA's eviction ban faces uncertain future, leaving renters in limbo — As the moratorium nears expiration, landlords prepare to sue the state to roll back pandemic housing protections.
► From the Washington Post — 'A lot of uncertainty': Staffers at renowned McClatchy newspapers mull bankruptcy sale to tabloid-owning hedge fund — America's newest newspaper baron is a hedge fund whose chief executive has ties to Trump's most tabloid-worthy stories and whose publishing assets include the National Enquirer.
EDITOR'S NOTE — Those newspapers include The Bellingham Herald, The Olympian, The (Tacoma) News Tribune, and the Tri-City Herald.
---
COVID-19
► LIVE from the Seattle Times — Coronavirus daily news update, July 14 — The latest count of COVID-19 cases in Washington totals 41,757 infections (7-day average of new infections per day: 679) and 1,399 deaths (7-day average of deaths per day: 6). The number of deaths reported by state health officials was lower than the day before, without explanation.
► From KING 5 — 3% of frontline UW Medicine workers tested have antibodies — UW Medicine says this prevalence rate is lower than the general public indicating there is not a significantly higher risk of coronavirus among frontline workers versus the general population.
► From The Hill — Virus immunity in recovered patients may be gone in months — The study found that 60 percent of the patients had a "potent" antibody response at peak of their battle with the coronavirus. After about two months, however, just 16.7 percent of the patients had a potent antibody response.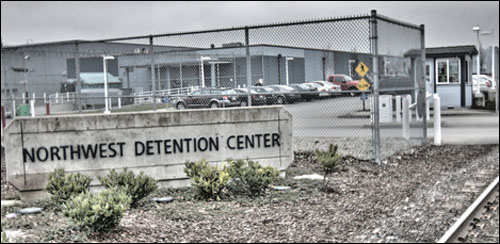 ► From HuffPost — Nearly 1,000 U.S. immigration detention center employees test positive for coronavirus — The heads of four companies — CoreCivic, The GEO Group, Management & Training Corp and LaSalle Corrections — that detain immigrants on contract with ICE, reported the infections among employees in response to questions from lawmakers.
EDITOR'S NOTE — The GEO Group runs Washington's only private prison: the Northwest Detention Center in Tacoma.
► From The Hill — 'I thought this was a hoax': A COVID-party guest learned coronavirus was real on their deathbed — A 30-year-old coronavirus patient in San Antonio died on Friday after attending a "COVID party," or a party held as an experiment by someone diagnosed with COVID-19 to see whether any guests then become infected. Parties have become major sites of coronavirus spread across the United States as social distancing measures are loosened.
► From the NY Times — America drank away its children's futures (by Paul Krugman) — We're now facing a terrible, unnecessary dilemma. If we reopen in-person education, we risk feeding an out-of-control pandemic. If we don't, we impair the development of millions of American students, inflicting long-term damage on their lives and careers. And the reason we're in this position is that states, cheered on by the Trump administration, rushed to allow large parties and reopen bars. In a real sense America drank away its children's future.
► From the Bellingham Herald — Most Canadians still want U.S. border to remain closed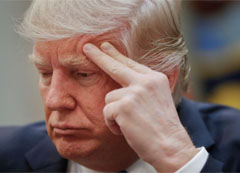 ► From the NY Times — In some countries, normal life is back. Not here. (by Michelle Goldberg) — Taiwan, where most days this month no new cases have been reported, just held the Taipei Film Festival, and a recent baseball game drew 10,000 spectators. Italy was once the epicenter of Europe's outbreak and remains in a state of emergency, but with just a few hundred new cases a day in the whole country, bars are open and tourists have started returning, though of course Americans remain banned. There were 321 new cases in all of Canada last Friday. And America? We had 68,241. As of last week, the worst per capita outbreak on the planet was in Arizona, followed by Florida. The world is closed to us; American passports were once coveted, but now only a few dozen nations will let us in. Lawrence O. Gostin, professor of global health law at Georgetown, told me he doesn't expect American life to feel truly normal before summer 2022. Two years of our lives, stolen by Donald Trump. His incompetence has wrecked us. Where are the calls for him to resign?
► From the Washington Post — The one constant in Trump's presidency: Tomorrow will be worse (by Dana Milbank) — Abuse of power, flagrant disregard for American lives and racist provocations — all in 72 hours. I had long feared the country couldn't survive another four years of Trump's assaults. Now, I worry whether it can survive another 190 days.
► From The Hill — Trump's final presidential pardon: himself (by Bill Press) — Don't laugh. Admit it. You know as well as I, that's exactly where this whole clown show is headed.
---
EDUCATION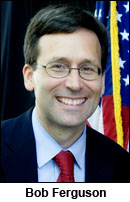 ► From the Seattle Times — State AG Bob Ferguson files for restraining order to halt plan to revoke international student visas — Attorney General Bob Ferguson has asked a federal judge to put a halt to a plan by the Trump administration to make international students return to their home countries if their colleges go to all-online instruction. The administration's rule, which has been condemned by university leaders across the country, is set to take effect Wednesday.
► From the Seattle Times — No #StudentBan: International students belong in the U.S. (by Chenglin Hong, Jennifer Balkus and Unmesha Roy Paladhi) — As faculty and students at the University of Washington, we are appalled by this new federal directive. This is just the latest attack on immigrants following the Trump administration's executive order that suspended employment-based H1-B visas last month. This new rule is cruel, discriminatory and inhumane as it forces universities to choose between supporting students who are an integral part of the university family, and the safety of that family and the larger community during a deadly pandemic.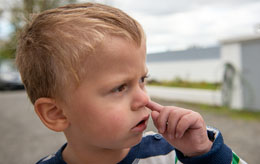 ► From the Columbian — Amid push to reopen schools in fall, Clark County educators fear for health, safety — With a compromised immune system in the midst of a coronavirus pandemic, Mill Plain Elementary School teacher Carmela Lemon says she fears for her health and safety. And as schools prepare to reopen, she and other teachers in the region fear it's unsafe to return to the classroom. "You can't maintain six feet from first-graders," Lemon said. "You can't. I've had them sneeze in my face. I've had them sneeze in my coffee. I watch them pick their nose. I am literally terrified that if I even remotely come in contact with a child that everyone is going to be reading about me on the news."
► From Politico — DeVos slammed for meetings with conservatives while school reopening debate rages — The National Education Association says DeVos needs to cancel the events and focus on helping educators reopen schools safely.
---
ELECTION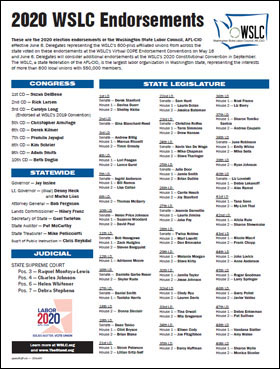 ► From the (Everett) Herald — Ready or not, voting in primary election begins this week — Ballots for the Aug. 4 election will be mailed Thursday to roughly 485,000 registered voters in Snohomish County. Voters will be narrowing the field in contests for federal, state and local offices.
EDITOR'S NOTE — They'll be mailed either Thursday or Friday in most counties. Get ready by checking of the list of candidates endorsed by the Washington State Labor Council, AFL-CIO. More information about specific races is available to union members only at the WSLC website.
The Stand (May 19) — WSLC endorses Beth Doglio for Congress in WA's 10th CD
► From the Yakima H-R — OneAmerica sues Yakima County, saying voting system disenfranchises Latinos — OneAmerica, former Sunnyside Councilwoman Evangelina Bengie Aguilar, former Yakima City Councilwoman Candy Dulce Gutierrez, and former political candidates Susan Soto Palmer and Rogelio Montez, filed the lawsuit. At issue is the way the county's three commissioners are elected. Candidates are selected by voters in their respective districts during primary elections before becoming at-large candidates in the general election.
---
BOEING
► From the Seattle Times — Boeing lands $1.2 billion deal for eight F-15EX fighter jets, starting potentially massive program — The Defense Department plans to spend $1.2 billion for eight Boeing-developed F-15EX fighter jets over the next three years, the company and the Air Force announced Monday, a contract that will boost the embattled aerospace manufacturer at a time when the market for commercial aircraft remains in turmoil.
---
THAT WASHINGTON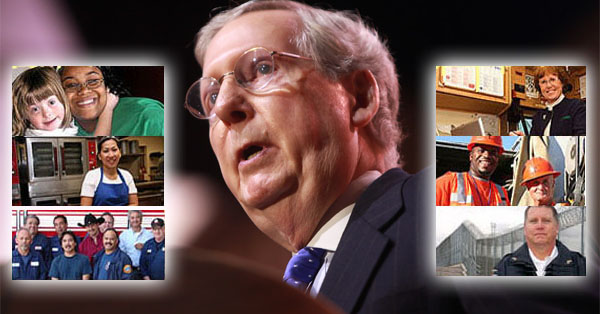 ► From the AFL-CIO — AFL-CIO launches six-figure ad buy in McConnell's backyard, calling for passage of HEROES Act — The AFL-CIO announced a six-figure TV and social media ad buy that will blanket the state of Kentucky over the next two weeks. The ad calls on Sen. Majority Leader Mitch McConnell to do his job by passing the HEROES Act to provide  long-overdue relief to working people who are suffering from the fallout of COVID-19. "If Mitch McConnell doesn't act…budget cuts will destroy the public services we need to recover from the coronavirus," the ad says. "Tell Mitch McConnell Kentucky won't be left behind — fund our essential public services now. Pass the HEROES Act."

► From Roll Call — Negotiators look for common ground on unemployment aid extension — With extra $600 weekly benefit set to expire July 31, Democrats and Republicans agree on extending jobless aid but differ on details.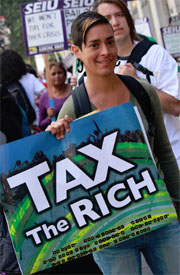 ► From The Hill — Millionaires call on governments to tax the rich to pay for virus relief — Millionaires from countries around the world are asking their governments to raise taxes on them and other wealthy individuals to help with responses to the coronavirus pandemic. "Today, we, the undersigned millionaires, ask our governments to raise taxes on people like us. Immediately. Substantially. Permanently," the millionaires, under the name "Millionaires for Humanity," said in an open letter published Monday.
► From Vox — The federal agency that's supposed to protect workers is toothless on COVID-19 — Workers are facing perilous conditions as states reopen. The Occupational Safety and Health Administration could have protected them.
► From Politico — 'Here's your check': Trump's massive payouts to farmers will be hard to pull back — The president was already spending double his predecessor to spare farmers the cost of his trade war. Now the price is reaching unsustainable levels.
---
NATIONAL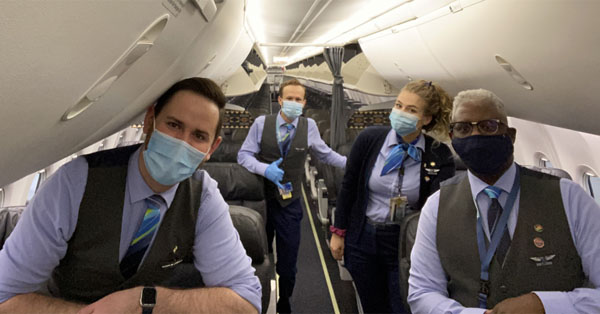 ► From Labor Notes — Flight attendants tell airlines: Don't even think about concessions (by Sara Nelson) — Flight attendants know from hard experience the volatility of the airline industry and the harsh impact a crisis can have on airline workers. And this is a crisis like no other in the history of commercial aviation. We know cuts to our contracts at any one airline set up a downward spiral for our careers. Instead, we're getting ahead of any attempts by management. Flight attendants across the industry are united against concessions. Together, the Association of Flight Attendants-CWA (AFA-CWA), the Association of Professional Flight Attendants, and the Transport Workers Union — representing 80 percent of all U.S. flight attendants — signed an open letter making clear: "Concessions cannot and will not resolve the crisis in the industry. We are putting management on notice: don't even think about it."
► From the Atlanta J-C — Delta posts quarterly loss, 17,000 employees sign up for buyouts and early retirements — That's about 20% of the company's workforce. The voluntary departures are expected to help reduce the need for involuntary furloughs or layoffs.
---
TODAY'S MUST-READ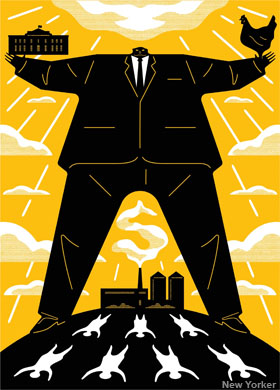 ► From the New Yorker — How Trump is helping tycoons exploit the pandemic — The secretive titan behind one of America's largest poultry companies, who is also one of Trump's top donors, is ruthlessly leveraging the coronavirus crisis — and his vast fortune — to strip workers of protections.
On June 22nd, in the baking heat of a parking lot a few miles inland from Delaware's beaches, several dozen poultry workers, many of them Black or Latino, gathered to decry the conditions at a local poultry plant owned by one of Trump's biggest campaign contributors. "We're here for a reason that is atrocious," Nelson Hill, an official with the United Food and Commercial Workers International Union, told the small but boisterous crowd, which included top Democratic officials from the state, among them Senator Chris Coons. The union, part of the AFL-CIO, represents some 1.3 million laborers in poultry-processing and meatpacking plants, as well as workers in grocery stores and retail establishments. Its members, many defined as "essential" workers — without the option of staying home — have been hit extraordinarily hard by the coronavirus. The union estimates that nearly thirty thousand of its workers in the food and health-care sectors have contracted COVID-19, and that 238 of those have died. For the previous 42 years, a thousand or so laborers at the local processing plant, in Selbyville, had been represented by Local 27. Just two years earlier, the workers there had ratified a new five-year contract. But, Hill told the crowd, in the middle of the pandemic, as the number of infected workers soared, the plant's owner, Mountaire Corporation — one of the country's largest purveyors of chicken — conspired, along with Donald Trump, to "kick us out."
---
The Stand posts links to Washington state and national news of interest every weekday morning by 10 a.m.
Short URL: https://www.thestand.org/?p=89886
Posted by
David Groves
on Jul 14 2020. Filed under
DAILY LINKS
. You can follow any responses to this entry through the
RSS 2.0
. Both comments and pings are currently closed.